Cheesy bacon ranch pull apart bread – all the goodness wrapped up in one appetizer!
Once in a while you have to put your healthy eating habits slip aside and have a cheat meal. This recipe is well worth the guilt that you might feel after consuming the entire loaf.
Pull apart bread continues to be a hot trend. It is basically a loaf of hard crusted bread that is cut diagonally in both directions and filled with flavored butter, cheese and protein!
It's easy to make and you can stuff the bread with whatever you like.
My first attempt at pull apart bread was classic cheesy garlic bread. I made it on Spaghetti night and there wasn't a piece left! It was easy to pull apart and because the pieces are cut into smaller bites, I didn't feel guilty about going back for seconds, or thirds.
However cheesy bacon ranch pull apart bread is my absolute favorite! There isn't anything that combines cheese, bacon and ranch that I don't like!
It makes a great appetizer for a party and everyone loves the convenience of it being a finger food. An added bonus, clean up is a breeze!
Fair warning – if you are serving it for a party, you might as well make two because they will be gone fast!
Check out the recipe below and let me know what you think!
To receive our 3 Recipe Articles in your inbox each week, sign up for our free email list.
You can also follow us on Facebook, Twitter, Pinterest, and Instagram. This article may contain affiliate links.
Cheesy Bacon Ranch Pull Apart Bread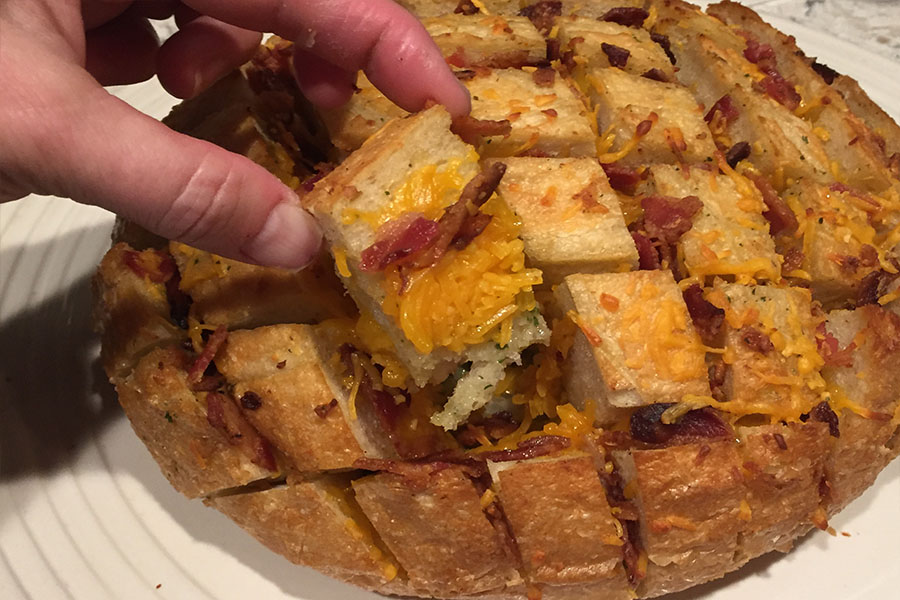 Chunks of bread drizzled with butter, ranch dressing mix and bacon and then coated in cheese. A quick and easy appetizer that is a true crowd pleaser!
Ingredients
1 round loaf Sourdough bread, unsliced
3/4 cup butter, melted
2 Tbsp ranch dry dressing mix
5 strips bacon, cooked crisp and finely chopped
1 cup shredded cheddar cheese
Instructions
Preheat oven to 350°F
Using a serrated knife, slice the bread diagonally in one direction about 1 inch apart. Be sure to slice almost all the way down to the bottom of the loaf but not all the way through.
Slice the bread in the opposite direction using the same technique.
Place loaf on a foil lined cookie sheet.
In a small bowl, combine melted butter and ranch dressing mix and stir.
Drizzle melted butter mix between each of the sections, making sure to get in-between each one.
Evenly distribute the chopped bacon and cheese between each of the sections.
Loosely cover bread with foil.
Bake for 15 minutes. Remove foil and bake for an additional 5 minutes.
Notes
Recipe provided by Make Your Meals
Nutrition Information:
Serving Size:
1 grams
Amount Per Serving:
Unsaturated Fat:

0g