Next time that you need to make a quick and easy appetizer to share with your family and friends, be sure to make this Sausage Cream Cheese Dip! With just 3 simple ingredients it not only comes together in a short amount of time, it is also a crowd favorite.
A thick and creamy dip that is full of seasoned ground sausage and flavored with diced green chiles. The mild flavor of the cream cheese blends perfectly with the sweet or spicy sausage and the slight zing of the green chiles.
I prefer to serve this easy to make appetizer with tortilla chips or scoops. However, for those who are on a low-carb diet, you can also serve it with vegetable slices. In fact, I like to dip celery sticks in the dip almost as much as the tortilla chips!
But the best part about this recipe is that it is super easy to make. In fact, it comes together in under 15 minutes if you make it on the stove top.
Simply cook the ground sausage and drain off the fat. Then return the meat to the pan and stir in the cream cheese until it has melted and is smooth.
All that is left to do is to add the drained diced green chiles and mix until well incorporated. Seriously, that is all that is required before transferring it to a bowl and serving it!
However, this dip is not only easy to make, it also tastes incredible! There is just something about the flavors of the three ingredients that blend and compliment each other so well.
Adapt The Recipe To Your Taste Preferences
Although this Sausage Cream Cheese Dip recipe is great as written, it can also be adapted to provide a variety of flavor combinations as well. First, instead of using sweet Italian sausage, for those that like things a little spicier, use Hot Italian sausage instead.
Or switch out the diced green chiles for pickled jalapeno peppers or even fresh diced serrano peppers. But don't just think about those who want things hotter. There are those who would love this recipe without any heat at all.
And you are in luck! I have some substitutions for those who like great flavor but can't tolerate spicy foods. Start by using mild Italian sausage. Then add in the cream cheese and drained and diced Pimentos instead of the green chiles.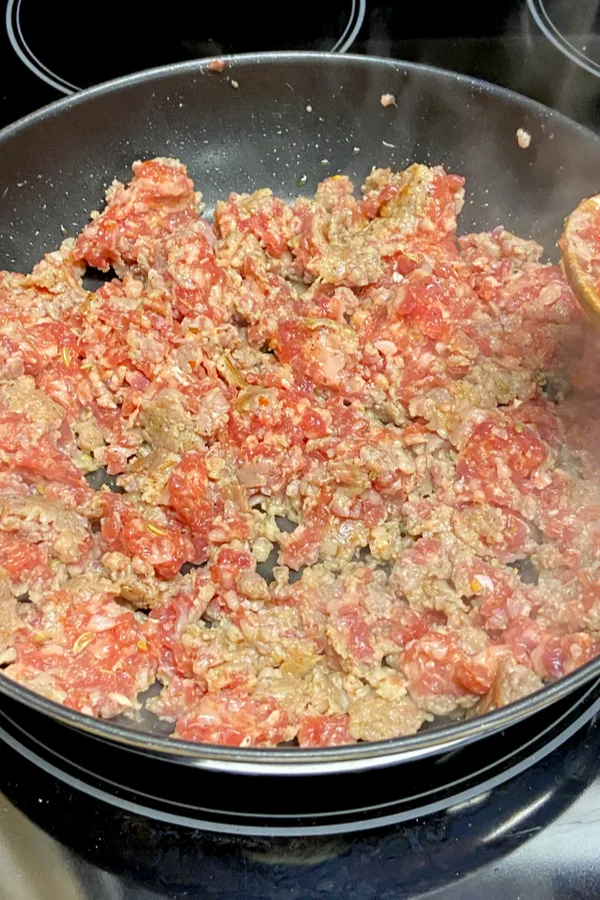 You will have a mild, slightly sweet dip that everyone, including the kids can enjoy! I have made all different versions of this recipe, but I have to admit, the standard recipe that I am sharing below is the all-time crowd favorite.
I always get asked to this dip for tailgate or watch parties. But I also make it for family gatherings, picnics and holiday parties.
Mary's Dip
It has been requested so many times that many people refer to it as 'Mary's dip'. It is such a huge hit at every gathering that I attend that now, when I bring it to share with others, I also bring several copies of the recipe to hand out to those who ask.
And everyone is always shocked at how easy it is to make this recipe and baffled that it only requires 3 ingredients. For me, those are the kind of recipes that I love!
So the next time you are looking for something new to serve, give this dip recipe a try!
Cream Cheese Sausage Dip Recipe
*Specific measurements and complete recipe instructions are located in a printable recipe card at the bottom of this article. However, be sure to continue to read the tips and tricks to making this recipe below.
INGREDIENTS
Sweet Italian or Hot Italian Sausage
Cream Cheese
Diced Green Chiles
INSTRUCTIONS
The first step in making this recipe is to cook the sausage. Start by placing your ground sausage in a large skillet over medium-high heat. Then cook the sausage, using a wooden spatula to break it into small crumbles.
Continue to cook until the sausage is no longer pink and cooked through. Then pour the cooked sausage in a colander to drain off the fat.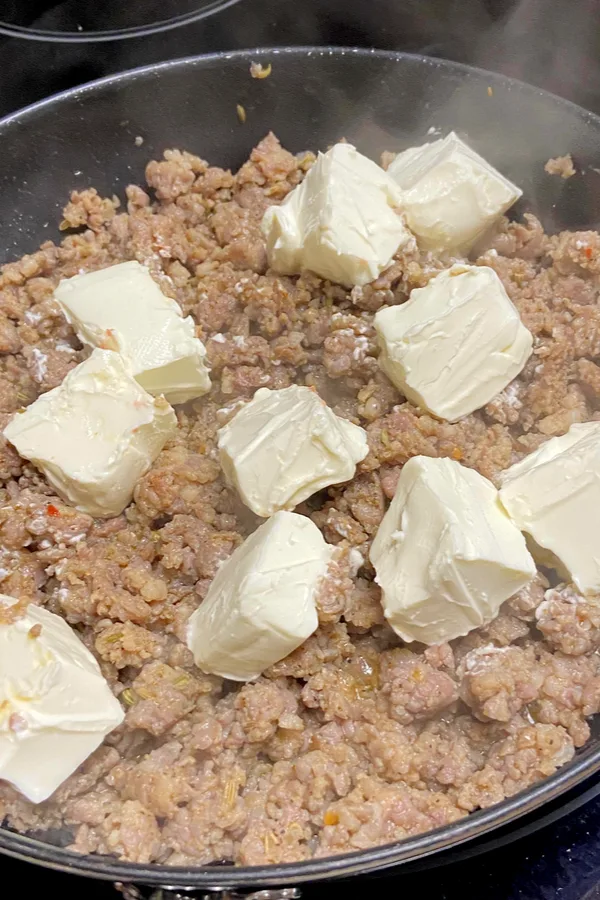 Then return the drained sausage back to the skillet set over medium heat. Next, cube the bar of cream cheese and then add the cubes to the skillet.
Stir until the cream cheese is mostly melted and mixed in with the sausage. Then drain the diced green chilies and add them to the skillet.
Stir the mixture frequently until well blended. Once the mixture has completely heated through, stir one last time and transfer it to a serving bowl. Serve with tortilla chips and/or vegetable slices for a low-carb appetizer option.
Slow Cooker Instructions
Many people prefer to make dips in a slow cooker rather than on the stove top. This is an ideal way to make an appetizer that you are serving warm when you don't know exactly when it will be served.
For instance, if you are watching the big game, and your guests will be arriving at various time, it is best to keep the Sausage Cream Cheese Dip warm in a crock pot.
Therefore, if the dip is not being served as appetizer for everyone to enjoy at once, I prefer to make it in my mini 1.5 quart Crock Pot instead of in a skillet.
Do this by cooking the sausage as instructed. Then drain and place it in the crock pot. Next, add the cubed cream cheese and drained diced chiles and cover.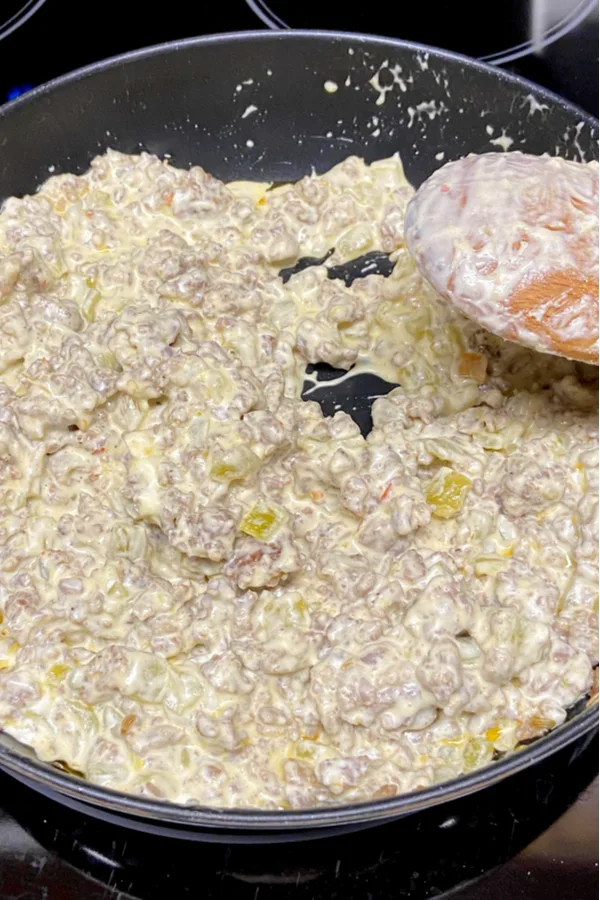 There is no need to stir the ingredients at this point. Simply turn the slow cooker on HIGH power for 1 hour.
After 1 hour, remove the lid, stir, and continue to heat until the cream cheese has completely melted and is smooth.
Reduce the heat to low, or the keep warm setting until ready to serve. However, because all slow cookers heat at different rates, be sure to keep a close eye on the dip to prevent the edges from burning.
Serving Suggestions
Serve warm with tortilla chips, scoops and/or vegetable slices. Or get creative and use the dip to make the Best Crescent Roll Appetizer that you have ever had!
Enjoy! Mary

To receive our 3 Recipe Articles in your inbox each week, sign up for our free email list located in the middle of each recipe or email me at contact@makeyourmeals.com. You can also follow us on Facebook and Pinterest. This article may contain affiliate links where a small commission is paid if you purchase a product at no additional cost to you.
Sausage Cream Cheese Dip
Just three ingredients makes up this delicious and easy to prepare dip. Perfect for tailgates or as an appetizer during the holidays.
Ingredients
1 pound sausage
1 8 ounce package cream cheese, cut into pieces
1 4 ounce can diced green chilies, undrained
Instructions
In a large skillet over medium-high heat, cook sausage until crumbled and no longer pink. Drain.
Add the cream cheese and diced green chilies to the skillet and stir frequently until blended.
Once the mixture has heated through, stir and serve with warm tortilla chips.
Notes
Option – After you brown and drain the sausage, place it in a small slow cooker along with the cream cheese and green chilies. Heat and stir until the cream cheese is melted. Serve warm or let sit until ready to serve, stirring occasionally.
Recipe provided by Make Your Meals
Nutrition Information:
Serving Size:
1 grams
Amount Per Serving:
Unsaturated Fat:

0g