Hands down, my favorite Fall dessert is Grandma's Apple Crisp Recipe. Tender chunks of cooked apples topped with a crunchy coating and served warm with a scoop of vanilla ice cream on top!
It makes my mouth water just thinking about it! But best of all, it only requires 5 common ingredients! That means no crazy trips to the grocery store to find a special ingredient that you will only use for this recipe.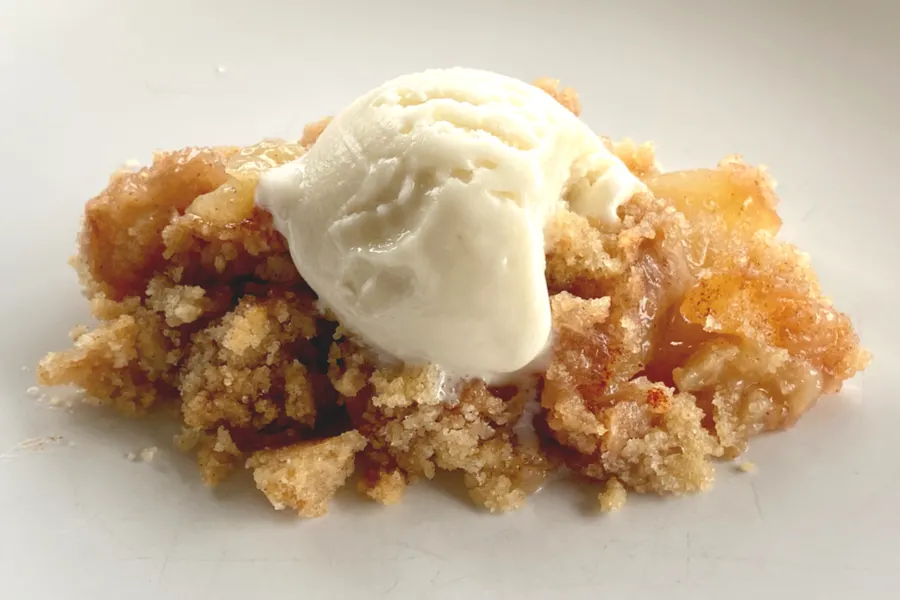 In fact, this recipe is as old-fashioned as they come. Apples, cinnamon, butter, flour and sugar is all that you need to make this delicious dessert!
My Grandmother taught me how to make this recipe many years decades ago. When I started to count up the actual years, it made me feel really old!
I can remember standing in her kitchen peeling the apples as she cut them and put them in the casserole dish. I would get so excited when the apple crisp went in the oven because the entire house would smell so good.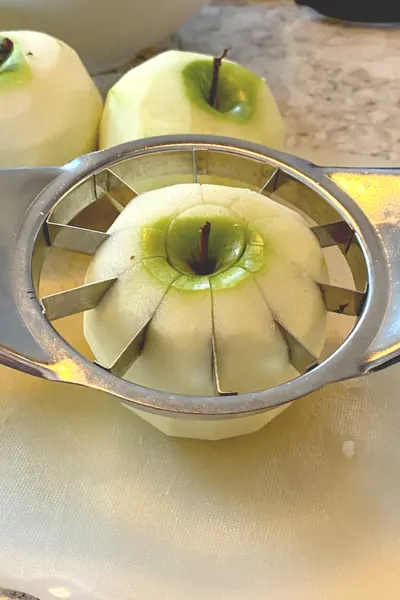 And of course, after dinner when it was time for dessert, I was the first one in line! I just couldn't wait to take a bite through the crispy topping and sink my teeth into soft, cinnamon apples. And if we were lucky enough to have a scoop of vanilla ice cream on top, I thought I was in heaven!
However, if you don't have any apples, try our Zucchini Crisp recipe! It tastes just like Apple Crisp, I promise!
How To Make Grandma's Apple Crisp
The first step in making this delicious dessert is to pick out the apples. As you probably already know, not all apples are great to make into desserts.
For this recipe, we always use Granny Smith apples. Because there are just a few ingredients, you want an apple that is tart and can hold up to the baking process.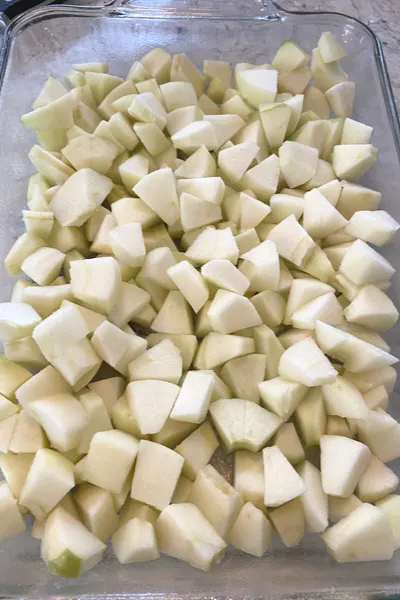 Pick out 6 medium-large apples that are nice and firm. Next, peel and cut the apples into bite size chunks.
You can make quick work of this process by using a standard vegetable peeler and then cut the apples using an apple corer and slicer. Next, cut each apple slice into 4 pieces.
Place the apples in a 8 x 11 baking dish that has been sprayed with non-stick cooking spray. Then sprinkle 1/2 teaspoon of cinnamon on top.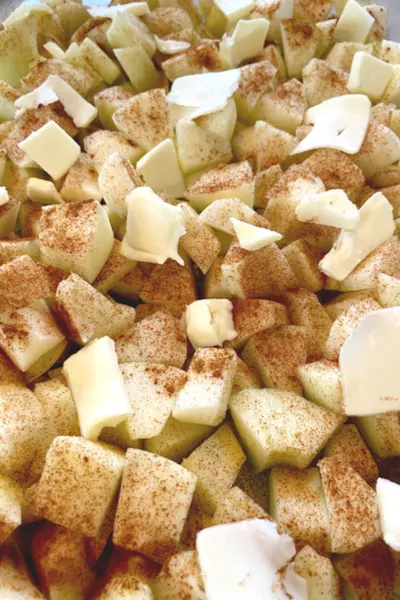 Next, slice 3 tablespoons of butter into small slices and randomly place the butter pieces on top of the apples. This will help soften and add additional flavor to the apples as they cook.
The Topping
Now it is time to make Grandma's Apple Crisp topping. In a medium mixing bowl, add the flour, sugar and 1 teaspoon cinnamon. Then add cut in the soften butter using a fork, pastry cutter or even your hands!
Keeping mixing until the topping resembles pea size crumbles. Then sprinkle evenly over top of the apples.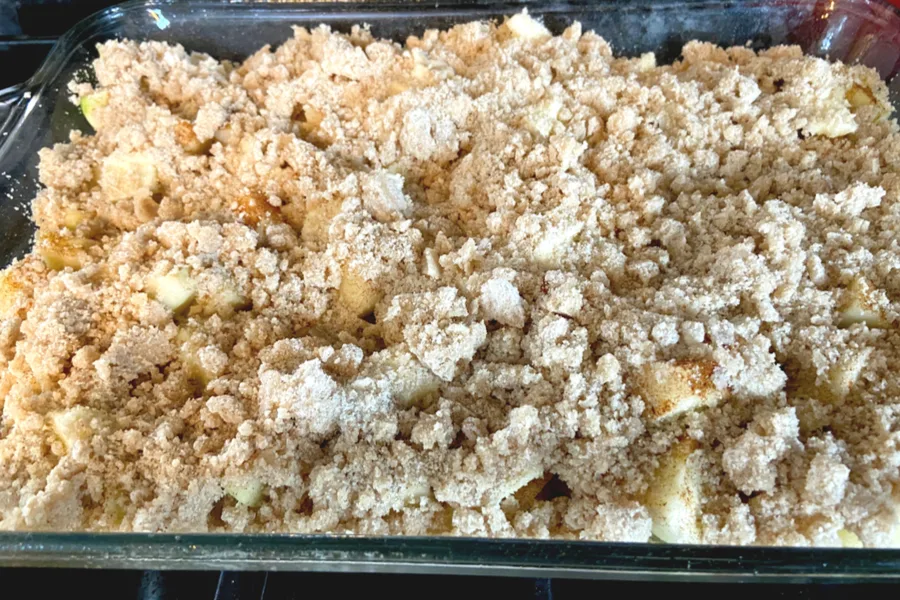 Bake in a preheated oven for about an hour or until the topping is nice and golden brown.
Let Grandma's Apple Crisp sit for 10 minutes before serving. Serve warm with a scoop of vanilla ice cream for the ultimate, Fall dessert! Enjoy!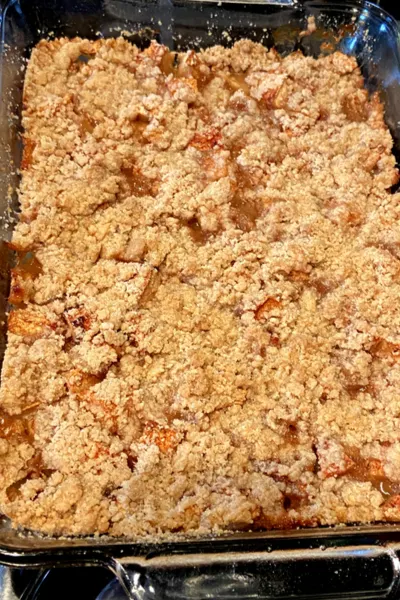 To receive our3 RecipeArticles in your inbox each week, sign up for our free email list located on the side and bottom of each recipe. You can also follow us on Facebook, and Pinterest. This article may contain affiliate links where a small commission is paid if you purchase a product at no additional cost to you.
Yield: 6
Grandma's Apple Crisp Recipe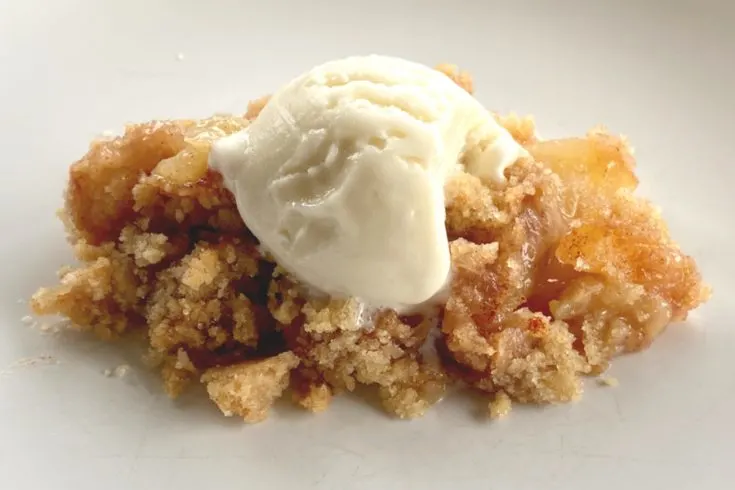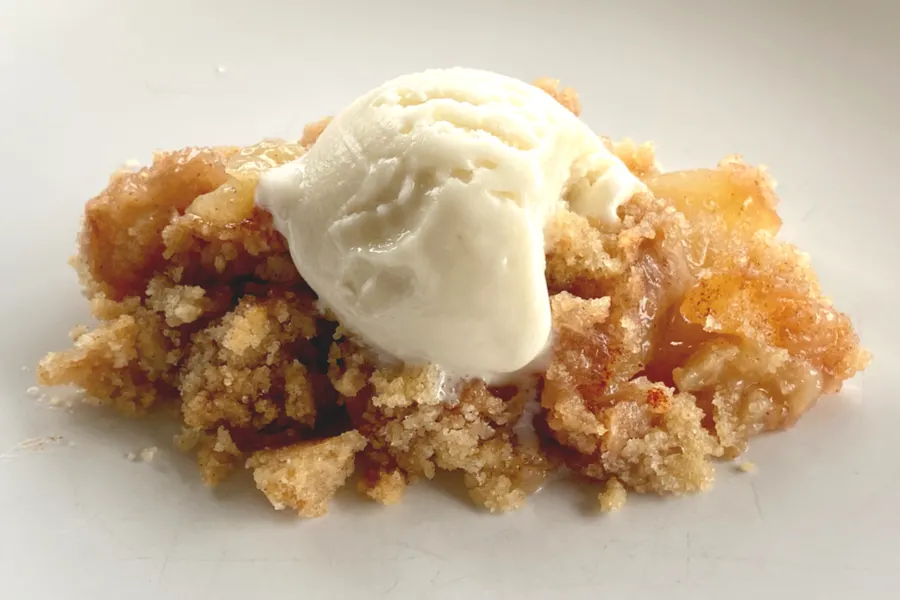 Fork tender baked cinnamon apples with a crisp, sweet topping that makes for the perfect Fall dessert! Top it off with a little vanilla ice cream for the ultimate dessert!
Ingredients
6 Granny Smith apples
1 1/2 tsp cinnamon, divided
3 Tbsp unsalted butter, room temperature, cut into slices
Topping
1 cup flour
1 cup sugar
1/2 cup unsalted butter, room temperature cut into slices
Instructions
Preheat oven to 350° F. Grease an 8x11 baking dish and set aside.
Peel, core and cut apples into bite size chunks or slices and place in the prepared baking dish.
Sprinkle with tops of the apples with 1/2 tsp cinnamon and 3 Tbsp. butter, cut in pieces
In a medium size mixing bowl combine sugar, flour, and 1 tsp. cinnamon. Add 1/2 cup softened butter to mixture and cut in with a pastry cutter or use your hands until it resembles pea size crumbles.
Sprinkle mixture over top of the apples.
Bake for 55-60 minutes until the top is golden brown and the apples are soft.
Let sit for 10 minutes before serving.
Notes
Serve warm and top is a scoop of vanilla ice cream if desired.
Recipe provided by Make Your Meals
Nutrition Information:
Yield:
6
Serving Size:
1 grams
Amount Per Serving:
Calories:

488
Total Fat:

22g
Saturated Fat:

13g
Unsaturated Fat:

0g
Cholesterol:

56mg
Sodium:

5mg
Carbohydrates:

75g
Fiber:

5g
Sugar:

52g
Protein:

3g