When it comes to easy to make, delicious desserts, this No Bake Peanut Butter Pie is the winner.
I have been making this recipe for over 25 years. And every time that I take it to a potluck or holiday gathering, I always get approached and asked if I would share the recipe.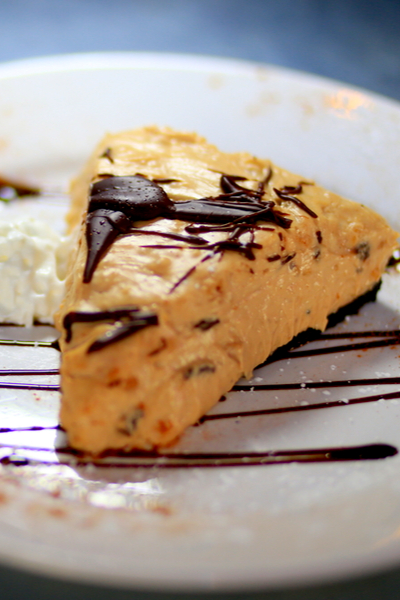 In fact, this happens so often that I bring print outs of the recipe with me.
Although, I have made it so many times that a recipe card isn't necessary. I have actually memorized the 4 ingredients that makes up the peanut butter pie filling and could probably make it in my sleep.
How to Make No-Bake Peanut Butter Pie
And the process of mixing the ingredients couldn't be easier!
First measure out one cup of peanut butter. Just like when we make our No Bake Chocolate Peanut Butter cookies, we use a push measuring cup to measure the peanut butter.
It makes it easy to remove the peanut butter by pushing it off the sides of the measuring cup and into the mixing bowl.
Then add in one block of cream cheese. Just be sure that the cream cheese is softened to room temperature. Otherwise, the filling will have small chunks of cream cheese scattered throughout.
Once you have mixed together the peanut butter and cream cheese it is time to add in the powdered sugar.
With the mixer on slow speed, slowly (and I repeat SLOWLY) add in the powdered sugar. Mix until well incorporated.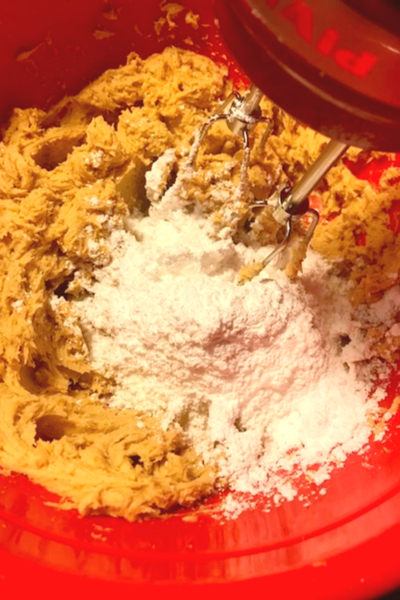 Finally, add in the thawed whipped topping. Mix on high for one minute and then scrape down the sides of the mixing bowl.
Then mix on high for one more minute. Just as a heads up, the filling will be thick.
The Oreo Pie Crust
Now it is time to spread the peanut butter filling into an Oreo pie crust.
Although you can make your own crust, I typically buy a pre-made crust at the grocery store.
However, if you want to make your own, place 25 Oreo cookies into a food processor. Pulse until the cookies turn into fine crumbs.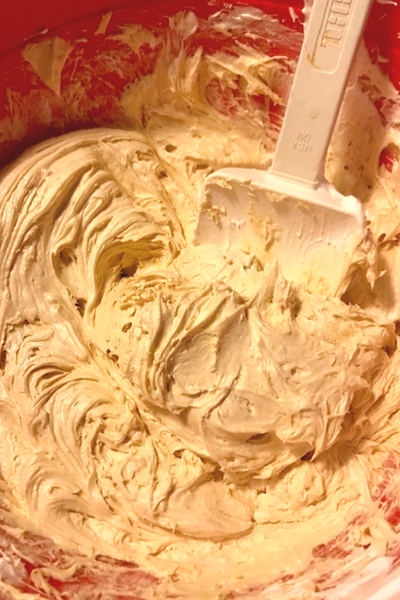 Then mix in 4 tablespoons of melted butter. Press the mixture into a pie pan and bake at 350 degrees F for 5-7 minutes.
However, be sure to allow the crust to completely cool before adding the filling.
Or, you can do what I do and open the Oreo crust package and add the filling without all of the work!
Refrigerate Until Ready To Serve
Once you have the filling spread evenly in the crust, you must refrigerate it for at least one hour before serving.
And yes, you can make this no bake peanut butter pie a day or two in advance.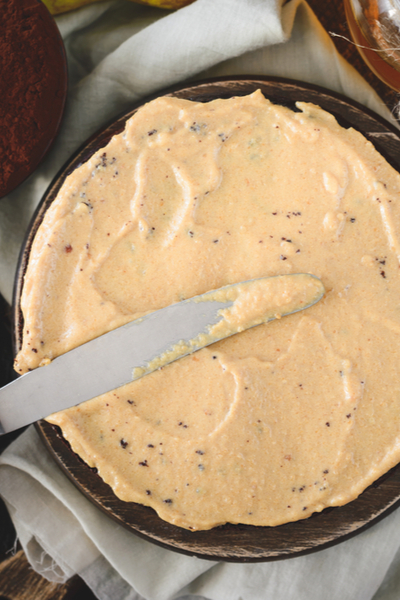 When you are ready to serve, I would suggest cutting the pie in smaller than normal pieces.
Although this pie is absolutely delicious, it is very rich.
And as for garnishes, feel free to add more whipped topping, chocolate shavings, chocolate ice cream topping, or crushed toffee pieces on top.
And if you want to try another delicious no bake recipes, try our No Bake Pumpkin Cheesecake!


To receive our 3 Recipe Articles in your inbox each week, sign up for our free email list located in the middle of each recipe or email me at contact@makeyourmeals.com. You can also follow us on Facebook and Pinterest. This article may contain affiliate links where a small commission is paid if you purchase a product at no additional cost to you.
No-Bake Peanut Butter Pie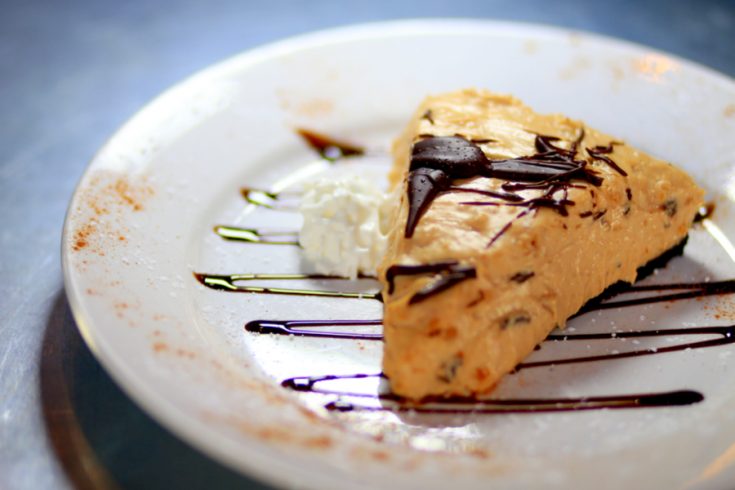 A rich and creamy peanut butter pie recipe that makes for a great addition to any holiday gathering or party.
Ingredients
1 Oreo pie crust shell
1 cup creamy peanut butter
1 8 ounce package cream cheese, room temperature
1 1/4 cup powdered sugar
1 8 ounce tub of whipped topping, thawed
Instructions
Add the peanut butter and cream cheese in a large bowl. Beat until smooth.
Slowly add the powdered sugar and beat until well incorporated.
Add in the thawed whipped topping and beat the mixture on high for 1 minute. Scrape the sides of the bowl and beat on high speed until smooth.
Pour filling into crust, evening out the top with a knife or spatula.
Cover and chill at least one hour before serving.
Notes
Optional: top with mini chocolate chips or chocolate shavings. Chill for at least an hour before serving.
To make your own Oreo crust: Crush 25 Oreos into a find crumb mixture by using a food processor. Pour 4 tablespoons of melted butter over the top and stir with a fork to combine. Press into pie pan and bake at 350 degrees for 5 to 7 minutes. Remove from oven and allow to cool completely.
Recipe provided by Make Your Meals
Nutrition Information:
Serving Size:
1 grams
Amount Per Serving:
Unsaturated Fat:

0g