If you love cheesecake, you are going to love this mini no-bake cheesecakes recipe.
I have to admit, cheesecake is one of my very favorite desserts. I love to pierce my fork through the soft and creamy cheesecake and cut into a crunchy layer of graham cracker crust.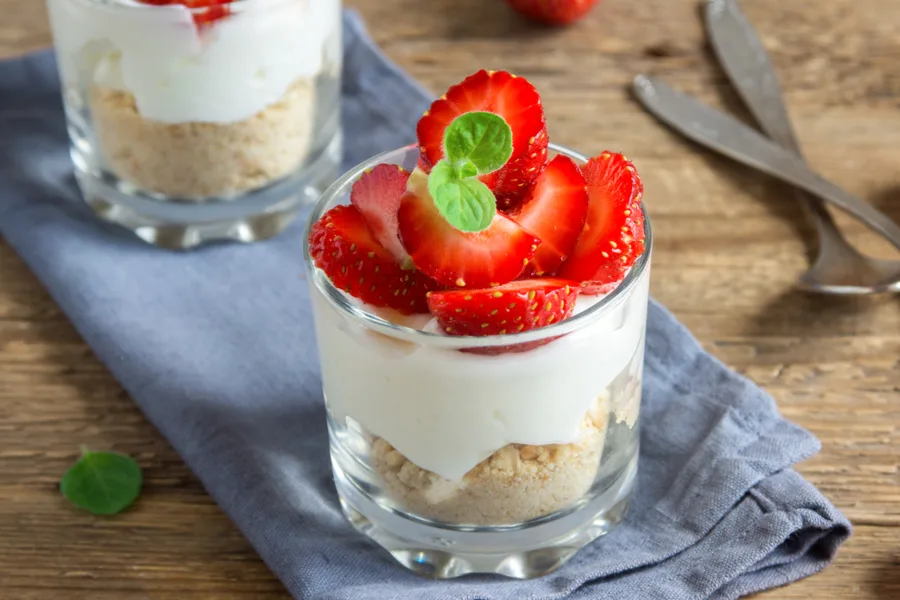 Once I take a bite, the flavors meld together perfectly in my mouth.
And let's not forget all the different toppings and variations of cheesecake available.
You have the classic New York Style Cheesecake topped with cherry pie filling. See: Classic Cheesecake Recipe
Or how about the favorite among many, the Oreo Cheesecake. See: Instant Pot Oreo Cheesecake Recipe
Want a cheesecake for Thanksgiving or Christmas? Then Pumpkin Cheesecake jumps to the top of the list. See: Instant Pot Pumpkin Cheesecake Recipe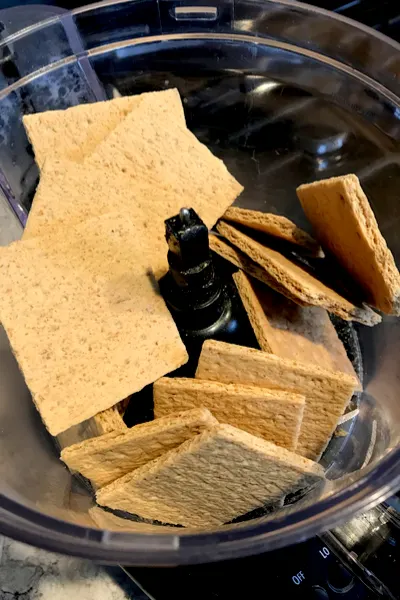 We love them all, however, the mini no-bake cheesecakes are my all time favorite to make.
The Challenges With Traditional Cheesecake
There are a few challenges when making traditional cheesecake.
First of all, you have to make sure to not over mix the ingredients.
You must combine all the ingredients until they are incorporated. However, if you over mix the eggs in the recipe, then the cheesecake will not set up properly.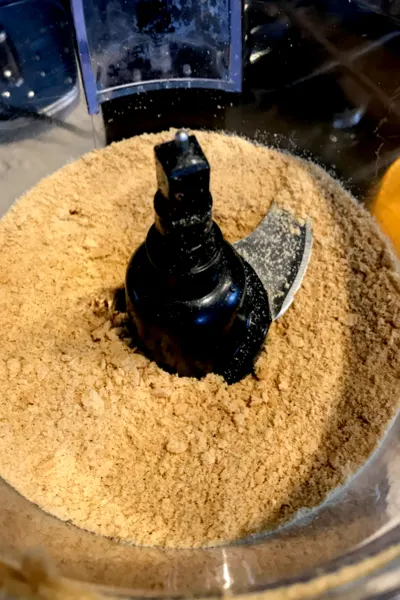 Then there is the baking process. Have you ever baked a cheesecake and the entire top looks like an earthquake hit it?
There are large cracks that sprawl across the top and you are convinced that the cheesecake is ruined.
But don't worry, there is hope!!
Mini No-Bake Cheesecakes
Baking a traditional cheesecake takes a little practice to get that perfect consistency and texture.
But you don't have to worry about any of that when making these mini no-bake cheesecakes.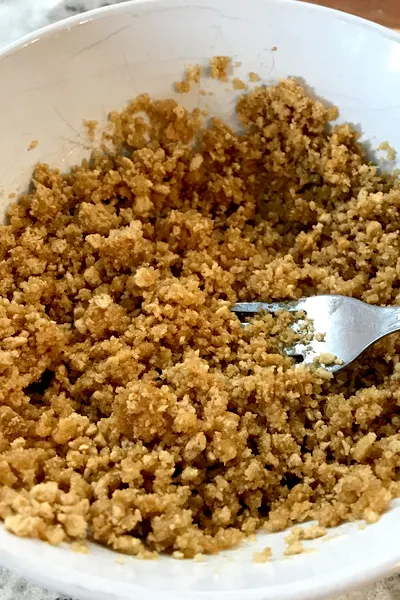 They come out perfect each and every time!
Not only is there no baking required, you don't have to wait for hours to eat them!
And if you have a food processor, this process is even easier!
First of all, we use our Hamilton Beach Duo Food Processor to grind up graham crackers to make the crust.
For this recipe, we use a little over half of a sleeve of graham crackers.
Just throw them in your food processor with the S-blade and you will have the perfect consistency graham crackers needed for the crust.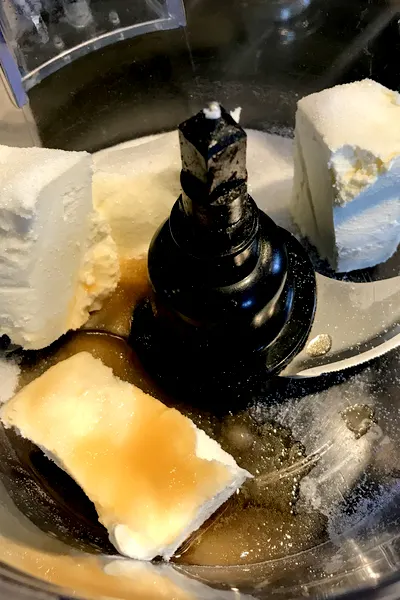 But don't put that food processor away yet!
Although you can certainly use your hand or stand mixer to make the cheesecake filling, I prefer to use my food processor.
It mixes up the ingredients perfectly. And most importantly, it's less dishes that I have to do when it comes to clean up time!
Individual Servings
Another benefit to mini no-bake cheesecakes – everyone gets there own individual serving.
There is no need to try to cut a larger cheesecake with half of the filling trying to stick to the knife.
Instead, everyone gets their own jar filled with the delicious graham cracker crust topped with the cheesecake filling.
We like to use 4 ounce mason jars for this recipe, however, any small container will work.
Small glass yogurt cups, pyrex containers, or even ramekins are the perfect vehicle to hold this dessert.
Just be sure not to fill the container to the top! You want to save room for the toppings!
The Toppings
And to make it even better, you can top the mini no-bake cheesecakes with whatever toppings that you want.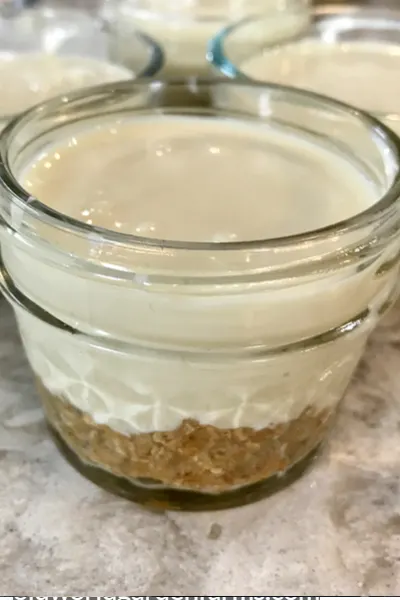 When typically set out a few different toppings so that everyone can choose what they like.
A few strawberries, cherry pie filling, chocolate shavings, and instant pot caramel are usually the favorites in our house.
Make Ahead Dessert
And if that wasn't good enough – these mini no-bake cheesecakes can be made ahead of time.
Just place the prepared cheesecakes in the refrigerator without the toppings.
Once you are ready to serve them, add the toppings and enjoy!

To receive our 3 Recipe Articles in your inbox each week, sign up for our free email list located in the middle of each recipe or email me at contact@makeyourmeals.com. You can also follow us on Facebook and Pinterest. This article may contain affiliate links where a small commission is paid if you purchase a product at no additional cost to you.
Yield: 6 people
Mini No-Bake Cheesecakes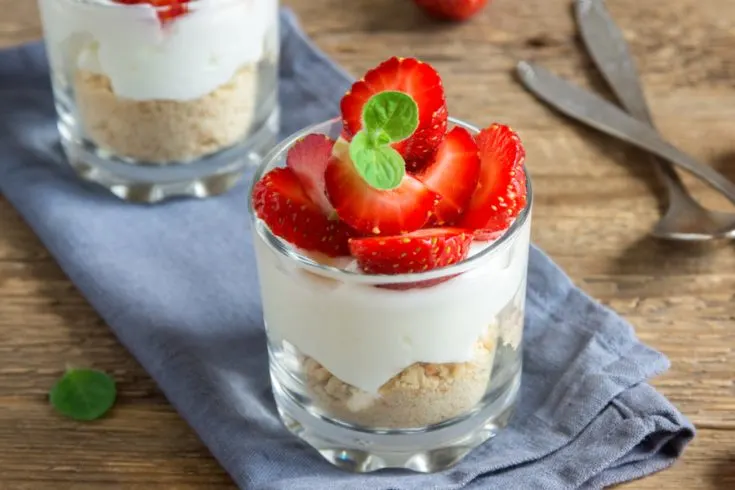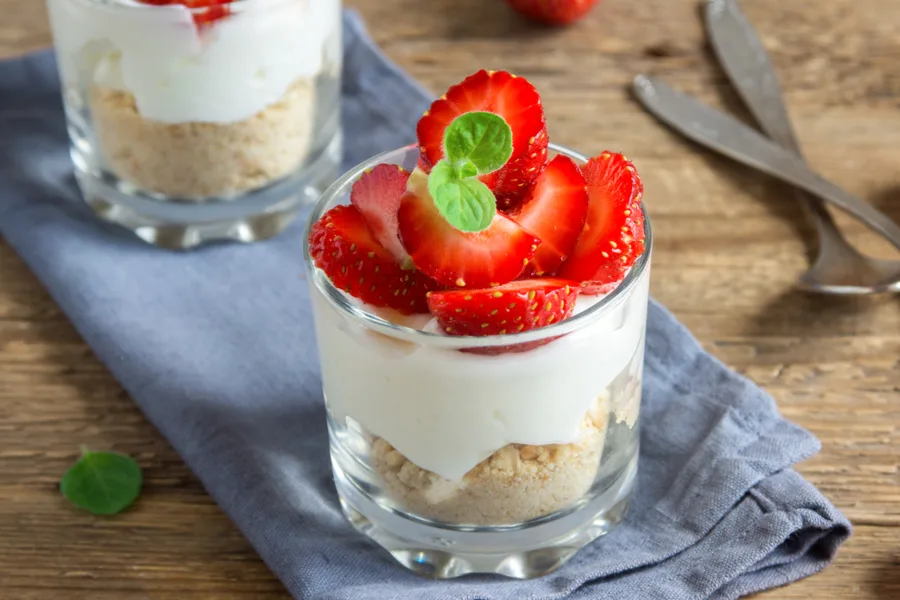 Individually sized, mini no-bake cheesecakes are the perfect make ahead dessert for any occasion and take less than 30 minutes to prepare
Ingredients
Crust
3/4 cup graham cracker crumbs
1 tablespoons brown sugar
1/4 cup unsalted butter, melted
Cream Cheese Filling:
1 8 ounce package cream cheese, room temperature
1 1/2 teaspoons granulated sugar
3/4 teaspoon vanilla extract
1/2 14 oz can sweetened condensed milk
1 1/2 teaspoons fresh lemon juice
Suggested Toppings: strawberries, cherry pie filling, caramel, shaved chocolate
Instructions
In a small bowl with the melted butter, add the graham cracker crumbs and brown sugar, and mix with a fork until crumbs are well moistened. Press the graham cracker mixture into individual 4-ounce jars. Set aside.
In a food processor or by using a hand mixer, beat together the cream cheese, granulated sugar, and vanilla until creamy.
Add the sweetened condensed milk and lemon juice and mix until just combined (do not over mix).
Spoon the cheesecake mixture into jars on top of the graham cracker crusts. Be sure to leave room at the top if you are adding any additional toppings.
Cover the jars with plastic wrap or lids (if they have one) and place in the freezer for 15 minutes. Remove the jars from the freezer and store in the refrigerator until ready to serve.
When ready to serve, add your topping of choice.
Notes
Recipe provided by Make Your Meals
Nutrition Information:
Yield:
6
Serving Size:
1 grams
Amount Per Serving:
Unsaturated Fat:

0g