When I first learned about Chicken Enchilada Casserole, I thought that it would take a lot of time to prepare.
Layers of tortillas, chicken, beans, cheese and enchilada sauce piled on top of each other to resemble a Lasagna style casserole. However, when I first made my Instant Pot Enchilada Casserole recipe, I realized that it is a breeze to make!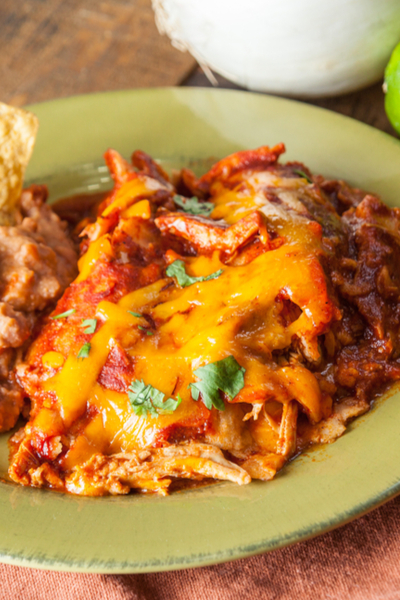 And this is especially true if you make it using pre-cooked rotisserie chicken from the grocery store. Of course, I am all about making homemade recipes.
But let's be honest, cooked rotisserie chicken comes in handy every once in a while. Yes, I know that it contains a little more sodium than if I would make Instant Pot Rotisserie Chicken or Air Fryer Whole Chicken.
However, there are some days that there is no time for that! And that is where a rotisserie chicken comes to the rescue for this chicken enchilada casserole recipe!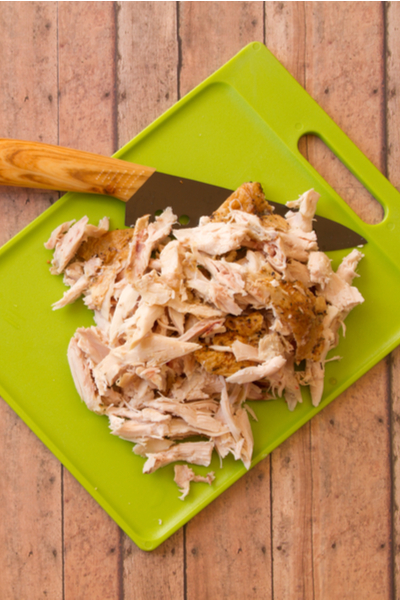 Other Recipes For Rotisserie Chicken Meat
And in an effort to stay with easy to prepare, 5 ingredient meals, that is exactly what we used in this recipe.
How To Make Easy Chicken Enchilada Casserole
The first step in making this casserole is to cut small tortillas in half. You can use either corn or flour tortillas for this recipe, or both.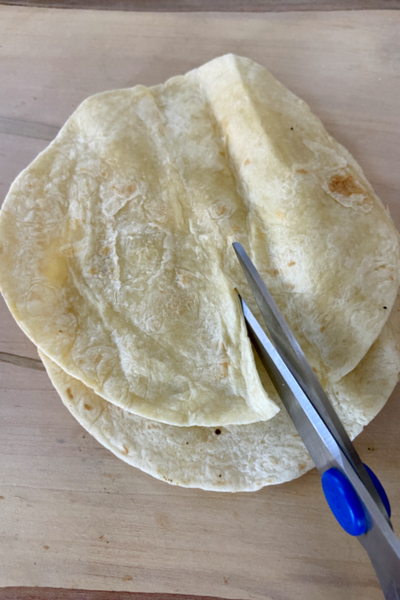 Then spray a 8×8 baking dish or 9 inch square casserole dish with non-stick cooking spray and line the bottom with a little enchilada sauce. Next, add 4 cut tortillas (a total of 2 full tortillas) to the baking dish and cover the bottom.
If needed, cut down one of the tortillas to fill in the gaps to make sure that the bottom of the dish is covered. Now add one third of the shredded chicken on top of the tortilla layer.
Then continue to assemble the chicken enchilada casserole. On top of the chicken add one third of the refried beans, a layer of cheese, and top it off with enchilada sauce. Now repeat this layer two more times, starting with the tortilla shells.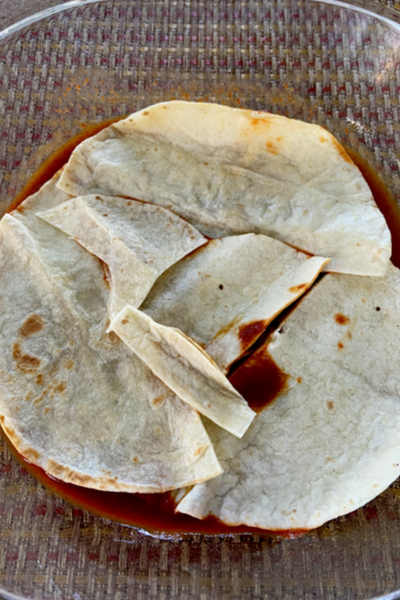 Once you have the last layer topped with enchilada sauce you are ready to add your final layer. This layer consists of a layer of tortilla shells, enchilada sauce and shredded cheese.
Baking Instructions
Now your chicken enchilada casserole is prepared and ready to go in the oven! But before you do, cover it with a tented piece of aluminum foil that has been sprayed with non-stick spray.
Then place it in a preheated oven for 30 minutes. Remove the foil and return the casserole to the oven for an additional 10 minutes for the cheese to melt and become bubbly around the edges.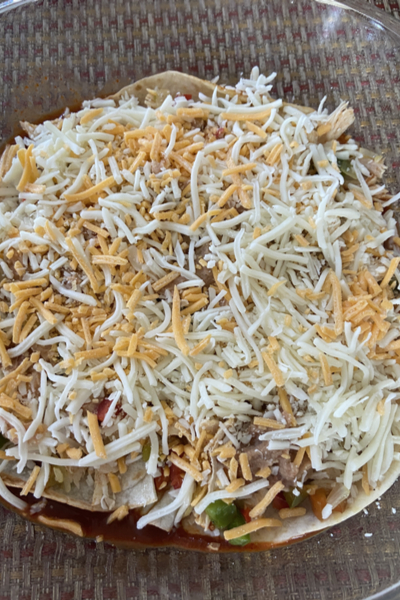 Once the chicken enchilada casserole is done, remove it from the oven and let it sit for at least 5 minutes before cutting so that the layers can set up properly.
If desired, top your casserole with your favorite garnishes, such as sour cream, guacamole, and cilantro.
Enjoy!


To receive our 3 Recipe Articles in your inbox each week, sign up for our free email list located in the middle of each recipe or email me at contact@makeyourmeals.com. You can also follow us on Facebook and Pinterest. This article may contain affiliate links where a small commission is paid if you purchase a product at no additional cost to you.
Yield: 6
Easy Chicken Enchilada Casserole Recipe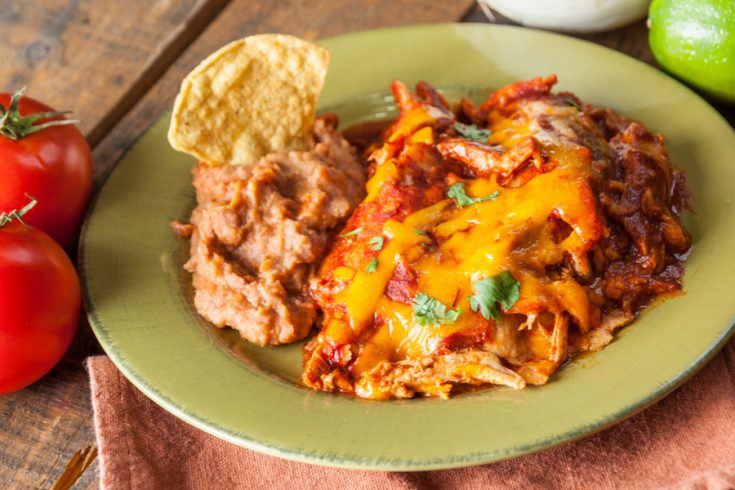 An easy to make, layered casserole filled with classic enchilada ingredients and topped with your favorite Mexican garnishes. A meal the entire family will love!
Ingredients
2 cups red enchilada sauce
8 small tortillas , corn or flour, cut in halves
2 cups chicken breast, cooked and shredded
2 cups Mexican cheese, shredded
1 15 ounce can refried beans, or pinto beans drained
Garnishes:
sour cream, diced onions, cilantro, green onions, avocado, tomato, jalapeños
Instructions
Preheat the oven to 350°F. Coat a 9 inch square baking pan with non stick cooking spray, set aside.
Spread 1/4 cup of enchilada sauce over the bottom of the baking dish. Layer 4 halves of tortilla over the sauce so that the bottom of the pan is covered.
Layer 1/3 of the chicken, 1/3 of the refried beans, 1/2 cup of the cheese and 1/3 cup of enchilada sauce over the tortillas.
Place a second layer of tortillas on top and layer 1/3 of the chicken, 1/3 of the beans, 1/2 cup of the cheese and 1/3 cup enchilada sauce over the tortillas. Repeat one more time for a third layer.
Place the remaining tortilla halves on the top and spread the remaining enchilada sauce over top of the tortillas.
Sprinkle the remaining 1/2 cup cheese over the top.
Spray one side of a piece of foil with non stick spray and cover the baking dish, spray side down. Bake for 30 minutes and then uncover and bake another 10 minutes or until the cheese is melted and bubbling around the edges.
Remove from the oven and let sit for 5 minutes before cutting.
Serve warm and top with additional garnishes as desired.
Notes
Recipe provided by Make Your Meals
Nutrition Information:
Yield:
6
Serving Size:
1 grams
Amount Per Serving:
Calories:

343
Total Fat:

15g
Saturated Fat:

7g
Unsaturated Fat:

0g
Cholesterol:

67mg
Sodium:

1287mg
Carbohydrates:

28g
Fiber:

2g
Sugar:

8g
Protein:

24g