One of our favorite, family friendly meals is this Chicken Spaghetti Casserole Recipe. We not only eat it for dinner, but it has also become one of our favorite dishes to bring to a potluck as well.
Plus it comes together so quickly that it is easy to make and serve during a busy weeknight. You can even make it ahead of time and just throw it in the oven when you get home from work. And we can all use a few more recipes like this one to add to our dinner rotation!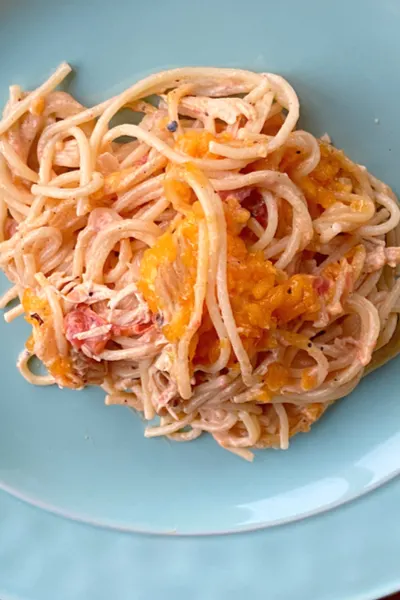 This time of the year, when the kids are heading back to school and the nights are packed full of activities, chores and homework, it is great to have an easy to make recipe that everyone loves.
Although some of the most requested meals are our Big Mac Cheeseburger Casserole, and our Pizza Casserole, sometimes we just want something that is made with chicken instead of ground beef.
So along with our Doritos Chicken Casserole and Salsa Chicken, we have added this Chicken Spaghetti Casserole recipe to the weeknight mix as well.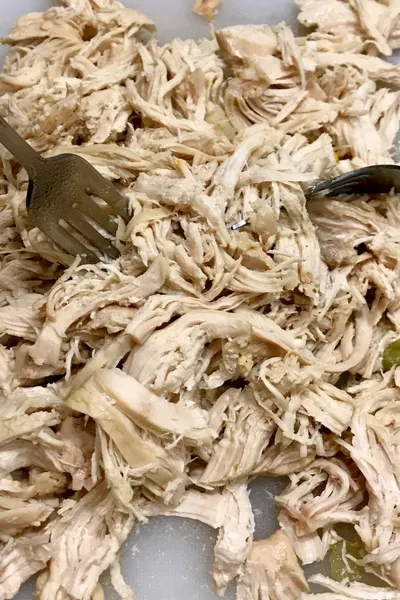 Precooked, shredded chicken mixed in a creamy sauce and tossed with cooked spaghetti noodles and cheese and then baked to perfection.
And judging by the way everyone asking for seconds, I would say it is always a huge hit! And best of all, at least from a parent's perspective, I love it even more because it doesn't contain any 'cream of ____________' canned soup!
Chicken Spaghetti Casserole Recipe
This recipe first starts with cooking spaghetti noodles to al dente consistency. Simply boil the water, add some salt the entire box of noodles.
Of course you can make this recipe using any type of pasta that you would like. However, it would no longer be called Spaghetti. But all joking aside, you could use Fettuccine, Penne, or Rotini pasta instead and it will still turn out delicious.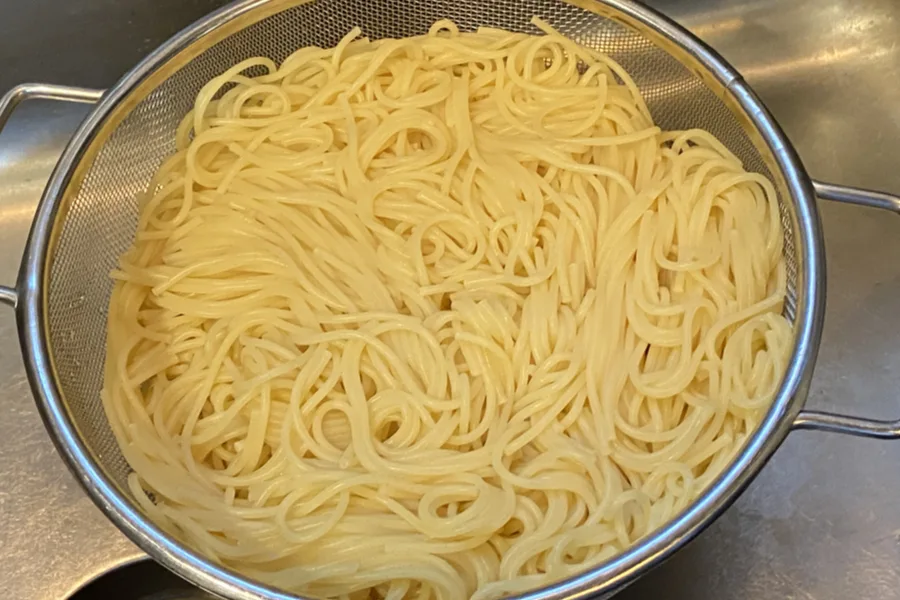 Once your pasta is cooked to al dente, drain it in a colander and set aside. Then, using the same pan, saute the onions, and then the garlic.
Rotel Tomatoes & Chiles or Acceptable Substitutes
Next, add in Rotel Tomatoes & Green Chiles and the cream cheese. If you don't have access to a store-bought can of Rotel, you could substitute a can of diced tomatoes and mix it together with a 4 ounce can of diced green chiles.
Or, let's not make this complicated. Use whatever diced tomato product that is sitting on the shelf in your pantry. Whether it is a can of fire roasted tomatoes or Italian flavored diced tomatoes it can all be used as a substitute in this chicken casserole recipe.
We have even made this recipe without the tomatoes before when we knew that we had a guest that couldn't tolerate them.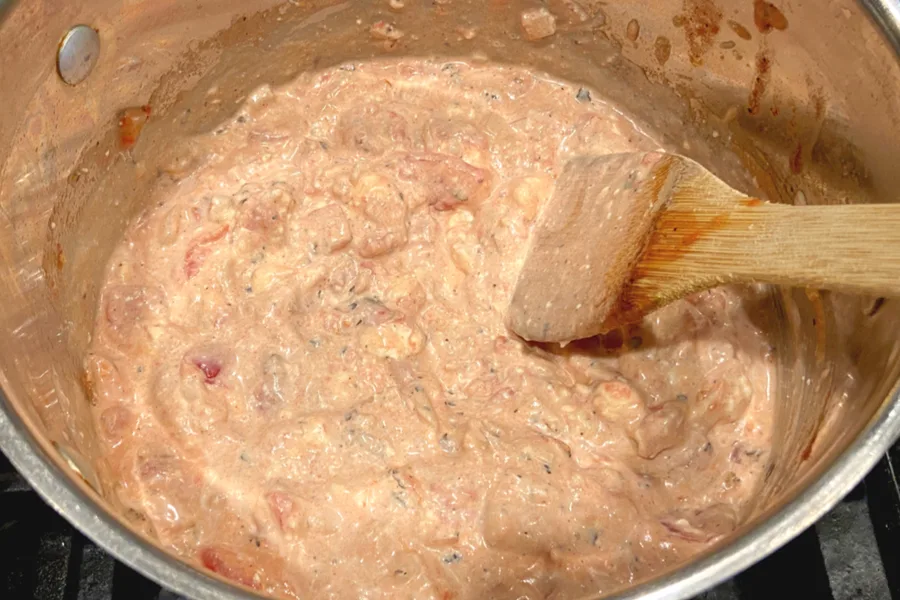 Whatever you choose to use, mix it with the cream cheese until it has melted completely. Then toss in the chicken broth, half and half, shredded chicken and the spices to the pot. Stir to combine and bring to a simmer.
Next, add the cooked spaghetti noodles and 1 cup of the shredded cheese to the mixture. Stir to combine and allow the cheese to melt.
Cooking Instructions
Pour the chicken spaghetti casserole in a 9 x 13 baking dish that has been sprayed with non-stick cooking spray. Top with the remaining cheese and bake in a preheated oven at 350°F for 20-25 minutes.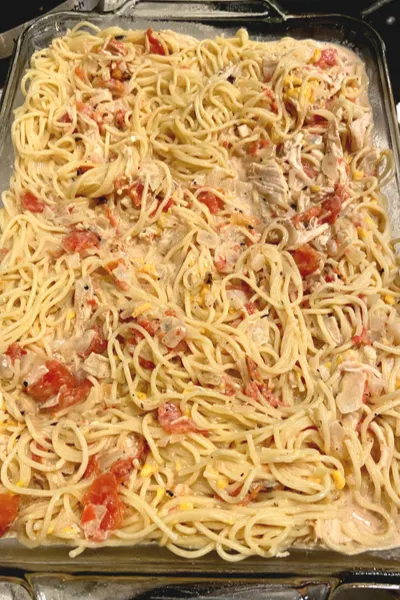 Remove the casserole from the oven when the top cheese has melted the the mixture is bubbly around the sides.
Let it sit for 5 minutes before serving. Trust me, you don't want to burn your mouth!
Store leftovers in a covered container in the refrigerator for up to 5 days. Enjoy!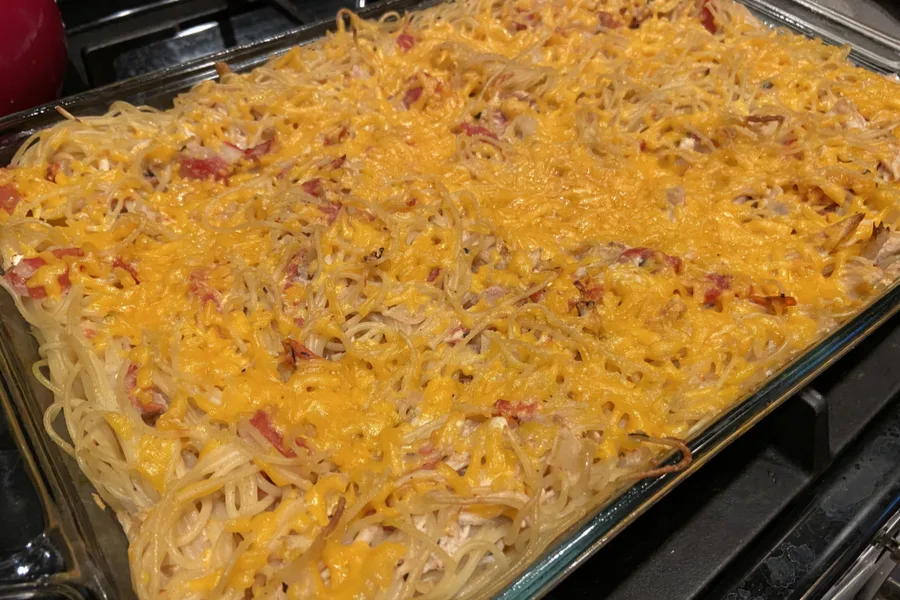 To receive our 3 Recipe Articles in your inbox each week, sign up for our free email list located in the middle of each recipe or email me at contact@makeyourmeals.com. You can also follow us on Facebook and Pinterest. This article may contain affiliate links where a small commission is paid if you purchase a product at no additional cost to you.
Yield: 12 servings
Chicken Spaghetti Casserole Recipe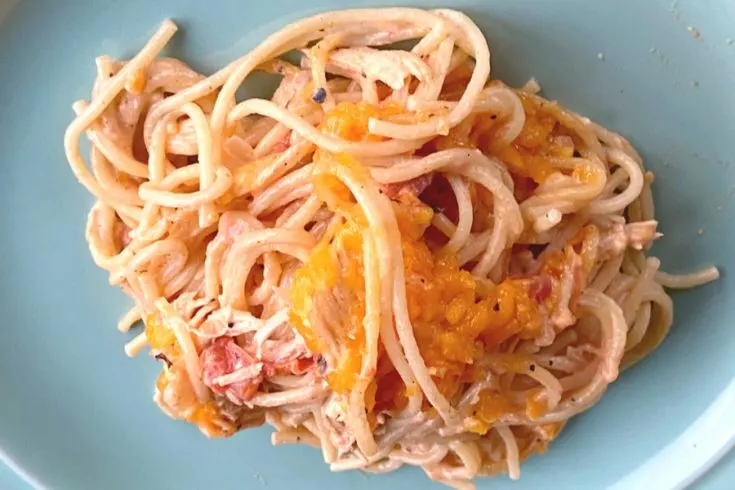 Creamy Chicken and spaghetti noodles baked in a creamy sauce without using any creamed soup! A delicious, family friendly recipe that everyone will love!
Ingredients
16 oz spaghetti noodles
1 teaspoons extra virgin olive oil
1 cup onion, diced
2 cloves garlic, minced
10 oz Rotel Tomatoes & Chiles, drained
8 oz cream cheese, softened
2 cups chicken broth
1/2 cup half and half
2 cups chicken breast, cooked and shredded
1 tablespoon cumin
1 teaspoon salt
1/2 teaspoon pepper
1 1/2 cups cheddar cheese, shredded
Instructions
Prepare a 9 x 13 casserole dish with non-stick cooking spray, set aside. Preheat oven to 350°F.
Cook spaghetti noodles according to the package directions to al dente consistency. Drain and set aside.
In the same pot heat extra virgin olive oil over medium heat. Saute diced onions for 2-3 minutes then add garlic to saute for 30 seconds. Next, add in your drained Rotel Tomatoes & Chiles and stir in the cream cheese. Continue to stir constantly until your cream cheese is melted.
To the same pot add chicken broth, half and half, cooked and shredded chicken, cumin, salt, and pepper. Mix and bring to a simmer.
Add in cooked spaghetti and 1 cup of shredded cheddar cheese to the pot. Mix until well combined and then add to the prepared casserole dish.
Top with remaining 1/2 cup cheese and place in the oven for 20-25 minutes or until cheese is melted and casserole is bubbling on the sides.
Remove from the oven and let sit for 5 minutes before serving.
Notes
Recipe provided by Make Your Meals
Nutrition Information:
Yield:
12
Serving Size:
1 serving
Amount Per Serving:
Calories:

316
Total Fat:

14g
Saturated Fat:

8g
Unsaturated Fat:

0g
Cholesterol:

55mg
Sodium:

522mg
Carbohydrates:

31g
Fiber:

2g
Sugar:

2g
Protein:

16g