One of my favorite snacks of all time is Homemade Caramel Corn. Sweet homemade caramel drizzled over lightly salted popcorn for a quick and easy snack that is perfect any time of the day.
Add in a few dry roasted peanuts and you have made your very own Cracker Jack mixture! However, I have to warn you. This recipe is so good that I often have to hide it from myself.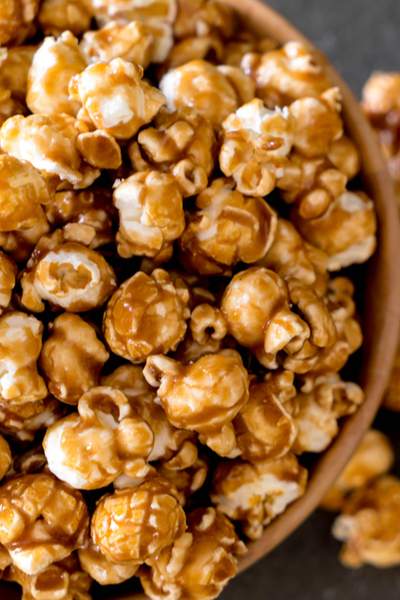 I know that sounds crazy. But if it is sitting out on the counter, I will take a handful whenever I walk by. And to be completely honest, I will sometimes make up a reason why I need to get up just to take another bite!
So when I was asked to share some of my favorite Fall recipes, I knew that my Homemade Caramel Corn had to be at the top of the list.
Peanuts Are Optional
Just keep in mind that the peanuts in this recipe are totally optional.
Because there are many people who suffer with peanut allergies, I do not add them when I am sharing with a crowd. However, because that is not an issue at our house, whenever I make this for my immediately family, I certainly add the peanuts into the mix.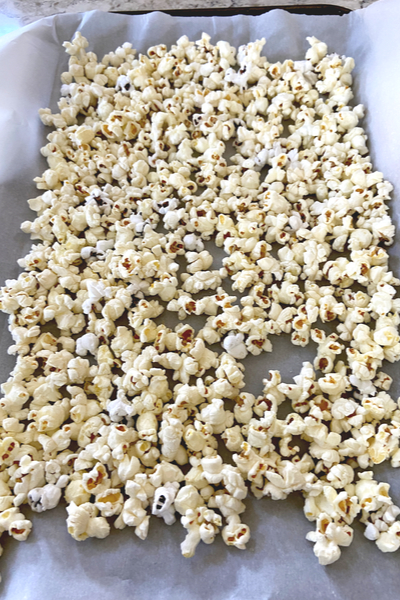 Whether you add peanuts or not it also makes for a great Halloween snack. In my opinion it is much easier to eat than those huge popcorn balls that are popular this time of year.
Why not add in a little candy corn and make yourself the ultimate October treat!
How to Make Homemade Caramel Corn
The first step in making this recipe is to make your popcorn. We use 4 quarts of popped popcorn that we make ourselves. However be sure to use unbuttered, traditional popcorn kernels.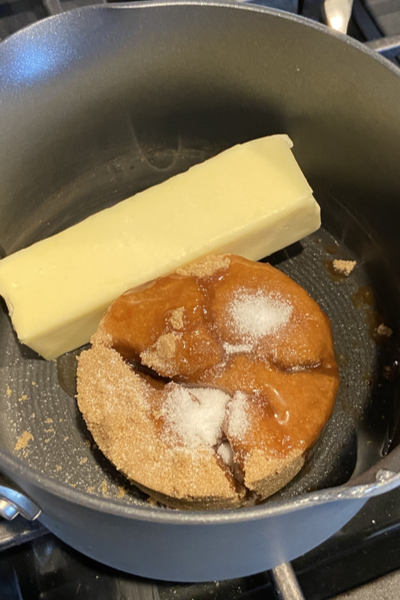 Simply place a little extra virgin olive oil in a large pot and throw a few kernels in over medium-high heat. Once the kernels pop, add in 1/2 cup of popcorn kernels and shake. Continue to shake while the kernels are popping.
Then remove the popcorn from the heat and let cool before proceeding to the next step.
Once the popcorn is cooled, spread them out on two large rimmed baking sheets lined with parchment paper. Then preheat your oven to 200°F.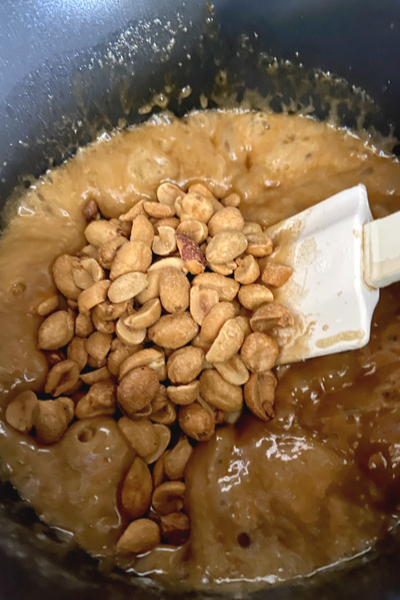 Now it is time to make the Homemade Caramel Corn Sauce. In a medium saucepan, add the brown sugar, corn syrup, salt and butter. Heat until the mixture comes to a boil and then reduce heat and let simmer for 5 minutes, stirring constantly.
Immediately remove the caramel from the heat and add the baking soda and vanilla extract. Be aware that the baking soda will cause the caramel to bubble up.
Work Quickly!
Then quickly pour the mixture on top of the popcorn. Immediately stir and toss the popcorn to cover as much of it as you can. *You will not be able to coat every piece of popcorn.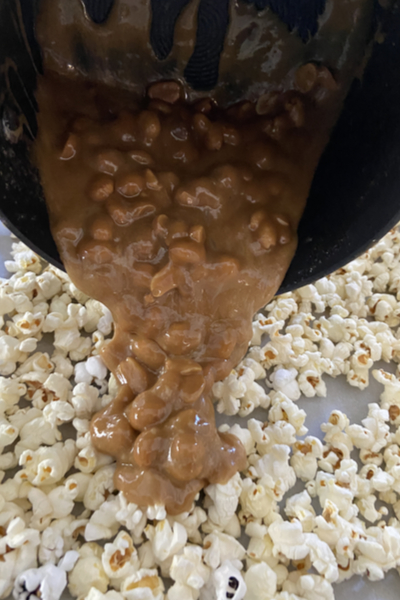 Place the caramel corn in the preheated oven for 45 minutes. Every 15 minutes be sure to stir and break up the popcorn so that the caramel can reach uncoated pieces.
Repeat this process for a total of 45 minutes. Then remove the homemade caramel corn from the oven and break up any large clumps and cool to room temperature.
Store in an air-tight container at room temperature. Enjoy!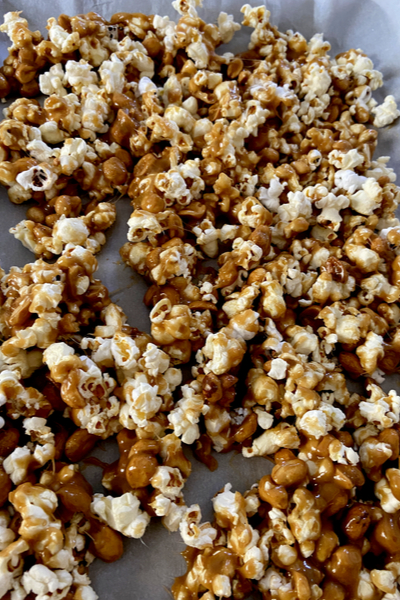 Some of our other favorite Caramel Recipes:

To receive our 3 Recipe Articles in your inbox each week, sign up for our free email list located in the middle of each recipe or email me at contact@makeyourmeals.com. You can also follow us on Facebook and Pinterest. This article may contain affiliate links where a small commission is paid if you purchase a product at no additional cost to you.
Yield: 24
Homemade Caramel Corn Recipe (Peanuts optional)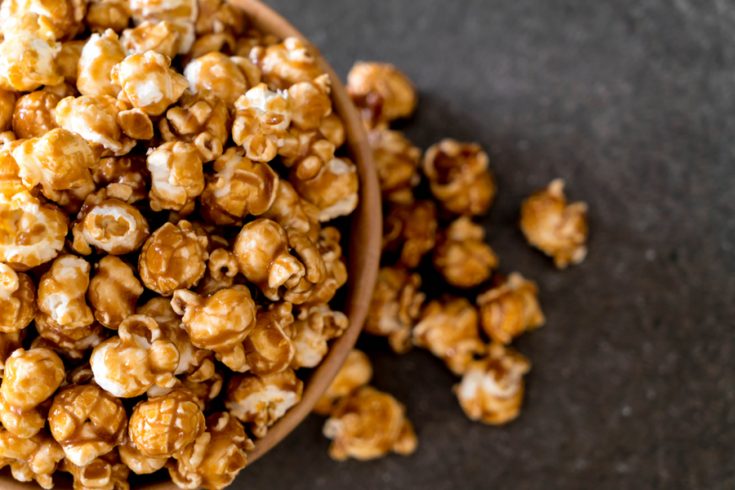 Homemade caramel corn that is perfectly coated and mixed with peanuts (optional) for that perfect sweet and salty treat that is simply addicting!
Ingredients
4 quarts popped popcorn
2 cups brown sugar
1/2 cup light corn syrup
1 teaspoon salt
1 cup butter
1/2 teaspoon baking soda
2 teaspoon vanilla extract
2 cups dry roasted peanuts, optional
Instructions
Preheat the oven to 200°F.
Place the popped popcorn onto a large greased baking sheet(s) with sides.
In a medium saucepan, combine brown sugar, corn syrup, butter and salt and bring to a boil over medium heat, stirring frequently. Once the mixture begins to boil, boil for 5 minutes while constantly stirring.
Remove from the heat, stir in the baking soda, vanilla and peanuts if using. Caution: the mixture will bubble up. Immediately pour the mixture over the popcorn and stir to coat as much as possible. *It will not be coated completely at this point.
Bake for 45 minutes, stirring every 15 minutes. Line the counter top with waxed paper. Once the popcorn has been coated, dump it out onto the waxed paper and separate the large chunks.
Allow to cool completely, then store in airtight containers or resealable bags.
Notes
4 quarts of popped popcorn equals approximately 1/2 cup of unpopped popcorn. Recipe provided by Make Your Meals
Nutrition Information:
Yield:
24
Serving Size:
0.25 cup
Amount Per Serving:
Calories:

741
Total Fat:

13g
Saturated Fat:

2g
Unsaturated Fat:

0g
Cholesterol:

1mg
Sodium:

231mg
Carbohydrates:

138g
Fiber:

21g
Sugar:

20g
Protein:

20g