Buffalo Chicken that is tossed with spaghetti squash 'noodles', along with crunchy bits of celery, peppers and green onions, then baked inside the spaghetti squash boats. An unbelievably delicious dinner recipe that even the veggie haters will love!
Every Autumn I find myself with an extra spaghetti squash or two sitting around the house for what seems like for weeks. I get so excited this time of the year because these fresh picked squash are easy to find and very economical.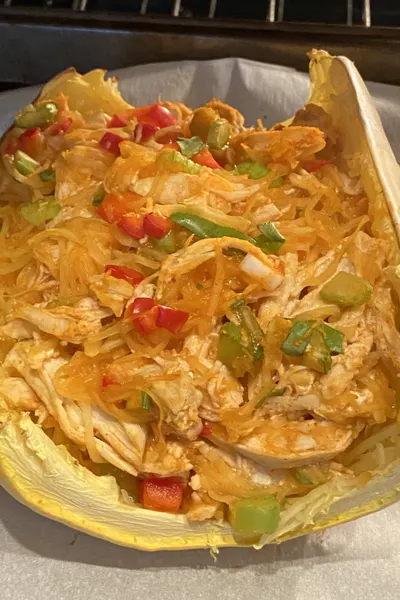 So I always end up buying a half a dozen with anticipation of making all sorts of healthy recipes. Of course, the first recipe that I make is Spaghetti Squash Spaghetti.
Yes, I know that it sounds redundant, but we use the spaghetti squash 'noodle's instead of pasta and pour our Homemade Pasta Sauce on top. It tastes just like spaghetti, but a little less filling and a lot less calories!
Then we do the same with Alfredo sauce or a simple mixture of butter and garlic. However, that leads us with a few extra spaghetti squash that we aren't sure what to do with.
That was before I first made this Buffalo Chicken Spaghetti Squash recipe! Now, when I pick up a few at the market, this recipe is the first one that the family requests!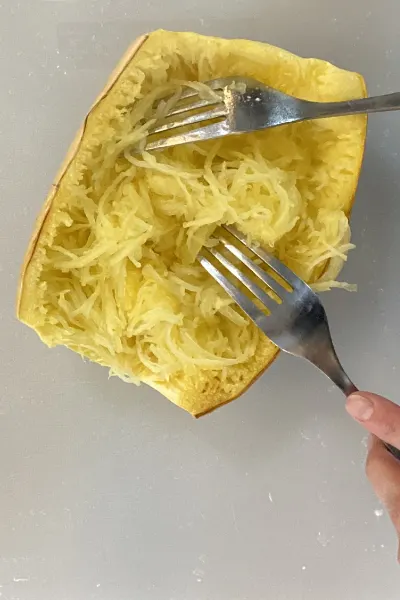 It holds all the flavors of traditional Buffalo Chicken Pasta, without all the carbs! Definitely a recipe that is worth keeping!
How to Make Buffalo Chicken Spaghetti Squash
The first thing that you want to do is the cook the spaghetti squash. As much as I love making Instant Pot Spaghetti Squash, this is not the time to use a pressure cooker.
Because we will be placing the filling back into the cooked shells, they need to remain somewhat firm. Therefore, it is best to use your oven instead of an Instant Pot.
But don't worry, this is simple and easy to do as well. It just takes more time to complete.
Oven Roasted Spaghetti Squash
First, cut each end off of the squash. Then place it upright and cut downward so that you have two halves. Now, using a large spoon, scoop out the seeds and strings.
*Quick note – if you like to Roast Pumpkin Seeds, the seeds from a spaghetti squash make good roasted seeds as well.
Now place each half, cut side down on a parchment paper lined baking sheet. Cook in a preheated oven for 30-40 minutes or until the strands can easily be pulled away from the skin.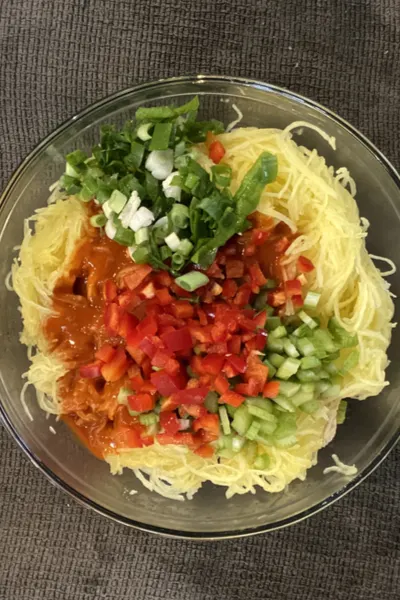 Using two forks, pull off the strands and place in a large bowl.
Add the cooked and shredded chicken and Buffalo Sauce to the bowl with the spaghetti squash 'noodles'. Then add in the red bell pepper, celery, and diced green onions.
Toss the mixture until well coated. Then evenly place the mixture into each shell. Bake until the Buffalo Chicken mixture is heated through.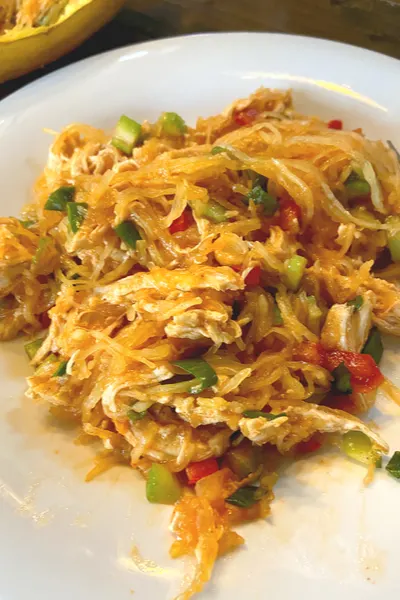 Serve immediately. You can also drizzle a little Ranch dressing or Blue Cheese over your Buffalo Chicken Spaghetti Squash if desired.
Enjoy!

To receive our 3 Recipe Articles in your inbox each week, sign up for our free email list located in the middle of each recipe or email me at contact@makeyourmeals.com. You can also follow us on Facebook and Pinterest. This article may contain affiliate links where a small commission is paid if you purchase a product at no additional cost to you.
Yield: 4
Buffalo Chicken Spaghetti Squash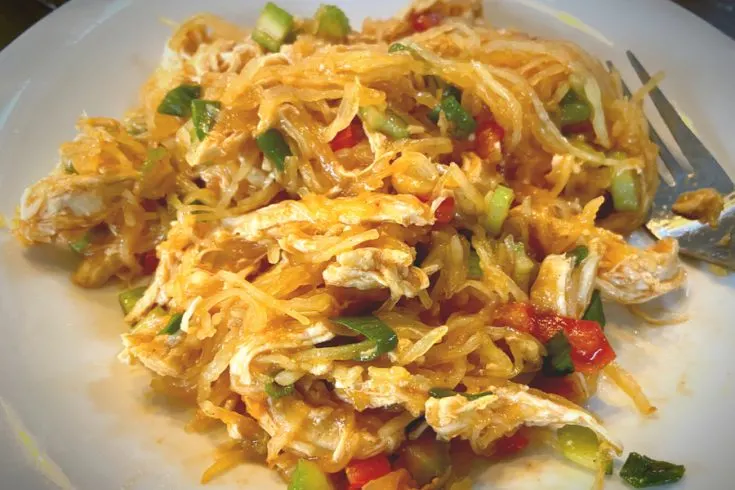 A great Buffalo Chicken Recipe dinner recipe that is served with and in spaghetti squash boats. An unbelievably delicious dinner recipe that even the veggie haters will love!
Ingredients
1 medium spaghetti squash, halved (about 3 lbs.)
1 lb. chicken breast, cooked and shredded
2 ribs celery, thinly sliced
2 green onions, white and green parts thinly sliced
½ cup red bell pepper, diced
½ cup Buffalo Sauce
Optional Toppings:
1/4 cup Ranch Dressing, 1/4 cup crumbled Blue Cheese
Instructions
Preheat oven to 350°F. Line a baking sheet with parchment paper and set aside.
Slice both ends from squash and discard. Then stand squash up on one of it's cut ends and use a large knife to cut the squash in half lengthwise.
Scoop seeds and stringy insides out using a large spoon.
Place squash cut-side down on the baking sheet.
Bake in the preheated oven for 30-40 minutes or until squash is tender. Baking time will depend on the size of your squash.
When squash is fork tender, allow to cool slightly before gently scraping the squash strands into a large bowl. Reserve the squash shells for later.
Add the cooked and shredded chicken, celery, onions, red peppers and Buffalo sauce to the spaghetti squash strands in a large bowl. Toss well to coat.
Spoon mixture evenly into the squash shells. Place the stuffed shells back onto the baking sheet and cook for 10-15 minutes or until heated through.
Serve immediately and top with ranch dressing and/or blue cheese if desired.
Notes
One stuffed shell is considered two servings so eat it right out of the shell, or serve on a plate. Recipe provided by Make Your Meals.
Nutrition Information:
Yield:
4
Serving Size:
1 grams
Amount Per Serving:
Calories:

288
Total Fat:

12g
Saturated Fat:

2g
Unsaturated Fat:

0g
Cholesterol:

78mg
Sodium:

1274mg
Carbohydrates:

20g
Fiber:

5g
Sugar:

8g
Protein:

26g