Spaghetti squash doesn't have to take a long time to make. In fact, it can go from being on your counter to your plate in less than 20 minutes!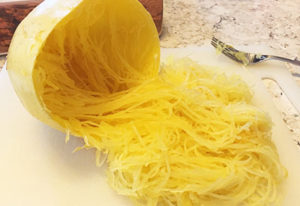 Spaghetti squash is gaining in popularity with so many people wanting to eat more veggies and limit the amount of carbohydrates that they eat. However, some people steer away from making it because it takes too long.
With the Instant Pot Pressure Cooker, you can have spaghetti squash on your table in no time! And that means you can have Low Carb Cheesy Spaghetti Squash Breadsticks for dinner!
Not wanting to eat it right away? No problem! Make it a day or two in advance and place it in the refrigerator until you are ready.
The Secret To Getting Those Long Spaghetti Squash Noodles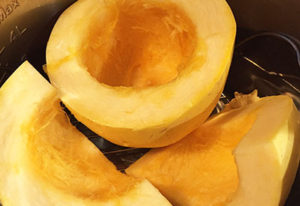 If you search how to make spaghetti squash most recipes will tell you to cut the squash lengthwise (from top to bottom). Although this technique will result in soft and tender noodles, the strands will be short and not resemble spaghetti at all!
The key to getting long noodles is to cut the squash through the center. When the top and bottom halves are cooked, you can easily pull out the long noodles with a fork.
You can use the squash noodles as a direct replacement for traditional spaghetti noodles. The thickness resembles angel hair or thin spaghetti. See our recipe: Spaghetti Squash Casserole.
To receive our 3 Recipe Articles in your inbox each week, sign up for our free email list. You can also follow us on Facebook, Twitter, Pinterest, or Instagram. This article may contain affiliate links.
How To Cook Spaghetti Squash – The Secret To Getting Long Noodles