If you are looking for a way to add some flavor to your chicken breasts, you are going to love this Baked Chicken Parmesan recipe.
We have all seen Chicken Parmesan on the menu at an Italian restaurant. But did you know that most often the breaded chicken breasts are deep-fried, not baked?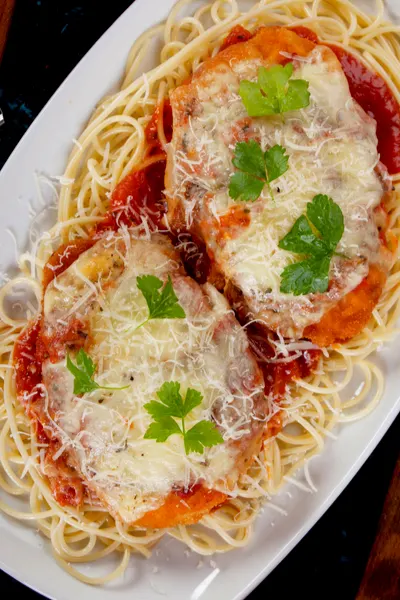 That is why the chicken is perfectly golden brown and crunchy before they add the marinara sauce and cheese to the top. And yes, the taste is absolutely delicious! And the texture comes out perfect every time.
However, over the last few months I have cooked more at home than I have eaten out at restaurants. And although I love eating grilled chicken breasts, there are days when you crave something different.
Yes, I have made some of our favorite chicken recipes, such as Buffalo Chicken Pasta and Tuscan Chicken in the Instant Pot. And I have even made Fiesta Chicken and Salsa Chicken in the oven.
But today, as the weather has begun to turn cooler, I couldn't quit thinking about making Chicken Parmesan. However, I gave up my deep fryer long ago.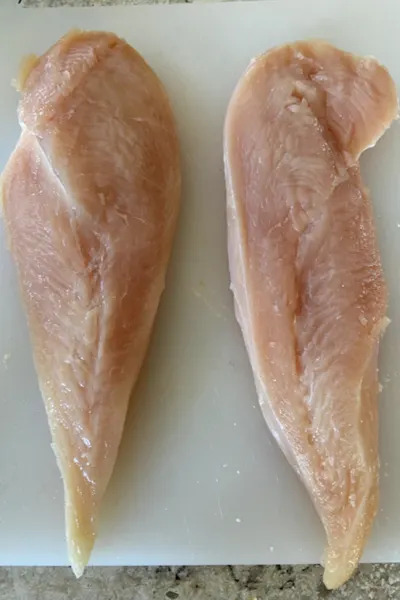 Since then, I have adapted and made both Air Fryer Chicken Parmesan and Instant Pot Chicken Parmesan. Although they both turn out fantastic, I decided to go the old-school route and bake it in the oven.
Easy Baked Chicken Parmesan
The first step in making this recipe is to start off with thin chicken breasts. However, because we buy the family pack at the grocery store, our chicken breasts are usually rather thick.
Therefore, we take two chicken breasts and slice them in half to make a total of 4 thin cutlets.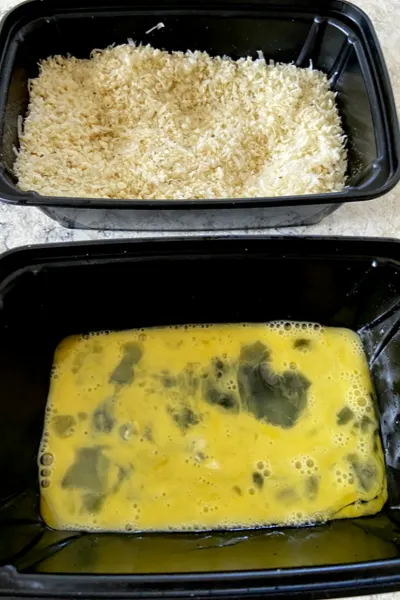 Then we set up our dredging station. In a shallow bowl, combine the Panko breadcrumbs, Parmesan cheese, and spices. Mix until well incorporated.
We prefer to use Panko breadcrumbs for this recipe because they are larger than standard breadcrumbs. And when baked, they give that familiar crunch that you are looking for in a Chicken Parmesan meal.
However, feel free to substitute any type of breadcrumbs that you prefer. For instance, if you are gluten-free, there are gluten-free breadcrumbs on the market. Of you could crush pork rinds and make your breading from that.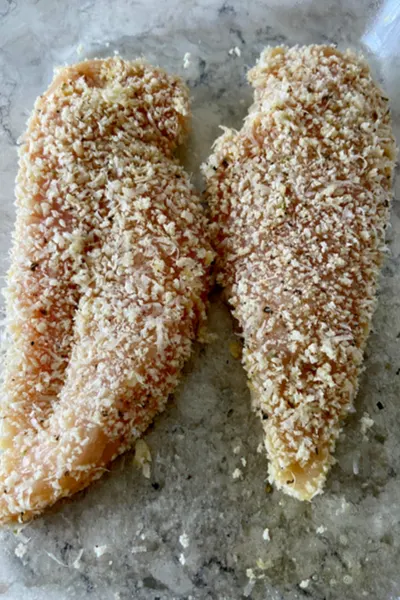 And, of course, if you want to make it even healthier and skip the breading all together, the choice is up to you!
Next, in a separate shallow bowl, whisk an egg. This will be the binder that will help your breading stick to the chicken breasts.
How To Bread The Chicken Breasts
Now, working individually, dip a chicken breast into the egg mixture. Make sure to cover both sides. Then place the egg drenched chicken breast into the Panko and Parmesan mixture. Again, coat both sides.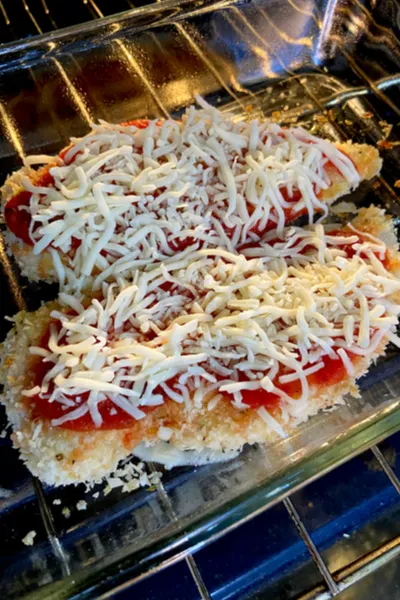 I find it helpful to lightly pat the breadcrumbs so that they adhere to the surface better. Then place each cutlet into a greased baking dish.
Bake in a preheated oven for 15 minutes. Then carefully flip each chicken breast over. I find it easier to use a large spatula rather than tongs for turning the baked chicken. It doesn't disturb the breading if you use a spatula to flip.
Next, add a few tablespoons of marinara sauce over each piece and sprinkle Mozzarella cheese on top. Continue to bake for 5-7 minutes or until the Chicken Parmesan reaches an internal temperature of 165°F.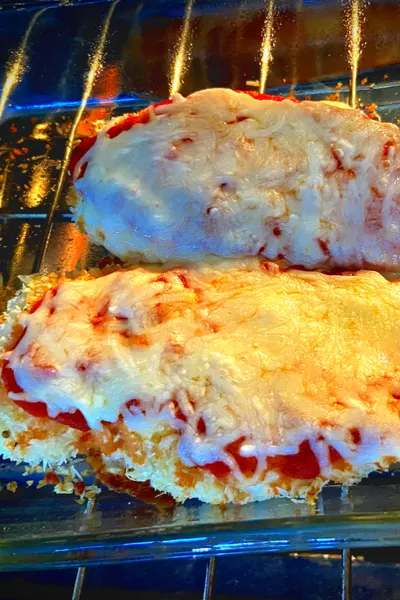 Remove from the oven and serve as a stand alone main dish or over pasta for a classic Italian meal. And if you are trying to keep it even healthier, how about serving it over a plateful of spaghetti squash!
If you have an Instant Pot, you can cook your spaghetti squash while you are baking your Chicken Parmesan and dinner will be ready all at the same time!
Enjoy!

To receive our 3 Recipe Articles in your inbox each week, sign up for our free email list located in the middle of each recipe or email me at contact@makeyourmeals.com. You can also follow us on Facebook and Pinterest. This article may contain affiliate links where a small commission is paid if you purchase a product at no additional cost to you.
Yield: 4
Easy Baked Chicken Parmesan Recipe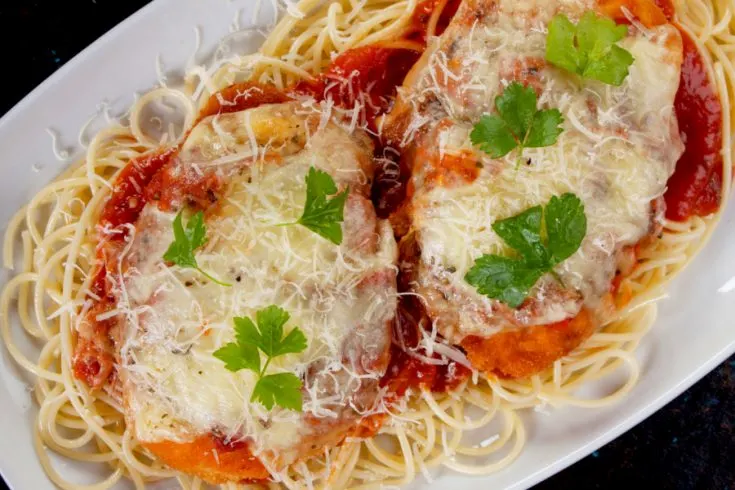 Chicken breasts coated in a cheesy Panko breadcrumb mixture and baked with marinara sauce and Mozzarella cheese for the perfect meal to serve over pasta or spaghetti squash!
Ingredients
2 chicken breasts, large, or 4 thin chicken breasts
1 cup Panko bread crumbs
1/2 cup Parmesan cheese
1 teaspoon salt
1/2 teaspoon ground black pepper
1 teaspoon garlic powder
1 teaspoon oregano, dried
1 egg, large
1 cup marinara sauce, or pasta sauce
1 cup shredded Mozzarella cheese
Instructions
Preheat the oven to 425°F. Grease a rimmed baking sheet with non-stick cooking spray and set aside.
Slice chicken breasts in half lengthwise to make 4 thin breasts and pound to even thickness if needed.
In a shallow bowl, combine the Panko breadcrumbs, Parmesan, salt, pepper, garlic powder & oregano. In a small bowl, whisk the egg.
Dip each chicken fillet into the egg mixture and then into the bread crumb mixture, coating both sides well. Transfer to the prepared baking sheet.
Bake in the preheated oven for 15 minutes. Then flip each breast onto the other side and top with 3-4 tablespoons of marinara sauce. Then top each chicken breast with 1/4 cup of Mozzarella cheese.
Return to the pan to the oven and bake for an additional 5-7 minutes or until the cheese is melted and the chicken is cooked through. Internal temperature should read 165°F.
Notes
If you want your cheese to brown a little on top, place under a broiler for 2-3 minutes.
Serve over pasta, spaghetti squash, or eat as a stand alone main course.
Recipe provided by Make Your Meals
Nutrition Information:
Yield:
4
Serving Size:
1 grams
Amount Per Serving:
Calories:

356
Total Fat:

14g
Saturated Fat:

7g
Unsaturated Fat:

0g
Cholesterol:

144mg
Sodium:

1535mg
Carbohydrates:

16g
Fiber:

2g
Sugar:

4g
Protein:

39g