Making a homemade cherry pie is easier than you think!
When most people think about making a homemade cherry pie they immediately head to the canned dessert aisle at the local grocery store and pick up 2 cans of cherry pie filling.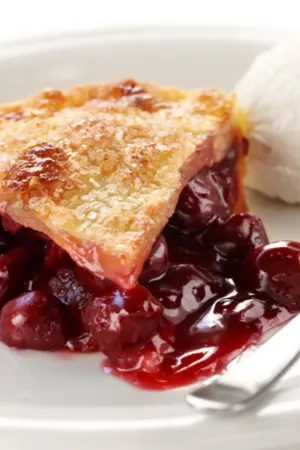 And although a pie made with canned pie filling is easy and delicious, there is just something satisfying about making your own homemade cherry pie.
Of course, there is a little bit of patience that is involved. Especially when using fresh cherries.
You must take the time to remove the pit and cut each cherry in half.
Believe me when I say this – you will be very happy if you have a cherry pitter. It will save you so much time and reduce your frustrations if you have this handy kitchen tool.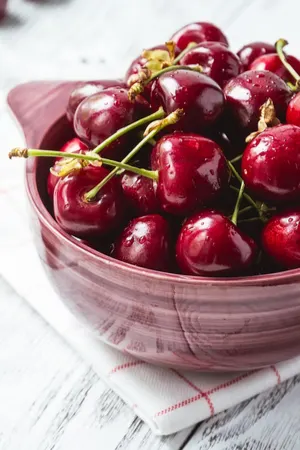 This is where I wish neighborhoods had a lending kitchen library.
The kind where all of those hardly every used, but very important, kitchen tools where there for the entire community to borrow when needed.
That way not every kitchen would have to store kitchen utensils that are used only once or twice a year!
Pitting The Cherries
The most ideal tool to pit the cherries is definitely a cherry pitter. The speed and accuracy of this device is incomparable to anything else.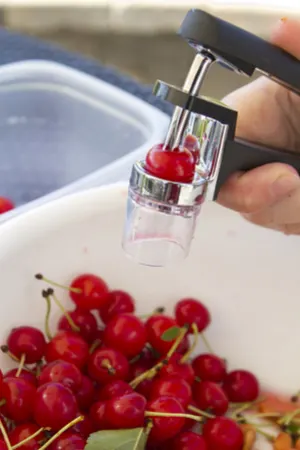 However, there are other ways you can pit the cherries as well. Now remember, it will take you longer and you may become a little more frustrated, but it can be done.
1. Chop stick
Place a cherry on top of an opened bottle. Take the flat end of a chop stick and push it through the top of the cherry.
The pit should push out the other end and fall neatly inside the bottle for easy clean up.
2. Pastry tip
Place your pastry tip, point side up, on top of your work surface. Lower the cherry down onto the tip until the pit comes out the other end.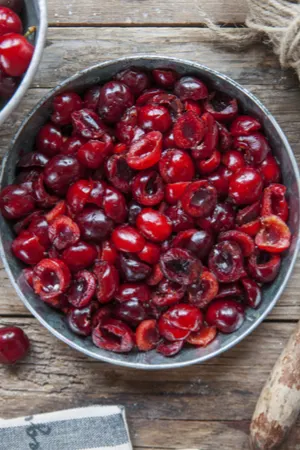 3. Paper clip
Take a standard paper clip and unfold it in the center, leaving the curved edges intact. Push one end into the center of the cherry and pull out the pit.
4. Straw
Similar to the chop stick method, place a cherry on top of an opened bottle. Push the straw through the center of the cherry until the pit falls out.
Now That The Pits Are Gone
Congratulations, you just accomplished the hardest task of making a homemade cherry pie!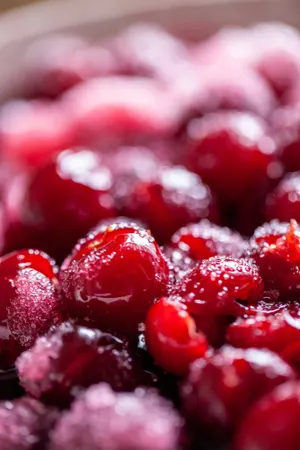 Now comes the easy part – making the filling.
This recipe is based on using sweet cherries for the filling. We prefer to use Rainier and Black Sweet Cherries in this recipe.
However, any sweet cherry will do.
You can certainly use tart cherries. However, you will need to increase the amount of sugar that you add to the filling from 2/3rds to at least 1 cup.
Once you combine the filling ingredients together, immediately place it in the refrigerator to set up.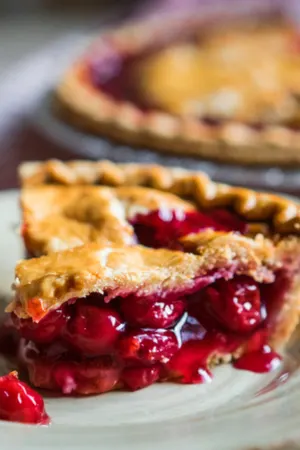 Keeping everything cool helps decrease the chance of excess liquid being formed which will result in a runny pie.
About That Homemade Cherry Pie Crust
If you have a favorite homemade pie crust that you enjoy making, by all means do so for this recipe!
Although I have a great pie crust recipe that I love and that never fails me, I have to admit, I often buy pre-made, packaged refrigerator pie crust.
They come out light and flaky and honestly, there are some days that I don't have time to make the crust myself.
So whether this is truly Homemade Cherry Pie or Semi-homemade Cherry pie – the results turn out fantastic!
And regardless, you can tell everyone that you didn't use canned pie filling!

Check out the printable recipe below and all of our recipes and let me know what you think!
To receive our 3 Recipe Articles in your inbox each week, sign up for our free email list. You can also follow us
on Facebook, Twitter, Pinterest, and Instagram. This article may contain affiliate links.
Homemade Cherry Pie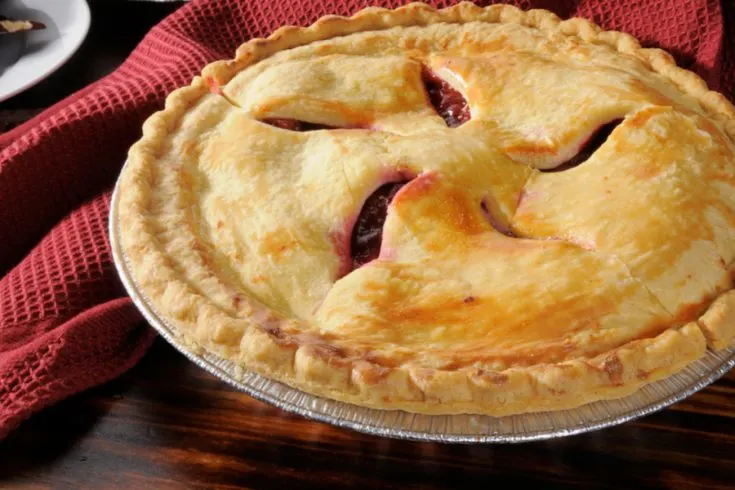 Sweet and delicious homemade cherry pie made from fresh sweet cherries and topped with a beautiful golden crust.
Ingredients
4 cups fresh sweet cherries, pitted and halved
2/3 cup granulated sugar
4 tablespoons cornstarch
1 1/2 teaspoons lemon juice
1 teaspoon vanilla extract
1/8 tablespoon almond extract
2 9-inch pie crusts
1 1/2 tablespoons butter
1 tablespoon granulated sugar
Instructions
In a large bowl combine the cherries, sugar, cornstarch, lemon juice, vanilla extract and almond extract and stir well. Place the filling in the refrigerator for at least 30 minutes.
Preheat the oven to 375° F.
Follow the directions of the package of store-bought pie crust for a 2 pie crust pie. Or make your own pie crust and put the bottom layer in a 9 inch pie pan.
Pour the cooled cherry mixture into the crust.
Cut the butter into small sections and dot the top of the cherry filling with butter.
Moisten edge of bottom crust with water. Place top crust on and crimp and/or flute the edges of the crust together.
Make a several slits in the middle of the crust for steam to escape. Sprinkle the top crust with sugar.
Bake for about 50 minutes until the filling is hot and bubbling and the pie crust is brown. *Cover edges of the crust about half way through the cooking time if becoming too brown.
Remove from the oven and place on a rack to cool. Once completely cool, store in the refrigerator until ready to serve.
Notes
1 ½ pounds of cherries yields approximately 4 cups. We prefer to use a combination of rainier and black sweet cherries. If you use a tart cherry variety, increase sugar to 1 cup. Recipe provided by Make Your Meals
Nutrition Information:
Serving Size:
1 grams
Amount Per Serving:
Unsaturated Fat:

0g