Muffin Tin Apple Pie Recipe
What can be better than apple pie itself? How about muffin tin apple pie!
I have always loved the taste of classic apple pie, especially if it is warm (and of course topped with a little homemade vanilla ice cream)!
But when it comes to a party, it is inconvenient to serve. First of all, out of sheer courtesy, you have to wait until someone cuts it.
Then you must have a pie spatula/server. It's nearly impossible to serve a neat piece of pie without one!
So for my picnic today, I decided to make muffin tin apple pie!
And to make it super easy, I used only 4 ingredients!
I bought pre-made refrigerated pie crust. Of course you could make your own pie crust, but I just didn't have time for that.
Plus, store-bought pie crusts turn out light and flaky each and every time.
You will just roll out the room temperature dough and cut it in 3 1/2 inch circles. If you don't have a biscuit cutter or a round cookie cutter, you can use the rim of a glass to cut the dough.
In fact, I used the rim of a ramekin to make my circles. They fit perfectly into a standard muffin tin!
And instead of using raw apples, I opted to use canned apple pie filling. After all, this recipe is all about ease and convenience!
You will want to use a large can of apple pie filling. I have found a 21 ounce can is just the right amount to fill the muffin tins.
Because you are making mini apple pies, you will need to cut down the apple slices into small chunks.
Just dice the apples, add a little cinnamon, and the base of your apple pie is complete!
And no apple pie is complete without some sort of crust or topping. I used the leftover dough to make shapes to put on top of each muffin tin apple pie.
You could use mini cookie cutters, or make your own designs like I did.
And the last step – top each pie with a little cinnamon sugar mixture to give it that tiny taste of sweetness as you take the first bite.
Check out the printable recipe below and all of our recipes and let me know what you think!
To receive our 3 Recipe Articles in your inbox each week, sign up for our free email list. You can also follow us on Facebook, Twitter, Pinterest, and Instagram. This article may contain affiliate links.
Yield: 12
Muffin Tin Apple Pie Recipe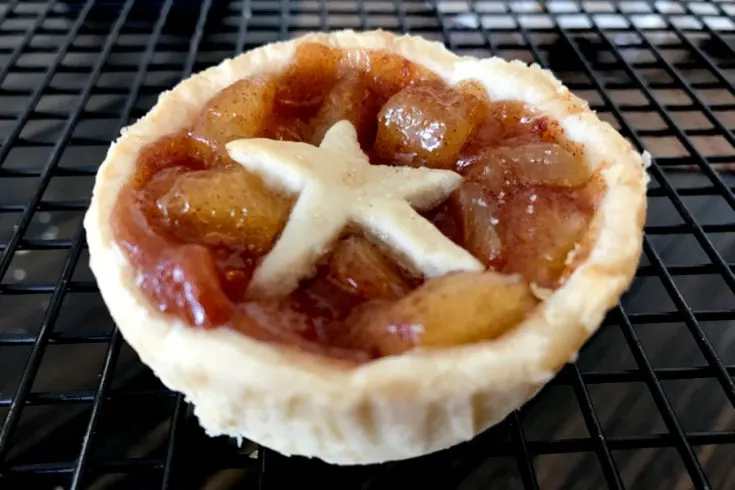 Hand held mini apple pies that are made in a muffin tin. Perfect individual servings and no utensils required!
Ingredients
1 box refrigerated pie crusts, softened
1 21 oz can of apple pie filling
1/2 teaspoon ground cinnamon
1 teaspoon sugar
1/8 teaspoon ground cinnamon
Instructions
Heat oven to 425°F
Unroll 1 pie crust on work surface. With a 3 1/2-inch round biscuit or cookie cutter, cut 6 rounds from each crust.
Place each circle into an ungreased regular-size muffin cup.
Use small cookie cutters to cut 12 cutouts from remaining dough, rerolling scraps as needed.
In small batches, empty the contents of the apple pie filling on a large cutting board. Coarsely chop the apples into small pieces. Place the apples in a small bowl. Mix apple pie filling and 1/2 teaspoon cinnamon until well combined.
Divide apple mixture evenly among crust-lined cups.
Top each muffin cup with 1 dough cutout.
In small bowl, mix sugar and 1/8 teaspoon cinnamon until blended. Sprinkle on tops of cutouts.
Bake 21 to 24 minutes or until golden brown and mixture is bubbly.
Cool completely in pan (approximately 1 hour).
With small knife, loosen edges and remove each pie to a cooling rack. Store in airtight container at room temperature.
Notes
*If you don't have a circle cut out, use the top rim of a ramekin or glass. Recipe provided by Make Your Meals
Nutrition Information:
Yield:
12
Serving Size:
1 grams
Amount Per Serving:
Unsaturated Fat:

0g