There is just something special about walking into the local diner and ordering a classic breakfast plate full of eggs, bacon, and home fries.
You know the kind of place that I am talking about. Where you smell the bacon grease when you pull into the parking lot before you even step foot out of the car.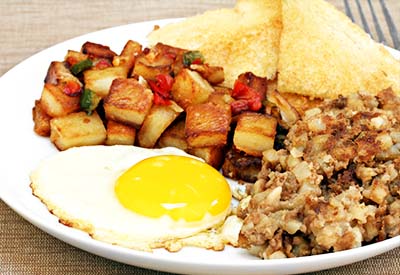 The place that is so packed with locals on Saturday and Sunday mornings that you try to get there early to beat the crowd. However, knowing that you will be patient if there is a waiting list because it is THAT good.
I absolutely love breakfast food. I could eat breakfast for lunch or dinner almost every day and not complain.
My absolute favorite thing to order are home fries, especially if they include diced onions and sweet peppers.
I'm not sure why, but it took me years to order home fries without confirming with the server that they were the diced potatoes and not the shredded ones.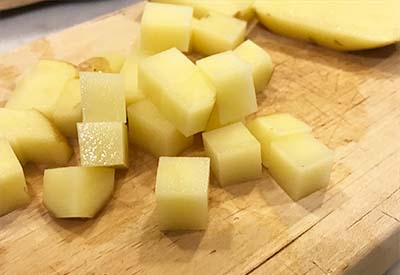 I have never been a huge fan of hash browns served as a side with breakfast. The inconsistent cooking results from restaurant to restaurant steered me away from ordering them.
One place they would be crispy and fried almost too much, and in another establishment, they would be almost like raw, barely cooked potatoes.
But I quickly found out that you could never go wrong with ordering diced home fries!
Even better, when you find out that they are made from Yukon gold potatoes!!!! The naturally buttery flavor of a fresh Yukon gold potatoes make the home fries that much better!
Add a little diced onion and pepper and your favorite seasonings and you have the perfect breakfast side dish!
***HINT – when cutting potatoes, it is best to use a Santoku knife (see Affiliate Link) to cut your potatoes with. The grooves prevent the potatoes from stick to the blade so you get even, uniform cuts. This is important so that the cooking time is the same for all potatoes.
I also like to use a large, hard anodized, non-stick skillet when making this recipe. (See Affiliate Link). This allows you to be able to 'flip' the potatoes like the professional chefs. Not only does it make browning the potatoes easier, it also makes you feel talented!
Check out the printable recipe below and all of our recipes and let me know what you think!
To receive our 3 Recipe Articles in your inbox each week, sign up for our free email list.
You can also follow us on Facebook, Twitter, Pinterest, and Instagram. This article may contain affiliate links.
Crispy Home Fries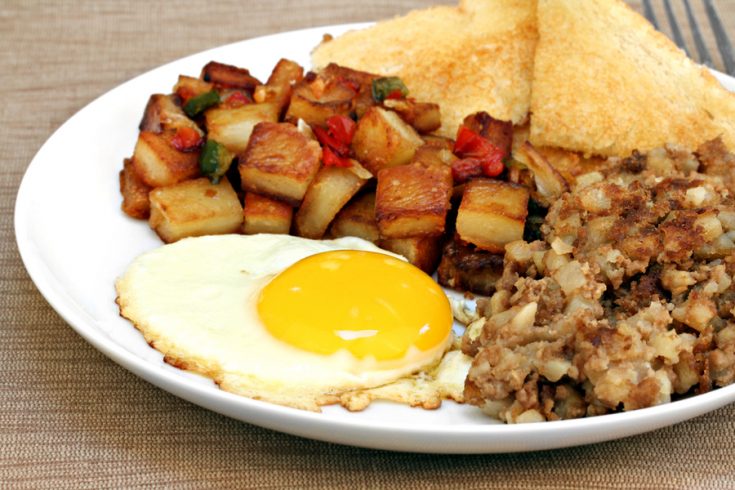 Diced Yukon gold potatoes cooked to be tender on the inside and crispy on the outside, seasoned with onions, red peppers and spices.
Ingredients
2 Tbsp extra virgin olive oil, divided
4 medium Yukon gold potatoes, washed and diced into ½ inch pieces
1 Tbsp butter
1/2 cup yellow onion, chopped into small pieces
1/2 cup red pepper, seeded and chopped into small pieces
1/2 tsp kosher salt
1 tsp fresh ground pepper black pepper
1/2-3/4 tsp garlic salt, more to taste
1/4 tsp cayenne pepper, optional
Instructions
Heat 1 Tbl of oil in a large skillet over medium-high heat until hot but not smoking.
Add the onion & pepper and cook until browned about 4-6 minutes. Remove from heat and transfer to a bowl.
In the pan add the butter and remaining oil.
When the butter is melted, add the potatoes in a single layer, making sure each potato is touching the surface of the skillet.
Allow to cook for 4-5 minutes WITHOUT stirring. You want the sides to brown.
Once browned on one side, carefully flip and brown the other sides and season with Kosher salt and black pepper. Cook until fork tender.
Add the onions and peppers back in the pan and gently stir to heat through.
Add in garlic salt and cayenne pepper to taste.
Stir gently and remove from heat.
Serve immediately.
Notes
Recipe provided by Make Your Meals
Nutrition Information:
Serving Size:
1 grams
Amount Per Serving:
Unsaturated Fat:

0g