If you started a low-carb diet at the beginning of the year and are craving bread, then you are going to love this Spaghetti Squash Breadsticks recipe.
Yes, you read that right. Breadsticks made from squash!!!! I had serious doubts that this could be done, but the results were absolutely incredible!
Cheesy breadsticks that tasted just like many other breadsticks that I have had in the past, but without all the carbohydrates!
And unlike many mock bread recipes, this one is easy to make and without unusual or expensive ingredients.
How To Make Spaghetti Squash Breadsticks
Ingredients
Spaghetti Squash
Egg
Mozzarella Cheese
Italian Seasoning
Almond Flour (or All-Purpose Flour)
Parmesan Cheese
Parsley
*You will need 2 cups of cooked spaghetti squash, therefore it is best to purchase a medium size squash from the grocery. You may have some leftover, but you can use it later to make Buffalo Chicken Spaghetti Squash for lunch or dinner.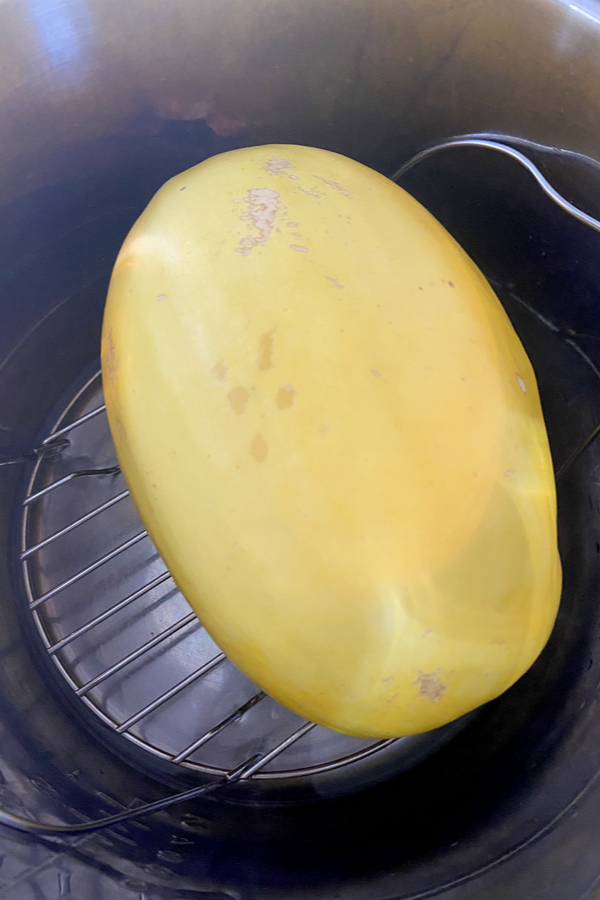 Instructions
The first step in making this Spaghetti Squash Breadsticks recipe is to cook the spaghetti squash. There are several methods that you can use to cook it, including roasting it in the oven. However our preferred way is to cook a whole squash in an Instant Pot, or any electric pressure cooker.
For this recipe, I poke a few holes through the skin of the squash and place it on the trivet inside the Instant Pot. Add 1 cup of water and pressure cook on high pressure for 12 minutes.
After the cook time is up, let the pot sit for 10 minutes before you release the remaining pressure by moving the valve to the venting position. Now remove the cooked spaghetti squash and slice it in half.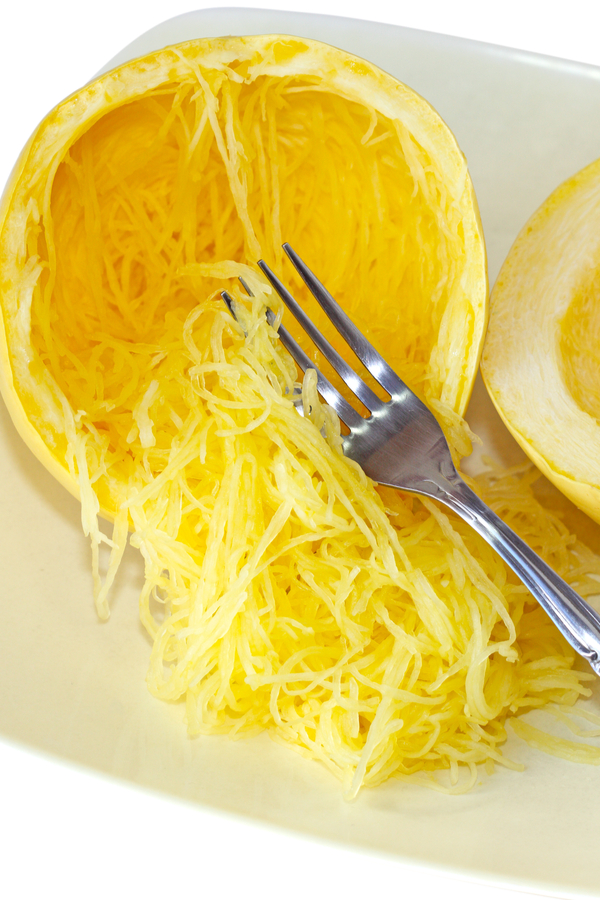 All that you need to do is to remove the seeds and shred the 'noodles' with a fork. Once you have measured out two cups, slice those strands so that they are approximately one inch in length, as you don't want long spaghetti squash noodles throughout your breadsticks.
Remove the Liquid
Now place the squash on a tea towel. Then gather the ends of the towel and wring the liquid out of the noodles. Keep working until you can no longer remove any more liquid.
This process will reduce the spaghetti squash in half, leaving you with just 1 cup. Now place the noodles in a mixing bowl along with the egg, 1/4 cup of Mozzarella cheese, Italian seasoning, and flour.
Mix until well incorporated. Then place the mixture on a parchment paper lined baking sheet and spread into a thin layer, about 1/4 inch thick.
Bake in a preheated oven for 15 minutes, or until the edges just begin to brown and the center is no longer wet. Then carefully remove the pan from the oven and flip the spaghetti squash breadsticks over.
Reduce the oven heat by 25°F. Next, sprinkle the remaining Mozzarella and Parmesan cheeses on top of the bread and return the pan to the oven. Continue to bake for 6-8 minutes or until the cheese has melted and begins to bubble.
Remove from the oven and let sit for a couple of minutes before slicing into individual rectangle pieces.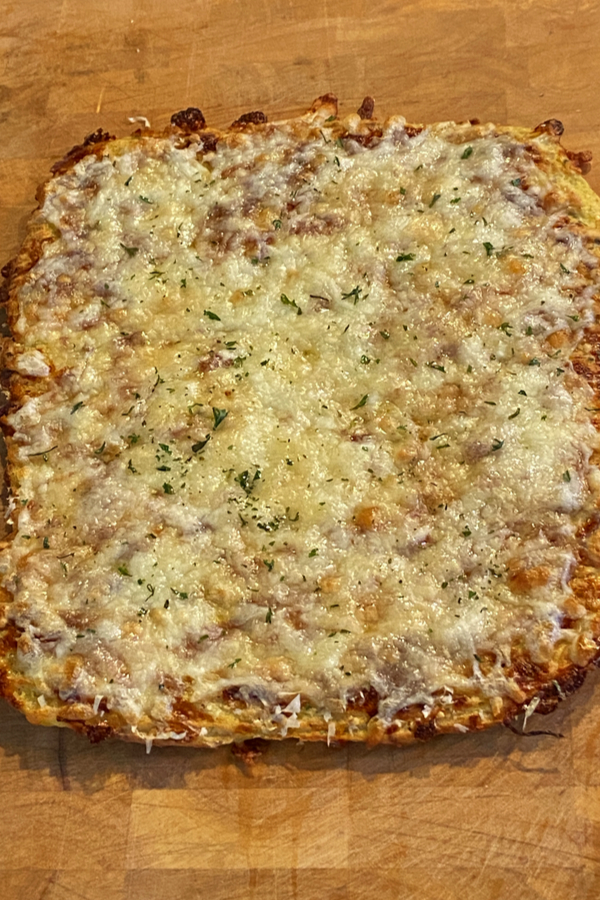 Serve with our favorite Marinara sauce recipe. Enjoy!

To receive our 3 Recipe Articles in your inbox each week, sign up for our free email list located in the middle of each recipe or email me at contact@makeyourmeals.com. You can also follow us on Facebook and Pinterest. This article may contain affiliate links where a small commission is paid if you purchase a product at no additional cost to you.
Yield: 12
Spaghetti Squash Breadsticks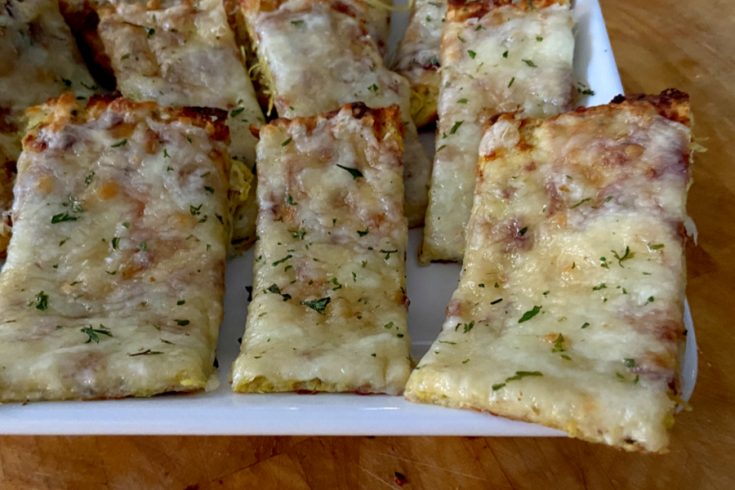 Spaghetti Squash Breadsticks taste just like a cheesy breadstick but without all the carbs!
Ingredients
2 cups spaghetti squash, cooked and chopped
1 large egg
1 cup shredded Mozzarella cheese , divided
1 tsp Italian seasoning
4 tbsp almond flour, or 3 TBSP AP Flour
3 tbsp shredded Parmesan cheese
1 tsp finely chopped parsley
Instructions
Preheat oven to 450°F (232°C). Line a large baking sheet with parchment paper.
Chop cooked spaghetti squash so that pieces are no more than 1 inch long. Measure out 2 cups. Save the rest of your spaghetti squash for another recipe.
Using a tea towel or several sturdy paper towels, work in small batches to wring dry the spaghetti squash. When you are finished, you should have about 1 cup of spaghetti squash remaining.
Add spaghetti squash, egg, 1/4 cup mozzarella cheese, Italian seasoning, and almond flour to a large mixing bowl. Mix until all ingredients are thoroughly combined.
Dump squash mixture onto baking sheet lined with parchment paper. Using a spatula, spread out the batter so that it forms an oval that is approximately 9 inches long and ¼ inch thick.
Bake in oven about 15 minutes or until edges are golden brown and the surface is dry to the touch. Remove from oven and carefully flip over. Sprinkle 3/4 cup mozzarella cheese and 1/4 cup Parmesan cheese across the surface.
Lower oven temperature to 425°F (218°C). Bake for about 6-8 minutes or until cheese is melted and starts to blister. Once you remove it from the oven, let it sit for a couple of minutes. Then sprinkle parsley over the breadsticks. Slice and serve.
Notes
Recipe provided by Make Your Meals
Nutrition Information:
Yield:
12
Serving Size:
1 grams
Amount Per Serving:
Calories:

52
Total Fat:

3g
Saturated Fat:

1g
Unsaturated Fat:

0g
Cholesterol:

21mg
Sodium:

85mg
Carbohydrates:

2g
Fiber:

1g
Sugar:

1g
Protein:

4g