When I first made this Instant Pot Chicken Fajita Casserole, I wasn't expecting that it would become one of our favorite low-carb meals. But ever since then I get asked at least weekly if I can make it for dinner.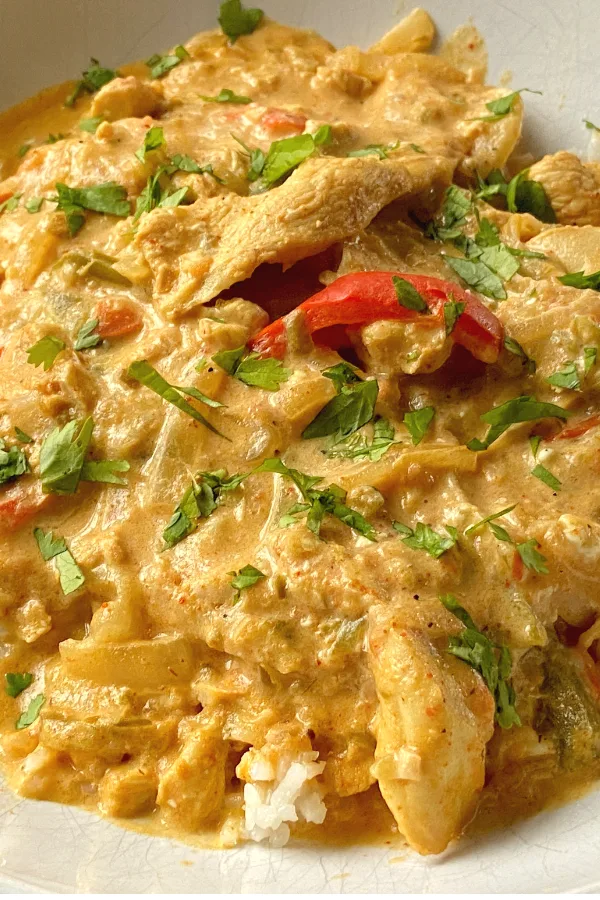 As much as we love our standard Chicken Fajita recipe that we make in the pressure cooker, there is just something extra special about this recipe. I am sure it has to do with the creamy texture that comes from the cheese and sour cream that makes it over the top delicious.
However, just like chicken fajitas, it is still a low-carb, Keto friendly recipe. That is of course if you don't serve it with Mexican Rice or Refried Beans.
If I am watching my carbohydrate intake, I will either eat it as a stand alone main dish or serve it over a bed of cauliflower rice. There is so much flavor in this recipe that it is delicious both ways!
Instant Pot Chicken Fajita Casserole
Ingredients
Chicken Breast
Bell Pepper
Onion
Picante Salsa
Fajita Seasoning
Cream Cheese
Sour Cream
Shredded Cheddar Cheese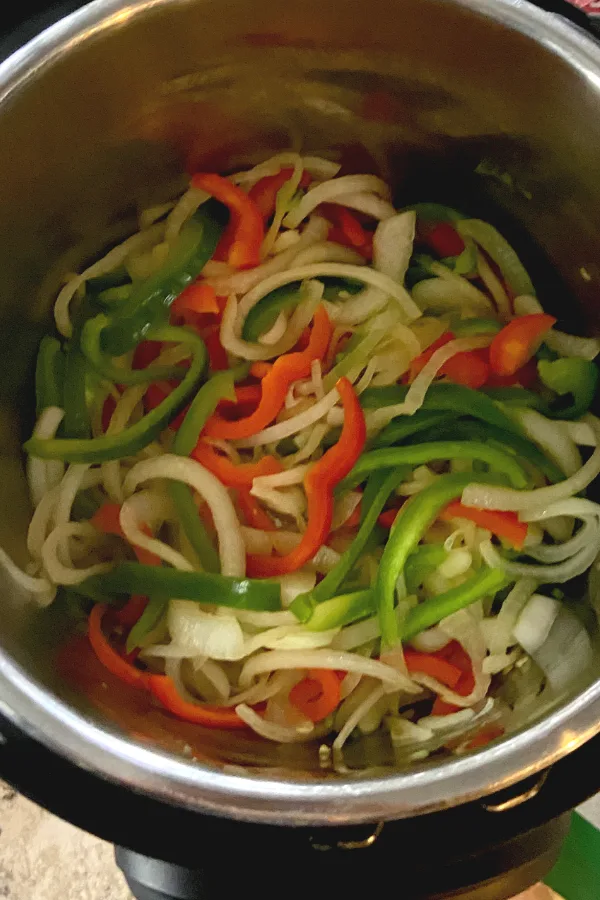 Equipment Required
Electric Pressure Cooker
*This recipe was tested in an Instant Pot 6 quart Duo and the Ninja Foodi 6.5 quart pressure cooker and air crisper.
Instructions
The first step in making Instant Pot Chicken Fajita Casserole is to slice the chicken breasts into thin strips. Using a sharp knife, cut across the grain of the meat to get the most tender chicken when cooked.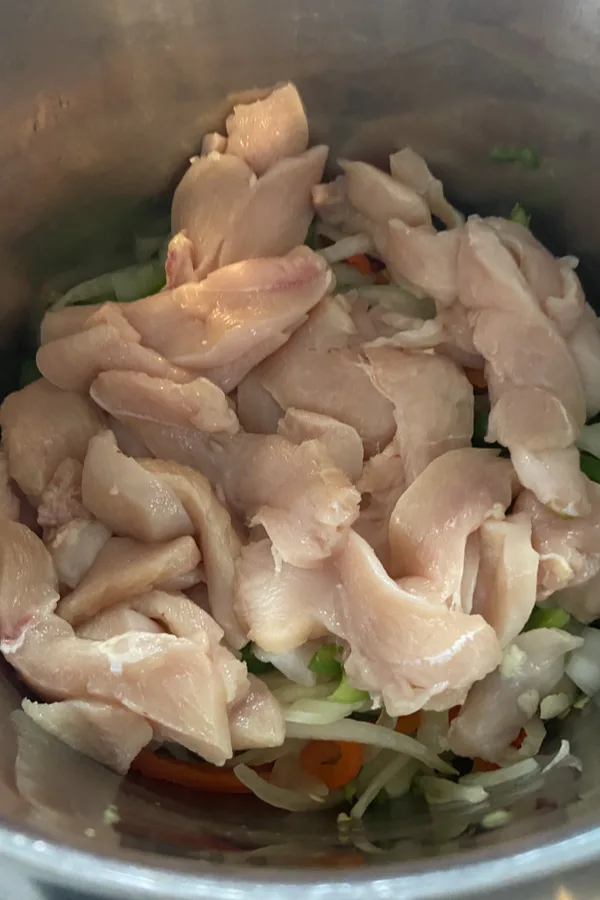 Then, using a different cutting board, slice the bell peppers and onions into thin strips as well. You can use any type of bell peppers that you have on hand. When I made it this time, I used one red and one green bell pepper.
However, in the past I have used all green, all red, and combination of red and yellow peppers in this. It all tastes great! If you are on a tight budget, I would recommend adding only green peppers to your Instant Pot Chicken Fajita casserole, as they are much cheaper.
Next, turn your Instant Pot to the SAUTE mode. Once the front display shows HOT, add the oil. Then add the peppers and onions and saute until slightly tender, about 3-5 minutes. Remember, they will continue to soften during the pressure cooking process.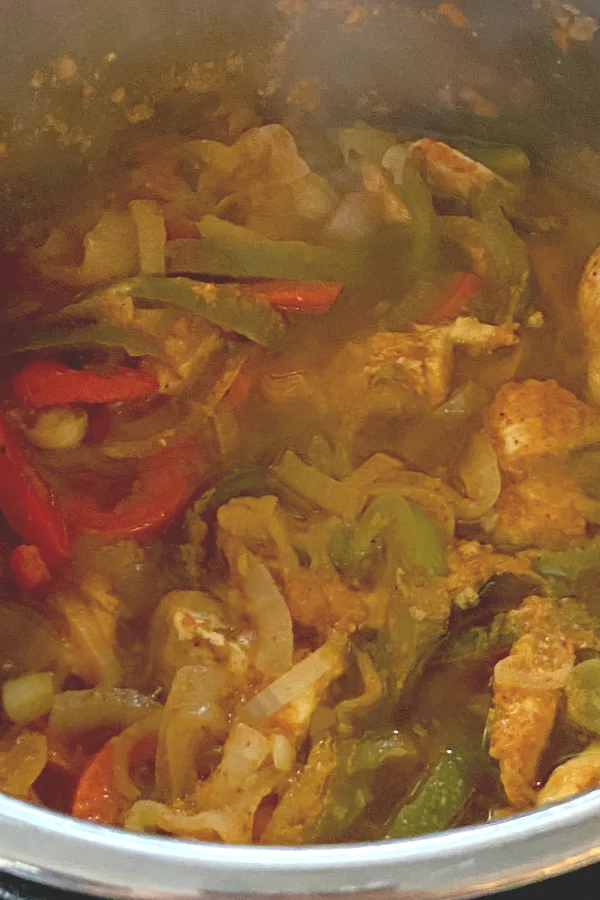 Now press CANCEL. Then add the chicken strips, fajita seasoning and the jar of Picante Salsa and stir. We do not recommend using a thick and chunky salsa as you increase your chances of getting the BURN notice as it cooks.
Picante salsa is thinner and we have never received the warning when making this Chicken Fajita Casserole in our Instant Pot.
Cooking Time Required
Now lock the lid in place and move the valve to the SEALING position if required on your model. Press Manual or Pressure cook and make sure that your Instant Pot is set to HIGH pressure.
Then press the cook timer for 6 minutes. Just like with all pressure cooking recipes, time is required for the pot to come to pressure before the actual cook time begins. Although all models are different, plan for 8-10 minutes for your pot to come up to pressure.
When the cook time for this low-carb chicken fajita casserole expires, let the pot sit for 5 minutes before carefully releasing the remaining pressure by turning the valve to the VENTING position.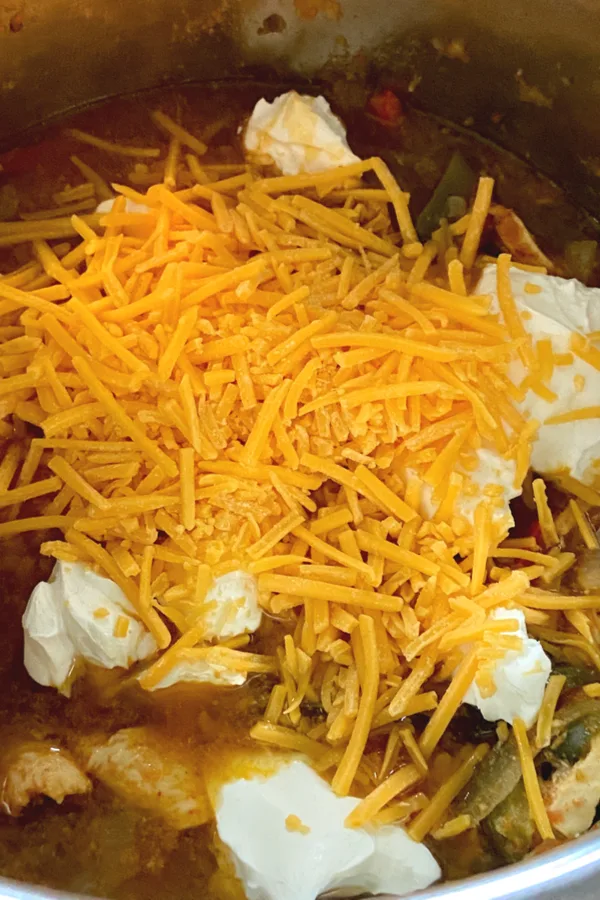 When the pin drops, carefully remove the Instant Pot lid and stir the chicken fajita casserole. Then stir in the cream cheese, sour cream and shredded cheese.
Replace the lid and let it sit for 2-3 minutes for the cheese to melt. Stir it one more time and serve immediately. Enjoy!

To receive our 3 Recipe Articles in your inbox each week, sign up for our free email list located in the middle of each recipe or email me at contact@makeyourmeals.com. You can also follow us on Facebook and Pinterest. This article may contain affiliate links where a small commission is paid if you purchase a product at no additional cost to you.
Yield: 6
Instant Pot Low-Carb Chicken Fajita Casserole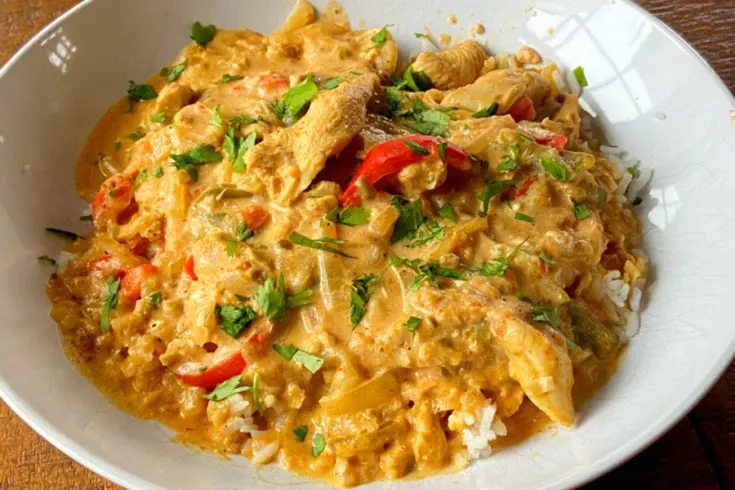 A low-carb alternative to classic Chicken Fajitas. Thin strips of chicken, onions and peppers cooked with salsa and fajita seasoning and blended with a cheesy sauce for the perfect Keto dinner recipe.
Ingredients
1.5 lbs. chicken breasts, sliced into thin strips
2 bell peppers, sliced
1 medium onion, sliced into thin strips
15 ounces picante salsa
2 tbsp fajita seasoning
4 oz. cream cheese
1 cup sour cream
1-2 cups shredded Cheddar cheese
Instructions
Turn the Instant Pot on Saute mode. Once hot, add the oil, onion, and bell pepper and cook 3-5 minutes until soft.
Add chicken strips, picante salsa & fajita seasonings. Stir to mix well.
Lock lid in place and move the valve to SEALING position. Pressure Cook/Manual on high pressure and cook 6 minutes. Once the cook time is up, let the pot Natural Pressure Release for 5 minutes.
Carefully release any remaining pressure by slowly moving the valve to the VENTING position.
Stir in the cream cheese, sour cream and shredded cheese. Replace the lid and let melt for 5 minutes. Open lid and stir until all the cheese has melted.
Serve as is or over a bed of cauliflower rice.
Notes
Recipe provided by Make Your Meals
Nutrition Information:
Yield:
6
Serving Size:
1 grams
Amount Per Serving:
Calories:

386
Total Fat:

23g
Saturated Fat:

13g
Unsaturated Fat:

0g
Cholesterol:

133mg
Sodium:

909mg
Carbohydrates:

11g
Fiber:

3g
Sugar:

7g
Protein:

32g
wp-recipe-maker/recipe {"id":12761