Reese's Peanut Butter Eggs are one of the 'must-have treats' that the kids love to find in their Easter baskets. Who am I kidding, I love them too!
This year when we decided to make some homemade treats to include in the baskets, I knew that Reese's Peanut Butter Eggs were on top of the list!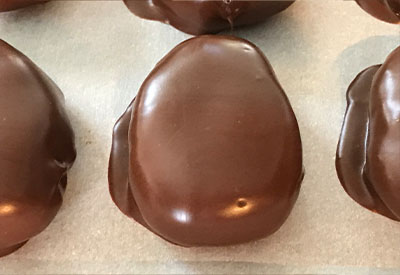 It seemed like sensible logic to me. I knew that it would be extremely difficult to make our own jelly beans, and I would never be able to replace the cute little Peeps chicks and bunnies that we all love so much.
So I adapted my chocolate and peanut butter ball recipe and my chocolate covered peanut butter filled pretzels recipe into the most amazing Reese's peanut butter eggs.
Tips to making homemade Reese's peanut butter eggs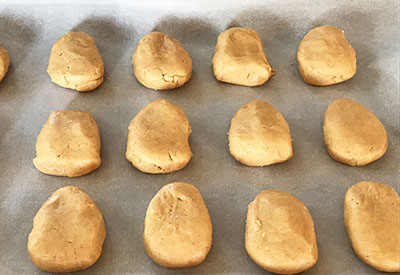 1. It is important to let the inside peanut butter mixture set and get hard before dipping it in the chocolate. Otherwise, the peanut butter will fall apart while coating it in the warm, melted chocolate.
It is best to let the inside filling chill in the freezer for at least an hour prior to coating. You can even let it chill overnight if you want to make it ahead of time.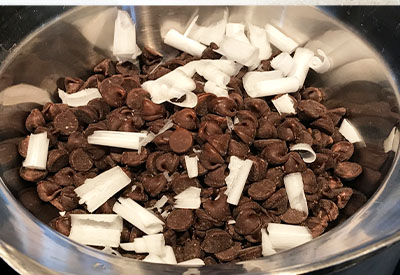 2. For best results, add a coating agent to the milk chocolate chip morsels. If you don't, the chocolate will melt in your hands almost immediately when you pick them up.
I have always used baking paraffin shavings to add that shiny layer of coating. Just take a block of baking paraffin and use your potato peeler to slice thin layers into the chocolate while it melts.
However, many people steer away from using paraffin. If you prefer, you could add in a few tablespoons of vegetable shortening instead of the paraffin. You could also substitute almond bark or 1/4 cup canola oil to get the shining coating.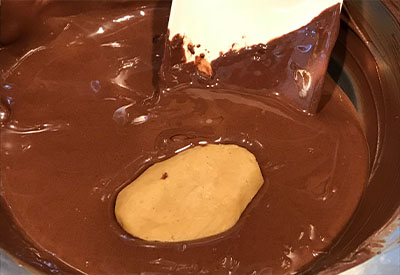 3. When you coat your eggs, flip them over at least two times. This will allow the chocolate to bind to each side and create the correct chocolate to peanut butter ratio that you are familiar with.
Enjoy!
Check out the printable recipe below and all of our recipes and let me know what you think!
To receive our 3 Recipe Articles in your inbox each week, sign up for our free email list.
You can also follow us on Facebook, Twitter, Pinterest, and Instagram. This article may contain affiliate links.
Yield: 15
Reese's Peanut Butter Egg Recipe
Chocolate covered peanut butter shaped like an egg. Perfect addition to your Easter basket or a special treat any time of the year!
Ingredients
1 1/2 cups powdered sugar
3/4 cup creamy peanut butter
2 Tbsp butter, melted
1 Tbsp milk
1 small bag milk chocolate chips
1/8 block of paraffin, shaved
Instructions
Using a mixer, beat powdered sugar, peanut butter, and butter together.
Add in the milk and mix well.
Using your hands form the dough into egg shapes that are about ½ inch in thickness. *If you prefer, you could roll out the dough with a rolling pin and use a cookie cutter.
Place eggs on a cookie sheet lined with wax paper and place in the freezer for at least one hour.
When you are ready to apply the chocolate coating, add the chocolate chips and shaved paraffin to a double broiler. Stir and melt the chocolate until smooth.
Working with one at a time, dip each egg in chocolate, coating both sides at least twice. Place them back on wax paper to set.
Notes
*Makes approximately 15-18 eggs. Store in freezer for best results. Recipe provided by Make Your Meals
Nutrition Information:
Yield:
15
Serving Size:
1 grams
Amount Per Serving:
Unsaturated Fat:

0g