Have you ever thought about making homemade baked beans in your slow cooker?
It is easier than you think! And they taste so much better than the store-bought canned varieties.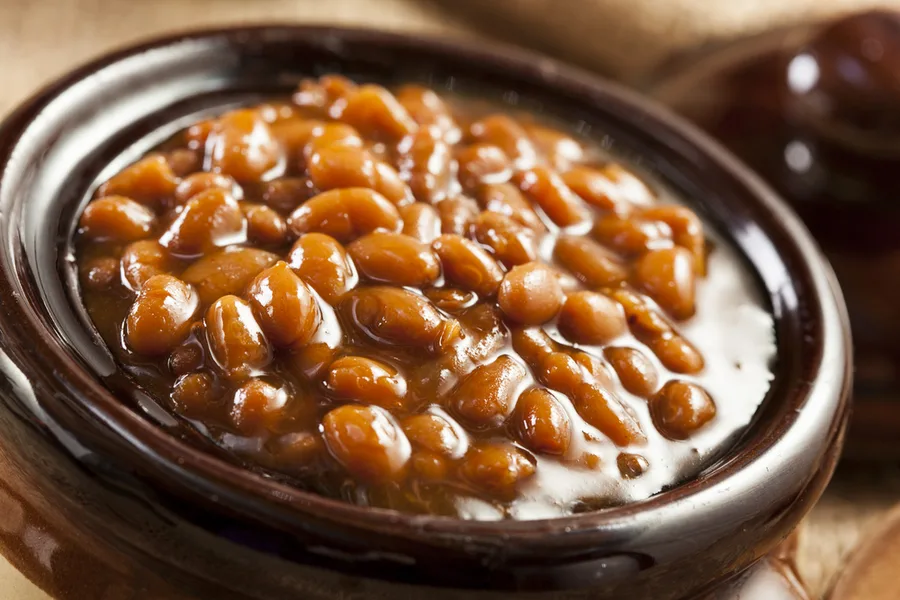 When I was a kid, there was always a bowl of baked beans at every summertime picnic that we attended.
If the grill was fired up, I knew that we would be having baked beans and Amish Potato Salad as our side dish.
But I have to admit, I wasn't a fan of baked beans. They were way too sweet and for me. Plus, I didn't care for the mushy texture when I took a bite.
So for years, at every picnic and potluck, I would skip the baked beans and instead would eat other side dishes.
However, that all changed when a friend of mine asked if I had tried her homemade baked beans that she made in a slow cooker.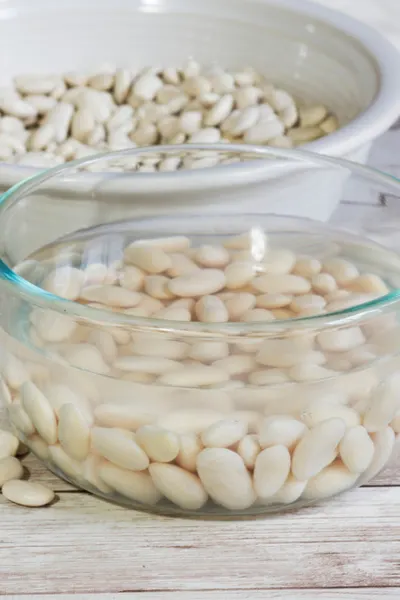 Trying to be nice, I explained that I wasn't a fan of them. She laughed and asked if I would take one little spoonful to try. Of course, being a good friend of mine, I hesitantly took a bite.
And I LOVED them!!! I couldn't believe it. They tasted so much different than what I remembered. Therefore, I asked her for the recipe so I could try to make them myself.
She didn't have a true recipe. Instead she gave me what ingredients she typically used. So I took it from there and made my own, mouth watering, delicious baked beans!
Slow Cooker Baked Beans Recipe
First, start with a pound of dry navy beans. You may be shocked, but those dark colored baked beans you eat start with bright white beans.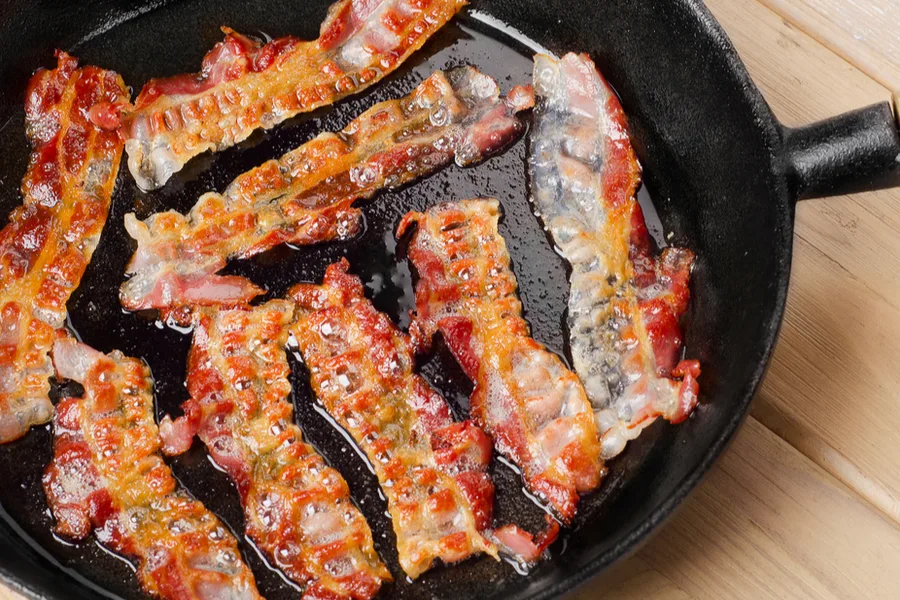 If you can't find navy beans, you can also use great northern beans. Either works fine for this recipe.
Sort, rinse and soak your beans overnight. But if you forget, you can always follow the package instructions on the quick soak method that takes about an hour to complete. Once they have been soaked, drain and place them in the slow cooker.
Then cook your bacon just until it is nice and brown, but not too crispy. Drain and when cool enough to handle, cut into small sections. Reserve 2 tablespoons of the bacon grease for later.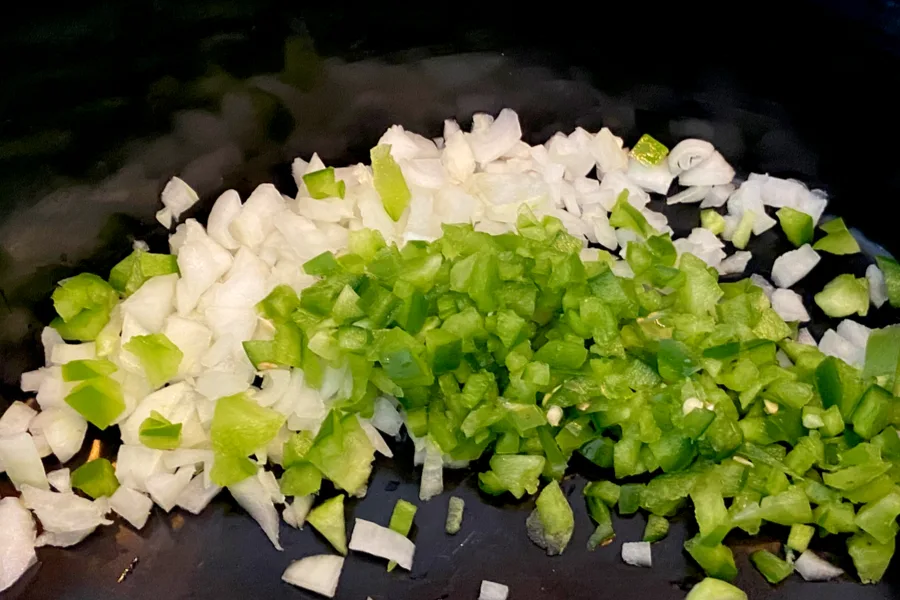 Next, dice your onions and green peppers. Adding these subtle vegetables to the baked beans gives another depth of flavor to this popular side dish.
Homemade Baked Bean Sauce
Now mix together the remaining ingredients, minus the water to make the sauce for your slow cooker baked beans. We have experimented with several variations and quantities of ingredients, but this combination will give you the best baked beans that you have ever had!
Mix the beans, onions, green peppers and sauce together. Then add the bacon, bacon grease and water to the slow cooker and stir.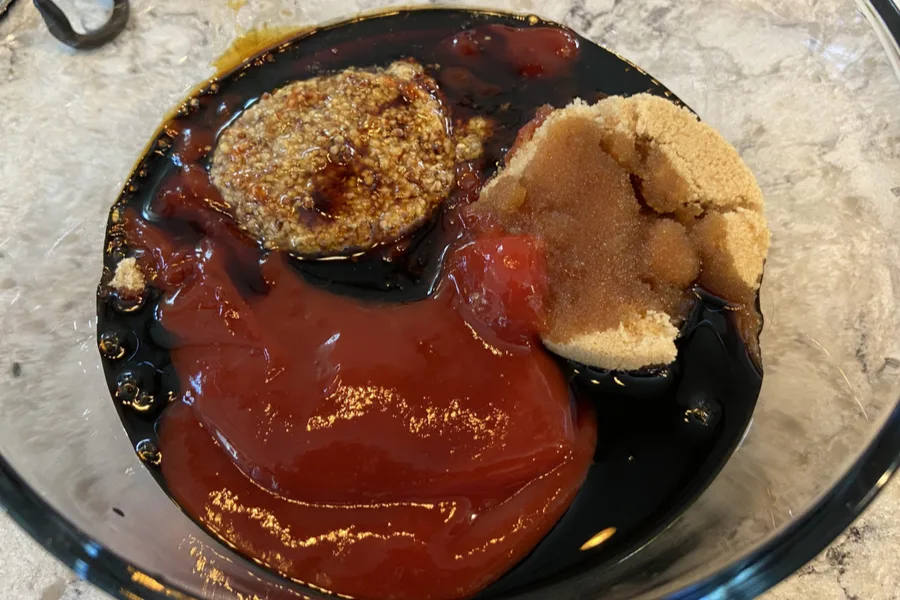 Slow cook on HIGH for 6-8 hours. Yes, I know that seems like a long time. However, you want the beans to have time to absorb the flavors and become nice and tender.
Of course, all slow cookers are different, so cook times will vary. We have a 6 quart programmable Crock Pot slow cooker and it took a little about 7 hours for the baked beans to be perfectly cooked!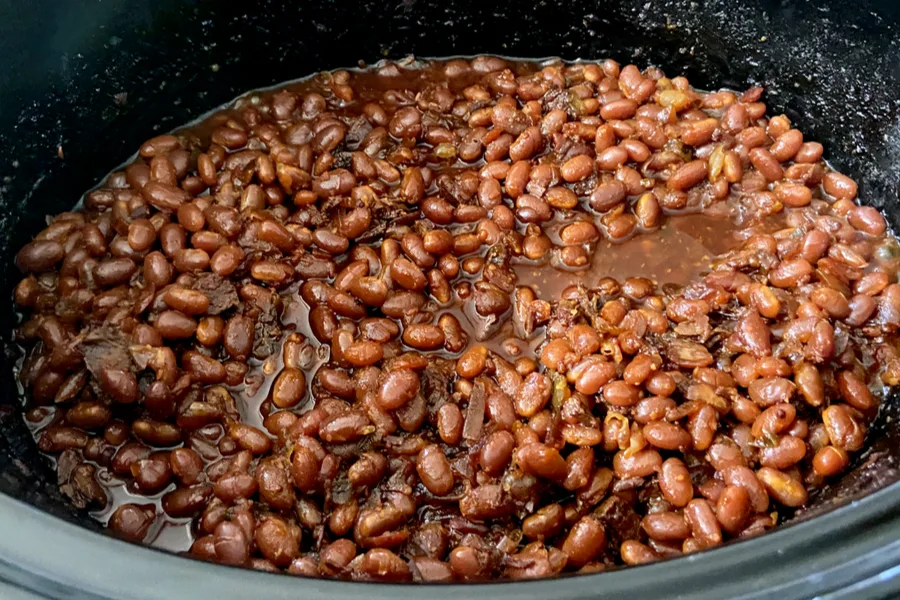 And if you happen to have any leftovers, baked beans freeze very well! A great way to have a pre-made side dish whenever you need one!
Check out some of our other most recent recipes:
Slow Cooker Baked Beans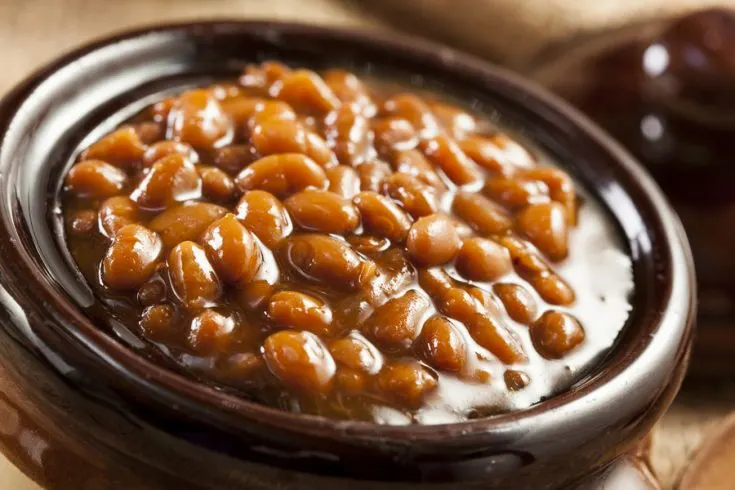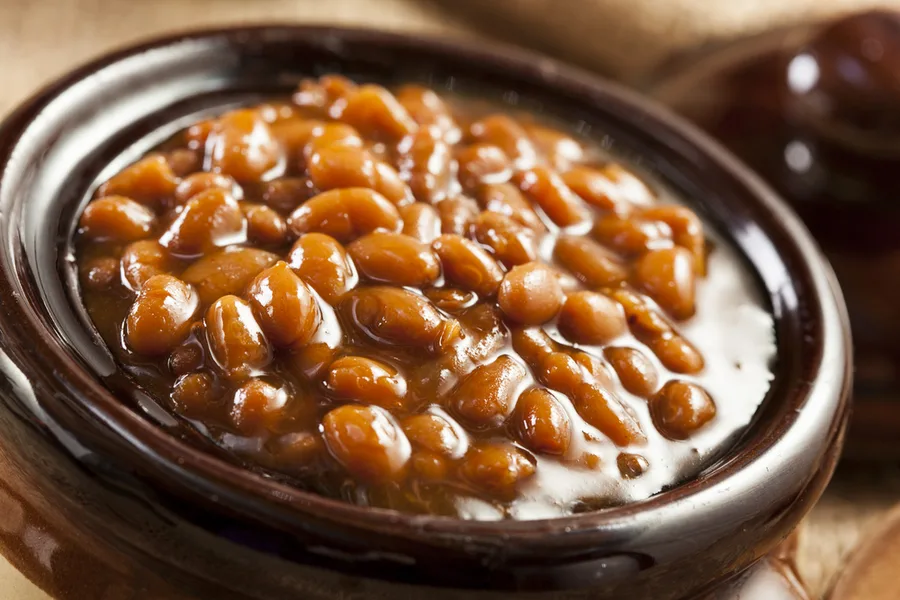 Thick and delicious homemade baked beans made from dried beans and cooked in a slow cooker for an easy to make side dish recipe.
Ingredients
1 lb dry great northern or navy beans
6-8 slices thick cut bacon
1 medium onion, diced
1/2 green pepper, finely diced
1/2 cup packed brown sugar
3/4 cup molasses
1/2 cup ketchup
1/4 cup stone ground mustard
1/4 cup pure maple syrup
1/2 teaspoon garlic powder
1 teaspoon salt
1/2 teaspoon ground black pepper
2 cups water
Instructions
Sort and soak the beans according to package directions and drain.
In a skillet cook the bacon until just cooked and not too crispy. Remove the bacon and set aside and reserve 2 tablespoons of the bacon grease. Once the bacon is cool enough to handle, cut into small pieces.
In a slow cooker add the beans, onion, green pepper, brown sugar, molasses, ketchup, mustard, maple syrup, garlic powder, salt and pepper. Stir well.
Add the water, bacon and bacon grease and stir again.
Set slow cooker on low and cook for 10-12 hours or on high for 6-8 hours.
When the beans are nice and tender, stir the mixture and let sit for 20 to 30 minutes with lid off to allow the mixture to thicken.
Notes
*All Slow Cookers cook at different rates, therefore the cooking time may vary based on your make and model.
Recipe provided by Make Your Meals
Nutrition Information:
Serving Size:
1 grams
Amount Per Serving:
Unsaturated Fat:

0g

To receive our 3 Recipe Articles in your inbox each week, sign up for our free email list located in the middle of each recipe or email me at contact@makeyourmeals.com. You can also follow us on Facebook and Pinterest. This article may contain affiliate links where a small commission is paid if you purchase a product at no additional cost to you.