One of the easiest and most delicious recipe that you can make is our Buffalo Chicken Wrap recipe.
In fact, this recipe gets requested weekly in our house. Even when we have plenty of time to cook dinner, this is an all time family favorite.
It includes all of the flavors of buffalo wing night without the guilt of eating deep-fried foods. Plus we added a few extra ingredients to make this recipe the perfect buffalo chicken wrap.
Although you can certainly make this recipe from scratch from start to finish before serving it. However, I find it easier to prepare some of the ingredients ahead of time.
The recipe uses pre-cooked chicken. You can use either shredded chicken or chunks of cooked chicken. I prefer to use shredded chicken as I always keep a bag of it in my freezer.
It makes it so easy to add chicken into various recipes without the hassle of cooking it each time. Plus it saves a ton of time and energy!
I will either use a cooked rotisserie chicken from the grocery store or I cook a few chicken breasts or thighs in my Instant Pot 6 quart duo and then shred them. It is so easy when using the Instant Pot and only takes a few minutes to make several pounds all at once.
In our house this is usually done on Sundays after we have been to the grocery in preparation for the upcoming week. But it always seems that we have extra shredded chicken leftover, which is perfect for freezing.
I also cook a pound of bacon once or twice a month. I cook the entire package in the oven or my Best Choice Products air fryer. It only takes 10 minutes to cook and you don't have to worry about heating up the oven or being splashed by hot grease!
It is easy to reheat in a microwave or small skillet whenever needed. But best of all, you can crumble and freeze it for whenever a recipe calls for bacon bits.
These few time-saving tips are a life saver when it comes to quick and easy to prepare meals!
Check out the printable recipe below and all of our recipes and let me know what you think!
To receive our 3 Recipe Articles in your inbox each week, sign up for our free email list. You can also follow us on Facebook, Twitter, Pinterest, and Instagram. This article may contain affiliate links.
Buffalo Chicken Wrap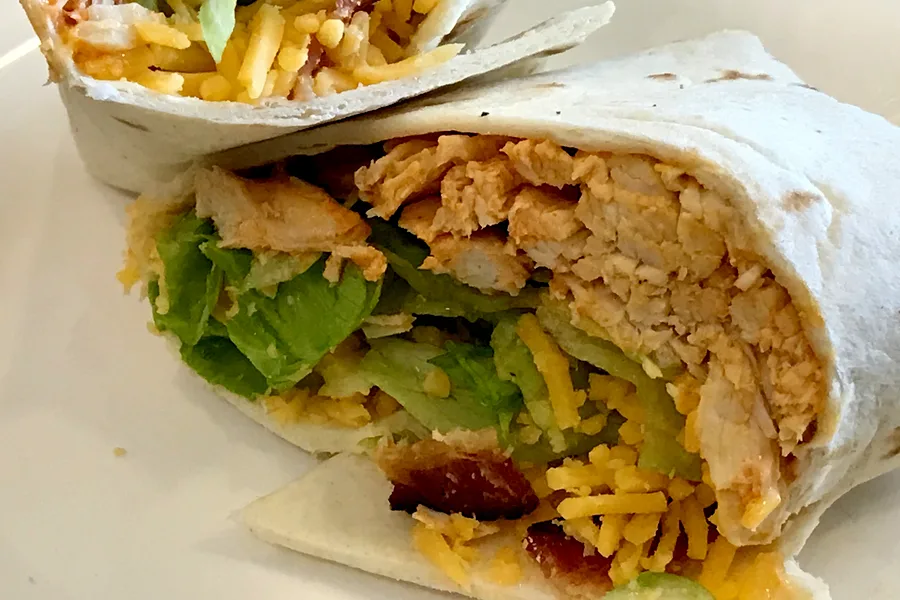 A delicious way to enjoy buffalo chicken without the guilt of eating deep-fried wings.
Ingredients
2 cups cooked chicken, shredded or chopped
1/2 cup buffalo wing sauce
1/4 cup ranch dressing
1 cup shredded lettuce
4 strips of cooked bacon, crumbled
2 ribs of celery, diced
1/4 red onion, diced
1/2 cup shredded cheddar cheese
4 medium flour tortillas
Instructions
In a medium skillet, add the chicken and buffalo sauce and place over medium heat. Cook just until heated through.
Lay out the flour tortillas and spread the ranch dressing over each one.
Divide the chicken evenly among the tortillas.
Top the chicken with lettuce, bacon crumbles, celery, onion and cheese.
Fold in one each end of the tortilla and roll the tortilla, burrito-style.
Cut the burrito in half and enjoy!
Notes
Recipe provided by Make Your Meals
Nutrition Information:
Serving Size:
1 grams
Amount Per Serving:
Unsaturated Fat:

0g