Now that our daily schedules just got a little more hectic, it is the perfect time to share my Peanut Butter Snack Bites recipe.
Between work schedules, school schedules and after school activities, it is very easy to start eating unhealthy.
The convenience of going through the drive thru at a fast food restaurant is sometimes just too tempting.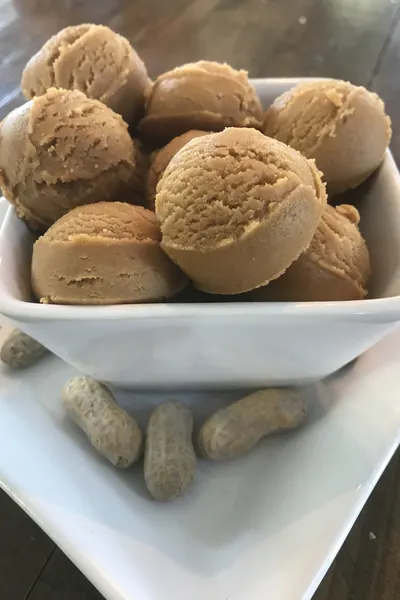 However, with just a little preparation, you can fight the urge by having a healthy snack on hand.
These Peanut Butter Snack Bites have probably save me hundreds of dollars by skipping the fast food restaurants as I drive from place to place.
But they have also saved me from consuming a ton of unhealthy calories and carbohydrates.
Plus, think how much time I have saved by not waiting in line! In fact, if you think about it, fast food really isn't fast sometimes.
But they just aren't for adults! The kids also love these in their lunch boxes!
Peanut Butter Snack Bites
So how do you make this delicious, high protein snack?
It all starts with just 3 simple ingredients. Peanut butter, maple syrup and coconut flour.
First of all, purchase all natural, no sugar added, creamy peanut butter. I prefer to buy it in a jar rather than to grind my own at the grocery store.
I have yet to find a peanut butter grinder that gives you a completely creamy texture.
Once you open your jar be sure to mix the peanut butter as the oil will surface to the top. Simply use a knife to mix and incorporate the oil back into the jar.
Next, use all natural maple syrup. This is not the time to grab that sugary syrup off the shelves at the grocery store.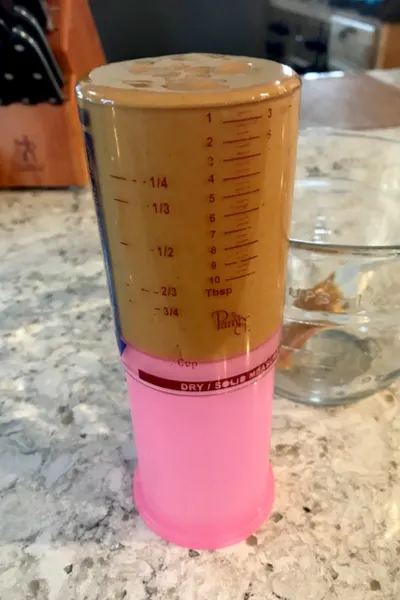 All natural maple syrup is sweet enough that no added sugar is required. And if you have never used all natural syrup, you might be a little shocked at the thin consistency.
It is nothing like those popular brands that you are used to buying.
Finally, the third ingredient in our peanut butter snack bites is coconut flour. Although it once was difficult to find, you can now purchase coconut flour at most large scale grocery stores.
The coconut flour also makes this recipe gluten-free.
No Baking Required
One of the best parts about these peanut butter snack bites, besides only having three ingredients, is that it is a no-bake recipe!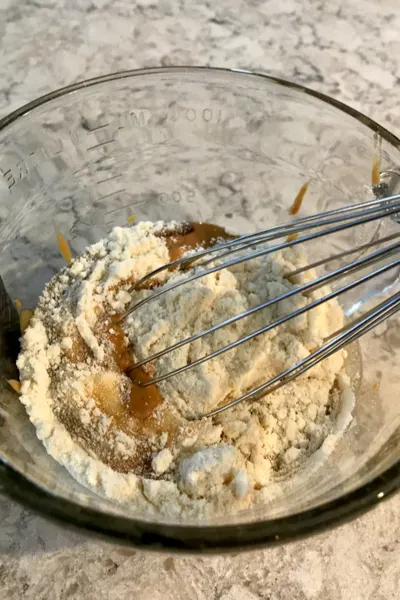 Just mix the ingredients together and chill.
However, there are a few tips that you might find helpful when preparing this recipe.
First, use a push measuring cup. Standard measuring cups make it difficult to scoop the peanut butter out.
Simply use a small silicone spatula to fill the measuring cup. Then turn it over and push the inner cup so the peanut butter falls out.
We have also used our push measuring cup for mayonnaise, molasses, sour cream, and more!
Next add in the maple syrup and flour. Whisk until the mixture becomes too thick. Then fold in the remaining ingredients with a silicone spatula.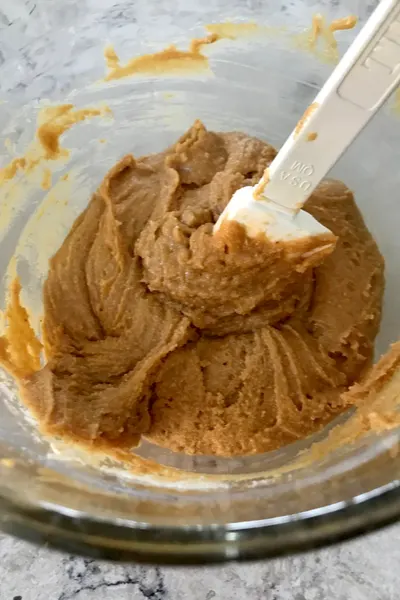 Freeze the peanut butter snack bites dough. Once it is slightly firm, use a scoop to make the balls.
I prefer to use a 2 tablespoon scoop. They are big enough that one peanut butter snack bite curbs my hunger.
However, you can make them whatever size that you like.
Finally, once they have all been scooped out onto a wax paper lined baking sheet, freeze them one more time.
How To Store
Once the peanut butter snack bites are frozen, store in an air-tight container.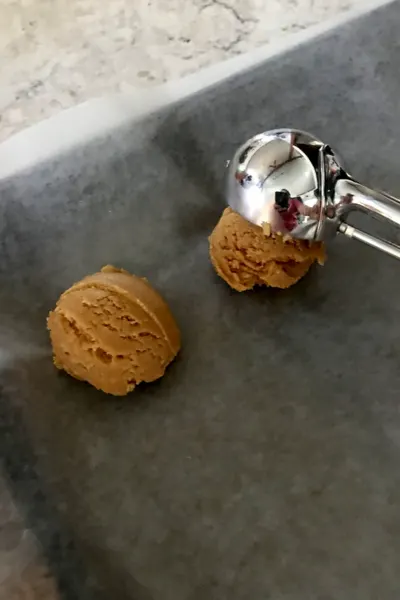 You can either store them in the refrigerator or freezer.
Sometimes I will make a double batch and store half in the refrigerator to use for snacks throughout the week.
And whenever I run out, I pull the second batch out the freezer and we are good to go for another week.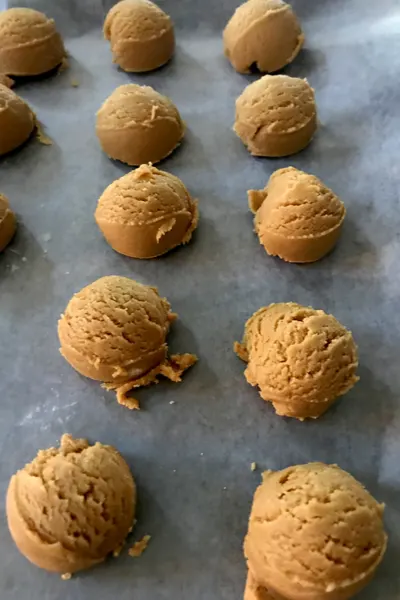 Other No-Bake Recipes That You Might Enjoy

To receive our 3 Recipe Articles in your inbox each week, sign up for our free email list located in the middle of each recipe or email me at contact@makeyourmeals.com. You can also follow us on Facebook and Pinterest. This article may contain affiliate links where a small commission is paid if you purchase a product at no additional cost to you.
Peanut Butter Snack Bites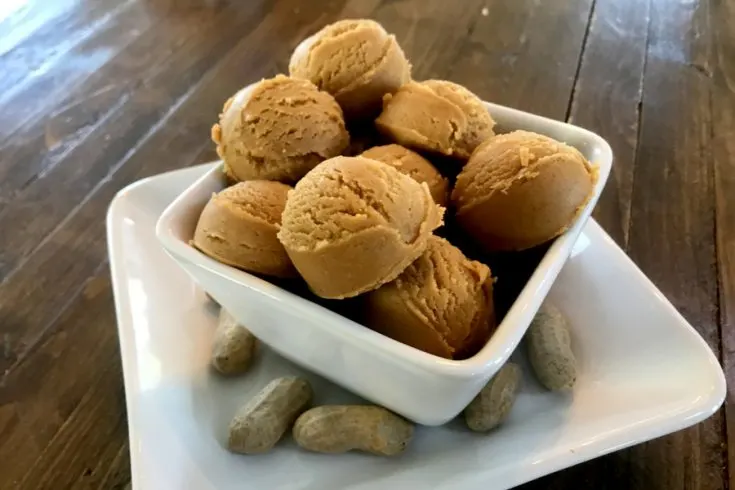 No bake Peanut Butter Bites that only require 3 ingredients and are gluten-free, dairy-free and vegan friendly. Makes for the perfect snack or energy bite.
Ingredients
1 cup natural, unsalted creamy peanut butter
1/3 cup pure maple syrup
1/2 cup coconut flour
Instructions
Line a rimmed baking sheet with wax paper. Set aside.
In a medium bowl, add peanut butter, maple syrup, and coconut flour. Whisk the ingredients together. Then use a rubber spatula to fold the mixture until completely incorporated.
Cover bowl with plastic wrap and freeze for 15-20 minutes.
Remove the bowl from the freezer. Using a 1 or 2 tablespoon cookie scoop, scoop and drop peanut butter balls onto the wax paper lined baking sheet, being sure that they don't touch each other.
Place the baking sheet into the freezer for another 20-30 minutes, or until just firm.
Enjoy immediately or store in an air-tight container in the refrigerator for 1-2 weeks.
Notes
Peanut butter bites can also be stored in the freezer for 1-2 months. Recipe provided by Make Your Meals
Nutrition Information:
Serving Size:
1 grams
Amount Per Serving:
Unsaturated Fat:

0g