Because more and more of us are eating seafood as part of either a healthy diet, or simply because it is Lent, we thought it was the perfect time to share our Parchment Paper Baked Salmon and Asparagus recipe.
Salmon is one of the most nutrient-dense foods on the planet. It contains high amounts of protein and Omega 3 fatty acids that your body requires, but is unable to produce.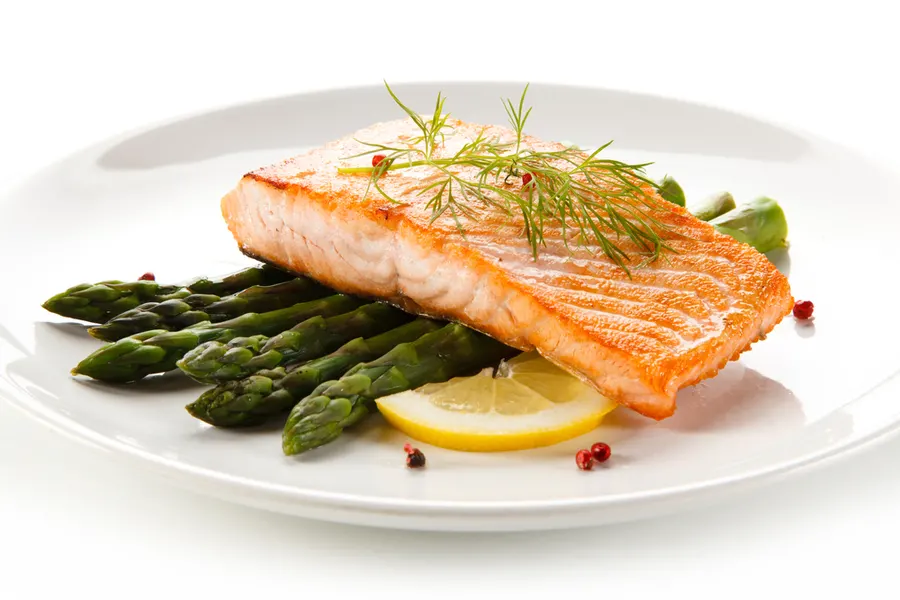 Not to mention that it is packed with a variety of other nutrients, including Vitamin D, Vitamin B and potassium.
Over many years of research, studies show that people who regularly eat salmon, have a lower risk of heart disease, dementia, and depression.
However, not all salmon are created equal.
Wild Caught Vs. Farmed Salmon
If you are looking to make this Parchment Paper Baked Salmon as healthy as possible, be sure to purchase Wild Caught Salmon.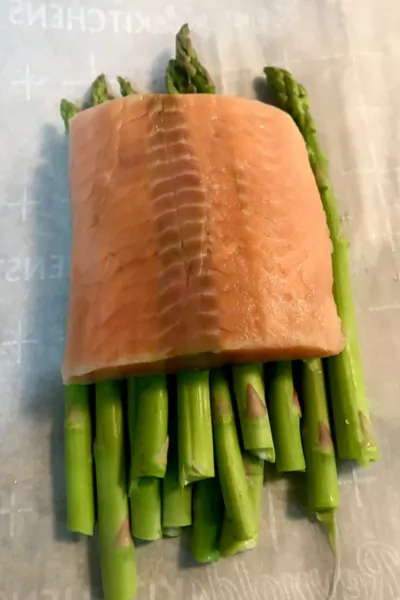 Yes, it is a little more expensive. However, farm raised salmon has more calories and twice the amount of fat.
Not to mention, you have the concern of the use of antibiotics and other dangerous chemicals when buying farm raised salmon.
You can find wild caught salmon in most grocery stores. If you can't find fresh filets in the butcher section, you can often find frozen wild caught salmon in the seafood freezer section.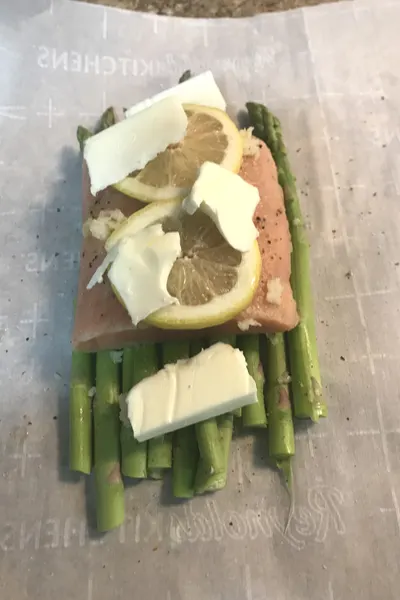 So now that you know what type of salmon to purchase, let's make our Parchment Baked Salmon and Asparagus recipe!
Parchment Baked Salmon and Asparagus
First, tear off 4 rectangular sheets of parchment paper. Then evenly divide your asparagus spears among the 4 sheets.
You will want to place them just slightly off center so that when you fold your parchment, they will rest on the inside edge.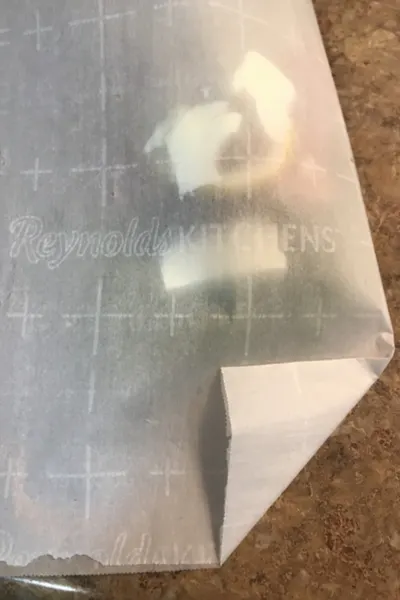 Next, place your salmon directly on top of the asparagus. Then drizzle extra-virgin olive oil on top.
Season with salt and pepper and then place lemon slices and dill springs on top of the salmon.
Now it is time to fold the parchment paper around the salmon.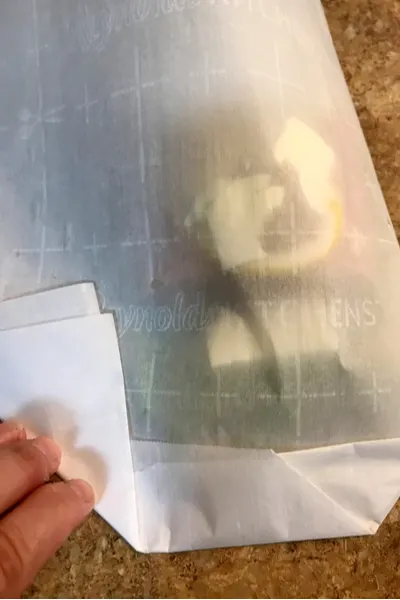 How to Fold The Parchment Packets
First fold the parchment in half, like a book.
Then, starting on one side, fold the edge upward. Continue to work your way around the edge of the parchment paper and continue to make multiple folds.
When you finish the last fold on the other side, tuck it under the salmon packet.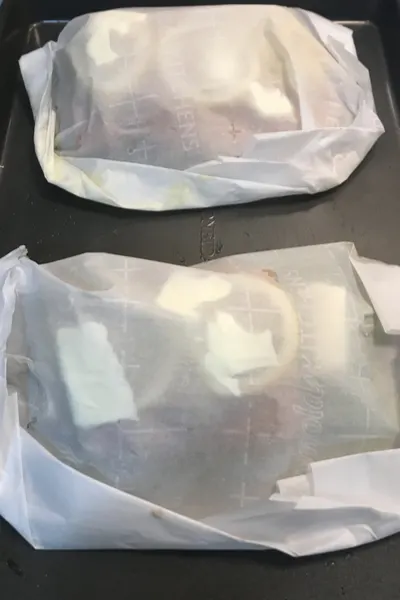 Then carefully move the packets to a baking sheet and place in a pre-heated oven.
Depending on the thickness of your filets, they will take 8-10 minutes to cook through.
Remove them from the oven and let sit for 5 minutes before attempting to cut open the Parchment Baked Salmon packs.
Serve with additional dill as desired.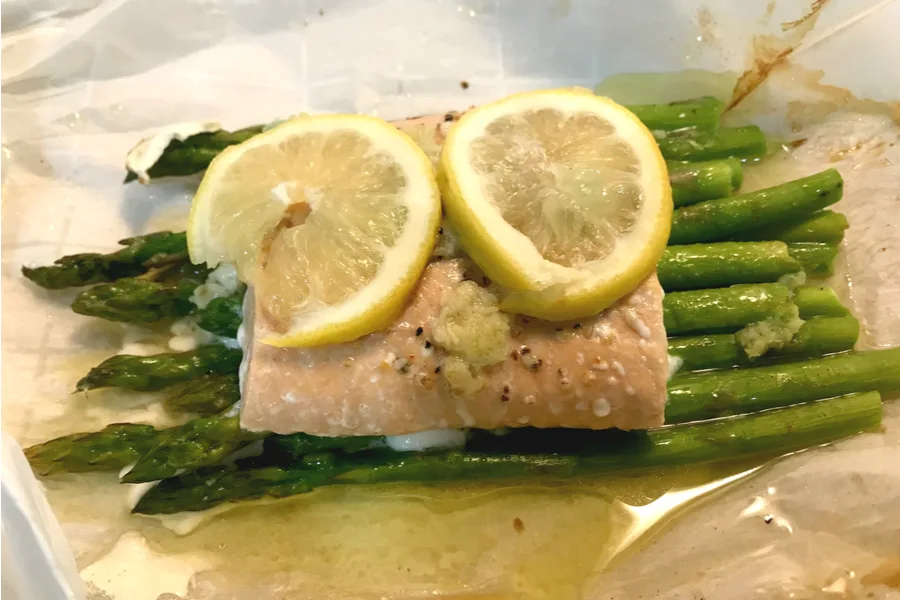 There you have it! Parchment Baked Salmon and Asparagus – a healthy, easy to make meal.
And if you have an Air Fryer, you will love this easy to make Air Fryer Salmon recipe.

To receive our 3 Recipe Articles in your inbox each week, sign up for our free email list located in the middle of each recipe or email me at contact@makeyourmeals.com. You can also follow us on Facebook and Pinterest. This article may contain affiliate links where a small commission is paid if you purchase a product at no additional cost to you.
Yield: 4
Parchment Baked Salmon and Asparagus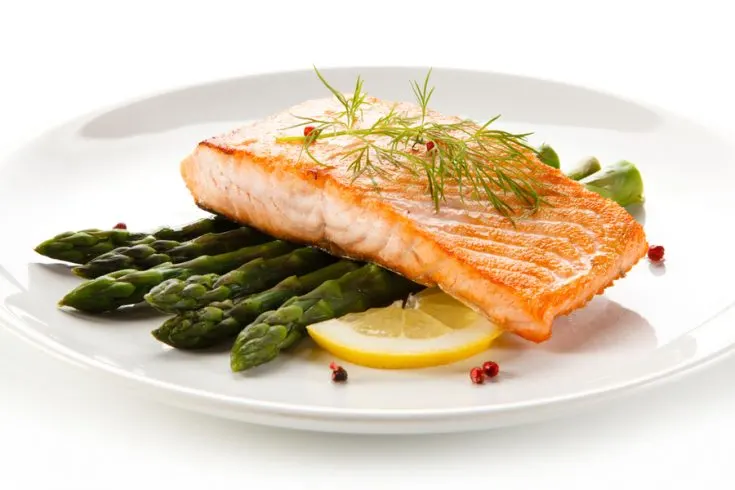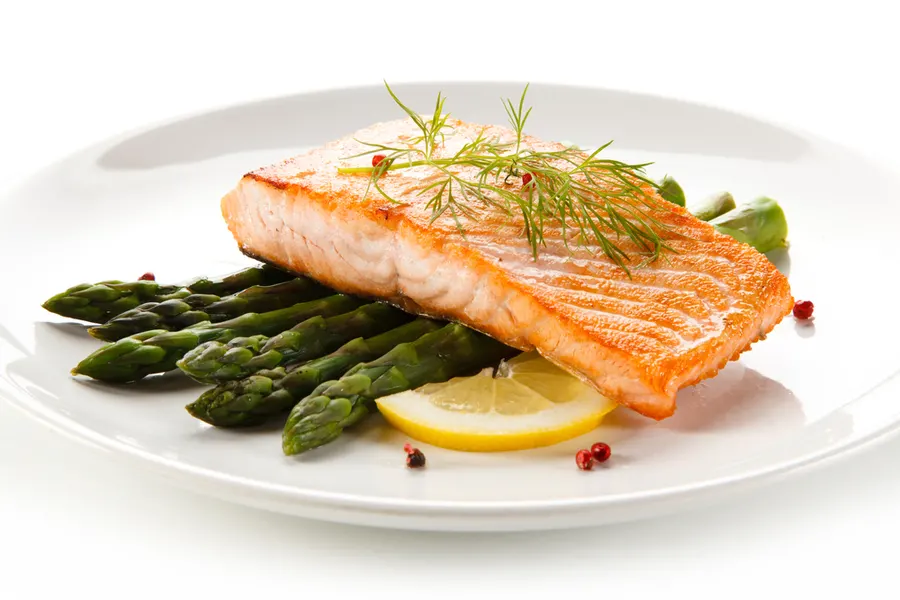 Salmon and asparagus baked together in individual parchment paper packets and seasoned with butter and dill.
Ingredients
36-40 asparagus spears, ends removed
4- 6 oz thick salmon fillets, skin removed
4 tbsp extra-virgin olive oil
salt and pepper to taste
8 fresh dill sprigs, plus more for garnish if desired
1 large lemon, sliced thinly
Instructions
Preheat your oven to 400°F and tear off 4 large rectangular pieces of parchment paper.
Place about 8 to 10 asparagus spears just off center on the parchment paper.
Place a salmon fillet over the asparagus, drizzle with a little bit of olive oil, season with salt and pepper then top with 2-3 slices of lemon and a couple of dill sprigs.
Fold parchment paper over the salmon and seal the edges by making overlapping folds all around the edge. At the end, tuck the final crease under the pouch to secure the seal. Repeat until all pouches have been made. Place pouches on a baking sheet.
Bake in the preheated oven for 10 - 12 minutes, depending on the thickness of the salmon filets. Remove from oven and let sit for 5 minutes before serving.
Garnish with additional fresh dill, if desired.
Notes
Recipe provided by Make Your Meals
Nutrition Information:
Yield:
4
Serving Size:
1 grams
Amount Per Serving:
Unsaturated Fat:

0g