Boxty is a traditional Irish potato pancake that contains a mixture of mashed and grated potatoes. When cooked it has a unique texture that's part pancake, part hash brown.
Unlike Corned Beef & Cabbage, Boxty, along with Colcannon, is an authentic dish made in Ireland.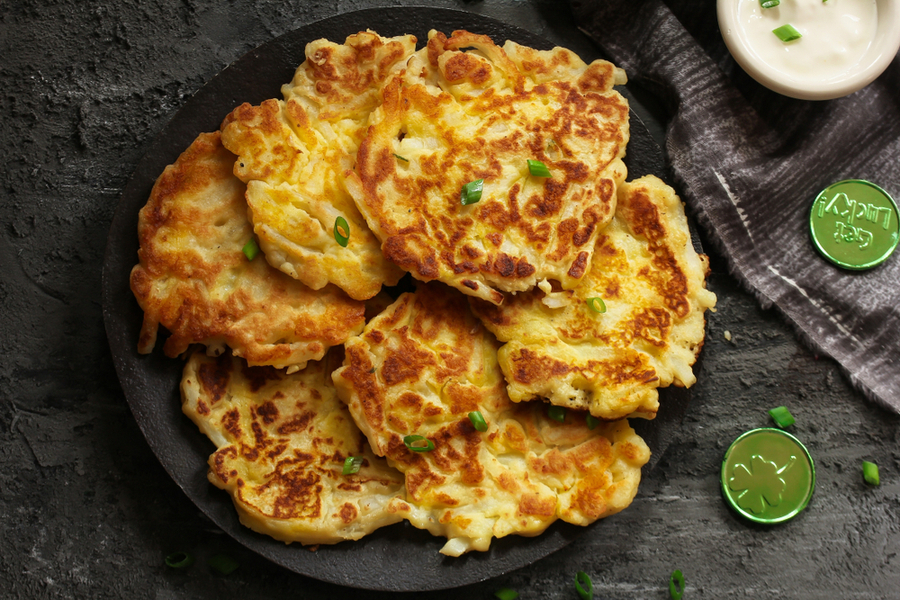 In the 1700's and early 1800's, potatoes were abundant in Ireland. And making Boxty became a great way to use leftover mashed potatoes. They were traditionally made by combining the left over mashed potatoes and newly grated potatoes mixed with milk and flour.
Although there was the great potato famine that destroyed the potato crops in Ireland, boxty quickly returned when new potato crops were planted.
However, since that time other ingredients have been added to the traditional recipe to give them more flavor.
In addition, there is a shortcut to making this traditional Irish dish a little easier. No, not authentic Boxty, but it will work in a pinch.
The Shortcut to Irish Boxty
When I decided that I wanted to make Boxty, I ran into one problem. I didn't have any leftover mashed potatoes.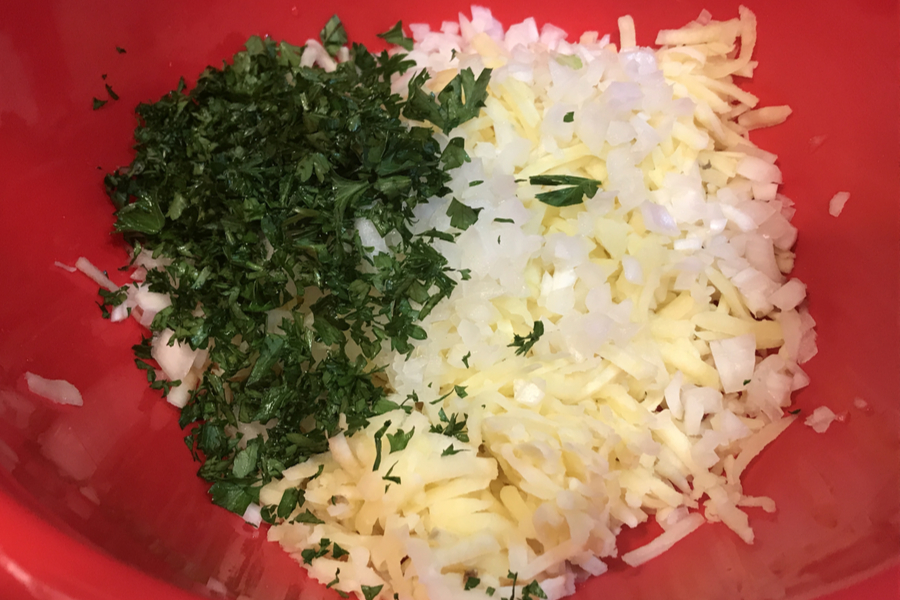 I had made Instant Pot Mashed Potatoes the night before, and unknowing to me, the leftovers were eaten for a late night snack.
So instead, I grabbed a bag of frozen hash browns out of the freezer and decided to make them with what I had on hand.
The first step in making shortcut Boxty is to thaw the frozen hash browns. Because I needed to make them right away, I put the frozen shredded potatoes in a colander and ran cold water over them until they became pliable.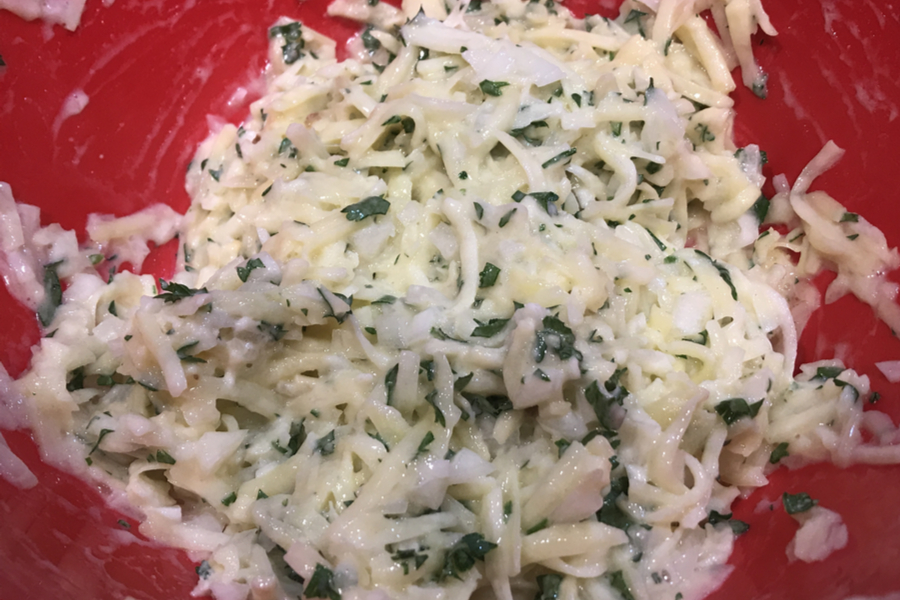 Then I made sure that they were drained well and patted dry with a paper towel.
Next, put the thawed potatoes in a large bowl and add in the remaining ingredients. Mix well until everything is incorporated.
Heat a large cast iron skillet with 1/4 inch of vegetable oil. Once hot, drop 1/4 cup of packed Boxty into the oil. Using the bottom of the measuring cup, flatten the center of the potato mixture to make a pancake.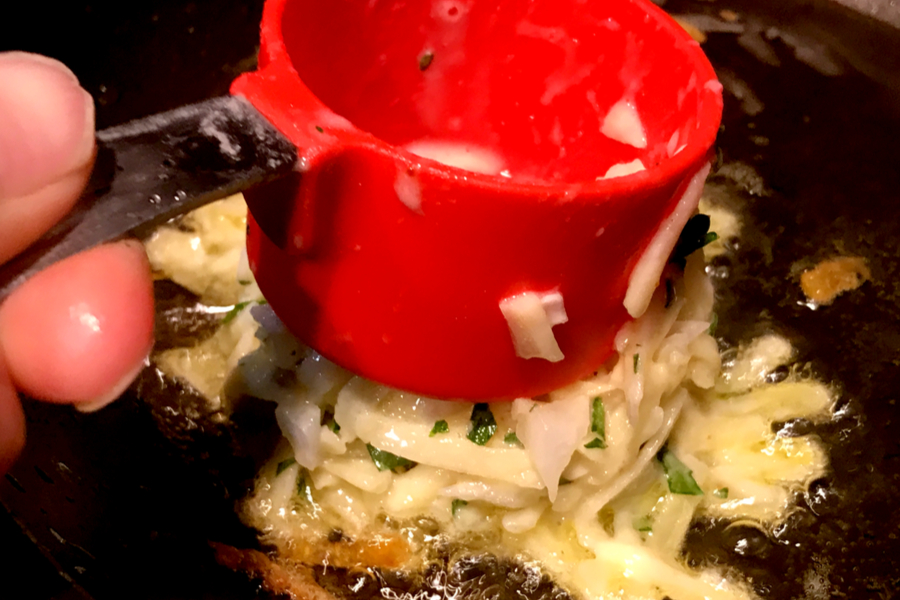 Cook until golden brown, approximately 3 minutes per side. Remove them with a slotted spoon and set them on paper towels to drain before serving.
Breakfast, Lunch or Dinner
And don't think Boxty is just for breakfast. It can also be served as an appetizer or side dish at lunch or dinner!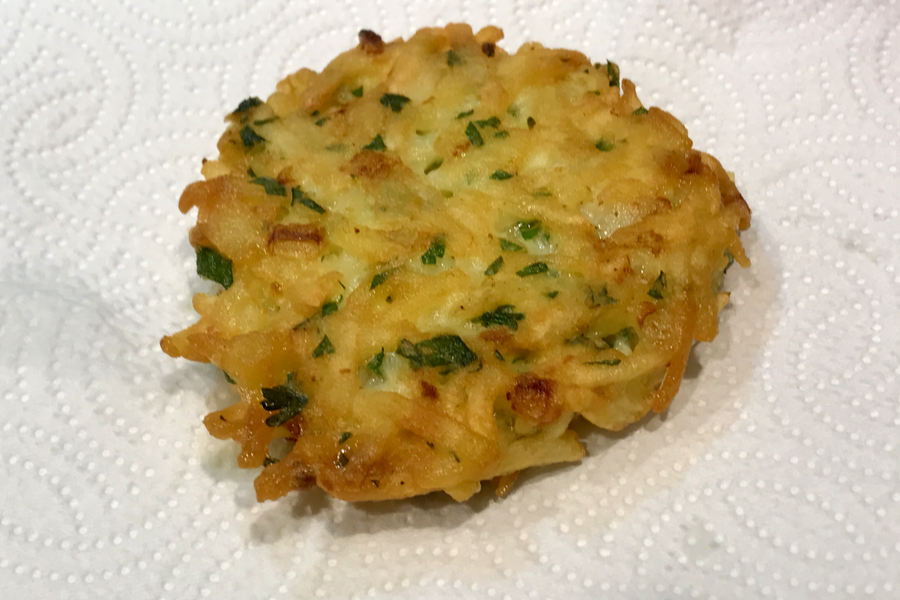 They are often served with sour cream and/or applesauce. And if you have any Yum-Yum sauce, you can drizzle that on top as well!

To receive our 3 Recipe Articles in your inbox each week, sign up for our free email list located in the middle of each recipe or email me at contact@makeyourmeals.com. You can also follow us on Facebook and Pinterest. This article may contain affiliate links where a small commission is paid if you purchase a product at no additional cost to you.
Yield: 8 pancakes
Shortcut Irish Boxty (Potato Pancakes) Recipe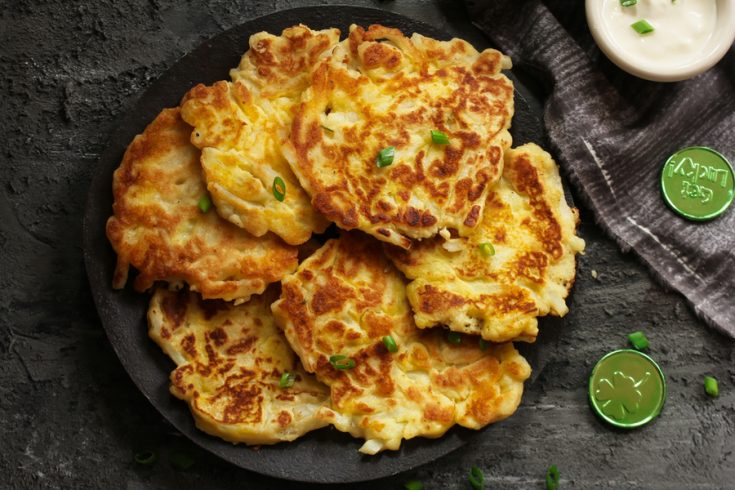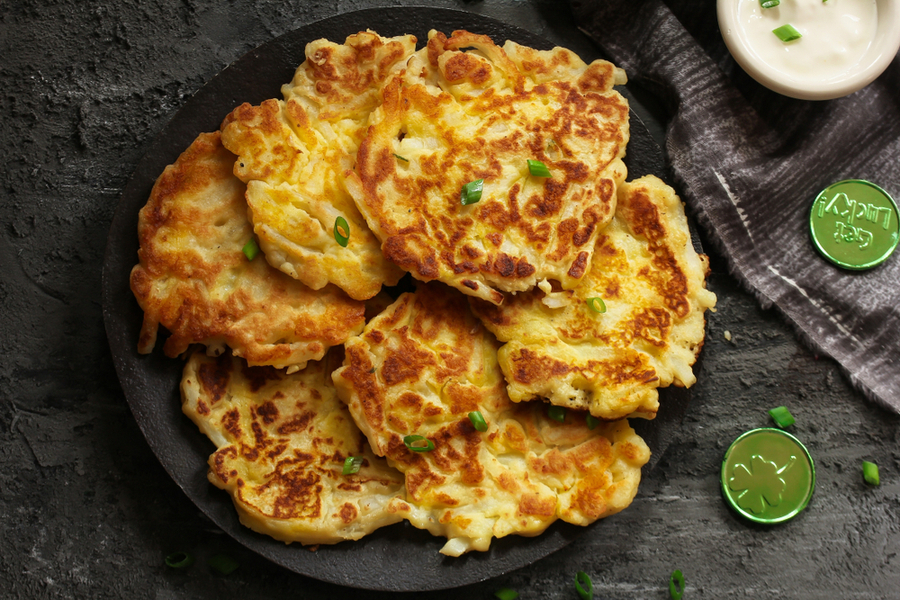 Irish Boxty made easy using frozen shredded hash browns instead. All the flavor, without all the work!
Ingredients
4 cups frozen shredded hash browns
1 ⁄2 cup onion, finely chopped
1 ⁄4 cup fresh parsley, minced
2 tablespoons milk
2 eggs, beaten
1 ⁄4 cup all-purpose flour
1 teaspoon salt
1/2 teaspoon black pepper
vegetable oil
Instructions
Place hash browns in a strainer and rinse with cold water until thawed. Drain thoroughly; transfer to a large bowl.
Add onion, parsley, milk, eggs, flour, salt and pepper and mix well.
In a skillet over medium heat, heat 1/4 inches of oil. Drop batter by 1/4 cupfuls into hot oil, using the back of the measuring cup to flatten into pancakes. Fry until golden brown on both sides, about 3 minutes per side. Remove with a slotted spatula and drain on paper towels.
Serve immediately and with sour cream or applesauce, as desired.
Recipe provided by Make Your Meals
Notes
Recipe provided by Make Your Mea
Nutrition Information:
Yield:
8
Serving Size:
1 grams
Amount Per Serving:
Unsaturated Fat:

0g