Every time that I walk into our local bakery, I take a deep breath in through my nose so that I can enjoy the aroma of homemade cinnamon rolls that just came out of the oven.
I swear I think I gain five pounds just looking at those delicious spiral mounds of cinnamon rolls that are topped with a mountain of icing.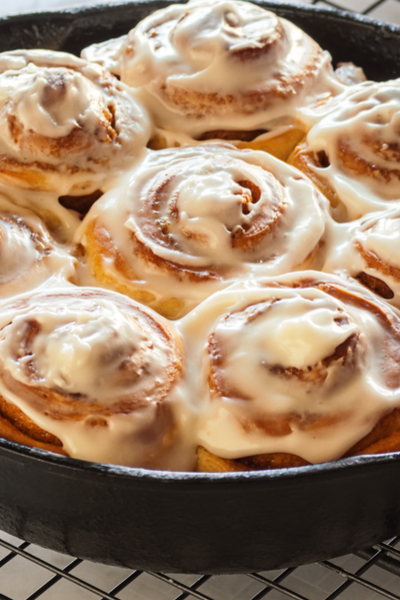 But every time, even if I came in to purchase something else, I leave there with at least one in my bag.
I mean, who can resist cinnamon rolls that have been made with the same recipe for generations?
In fact, they are so good that I kept begging the owner of the bakery for the recipe.
Homemade Cinnamon Rolls
She was reluctant to give me the exact measurements, but she did tell me what ingredients she used in her recipe.
After some experimenting, I was finally able to recreate the BEST Homemade Cinnamon Rolls recipe.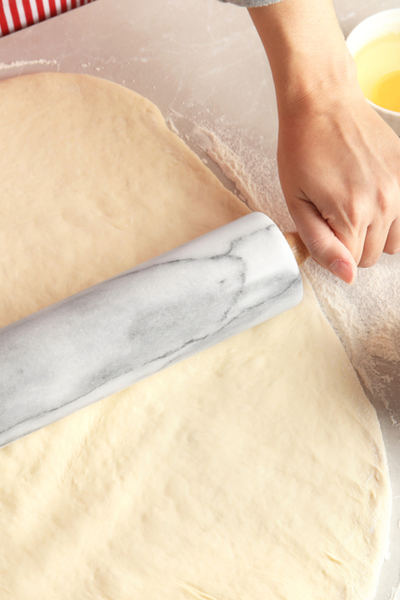 Of course, that is in my opinion. But I have to tell you, all of my family and friends beg me to make these rolls for every special occasion.
In fact, I have even made them for a first birthday party as individual 'cakes' before.
But what makes these the BEST homemade cinnamon rolls?
Honestly, it is a combination of things.
First of all, milk is used in place of water to proof the dough in this recipe. This allows the rolls to be silky smooth not only during the rising process, but also when baking.
Knead The Dough
Secondly, this recipe calls for the dough to be kneaded.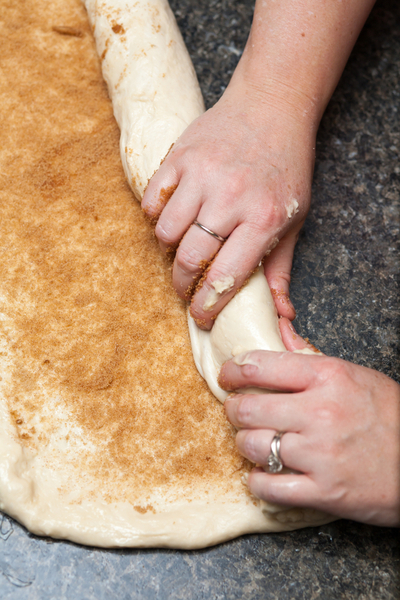 I have tried other homemade cinnamon rolls recipe that require no kneading and they just don't set up like traditional cinnamon rolls.
Don't get me wrong. They are still delicious.
However, they lack the light and fluffy texture of dough that has been kneaded.
If you truly want the BEST cinnamon rolls, then take the extra time to knead your dough.
And don't worry if you don't have a stand mixer with a dough hook. You can knead the dough by hand.
Heck, I even count that as my work out for the day!
Cream Cheese Icing
And the final secret to our recipe is the cream cheese icing.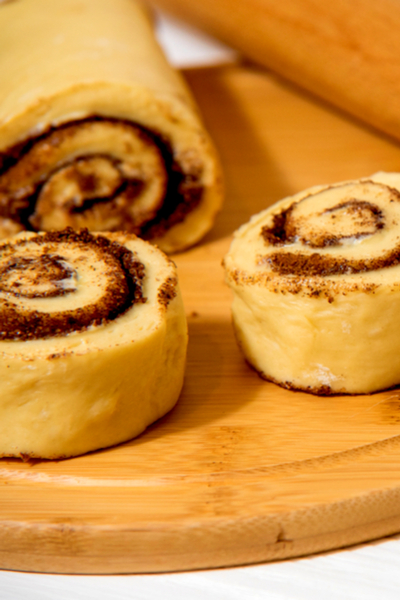 I have used our go-to icing recipe for these cinnamon rolls, but it just wasn't enough.
We use our basic milk and powder sugar icing on our cream cheese danish recipe, but cinnamon rolls need a thicker icing.
The cream cheese icing that you put on top of cinnamon rolls is basically the star of the show!
That is what most people look forward to when they sink their teeth into a homemade cinnamon roll.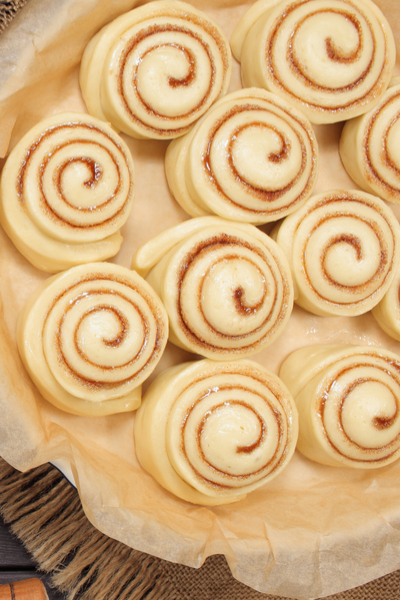 And that is what makes these the BEST homemade cinnamon rolls!
Check out the printable recipe below and let me know what you think!
To receive our 3 Recipe Articles in your inbox each week, sign up for our free email list located on the side and bottom of each recipe. You can also follow us on Facebook, and Pinterest. This article may contain affiliate links where a small commission is paid if you purchase a product at no additional cost to you.
The BEST Cinnamon Rolls Recipe
Light and flaky cinnamon roll dough filled with a delicious cinnamon sugar and topped with a cream cheese icing.
Ingredients
Cinnamon Roll Dough:
1

cup

milk warm

105-110 degrees F

½

cup

+ 1 TBS granulated sugar divided

1

TBS

Active dry yeast

2

large eggs

room temperature

6

TBS

butter melted

1

tsp

pure vanilla extract

4 to 4 ½

cups

all-purpose flour

1

tsp

sea salt

1

tsp

ground cinnamon
Cinnamon Sugar Filling:
1

cup

brown sugar packed

2 ½

TBS

ground cinnamon

6

TBS

butter

room temperature
Cream Cheese Frosting:
1 8

oz

package cream cheese

room temperature

¼

cup

butter

room temperature

2

cups

powdered sugar

½

tsp

pure vanilla extract

1/8

tsp

salt
Instructions
Dough
In a small saucepan, warm milk to 105 – 100 degrees F

Place milk into the bowl of your stand mixer, then add 1 TBS sugar and 1 TBS yeast to the milk. Stir and let it sit for five minutes until it becomes foamy.

To the milk/yeast mixture add ½ cup sugar, butter, eggs, and vanilla and use a dough hook to stir until combined.

Slowly add in the 4 cups of flour, salt and cinnamon stirring on low speed and increasing to high once the dough begins to form.

Continue to knead the dough until it no longer sticks to the sides of the bowl and large ball is formed. If necessary, add 1 Tablespoon of flour at a time until a smooth ball is formed.

Transfer dough to a floured surface and knead for 3-5 minutes. Form the dough into a ball.

Spray a large bowl with non-stick cooking spray and place the dough inside.

Cover the bowl and place in a warm place to rise for about 1 hour or until dough has doubled in size.
Filling
In a small bowl, combine brown sugar and cinnamon and mix until well incorporated. Set aside.
Assembly
Sprinkle a large work surface with flour.

Punch down the dough and with your hands form it into a rectangle.

Roll the dough into a 24"x12" rectangle, about 1/4 inch thick.

Melt the butter and brush it on the rolled dough, then sprinkle the cinnamon sugar on the butter-brushed dough.

Spread the filling all over the dough using greased hands or a greased spatula. This process can seem difficult but it gets easier as you spread it. (Alternately: if you only combined the cinnamon and sugar, then melt 6 Tablespoons butter and use a pastry brush to spread the butter over the surface of the dough. Sprinkle the dough with cinnamon sugar and pat it down gently so that it sticks.

Roll the dough lengthwise and cut into 12 equal sized rolls, about 2 inches in thickness.

Line a 9×13 inch glass baking dish with parchment paper and lightly spray with non-stick cooking spray. Evenly space rolls in the pan.

Cover and let rise for about 30 minutes or until almost doubled.

Preheat oven to 350 degrees F.

Bake until golden brown, about 18-20 minutes.
Frosting
Beat together cream cheese, butter, powdered sugar, vanilla extract and salt. Keep the frosting at room temperature until ready to use.

Spread the cream cheese frosting on the cinnamon rolls while they are still warm.

Serve warm.
The BEST Homemade Cinnamon Rolls Recipe