Instant Pot Carnitas
Carnitas is a classic Mexican staple and it literally means, "little meat". It consists of pork that is braised or roasted and shredded in little pieces. It is typically served inside of tacos, burritos, and more!
To make it even more flavorful, the shredded pork is browned in a skillet or under a broiler until the edges are darkened and crisp.
The entire process to make traditional carnitas takes several hours when using an oven method. And if you use a slow cooker, it can take up to 10 hours.
So in an effort to speed things up, I decided to make Instant Pot Carnitas.
Roasts are one of my favorite things to make in the Instant Pot (we have the 6 quart duo). Not only does it cook in a fraction of the time of traditional cooking, the flavors are intensified during the pressure cooking process.
All of the seasoning and liquid are trapped inside and unable to escape. This allows the meat to soak up all of the flavor during the cooking process.
And in this recipe, a pork butt is used and provides an extra layer of flavor from the pockets of fat within the meat.
Just to clarify – a pork butt really doesn't come from the rump end of a pig. It actually comes from the shoulder.
You might be thinking to yourself that there is already a cut of meat called pork shoulder. So what's the difference?
They both come from the front shoulder, but the one labeled pork shoulder is more triangular in shape and is slightly leaner than a pork butt.
The pork butt comes from the bottom section of the shoulder and typically contains a little more fat and shreds easier when making pulled pork.
Oh and just to make things a little more confusing – there is another term used: Boston Butt. That is all it is, just another name for pork butt/pork shoulder.
However, in order to make Instant Pot Carnitas, and not just pulled pork, there needs to be a lot of flavor added to the pork roast.
Cumin is used in a lot of Mexican dishes, but we also added in coriander, chili powder, and oregano to jazz things up bit.
Mexican oregano is preferred, but you can also use Italian oregano if that is all that you have on hand.
But the real surprise ingredient in this recipe is the orange juice and zest! The orange flavor compliments the spices and adds another depth of flavor to the meat.
We also use orange juice in our Carne Asada marinade – it's simply delicious.
I use a microplaner to zest the orange right over top of the Instant Pot. Just be sure not to get down too deep into the peel where it turns white.
The white section is extremely bitter and will not provide you with that familiar orange taste.
After zesting, cut your orange in half and squeeze out the juice. Of course, if you have a juicer, you could use that. However, I prefer to use a large pair of tongs to do the job.
Less dishes that I have to do later, and it works like a charm!
Once your Instant Pot Carnitas have been cooked and natural pressure release has been completed for 15 minutes, it is time to shred your meat.
You will be shocked at how easy it is to shred. It literally falls apart with the smallest pull.
Now this is where you can decide if you want to brown the edges of the meat like traditional carnitas.
I prefer to do it all at once. I place the meat on a baking sheet and put it under a broiler for a few minutes. Another option would to brown it in a skillet.
After browning I prefer to pour a little of the leftover liquid from the Instant Pot over top of the meat. It makes it extra moist and the flavors of the liquid is outstanding!
We use the meat in tacos, burritos, enchiladas, salads, and even with our eggs for breakfast! Honestly, I could just eat it plain – it is that good!
And if you love the flavor of this recipe, you are going to love our Instant Pot Beef Barbacoa recipe just as much!
Check out the printable recipe below and all of our recipes and let me know what you think!
To receive our 3 Recipe Articles in your inbox each week, sign up for our free email list. You can also follow us on Facebook, Twitter, Pinterest, and Instagram. This article may contain affiliate links.
Yield: 10
Instant Pot Carnitas Recipe – Mexican Pulled Pork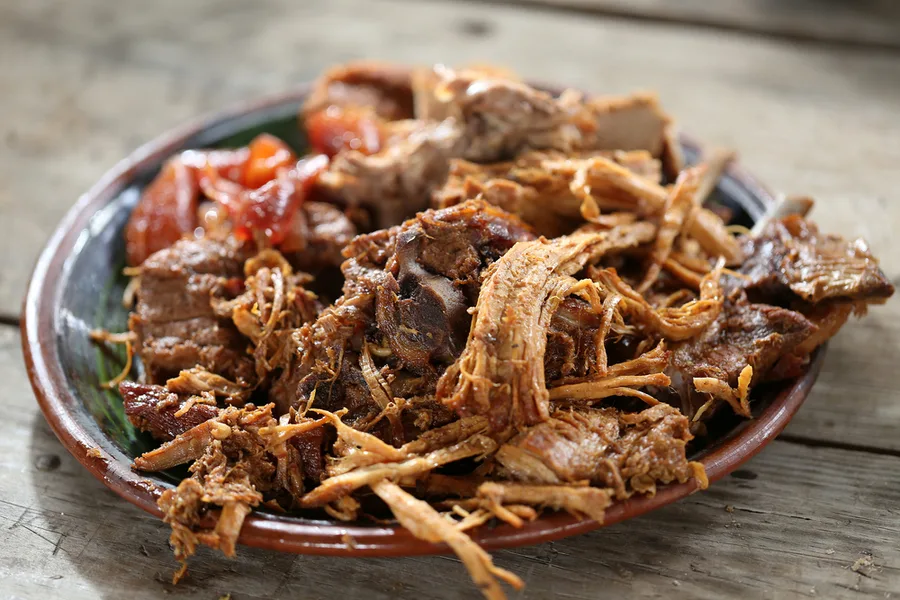 Seasoned pork shoulder roast that makes delicious carnitas and can be used for tacos, burritos, salads and more!
Ingredients
3 pounds boneless pork butt/shoulder roast
1 teaspoon kosher salt
1 teaspoon garlic salt
1 tablespoon ground cumin
1 teaspoon ground coriander
1 teaspoon chili powder
1 teaspoon oregano
1 teaspoon crushed red pepper flakes
1 large orange
1/4 cup lime juice
1/2 cup water
6 Garlic Cloves, peeled
1 large yellow onion, peeled and quartered
2 dried bay leaves
Instructions
Combine Kosher salt, garlic salt, cumin, coriander, chili powder, and oregano, in a small bowl. Set aside
Cut the roast into 2 inch pieces and place in the Instant Pot.
Rub the spice mixture evenly over the pork pieces and place in Instant Pot.
Sprinkle the spices on top of the roast and toss to coat on all sides.
Zest the orange over top of the meat. Then squeeze the juice from the orange and drizzle it and the lime juice over the pork.
Add the water down the sides of the pot. Lightly lift the roast up so that the water can get to the bottom of the liner.
Add garlic, onion, bay leaves, and red pepper flakes.
Place the lid on the pot and set in the sealed position.
Pressure cook/manual on high pressure for 35 minutes.
Once the cooking time expires allow for Natural Pressure Release for 15 minutes. At the end of the 15 minutes, quick release any remaining pressure.
Preheat oven broiler.
Use a slotted spoon to remove the pork and place it on a baking sheet. Shred the pork using two forks.
Place the baking sheet underneath the broiler and watch closely until the tips of pork become brown and slightly crisp (approximately 3-5 minutes).
Remove and use for tacos, burritos, bowls, salads, etc…
Notes
Recipe provided by Make Your Meals
Nutrition Information:
Yield:
10
Serving Size:
1 grams
Amount Per Serving:
Unsaturated Fat:

0g