Instant Pot Chicken Fajitas have taken our favorite Crock Pot meal to the next level! Instead of waiting 4-6 hours for our weeknight go-to family meal to be ready, we now have our dinner on the table in just minutes.
I have always loved my 6 quart Crock Pot. There is just something about coming home after a long day at work to walk in the door and smell dinner that's ready to eat!
However, there are many meals that call for slow cooking of only 4-6 hours. My slow cooker doesn't have a delayed start button and I definitely am gone for longer than 4-6 hours during the day.
So that is when I decided that I would give Instant Pot Chicken Fajitas a try!
I have to be honest. My first attempt at Chicken Fajitas in the Instant Pot was not a complete success. I loved the taste of the chicken and it was cooked and ready to eat in just 15 minutes.
However, the peppers were a mushy mess! I added all the ingredients in the pot, turned it on, and ended up with delicious, tender chicken and fall apart peppers and onions.
So the next time that I made Instant Pot Chicken Fajitas I sautéed the peppers and onions first. I then cooked the chicken and after the pressure was released, I added the peppers back into the pot.
This allowed the peppers and onions to pick up the fajita seasoning without becoming too soft. Problem solved!
I also cut back on the amount of liquid that I thought I needed. Originally I added in 1/2 cup of chicken broth, the juice from the can of tomatoes and the juice of 1 lime. I quickly learned that the juice in both the can of tomatoes and the lime was plenty to get the pot up to pressure.
So our favorite Crock Pot weeknight meal has now become our favorite Instant Pot weeknight meal. Sorry Crock Pot……. Here is the affiliate link to the Instant Pot 6 quart Duo that we used to make this recipe.
And if you prefer a creamier and low-carb version of this recipe, try our Instant Pot Chicken Fajitas Casserole. Or to try out our classic Steak Fajitas be sure to check out our Steak Fajitas recipe.
Check out the printable recipe below and all of our recipes and let me know what you think!
To receive our 3 Recipe Articles in your inbox each week, sign up for our free email list.
You can also follow us on Facebook, Twitter, Pinterest, and Instagram. This article may contain affiliate links.
Instant Pot Chicken Fajita Recipe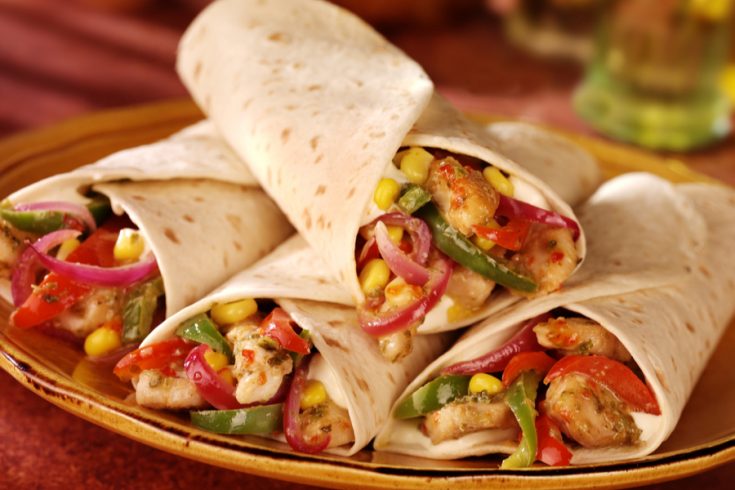 Classic chicken fajitas made in a pressure cooker in less than 20 minutes.
Ingredients
2 pounds boneless, skinless chicken strips
1 sweet bell pepper; cut into strips
1 green bell pepper; cut into strips
1 large sweet onion, cut into strips
Salt and pepper
1 tsp cumin
1 tsp paprika
1 tsp chili powder
1 tsp cayenne pepper
3 cloves garlic, minced
1/2 tsp salt
1/2 tsp pepper
1 14.5 oz. can petite diced tomatoes, with lime and cilantro where available
1 lime, juiced
Instructions
Turn Instant Pot on sauté mode. Once HOT appears on the screen add 1 tablespoon olive oil. Heat oil and then add in sliced bell peppers and onions. Salt and pepper lightly. Sauté on high setting just until slightly tender (3-4 minutes).
Turn Instant Pot off and remove peppers and onions and set aside.
In a large bowl or ziplock bag, add cumin, paprika, chili powder, cayenne pepper, garlic, salt and pepper. Add chicken and coat well.
Add chicken to the bottom of the Instant Pot. Add the undrained diced tomatoes on top of the chicken and the juice of 1 lime.
Pressure cook/manual for 8 minutes with a 5 minute natural pressure release. Release the remaining pressure.
To the pot, add in the precooked peppers and onions and toss to coat with the chicken strips.
Serve immediately on a tortilla, rice, or salad greens. Suggested toppings: shredded cheese, Pico de Gallo, sour cream, diced onions, diced jalapenos, avocados, etc.
Notes
Recipe provided by Make Your Meals
Nutrition Information:
Serving Size:
1 grams
Amount Per Serving:
Unsaturated Fat:

0g