When I first searched how to cook chicken breast in an air fryer, I could only find instructions on how to cook breaded chicken filets.
However, I was wanting a recipe for unbreaded, seasoned chicken breasts that I could eat as a stand alone main dish or on top of my salad for lunch.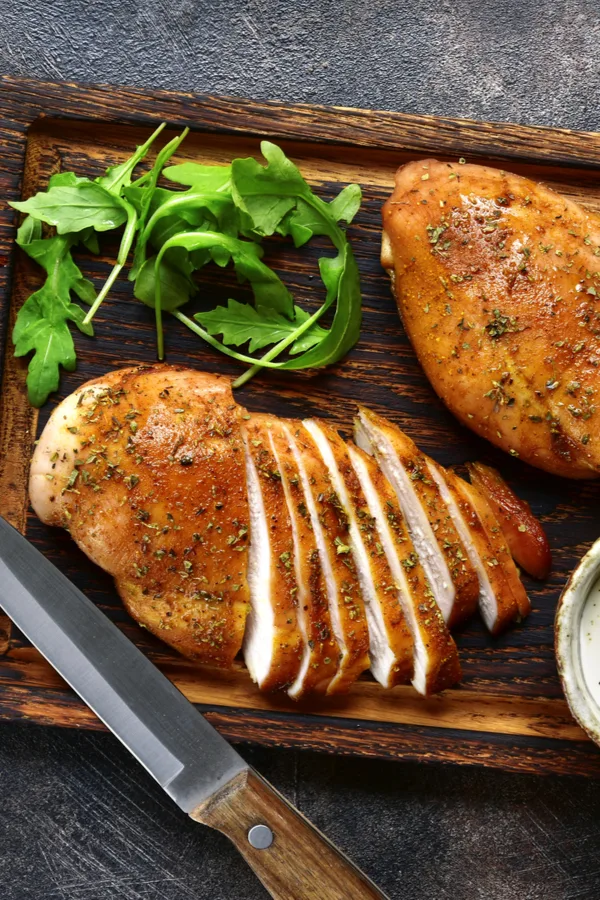 So I decided to take a chance and experiment a little. And after many trials, I have finally figured out how to get moist and juicy chicken breasts that are cooked in an air fryer.
And today I want to share that technique with you so you can have perfectly cooked chicken on your own table.
Size Matters
The first thing to consider is the size and thickness of your chicken breast. As you know, when you purchase chicken at the grocery store, the filets come in all shapes and sizes.
From super thin cuts that you can almost see through to huge chicken breasts that could feed an entire family! And over the last few years, I have cooked each size in my Power Air Fryer 360.
In the past I have always preferred to cut the large chicken breasts in half to make 2 thinner filets. One reason was because I couldn't eat that much chicken in one sitting. But the other reason was that they cooked much quicker.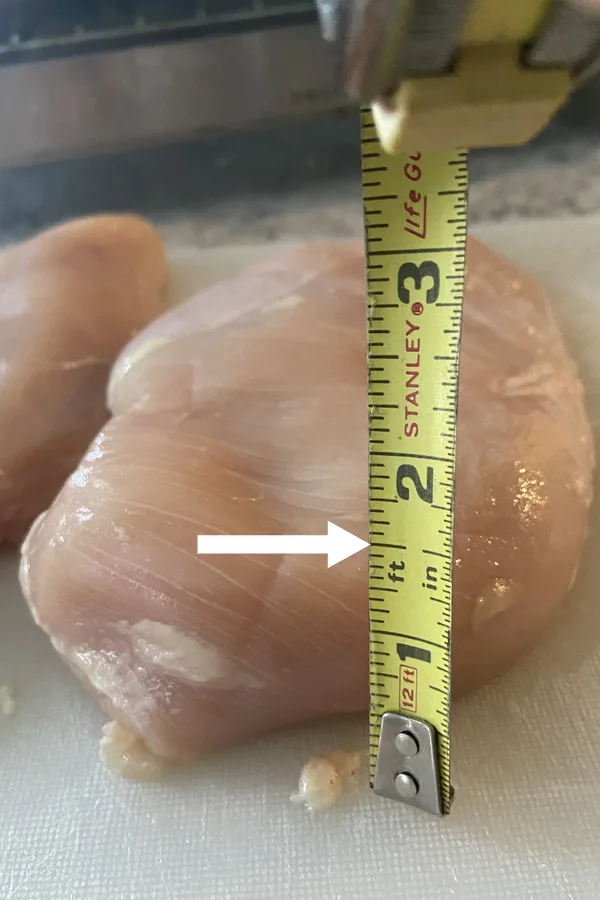 Although they do cook much faster, the meat tends to dry out, especially around the edges when they are that thin. Therefore, I now prefer to cook 1-1 1/2 inch thick chicken breasts in the air fryer.
And to ensure that they always turn out moist and juicy, I allow them to marinade for at least 30 minutes before I cook them. It makes a huge difference in the quality of the meat.
However, I am not talking some fancy marinade. A simple blend of extra virgin olive oil and some common spices is all that is needed.
The Best Air Fryer Chicken Breast Recipe
Ingredients
2 chicken breasts, 1- 1 1/2 inch thick
Extra Virgin Olive Oil
Garlic Powder
Onion Powder
Salt
Pepper
*If you don't have smoked paprika, you can substitute sweet paprika. However, I highly suggest you purchase smoked paprika at some point, as we use it a lot in our other recipes including: Air Fryer Chicken Wings, Pulled Pork, Smoked Brisket, Cajun Chicken, Slow Cooker Whole Chicken and more!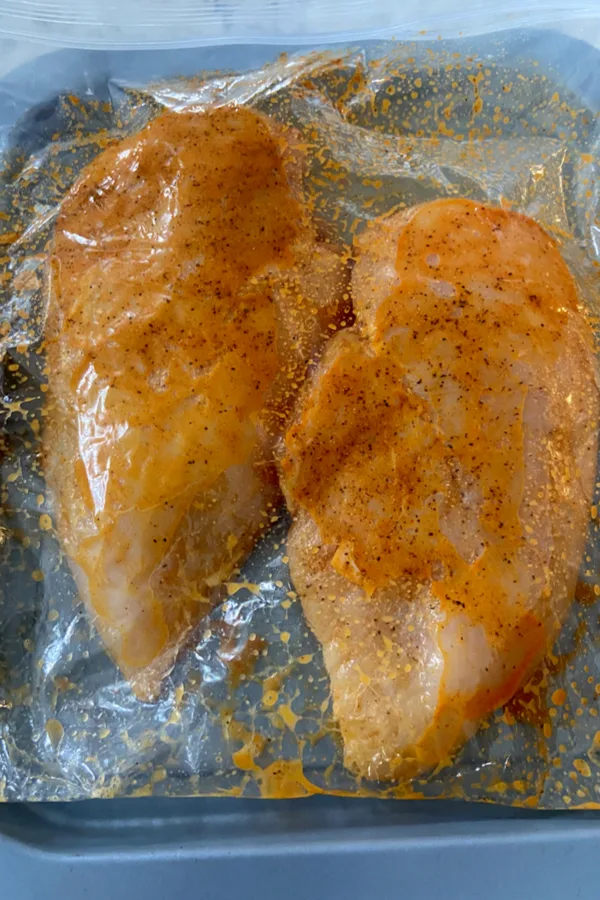 Instructions
The first thing that you need to do to make chicken breasts in an air fryer is to trim off the excess fat that is typically found around the edges. When fat cooks down, it can burn on the bottom of the air fryer and smoke.
Next, place the chicken breast in a resealable plastic bag and add the oil and seasonings. Seal the bag and using your hands, massage the spices and oil all over each side of the chicken breasts until they are well coated.
Let the marinade penetrate the chicken for at least 30 minutes. If you plan on cooking the chicken breast in the air fryer immediately following the marinating wait time, it is okay to leave the chicken out on the counter.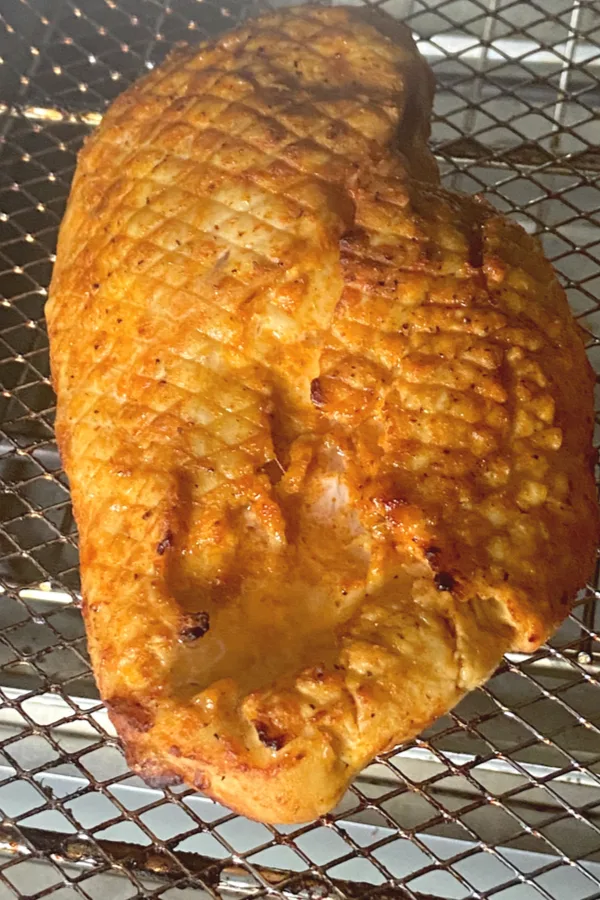 You want the chicken close to room temperature before it gets put inside the air fryer. However, if you will marinating for greater than 30 minutes place the chicken back into the refrigerator. Just be sure to get it out of the fridge a half hour prior to cooking.
When you are ready to make your chicken breast, preheat your air fryer if required. Then add the marinated chicken breast to your air fryer basket. You should not have to spray your basket with non-stick spray because there is oil already in the marinade.
How To Know When The Chicken Is Cooked
Air fry for 15 minutes. Then flip the chicken over and air fry for another 10-15 minutes or until the chicken is cooked to 160°F when checked with a digital food thermometer.
It is extremely important to remove the chicken when it reaches this temperature in the thickest part of the breast. The chicken will continue to cook when removed and reach the safe consumption temperature of 165°.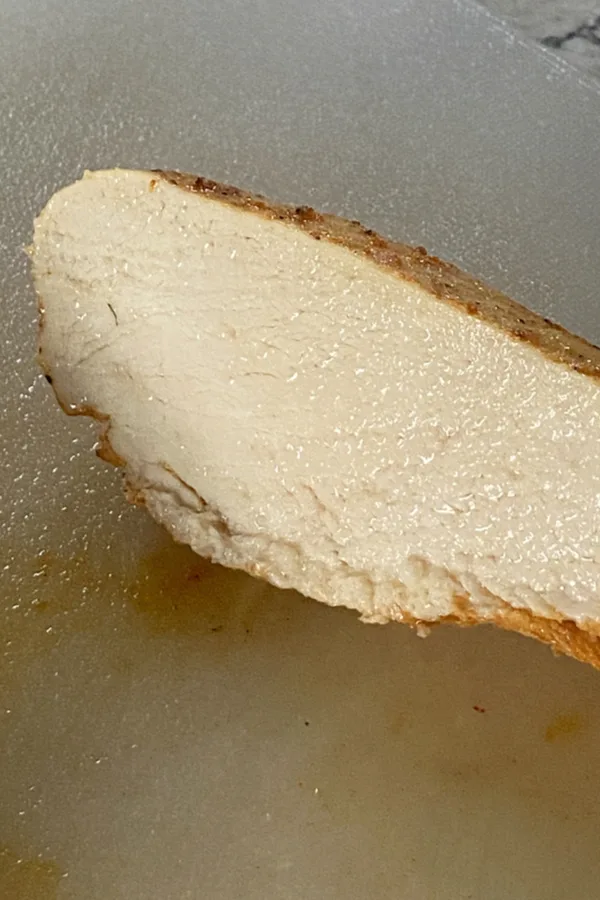 All too often chicken is overcooked and that is why it becomes dry. Therefore it is vital that you use the food thermometer so you know when to remove the chicken from the air fryer.
Serve immediately or let cool and refrigerate for an easy to heat up meal later in the week!
Enjoy!

To receive our 3 Recipe Articles in your inbox each week, sign up for our free email list located in the middle of each recipe or email me at contact@makeyourmeals.com. You can also follow us on Facebook and Pinterest. This article may contain affiliate links where a small commission is paid if you purchase a product at no additional cost to you.
Yield: 4
Air Fryer Chicken Breast Recipe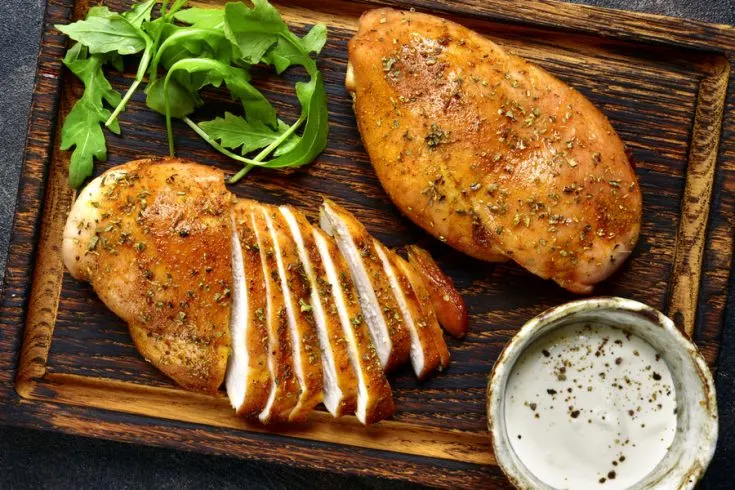 How to use your air fryer to cook fresh chicken breast so they turn out moist and juicy each and every time.
Ingredients
2 large chicken breasts, 1 1/2 inches thick
2 tablespoon extra virgin olive oil
1/4 teaspoon garlic powder
1/4 teaspoon onion powder
1/4 teaspoon smoked paprika
1/4 teaspoon Kosher salt
1/4 teaspoon black pepper
Instructions
Trim the fat from the refrigerated chicken breast and place the trimmed chicken in a large resealable plastic bag.
In a small bowl, add the oil and seasonings and mix together. Pour the mixture in the bag with the chicken and massage the outside of the bag so that the chicken breast are coated with the marinade.
Let sit at room temperature for 30 minutes.
Preheat air fryer at 375°F if required. Place the chicken in the basket of the air fryer and cook for 15 minutes. Flip and cook for an additional 10-15 minutes or until the internal temperature reaches 160°F.
Remove the chicken from the air fryer and let rest for 10 minutes before serving.
Notes
Depending on the thickness of your chicken breasts, the cook time will need adjusted accordingly.
The best way to ensure moist and juicy chicken is to check the internal temperature with a digital food thermometer.
Recipe provided by Make Your Meals
Nutrition Information:
Yield:
4
Serving Size:
1 grams
Amount Per Serving:
Calories:

192
Total Fat:

10g
Saturated Fat:

2g
Unsaturated Fat:

0g
Cholesterol:

72mg
Sodium:

277mg
Carbohydrates:

1g
Sugar:

1g
Protein:

24g