I never thought that I would ever make Homemade Crackers, but I have to tell you, it is much easier than you think!
Whether you are trying to eat less preservatives, or if you are simply out of crackers and not wanting to venture to the grocery store, this easy to make recipe is for you!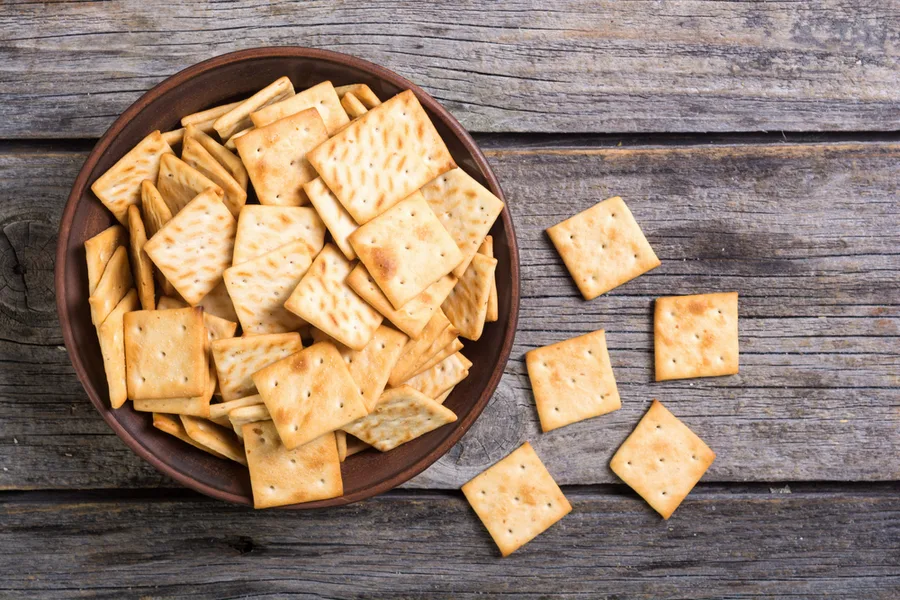 With only 5 common ingredients, you can have nice and crisp crackers on your table in less than 30 minutes!
And you can adapt the seasonings to make them take on the flavor of anything that you like! We needed the crackers for our Roasted Red Pepper Hummus so we used thyme for our seasoning.
But you could also use Italian seasoning, garlic salt, ranch dressing, or dill weed. The choice is completely up to you!
How To Make Homemade Crackers
Just like any recipe that is made from a dough base, it all starts with flour.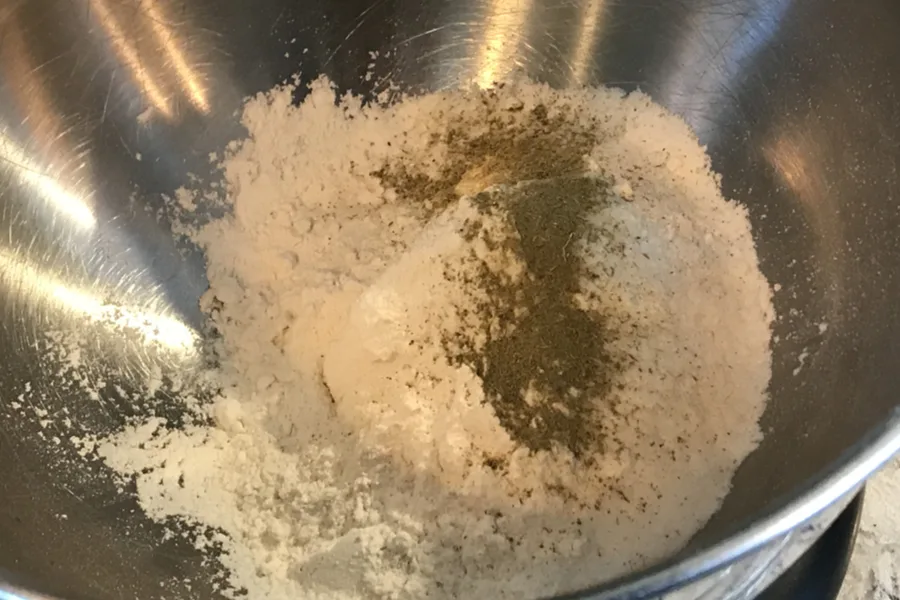 First start by adding all-purpose flour, sugar, salt and desired seasoning in a large bowl. Whisk until all of the ingredients are incorporated.
Next, slowly add the oil and water to the dry ingredients and begin to mix with a fork.
Continue to mix until well combined. The dough will be slightly on the sticky side. If the mixture is too dry, add one tablespoon of water at a time and mix well.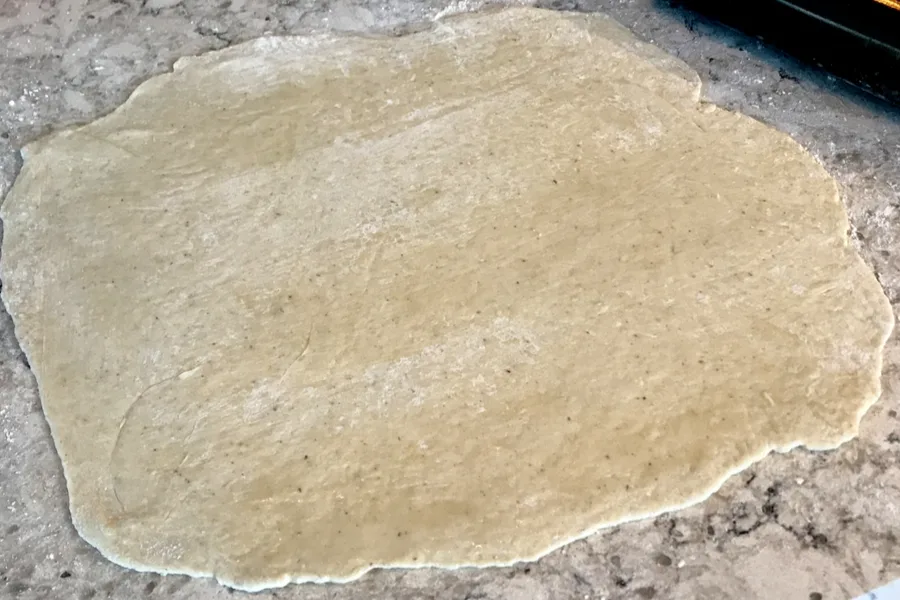 Then place the dough on a clean work surface that is dusted with flour. Divide the dough in two sections.
Now roll each section into a large rectangle that is approximately 1/8 inch thick. The thinner you roll it, the crispier that the homemade crackers will be.
Cut Into Desired Sections
Lightly brush the dough with olive oil and then cut into desired cracker size. We used a pizza cutter which made it extremely easy to cut into bite size crackers.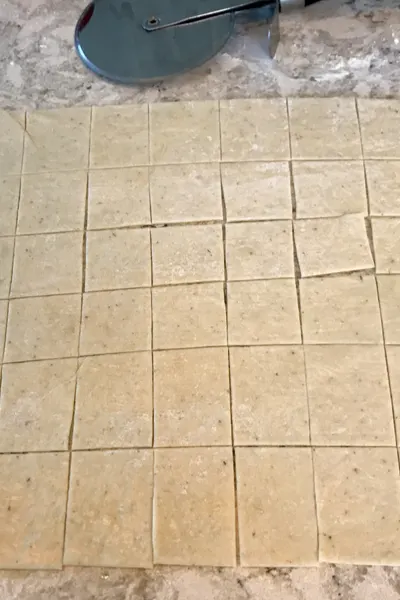 Next, using a toothpick or fork, prick each cracker several times. This helps them from puffing up during the cooking process.
Transfer the crackers to parchment paper lined baking sheets and bake for 12-15 minutes.
Because the cooking time will vary depending on the actual thickness of your crackers, begin checking them at the 8 minute mark.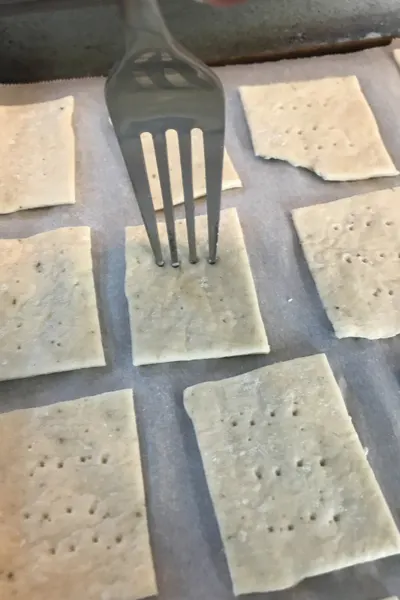 Also, keep in mind that you may need to remove individual crackers if they are thinner than the others to prevent them from becoming too brown.
When the crackers begin to turn light brown, remove them from the oven and place them on a cooling rack. The homemade crackers will continue to crisp as they cool.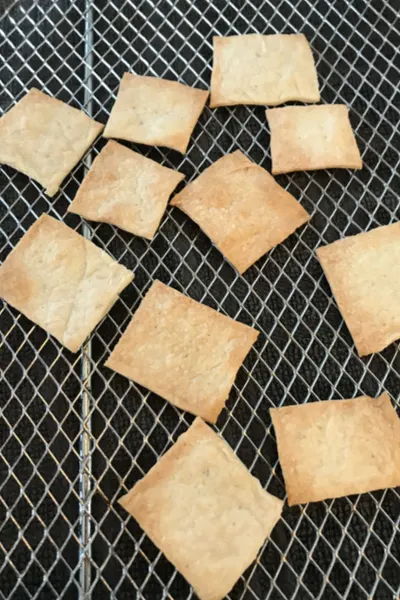 Once they have completely cooled, store them in an air tight container for up to 1 week.
Enjoy some of our most recent recipes:

To receive our 3 Recipe Articles in your inbox each week, sign up for our free email list located in the middle of each recipe or email me at contact@makeyourmeals.com. You can also follow us on Facebook and Pinterest. This article may contain affiliate links where a small commission is paid if you purchase a product at no additional cost to you.
Homemade Crackers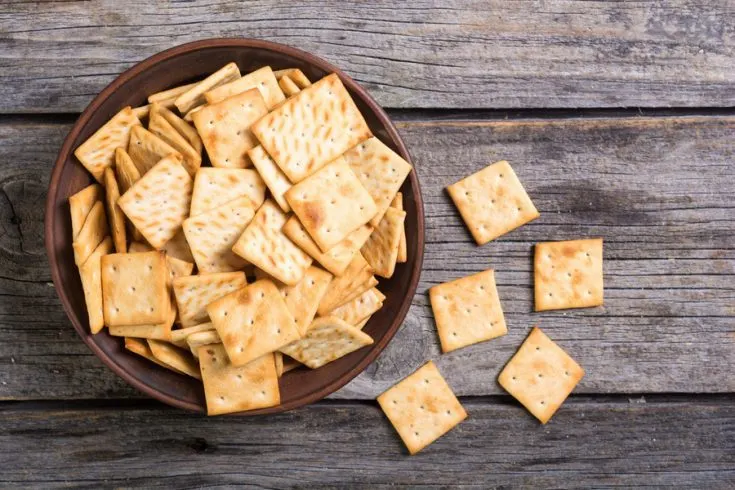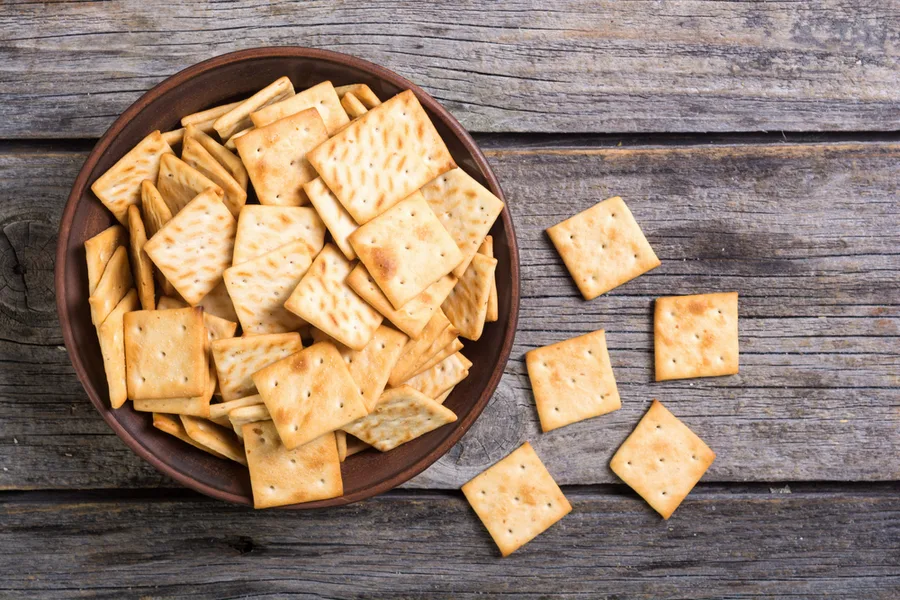 How to make your own Homemade Crackers - a quick and easy recipe that is great to serve with cheese or your favorite dip or spread.
Ingredients
3 cups All-purpose Flour
2 tsp. Sugar
2-1/2 tsp. Salt
4 Tbsp. Olive Oil or Melted Butter, Olive Oil, Melted Butter, Bacon Drippings, Melted Coconut Oil, Or Melted Ghee
1 cup Water
1 teaspoon dried thyme or Italian seasoning, optional
Instructions
Heat oven to 450ºF. Line two large rimmed baking sheets with parchment paper.
In a large bowl, whisk together flour, sugar, salt and thyme.
Add oil and water to flour and mix until combined; the dough will be sticky.
Flour a clean work surface and divide dough in two sections. Roll each dough ball into a rectangles that is 1/8 inch thick.
Brush dough lightly with olive oil. Cut dough into desired cracker shapes using a sharp knife or pizza cutter. Prick the crackers with a toothpick or fork.
Transfer the crackers to the prepared sheet pans with a spatula or pastry scraper. Be sure that the crackers are not touching each other.
Bake in the oven 12–15 minutes or until golden brown. Be sure to watch the crackers for the last 5 minutes, as some crackers may get done quicker than others. Remove individual crackers as needed to prevent them from burning.
Transfer crackers to cooling rack. Crackers will continue to crisp as they cool. Serve crackers immediately or store in an airtight container at room temperature for up to one week.
Notes
Recipe provided by Make Your Meals
Nutrition Information:
Serving Size:
1 grams
Amount Per Serving:
Unsaturated Fat:

0g