This slow cooker Italian beef recipe is so tender and delicious that you will wonder why you haven't made it sooner!
It is truly a dump and go recipe. You can make in the morning and the beef will be cooked and ready to eat when you get home for dinner!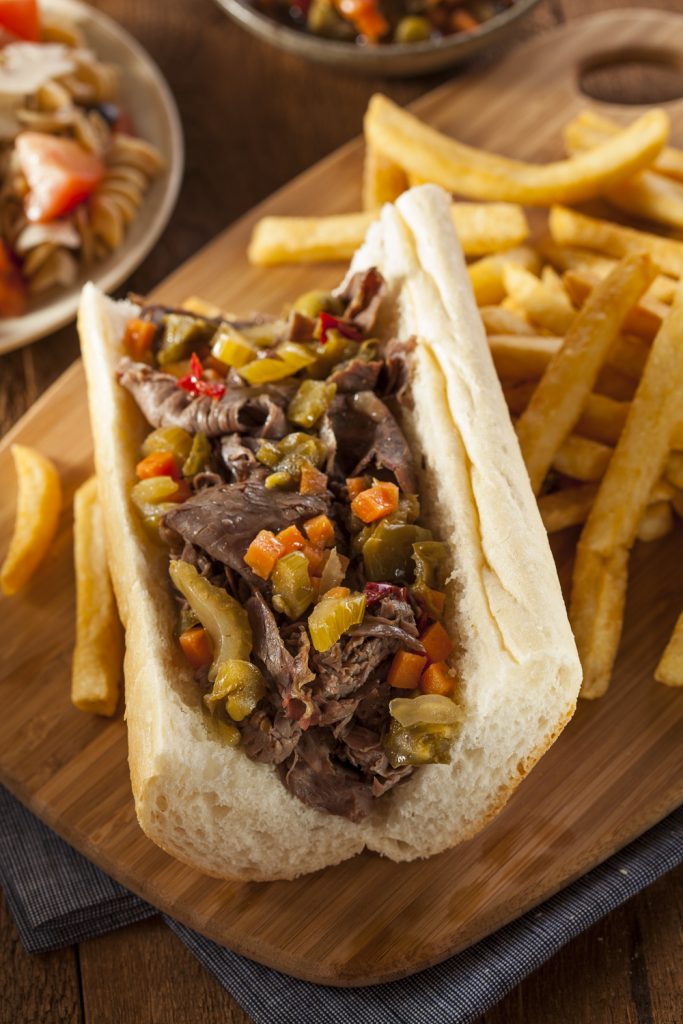 With life being so busy these days, I thought it would be the perfect time to share this recipe. I hope that it will make your life easier and more delicious as well!
Mississippi Pot Roast
I originally got the inspiration for this Italian Beef Recipe after I joined the Mississippi Pot Roast craze about 10 years ago.
The recipe for the famous pot roast started with a basic chuck roast. Then it was flavored with ranch dressing, pepperoncini peppers and a whole stick of butter.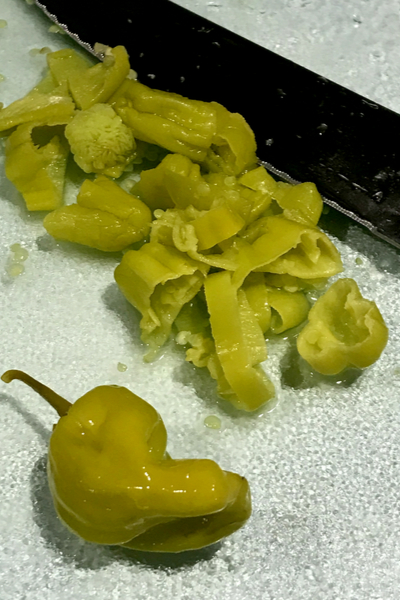 That's right, an entire stick of butter!
When I first tasted Mississippi Pot Roast I literally thought I had fallen in love all over again.
But some things are too good to be true. Although the slices of beef were melt in your mouth tender, I knew that it wasn't a healthy way to enjoy dinner.
So instead, I found a Mississippi Pot Roast recipe that was a little healthier. This one used homemade ranch dressing and half of the amount of butter listed in the original recipe.
The result was fantastic!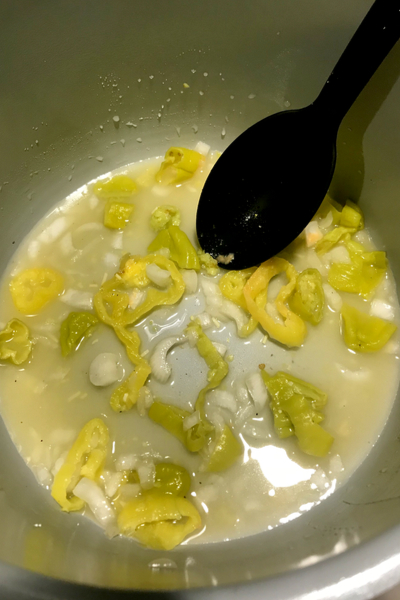 However, there was one issue. I wanted to use the meat to make a sandwich.
That is when I used that recipe as the inspiration to make this Slow Cooker Italian Beef recipe.
Slow Cooker Italian Beef
When I was in Chicago a few years ago, I had my first Italian Beef sandwich.
I was walking down the street and there was a food stand nearby. The line for orders extended around the corner of the block.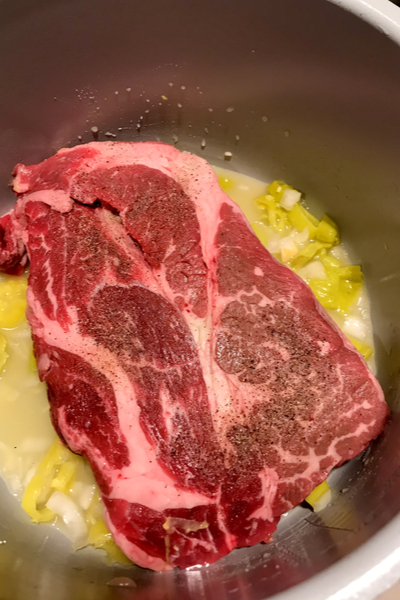 Because I was curious about what the fuss was all about, I began to ask some people in line about what they were about to order.
Each person told me the same thing, "You have to get the Italian Beef Sandwich."
Although I didn't have a lot of time for lunch, I decided that I just couldn't pass us this opportunity.
Luckily the line went fast and within a few minutes I had a huge Italian roll overflowing with meat in front of me. And in the corner of the tray was a small container filled with au jus.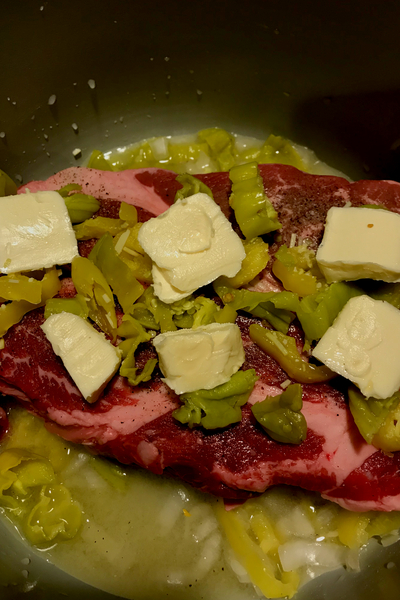 I immediately thought it twas a french dip sandwich. But one bite in, and I knew I was wrong!
The flavors were completely different. This shredded beef melted in your mouth. You could taste the hint of pepperoncini peppers throughout each bite and of course, the butter flavor penetrated the meat beautifully!
So after I had made Mississipi Pot Roast, I knew that I could adapt the recipe to make Italian Beef in my slow cooker as well!
And if you are looking for another great slow cooker recipe try this Slow Cooker Pulled Pork! It is just as delicious!


To receive our 3 Recipe Articles in your inbox each week, sign up for our free email list located in the middle of each recipe or email me at contact@makeyourmeals.com. You can also follow us on Facebook and Pinterest. This article may contain affiliate links where a small commission is paid if you purchase a product at no additional cost to you.
Slow Cooker Italian Beef Recipe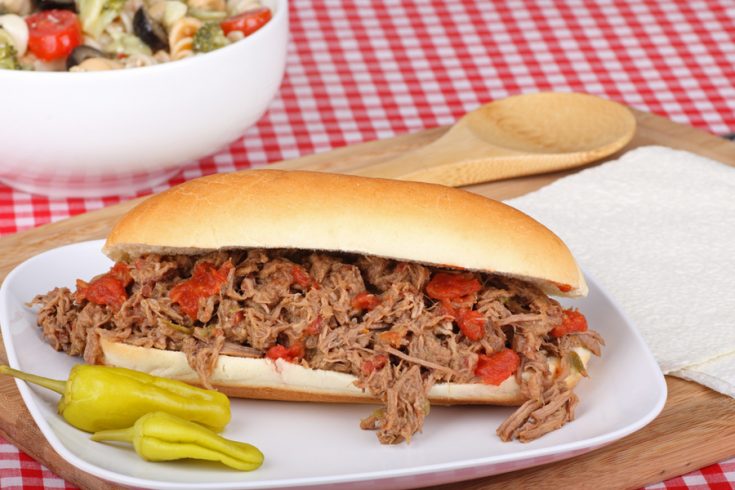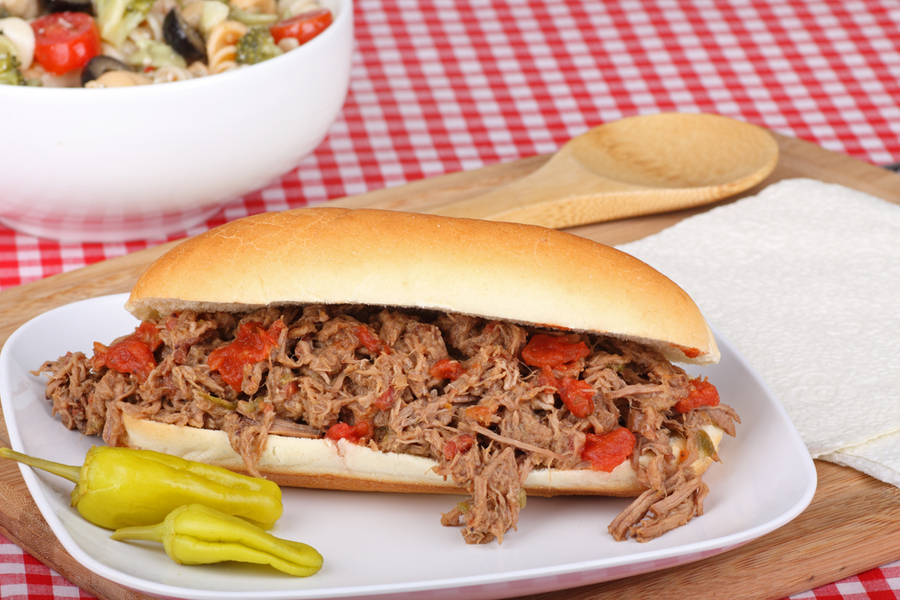 Tangy, slightly spicy Italian beef is slow cooked all day until it's fall apart tender, and then shredded. Serve on a toasted sub bun for a classic meal or on it's own for a low-carb meal.
Ingredients
1/2 cup white vinegar
1/4 cup finely diced onion
1/2 Tbsp garlic powder
1 tsp crushed red pepper flakes
14 pepperoncini peppers, chopped
14 banana pepper rings
2-3 lb beef chuck roast
1 tsp kosher salt
1/2 tsp ground black pepper
4 Tbsp butter
Instructions
Spray slow cooker liner with cooking spray or line with a slow cooker cooking bag.
Add vinegar, onion, garlic powder, red pepper flakes, ½ of the chopped pepperoncini peppers, and ½ of banana pepper rings to bottom of slow cooker. Stir to combine.
Season one side of the chuck roast with salt and pepper. Place the seasoned side down on top of the mixture, season the other side with salt and black pepper.
Top with the remaining pepperoncini and banana pepper rings. Then top with the butter cut in slices.
Place lid on slow cooker and cook on LOW for 8 hours. Remove beef from slow cooker and shred. Return to slow cooker to soak up any residual juice and serve.
Notes
Use some of the liquid in the slow cooker for au jus if preferred.
Serve on toasted sub bun and top with the cooked pepper pieces and rings. Or for a low-carb option, serve without the bun.

Recipe provided by Make Your Meals
Nutrition Information:
Serving Size:
1 grams
Amount Per Serving:
Unsaturated Fat:

0g