If you are from the southern portion of the United States, then you may have tried or even have made a Crock Pot Ham made with Coca Cola.
And for those who have never heard of ham being made with a soda (or pop, depending on where you live), this recipe will soon become your new favorite!
The sweetness of the cola balances out the saltiness of the cured ham. Add in a brown sugar rub and a little pineapple juice and you will have the most flavorful and tender ham this Easter!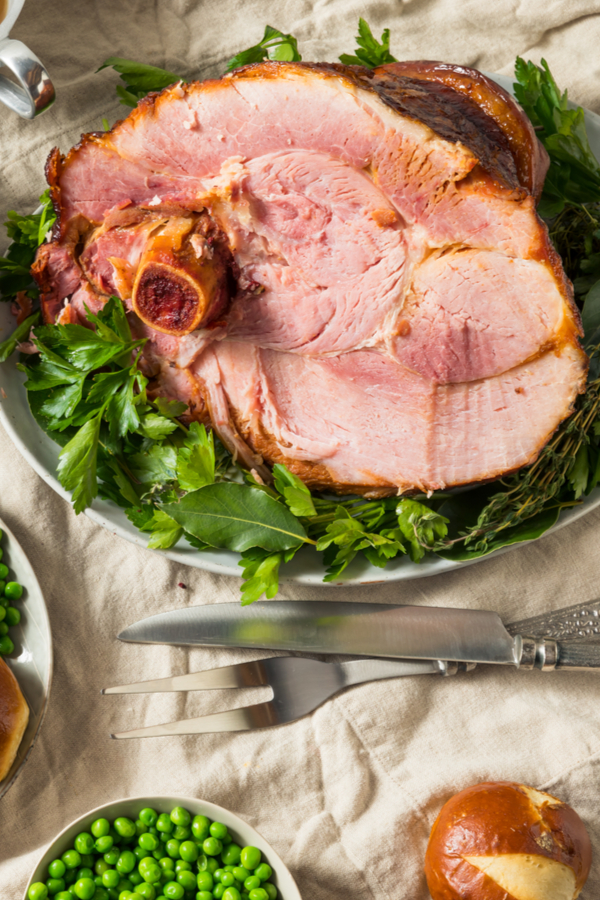 And the best part of all, it takes only a few minutes to prepare. A quick and easy rub is made and applied to the exterior of the ham and placed in a crock pot.
Then all that is left to do is to add the liquid and let it cook.
In just a few hours you will have a beautiful and delicious ham that will wow your family and friends!
What Type of Ham To Purchase?
One of the most common questions that we get in regards to ham is what is the best type to buy.
There are three basic categories when it comes to ham
City ham – wet-cured
Country ham – dry-cured
Fresh ham (uncured)
What you see in the grocery store around Easter and Christmas is most often city ham. The ham has been cured and fully cooked. This is the type of ham that we will use for this Crock Pot recipe.
However, it isn't that easy. Now you have to pick out the cut of meat that you would like. A full size ham would be large enough to feed an army.
Therefore, the portions of ham you see in the grocery have been cut into two sections. Which I might add, can still feed a large family for a few days.
Bone-In Ham
Ham comes from the back leg of a hog. The upper portion, known as the Butt cut, is more circular in shape and is lean and tender.
The lower back leg portion is known as the shank end. Shank end hams are what you see on the platter of professional pictures or in commercials as the main course at Easter and Christmas dinner.
They are more oblong in shape and have a little more marbled fat. Because of that, I personally find that the shank cuts have more natural flavor when compared to the butt portion.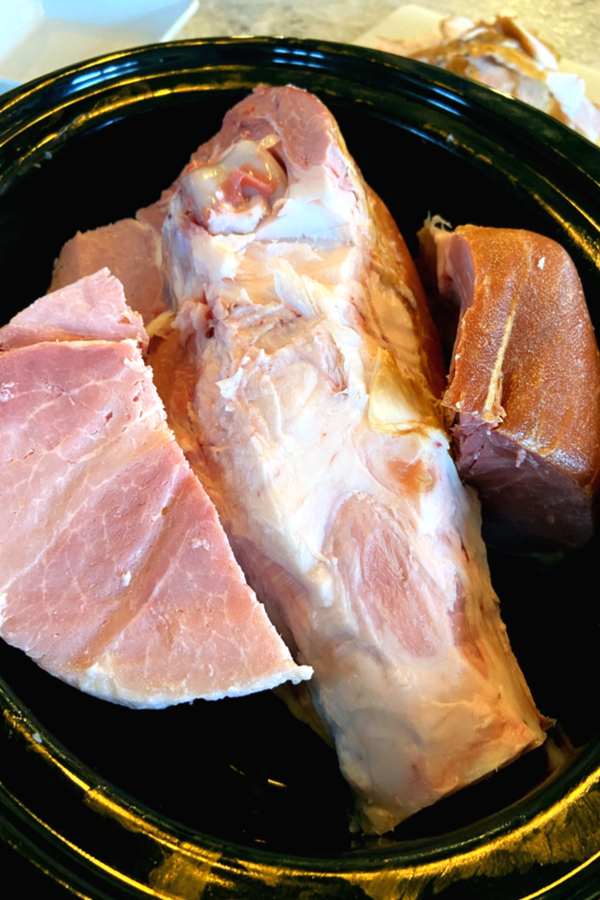 Boneless Ham
Then there is the ever popular boneless hams. Although they make carving a breeze, I would highly recommend not purchasing them if you are looking for the most flavor.
Boneless hams are processed which means you lose the rich flavor and texture of unprocessed ham. However, if you are sure you want a ham without the bone, ask your butcher for a 'Bone Removed' ham (not boneless) instead.
Spiral Ham or Not?
Every time I put out a recipe on how to cook a ham, whether it be in a crock pot, Instant Pot Ham or Honey Glazed Ham, I always get the question if it is better to purchase a spiral sliced ham.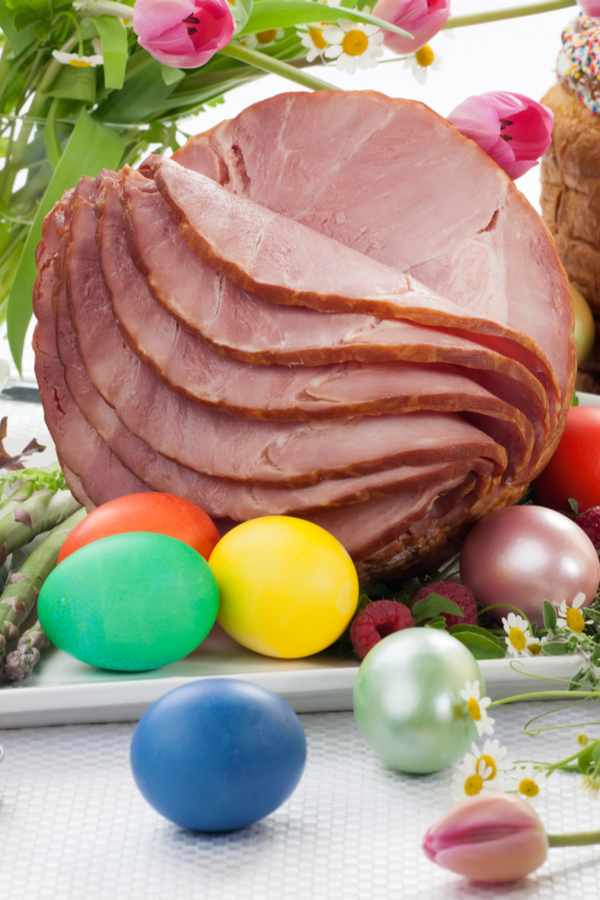 Many spiral sliced hams have been cooked with a glaze before being packaged. So the crock pot ham recipe listed below would not be a good fit for these type of hams.
However, sometimes you can find spiral sliced hams that have no seasoning or glaze. And if that is the case, the choice is up to you.
How Much Ham To Purchase
If you are wondering how big of a ham you should purchase, use this calculation as a guideline. Plan on at least 1/3 to 1/2 pound of ham per person. Then multiply that number by the number of people that you will be serving and buy accordingly.
However, I like to buy a ham that is a pound or two larger than that so that we can make the yummy leftover dishes that I have listed below.
Now that we have all the details worked out, let's get cooking!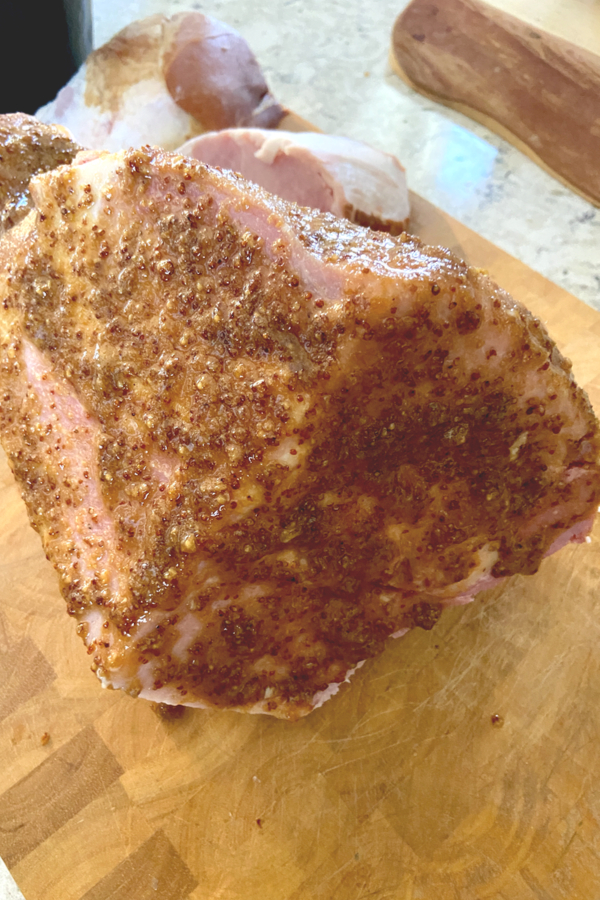 Southern Style Crock Pot Ham
Ingredients
Ham, bone-in fully cooked
Brown sugar
Dijon mustard
Garlic powder
Coca Cola
Pineapple juice
Instructions
The first step in making a ham in the crock pot is to make sure that it is going to fit properly. Do this by dry-fitting the unglazed ham in the slow cooker.
It is ideal if you can place the meat face side down. However, we know that this can't always happen, especially with the longer shank cuts.
If the ham doesn't fit, you will need to trim off some sections of the meat and cook it in two, or even, three sections. I have a 6.5 quart programmable Crock Pot brand and I had to cut the ham into three pieces.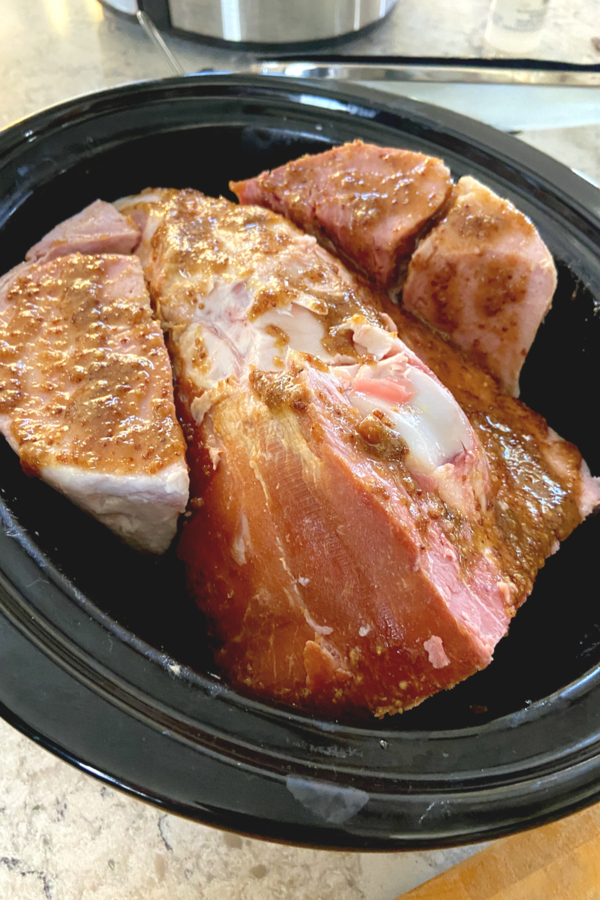 Now that your ham has been fitted, it is time to get it glazed.
In a small bowl add the brown sugar, dijon mustard, and garlic powder and whisk until combined. Then rub the mixture all over ham.
Place the ham in the crock pot, face side down if possible. Then slowly pour the coke and pineapple juice down the side of the crock pot. *Do not pour it on the top of the ham itself, as the glaze will slide off.
Cook on LOW for 7-8 hours or on HIGH for 4-5 hours or until ham reaches an internal temperature of 140ºF (60°C).Then remove the ham from the slow cooker and tent with foil. *If you are cooking a spiral cut ham decrease the cook time by 1-2 hours.
Remove the ham and let it rest 10-15 minutes before serving. Slice and drizzle the ham with leftover liquid.
If you would like a thicker glaze for serving, you can add the liquid to a sauce pan with a corn starch slurry and let it boil until the desired thickness has been reached.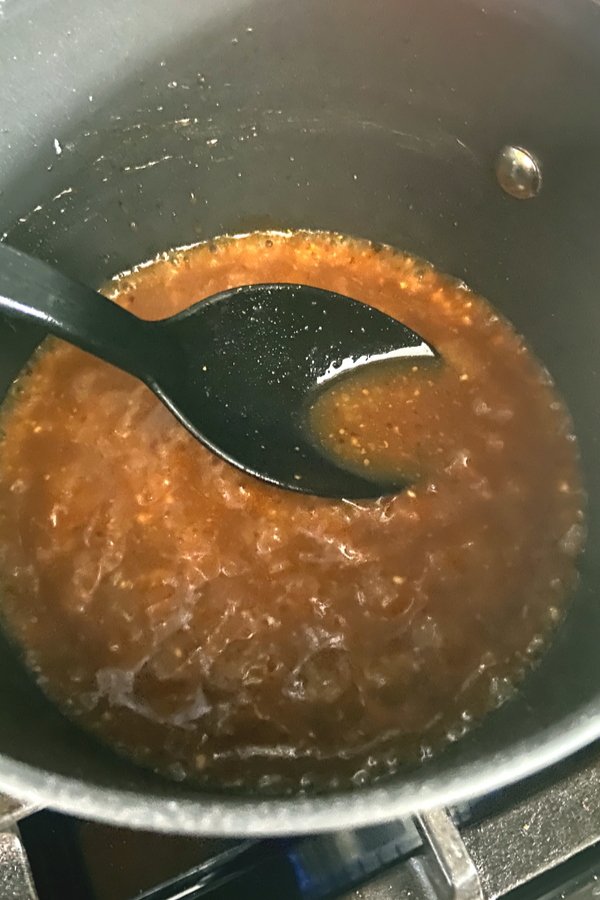 Other Cooking Methods
Oven Instructions
Add the ham to a large roasting pan. Spread the glaze over it and add the liquid to the bottom of the pan. Cover with a lid or foil.
Bake at 325°F for 15-20 minutes per pound. Baste the ham every hour.
Remove foil over the last 30 minutes of cooking. It is fully cooked when the internal temperature reaches 140°F. Remove from the oven and let it rest before serving.
Pressure Cooker Instructions
Be sure that your ham will fit inside the Instant Pot, cutting into sections if necessary. Then mix the glaze ingredients together and rub it on the ham.
Pour the coke and pineapple juice in the Instant Pot and then place the ham, face side down into the liquid. Lock the lid in place and then move the valve to the sealing position.
Set the Instant Pot to the Pressure Cook/Manual mode on HIGH pressure and adjust the cook time to 20 minutes.
Once the cooking time is complete allow the pot to natural pressure release for 15 minutes. Then carefully move the valve to venting to release any remaining pressure.
Remove the lid and transfer the ham to a large serving platter.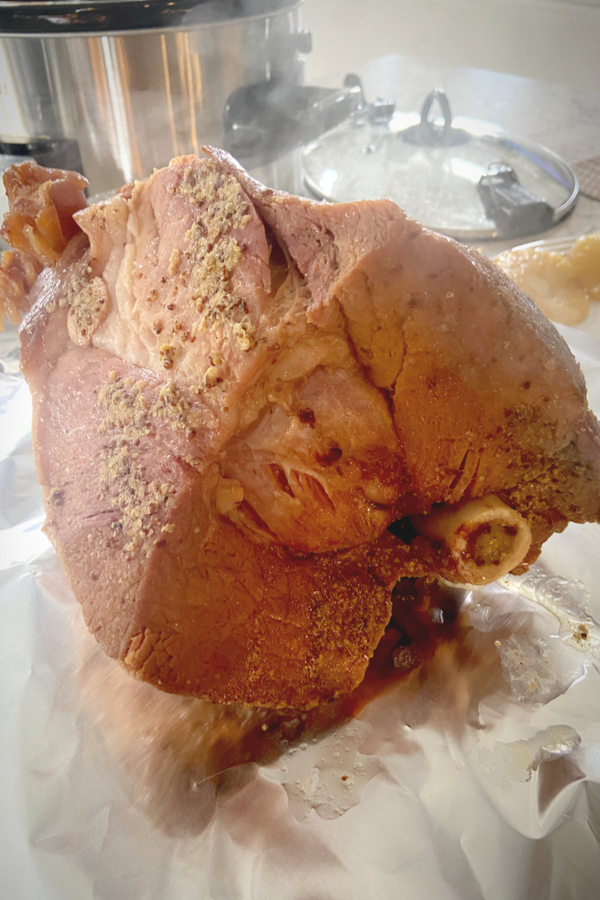 How to Serve
After the crock pot ham has had time to rest, move to a serving platter. Slice the ham to the desired thickness and drizzle the remaining juices on top of the ham.
If serving for a large crowd, an electric knife comes in handy here. Otherwise, be sure to use a sharp carving knife for ease of cutting.
Best Side Dishes To Serve With Ham
Storing Recommendations
Store any leftovers in the refrigerator for up to 4 days. Then freeze any remaining leftovers by wrapping it in aluminum foil and then placing it in an air-tight container.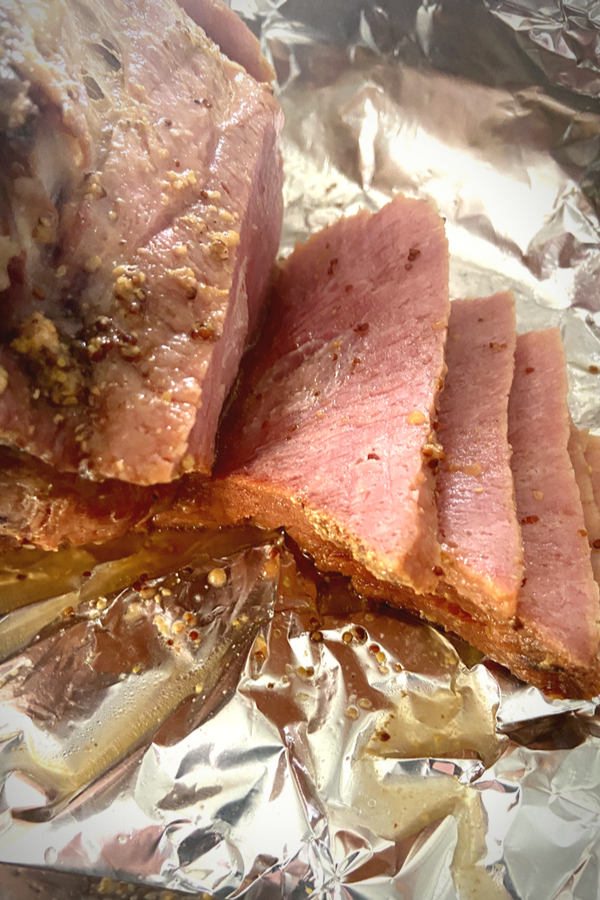 What To Do With The Leftovers
Here are some of our favorite leftover ham recipes:

To receive our 3 Recipe Articles in your inbox each week, sign up for our free email list located in the middle of each recipe or email me at contact@makeyourmeals.com. You can also follow us on Facebook and Pinterest. This article may contain affiliate links where a small commission is paid if you purchase a product at no additional cost to you.
Yield: 24
Southern Style Crock Pot Ham
Additional Time
15 minutes
Total Time
5 hours
25 minutes
Ingredients
8 to 10 pound ham, bone-in full cooked
1/2 cup brown sugar, firmly packed
1/3 cup dijon mustard
½ tsp garlic powder
1 can coke
1/4 cup pineapple juice
Instructions
In a small bowl combine brown sugar, dijon mustard, and garlic powder until combined. Rub mixture all over ham.

Place ham in the pot of the slow cooker. Pour the coke and pineapple juice down the side of the crock pot.
Cook on LOW for 7-8 hours or on HIGH for 4-5 hours or until ham reaches an internal temperature of 145ºF (65°C). *If cooking a spiral ham decrease cook time by 1-2 hours.
Remove ham from the slow cooker and tent with foil. Let rest 10-15 minutes before serving. Slice and drizzle ham with leftover liquid.
Notes
Recipe provided by Make Your Meals
Nutrition Information:
Yield:
24
Serving Size:
1
Amount Per Serving:
Calories:

287
Total Fat:

10g
Saturated Fat:

2g
Trans Fat:

0g
Unsaturated Fat:

5g
Cholesterol:

121mg
Sodium:

1939mg
Carbohydrates:

8g
Fiber:

0g
Sugar:

8g
Protein:

42g
Nutritional Information is to be used as a general guideline only . Nutritional calculations will vary from the types and brands of the products used.