Instant Pot Chicken Noodles Over Mashed Potatoes
When it comes to comfort food, my absolute favorite meal is chicken noodles served over a large plateful of mashed potatoes.
Small bits of chicken are cooked in a warm and hearty sauce that flavor thick egg noodles perfectly! Then the chicken, noodles, and sauce are poured over a bed of light and fluffy mashed potatoes.
It is truly the ultimate comfort food meal!
However, just like most traditional comfort food meals, it can take a long time to prepare.
Not to mention the hassle of standing over a hot stove. Which is typically necessary to make sure that the noodles and the potatoes don't boil over to make the ultimate starchy mess of your stove top.
That is when I knew that I had to try to convert this recipe to Instant Pot Chicken Noodles Over Mashed Potatoes.
I pulled out my Instant Pot 6 quart Duo and went to work.
Cooking The Noodles….
I had already figured out how to successfully make pasta in the pressure cooker. Add the pasta to the pot, then cover it with water and cook for half of the time listed on the box.
Comes out perfect every time!
However, this time I knew that I wasn't going to be draining the liquid. The noodles needed to be cooked, but not drowned in the liquid.
Because I had experience making Instant Pot Spaghetti, I figured that I could use the same layering method to cook the thicker frozen noodles.
My first couple of tries resulted in noodles that were cooked with great texture but lacked a little flavor.
I had used chicken broth as my liquid, but I needed to add more seasoning to the both.
I opened up my pantry and decided to add a little fresh garlic, poultry seasoning and thyme. The poultry seasoning brought out the flavor in the chicken and broth and the thyme and garlic added another depth of flavor to the dish.
At least I finally found a great use for my poultry seasoning for more than just Thanksgiving dinner!
Now that I had the chicken noodles down, I took things one step further.
After finding the best Instant Pot Mashed Potatoes recipe, I have not made my mashed potatoes on the stove top since.
Of course, I could pull out my 8 quart Instant Pot to make the potatoes, but instead, I wanted to give the pot in pot method a try!
Pot in Pot Method…
For those that aren't aware, you can cook separate dishes in your pressure cooker at the same time. You can make two (or even three) dishes at once!
So I added the tall trivet to my pot and placed my steamer basket on top. Then the potatoes cook at the same time as the chicken noodles!
Once they are finished, all that is left to do is mash the potatoes. And if you like a thicker gravy with your noodles don't worry. Just add a slurry of cornstarch and broth and sauté until the desired consistency is reached.
Next time when you are looking for a heart warming comfort meal made easy, Instant Pot Chicken Noodles Over Mashed Potatoes might just be what you are looking for!
Check out the printable recipe below and all of our recipes and let me know what you think!
To receive our 3 Recipe Articles in your inbox each week, sign up for our free email list. You can also follow us on Facebook, Twitter, Pinterest, and Instagram. This article may contain affiliate links.
Yield: 6
Instant Pot Chicken Noodles Over Mashed Potatoes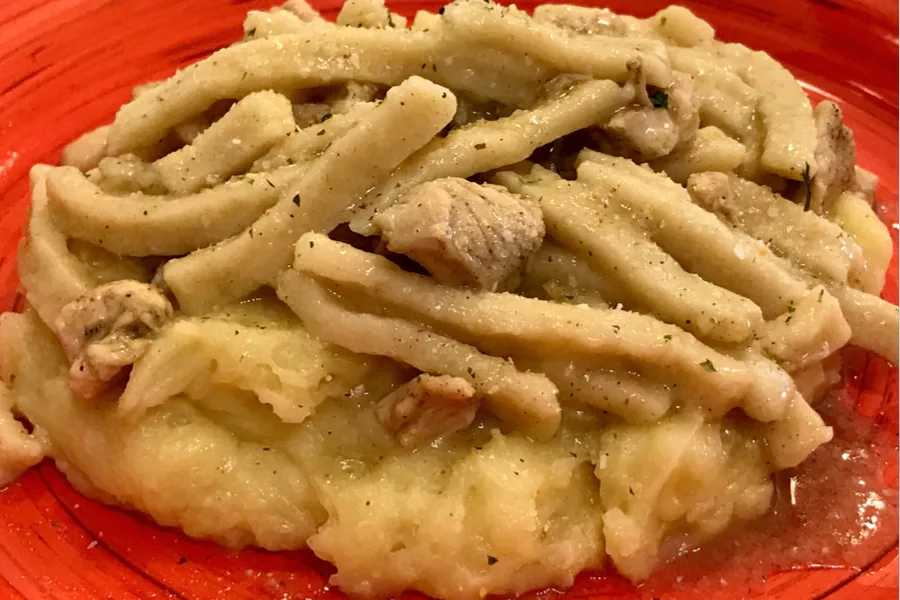 Classic comfort food - chicken noodles over mashed potatoes made entirely in the Instant Pot.
Ingredients
1 lb chicken, diced into small bite size pieces
2 Tbsp butter
1 small onion, diced
3 cloves of garlic, minced
1 tsp salt
1/2 tsp pepper
1 tsp poultry seasoning
1/2 tsp thyme
Pinch of red pepper flakes
12 oz home-style frozen egg noodles
3 3/4 cups chicken stock
2 lbs. potatoes, peeled and diced into small pieces
3 Tbsp butter
milk, as needed
1 tbsp corn starch or arrowroot powder, If needed
Instructions
Turn Instant Pot onto sauté. When the display reads HOT add the butter. Once the butter has melted add the chicken, onion, garlic, salt, pepper, poultry seasoning, thyme and red pepper flakes. Sauté until the outsides of the chicken pieces turn white.
Turn Instant Pot off and add the noodles by layering them in a criss-cross pattern over top of the chicken pieces. Break apart any large frozen clumps. Pour in the chicken broth.
Place the tall trivet and steamer basket in the pot. Place the peeled and diced potatoes into the steamer basket. Close and lock the lid. Set the valve to the sealing position.
Pressure cook/manual on high setting for 8 minutes. When the cooking time is up allow for a natural pressure release for 5 minutes. Then slowly release any remaining pressure and turn pot off.
Remove the potatoes and place in a medium bowl. Add in butter and begin to mash. Slowly pour in milk while continuing to mash until desired consistency has been reached. Set aside.
If you want thicker noodles and broth, remove 1/2 cup of broth and add it to a small bowl. Whisk in corn starch/arrowroot powder. Stir until smooth.
Turn Instant Pot on sauté and add the thickening mixture. Continue to stir the broth and noodles until the mixture comes to a boil. Turn Pot off and serve the noodles over the mashed potatoes
Notes
Recipe provided by Make Your Meals
Nutrition Information:
Yield:
6
Serving Size:
1 grams
Amount Per Serving:
Unsaturated Fat:

0g