When someone asks me for a quick and healthy dinner idea one of the first things that comes to mind is Instant Pot Chicken Teriyaki and Classic Chicken Teriyaki Stir Fry.
It is one of the most popular dishes, along with Beef and Broccoli, served at my favorite Chinese restaurant.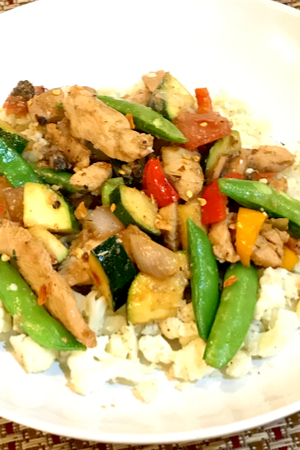 Whenever I place my order, my meal is served in just a few minutes. It comes so fast that I joked with my server that it must be pre-made.
She quickly took my hand and told me to come with her.
She escorted me to the kitchen and simply told me to watch.
Once she submitted my order, the chef grabbed the fresh ingredients from the containers and threw it in two hot woks.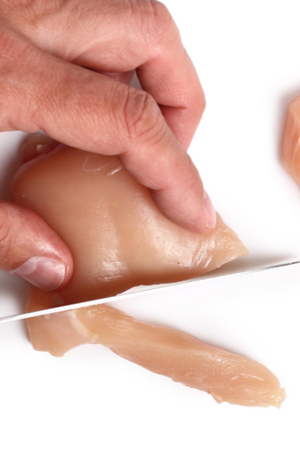 Within 5 minutes I had a plate of chicken teriyaki stir fry on my plate, ready to eat.
I was impressed! With everything pre-cut it literally took only minutes to cook.
So now, this has become my go-to, busy weeknight meal that I prepare in my own kitchen.
Chicken Teriyaki Stir Fry Made Easy
To make this recipe even easier, I try to do a little prep work ahead of time.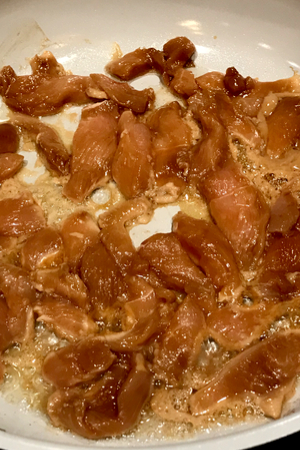 If I know that I have a busy week ahead, I will slice my chicken breast into strips and marinate them in a pre-made teriyaki sauce.
Yes, you can definitely make your own sauce. But let's be realistic. Sometimes a bottle of teriyaki sauce comes in handy.
I will also chop up whatever vegetables that I have on hand. Red peppers, onions, broccoli, zucchini, carrots, you name it, they all get thrown in.
I simply cut them up and place them in the same container until ready to be cooked.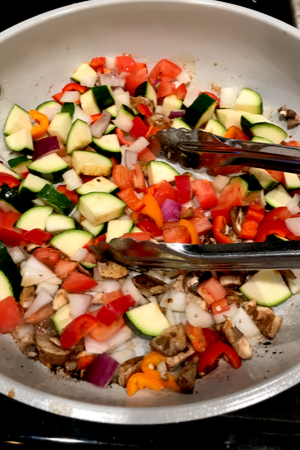 The only vegetable that I don't put in with the others is is the sugar snap peas.
I like them to remain crisp, so they are added at the end of the cooking process.
No Time To Prep?
But don't worry, you can still make this recipe even if you didn't have time to prep the ingredients beforehand.
The first step would be to make your rice. Depending on the type of rice that you choose it can take anywhere from 5 to 20 minutes to prepare.
Lately we have been serving this chicken teriyaki stir fry recipe over cauliflower rice. See: Cauliflower Rice Recipe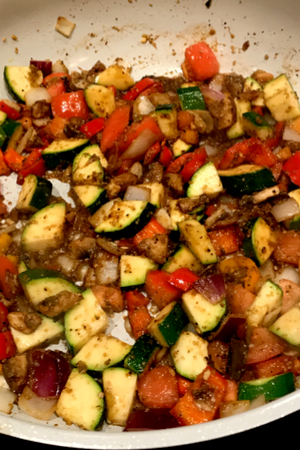 It makes for a great for a low-carb meal and the riced cauliflower cooks in just a few minutes.
Next you would slice your chicken and marinate it in your teriyaki sauce while you cut your vegetables.
This allows some of the flavor to penetrate into the chicken before cooking.
And don't be afraid to use a variety of vegetables in your recipe.
We make this once a week and I don't think we have ever used the same combination of vegetables.
What To Cook First?
In the restaurant the chef used two woks – one for the chicken and one for the vegetables.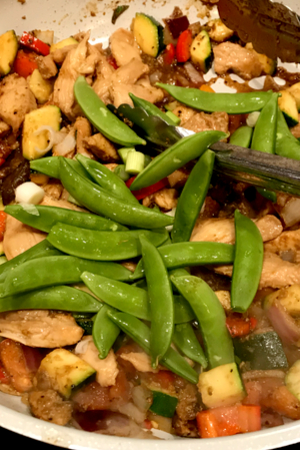 Because I don't have two woks, and because I don't want to do any more dishes than I have to, I had to decide what to cook first.
I have tried it both ways, and I prefer to cook the chicken first.
And don't worry if you don't have a wok, you can use any large skillet.
Simply place the cooked chicken strips in a large bowl until the vegetables are nice and tender.
Then simply add the chicken back into the wok for a final toss with the vegetables before serving.
And there you have it, a delicious, quick and healthy meal made in minutes.

To receive our 3 Recipe Articles in your inbox each week, sign up for our free email list located in the middle of each recipe or email me at contact@makeyourmeals.com. You can also follow us on Facebook and Pinterest. This article may contain affiliate links where a small commission is paid if you purchase a product at no additional cost to you.
Chicken Teriyaki Stir Fry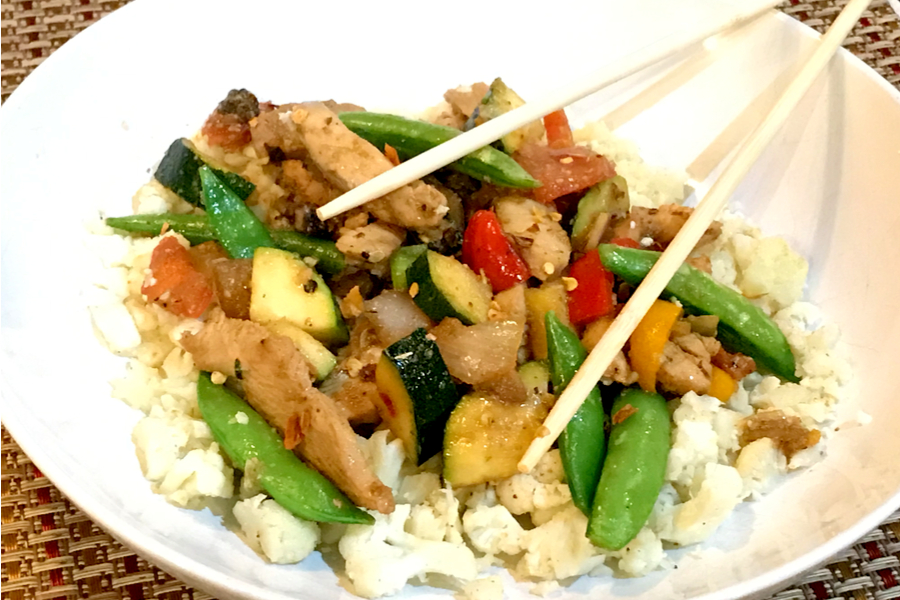 A classic chicken stir fry recipe filled with a ton of flavor and crisp vegetables and served over rice.
Ingredients
1 lb. chicken breasts, sliced into thin strips
2 tablespoons extra-virgin olive oil
1/4 cup teriyaki sauce
1 inch red pepper, cut into 1chunks
1 small onion, cut into 8 wedges
8 ounces cremini mushrooms, sliced
1 small zucchini, cut in half lengthwise and sliced
1 large handful sugar snap peas
2 green onions, cut at an angle
4 cups cooked rice
Instructions
Place sliced chicken breast strips in a large ziplock bag and pour marinade over top. Toss the chicken until well coated and set aside.
Prepare vegetables by washing and cutting them as stated in the ingredients list.
Heat a large wok or skillet over medium-high heat. Once hot add 1 tablespoon of extra-virgin olive oil and marinated chicken strips.
Cook until chicken is no longer pink, approximately 3-4 minutes.
Place chicken in a large bowl, cover and set aside.
Add the remaining 1 tablespoon of extra-virgin olive oil to the hot pan and add the red pepper, onion, mushrooms, zucchini to the pan.
Cook just until tender, approximately 4 minutes. Add in the sugar snap peas and cook for an additional minute.
Pour the chicken and any liquid from the bowl back into the pan. Toss with the vegetables for 1-2 minutes.
Serve over cooked rice, or cauliflower rice. Garnish with green onions.
Notes
Recipe provided by Make Your Meals
Nutrition Information:
Serving Size:
1 grams
Amount Per Serving:
Unsaturated Fat:

0g