There is nothing more refreshing than eating Homemade Strawberry Shortcake on a hot summer day.
And no, I am not talking about pouring sweetened strawberries over top of those round yellow sponge cakes that you find in the produce section of the grocery store.
Of course, those store-bought shortcakes work in a pinch. However, if you have the time to make homemade strawberry shortcake, it is well worth the effort!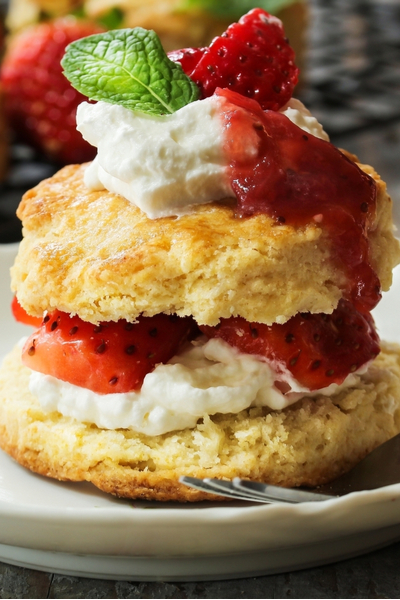 In fact, the taste of the sweet biscuit shortcakes will blow your mind!
Not to mention that you can even make your own whipped cream in just minutes!
No more grabbing the can of whipped cream from the refrigerator and pressing down on the tip to top your shortcake.
Do you even know how to pronounce the ingredients in a can of whipped cream? Me either!
Keep it simple and delicious and make your own with just 3 simple ingredients!
The Strawberry Shortcake Filling
But the real star of homemade strawberry shortcake is the filling itself.
This recipe makes approximately 10-12 servings and requires about 6 cups of quartered strawberries.
That equals about 2 quarts of whole strawberries. Simply wash, core, and cut your strawberries into 4 pieces.
Throw them in a large bowl and sprinkle them with sugar. The sugar will help the strawberries break down and form a nice sweet liquid.
If you are using store-bought strawberries, I recommend using the full 4 Tablespoons of sugar.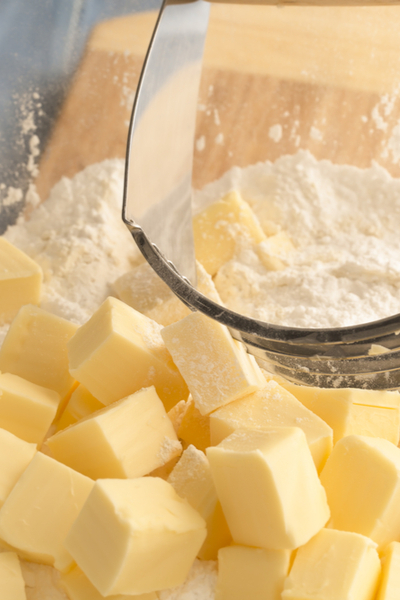 However, if you are lucky enough to have strawberries from your garden or local farm, you can reduce the amount of sugar used.
Fresh picked strawberries are naturally much sweeter than those that you find in the grocery store.
Although you do want to use at least 1 1/2 Tablespoons of sugar in order to get that liquid formation.
The Shortcake Biscuits
Now that you have your strawberries cut and tossed in the sugar, it is time to make the homemade shortcake biscuits.
Shortcake is essentially a sweetened breakfast biscuit. Adding a little sugar in with the dry ingredients and cutting it with butter makes for the perfect foundation for homemade strawberry shortcake!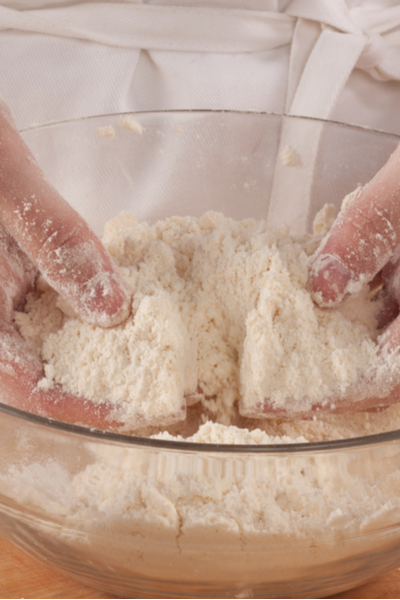 The key here is to keep your butter in the refrigerator until you are ready to cut it in the flour.
Cold butter will make a crumbly dough texture that is required when making shortcake.
If you have a large food processor like our Hamilton Beach 12 quart Duo, you can make your shortcake dough in minutes.
However, a pastry cutter will do the same thing, with a little more time and muscle power.
Take note, the dough will be fairly crumbly even after your ingredients have been combined.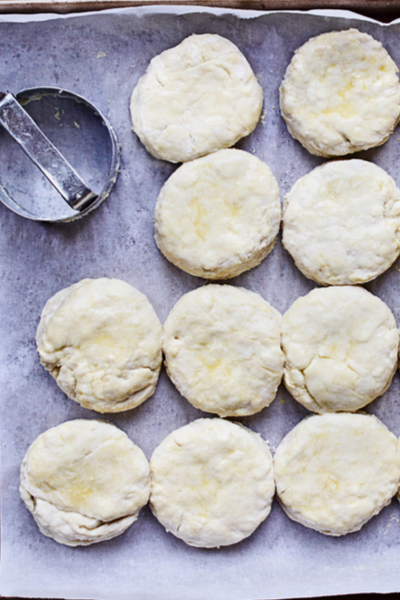 Simply remove the dough from the food processor or bowl and form it into a ball with your hands.
Then flatten it down with your hands or rolling pin to 1/2 inch thickness. Then use a biscuit cutter or the rim of a glass to cut out 3 inch circles.
Now it is time to bake them. Put them on a rimmed baking sheet or a round baking dish.
The key here is to have the sides of the biscuits touching each other. This allows the biscuits to rise better than if they were spaced apart.
Homemade Whipped Cream
Once the biscuits are removed from the oven and cooling, it is time to make your homemade whipped cream.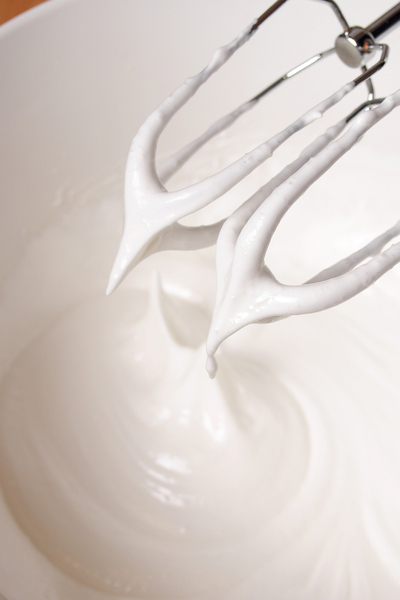 Although adding whipped cream could be optional, it is what really makes homemade strawberry shortcake outstanding!
And it literally takes little effort, especially if you have a stand mixer.
All that is required is that you add the ingredients and mix with the whisking attachment. You can also do the same thing with a hand mixer.
Keep whisking until soft-medium peaks form. You will know when the whipped cream is ready when you pull out your beaters and the tops of the whipped cream slightly stand up and the tops of the peaks fall over.
How To Assemble Homemade Strawberry Shortcake
Now comes the part that you have been waiting for! It is time to serve your strawberry shortcakes!
The traditional method of serving this delicious dessert is in a layering pattern.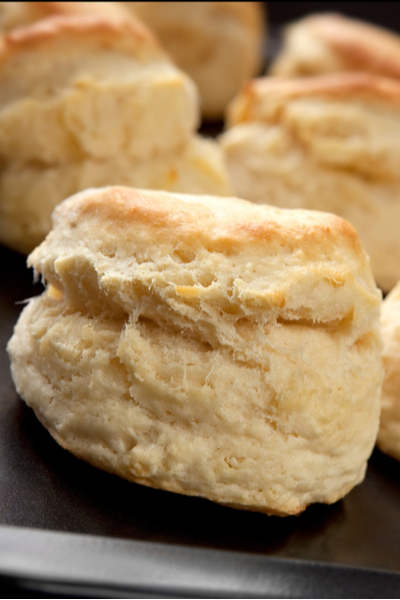 Pull the top off your shortcake biscuit. Place the bottom layer on your plate. Add a little scoop of the homemade whipped topping to help hold your strawberries in place.
Scoop your strawberries on top, making sure to drizzle some of that sweet strawberry liquid with it.
Then add the top of your shortcake and a few more strawberries on top.
Finally, add a dollop of the homemade whipped topping and you have the perfect Homemade Strawberry Shortcake dessert!
Related Recipes for Fresh Strawberries:

To receive our 3 Recipe Articles in your inbox each week, sign up for our free email list located in the middle of each recipe or email me at contact@makeyourmeals.com. You can also follow us on Facebook and Pinterest. This article may contain affiliate links where a small commission is paid if you purchase a product at no additional cost to you.
Yield: 10 people
Homemade Strawberry Shortcake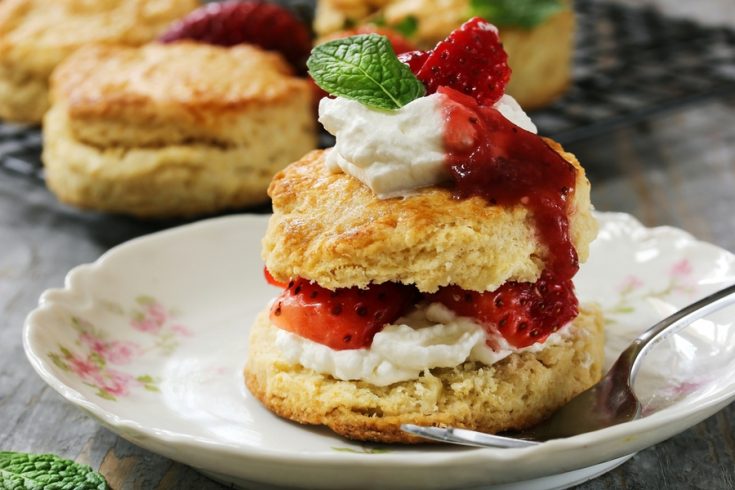 Easy to make strawberry shortcake with homemade biscuits topped with sweetened strawberries and homemade whipped cream.
Ingredients
6 cups quartered strawberries
4 Tablespoons granulated sugar
Biscuits
3 cups all-purpose flour
1/4 cup granulated sugar
2 Tablespoons baking powder
1 teaspoon salt
3/4 cup unsalted butter, cold and cubed
1 cup buttermilk
2 Tablespoons heavy cream
Whipped Cream
1 cup heavy cream
1 teaspoon pure vanilla extract
2 Tablespoons granulated sugar
Instructions
In a large bowl add the strawberries and 4 Tablespoons of sugar. Stir to coat the strawberries with the sugar. Cover and set in the refrigerator until ready to use.
Preheat oven to 425°F
In a large bowl or food processor, mix the flour, granulated sugar, baking powder and whisk or pulse until combined.
Add the cubed butter to the flour mixture and cut it into the dry ingredients with a pastry cutter or by pulsing several times in the food processor. Continue to pulse until coarse crumbs form.
Pour in the buttermilk and stir everything until just about combined. The dough will be very crumbly. Turn the dough out onto a floured work surface and mold it together in a ball using your hands. Gently flatten until it is evenly 1/2 inch thick. Cut into 3-inch circles. Continue to reroll scraps to make more biscuits. You should end up with 10-12 biscuits.
Place biscuits on a lined baking sheet with the sides touching.
Brush the tops with 2 Tablespoons heavy cream. Bake for 15 minutes or until biscuits are golden brown on top. Remove from the oven and allow to cool for 10 minutes before assembling.
In a mixing bowl beat the heavy cream, 2 Tablespoons granulated sugar, and vanilla using a hand mixer or a stand mixer fitted with a whisk attachment, on medium-high speed until soft-medium peaks form.
Slice the biscuits in half and layer with strawberries and whipped cream. Serve immediately.
Notes
Recipe provided by Make Your Meals
Nutrition Information:
Yield:
10
Serving Size:
1 grams
Amount Per Serving:
Unsaturated Fat:

0g