I have fallen in love with Beef Flautas, but I would never have imagined cooking them in my air fryer. And since I have figured out the best and easiest way to make them, I have been snacking on them non-stop for weeks!
First, let me take a minute to explain what a flauta is for those who don't know. In general terms, flautas are made by placing seasoned beef or chicken on one edge of a flour tortilla with a sprinkling of grated cheese on top.
Then the tortilla rolled in a long tubular or cone shape and then deep fried. Once the exterior is nice and crispy, you pull them out of the fryer and serve them with guacamole, sour cream and/or salsa.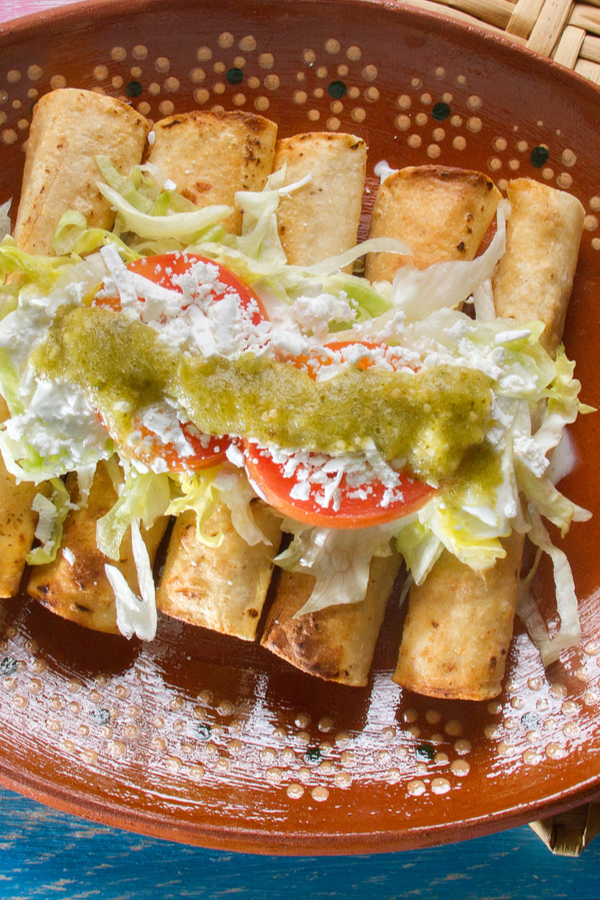 Difference Between Flautas and Taquitos
Although this very popular Mexican menu item is similar to taquitos, there are some basic differences to distinguish the two. First, taquitos are historically made with smaller corn tortillas, not flour tortillas.
Although they may contain the same filling ingredients, when rolled taquitos are much smaller in size. Often they will also be slightly flattened before frying so that they cook quicker and require less oil when deep fried.
Both varieties of the rolled tacos can be eaten as a snack or as part of a main dish. However, taquitos are most often the choice when eating on the go because of their smaller size.
So when the craving hit for some Mexican street food, I looked in my cupboard and found a few leftover flour tortilla shells from when I made Sheet Pan Steak Fajitas.
And because I always have ground beef and Mexican Blend shredded cheese on hand I decided that I would make flautas for dinner. However, in an effort to eat a little healthier, I decided to make them in my NuWave Air Fryer instead of deep frying them.
Although the first attempt turned out great, it took a little longer than I was anticipating. That is because I had to precook the beef before adding it to the flour tortillas.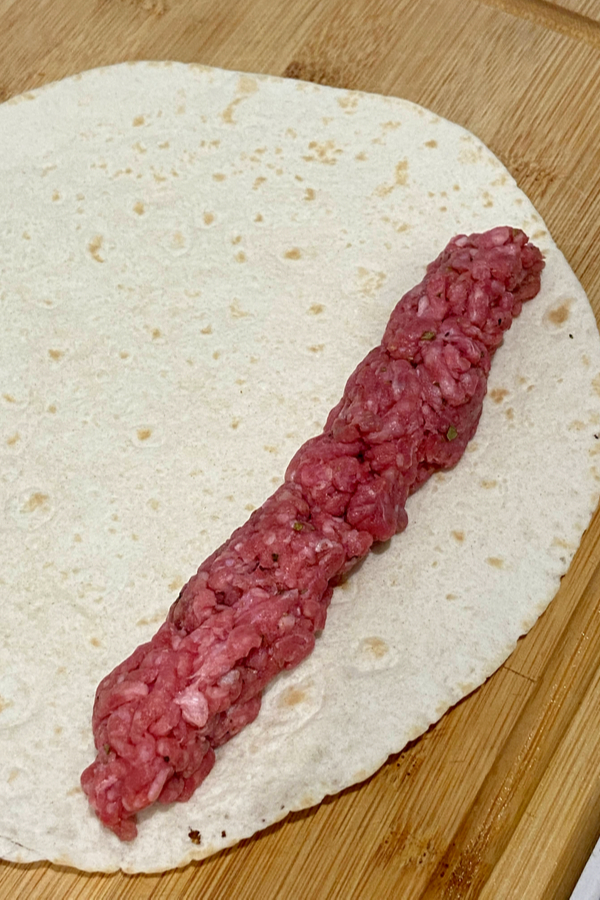 So the next time I made it, I placed the seasoned raw beef inside the tortilla along with some cheese. I wasn't sure how well the meat would cook in the air fryer, but the results were amazing!
And after a few trials, I have found the easiest and best way to make them so that they turn out perfect every time!
Easy Air Fryer Beef Flautas Recipe
*Specific measurements and complete recipe instructions are located in a printable recipe card at the bottom of this article. However, be sure to continue to read the tips and tricks to making this recipe below.
INGREDIENTS
Ground beef, 80/20 lean to fat ration preferred
Flour tortillas, medium size
Mexican blend shredded cheese
Kosher salt
Oregano
Garlic powder
Cumin
Ground pepper
Olive oil spray
INSTRUCTIONS
The first step in making Beef Flautas is to preheat the air fryer. Even if your brand of air fryer doesn't require you to preheat the basket, it is crucial that you do so for this recipe.
Simply let the air fryer run at 350°F for 10 minutes. This will ensure that the cooking surface is hot enough that it will begin to cook the flour tortillas right away.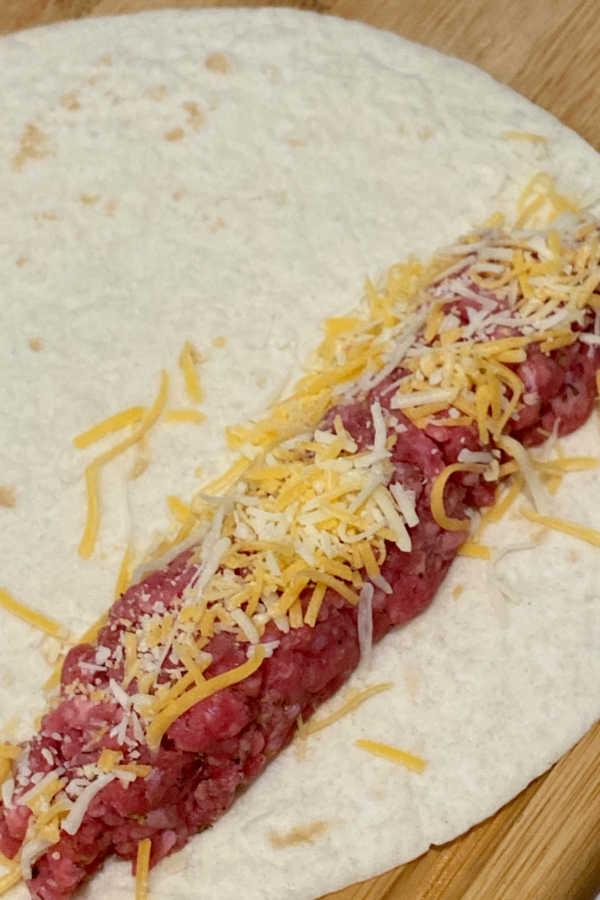 While the air fryer is heating up, prepare the ground beef mixture. Start by adding the ground beef to a medium size bowl.
Then add salt, pepper, oregano, garlic powder and cumin seasoning to the ground beef. Use a fork to mix the seasonings into the meat.
Just like when making Air Fryer Meatloaf, do not over mix the beef. Otherwise, the mixture will become very dense when cooked.
Roll The Flautas
Now it is time to make your flautas. Working with one tortilla at a time, add a thin layer of the beef filling to one edge of the tortilla. Contrary to what you might think, spread the beef from edge to edge in a single line. This is crucial because the beef will actually shrink when it is being cooked.
After your beef has been lined down one side of the tortilla, sprinkle cheese on top. Then tightly roll the tortilla, starting at the beef end.
Where the tortilla roll ends, secure it with toothpicks so that it doesn't come apart when it is being cooked. Set it aside and repeat to make your other flautas.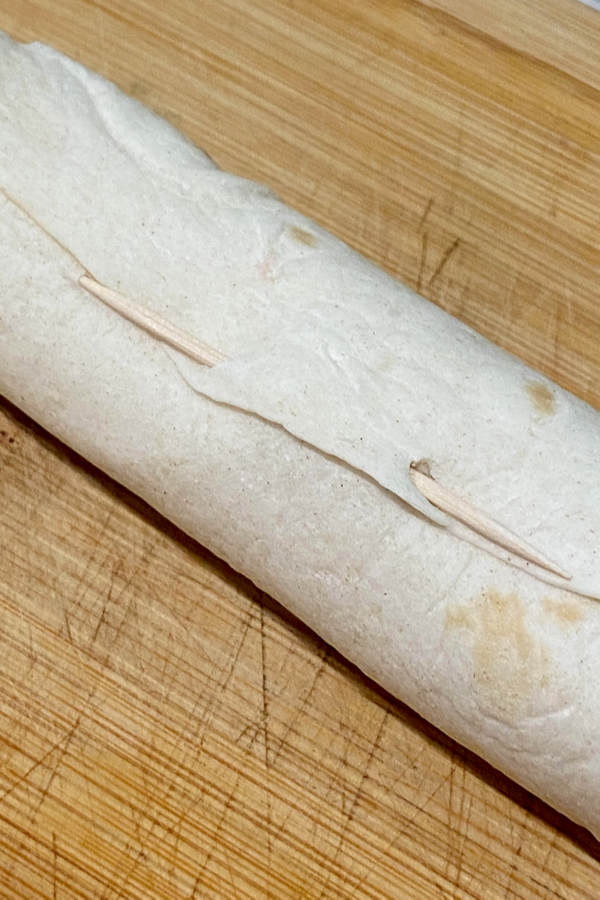 When you are ready to place them in the air fryer, spray oil on all sides of each tortilla. The oil is necessary to help the flautas to crisp up evenly in the air fryer.
Place the rolled tortillas, toothpick side down, in a single layer in the air fryer basket. Cook for about 8 minutes, or until the flautas are golden brown and crispy on the outside.
The meat will be cooked perfectly, leaving the inside filling moist and delicious. Use tongs to carefully remove them from the air fryer, and cook the remaining flautas in batches.
Let the the flautas sit for 5 minutes before serving so that the meat can reabsorb the juices. You may want to tip each one up a bit to drain any remaining grease that remains inside.
Serve warm or at room temperature with guacamole, sour cream and/or salsa.
Storing and Reheating Instructions
Place any leftover flautas in a large, resealable plastic bag or covered container. Refrigerate for up to 3 days.
To reheat, simply place on a microwave safe plate and heat for 20-30 seconds on high power. Or, place the flautas in the air fryer and heat at 350°F for 5-7 minutes or until warmed through.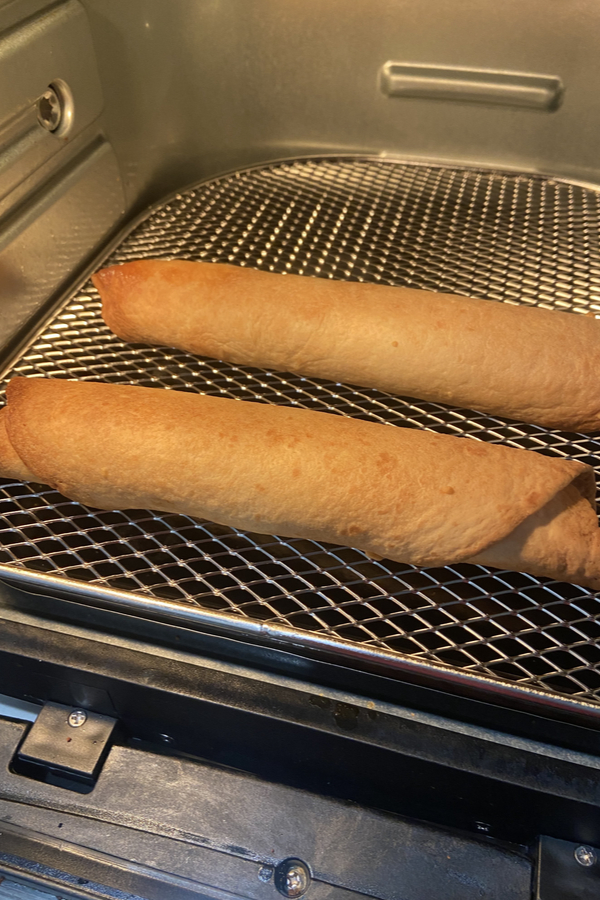 Other Mexican Inspired Air Fryer Recipes
Although there aren't a lot of Mexican recipes that you can make in an air fryer, here are a few that I absolutely love!
Enjoy! Mary

To receive our 3 Recipe Articles in your inbox each week, sign up for our free email list located in the middle of each recipe or email me at contact@makeyourmeals.com. You can also follow us on Facebook and Pinterest. This article may contain affiliate links where a small commission is paid if you purchase a product at no additional cost to you.
Yield: 10
Air Fryer Beef Taquitos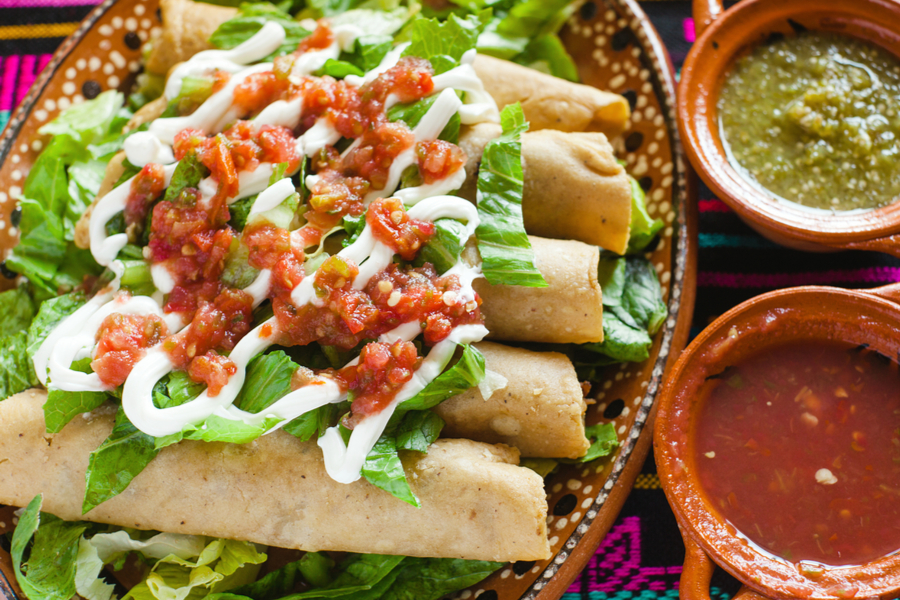 Crispy rolled tortillas with a seasoned ground beef and cheese mixture. The perfect snack, lunch or appetizer recipe made in an air fryer.
Ingredients
1 pound ground beef 80/20 preferred
10 medium sized flour tortilla
1 1/2 cups Mexican blend shredded cheese
1 teaspoon kosher salt
1 teaspoon oregano
1 teaspoon garlic powder
3/4 teaspoon cumin
1/4 teaspoon ground pepper
Olive oil spray
Instructions
Preheat air fryer at 350°F (1 °C) 10 minutes.

Add salt, pepper, oregano, garlic powder and cumin seasoning to the ground beef. Mix well.

Add beef filling to tortilla, making sure to spread to the edges of the tortilla. Add cheese and roll tightly. Secure the ends with toothpicks.

Spray oil on all sides of taquitos.

Add the taquitos, toothpick side down, in a single layer in the air fryer basket.

Air Fry for about 8 minutes, until taquitos are golden brown and crispy.

Take out immediately and serve with dip/salsa of choice.
Notes
Recipe provided by Make Your Meals
Nutrition Information:
Yield:
10
Amount Per Serving:
Calories:

310
Total Fat:

17g
Saturated Fat:

7g
Trans Fat:

1g
Unsaturated Fat:

8g
Cholesterol:

57mg
Sodium:

431mg
Carbohydrates:

19g
Fiber:

1g
Sugar:

0g
Protein:

19g
Nutritional Information is to be used as a general guideline only . Nutritional calculations will vary from the types and brands of the products used.