If you have ever been to Texas Roadhouse you know how delicious and addicting their dinner rolls are.
And if you have never been to this popular steakhouse restaurant, let me explain.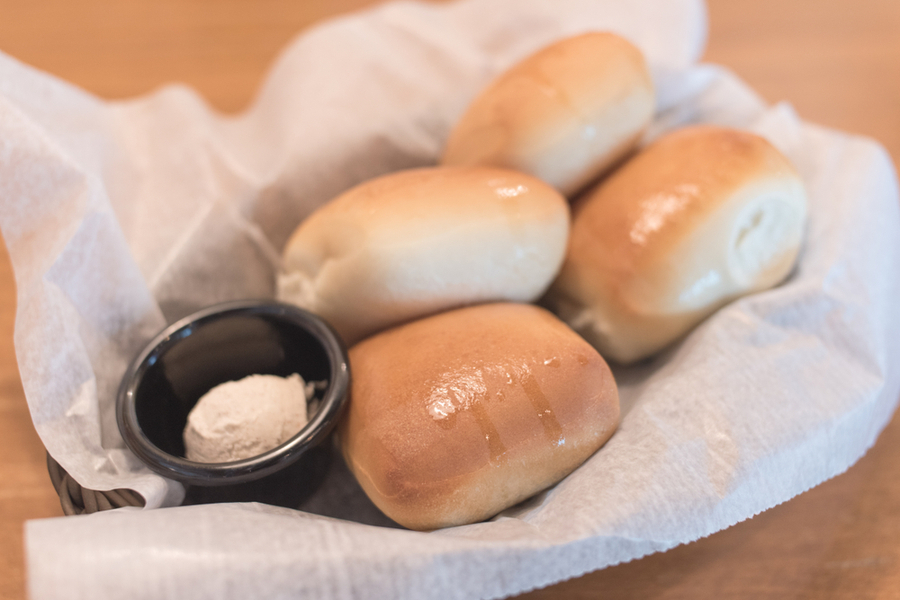 As soon as you walk through the double doors, you can smell fresh baked rolls. And look to your right and you will see trays upon trays of rectangular rolls being puffed up and baked just until lightly golden brown in color.
As soon as they come out of the oven, they are slathered in a coat of butter and put in baskets, waiting to be served.
These rolls are like no other. They exterior is super soft and smooth. And the interior of the Texas Roadhouse Rolls are light and airy.
But the best part of all is that they are served complimentary as you are seated at your table by the host or hostess.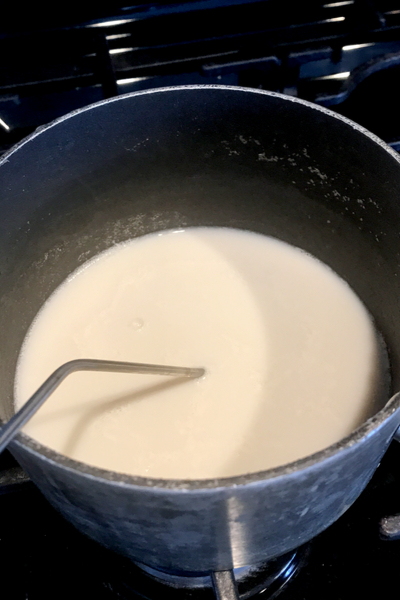 And we won't even talk about the honey cinnamon butter that they are served with!!! Talk about addicting!
So this week, when the craving was so bad that I couldn't stand it, I decided to take a shot at making my own Texas Roadhouse Rolls right in my own kitchen.
Texas Roadhouse Rolls Recipe
I used to live within a mile of the restaurant. And sometimes when the holiday meal preparation got too crazy, instead of making my No-Knead Dinner Rolls, I would order a few dozen of the rolls from Texas Roadhouse.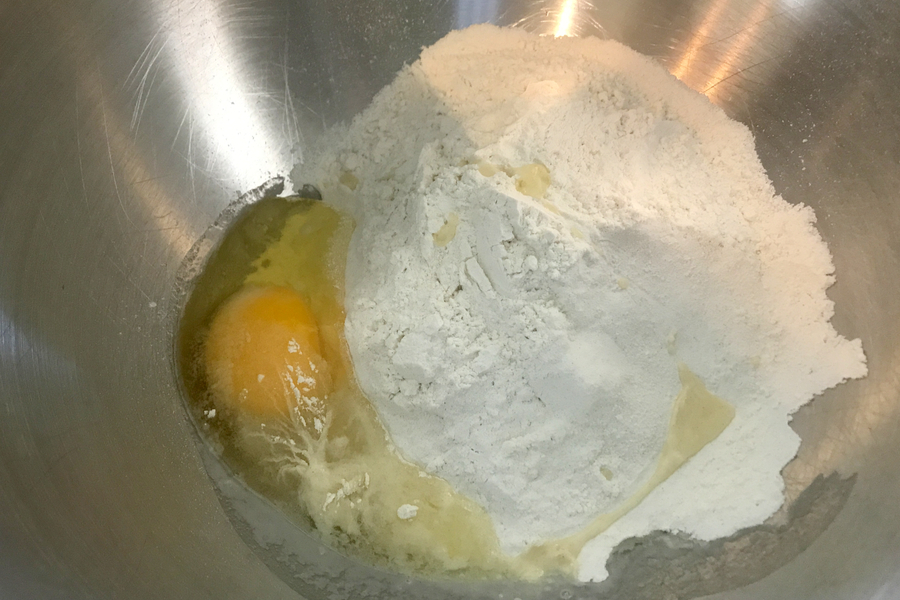 And of course, they were always a hit. But now I live too far away just to make a quick run to pick up the rolls.
So I did the next best thing and made a copycat recipe instead.
This recipe begins with heating milk just enough that it starts to bubble on the sides of the pot, but doesn't scald.
*As a side note I used unsweetened non-dairy milk due to an allergy and it worked fine in this recipe.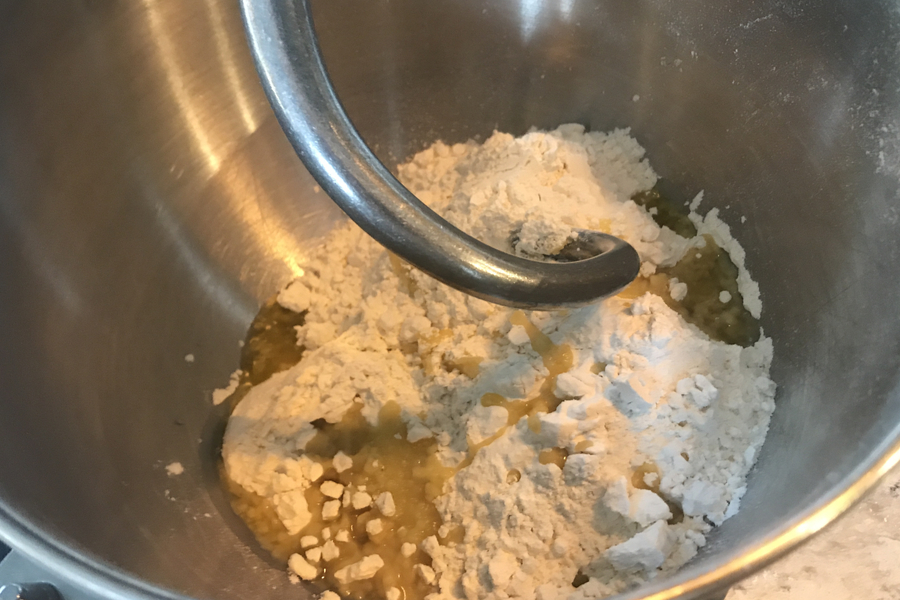 Remove the milk from the heat, and using a digital food thermometer, wait until the liquid has decreased to between 100-110°F.
Add the warm milk to the yeast and honey and let sit for approximately 5 minutes or until the top is nice and bubbly.
In a large mixing bowl, add 3 tablespoons of melted butter, a room temperature egg, and 2 cups of flour. Slowly pour the milk/yeast mixture in the bowl and mix until incorporated.
Slowly add the remaining flour to the bowl and continue to mix until a dough ball forms. Now add the salt and continue to knead for 8 minutes.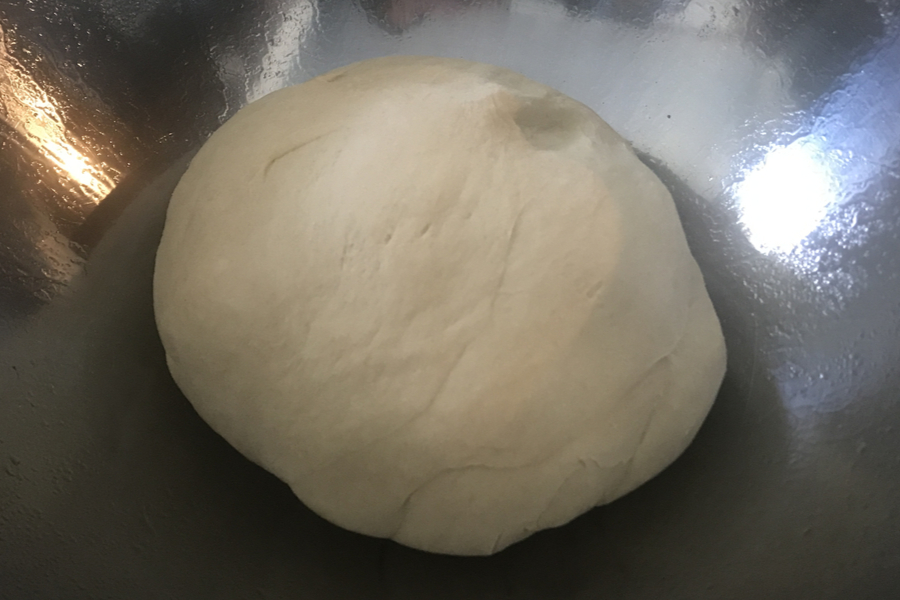 Remove the Texas Roadhouse Rolls dough to a clean floured surface and knead for a couple more minutes.
Let The Dough Rise
Place the dough in a large bowl sprayed with non-stick cooking spray. Cover and let rise until double in size (about 1 hour).
When the dough is ready, punch down the center and remove the dough from the bowl.
Using a rolling pin, roll the dough until it is approximately 1/2 inch in thickness. Starting at one end, fold the dough in half and lightly pinch the edges together.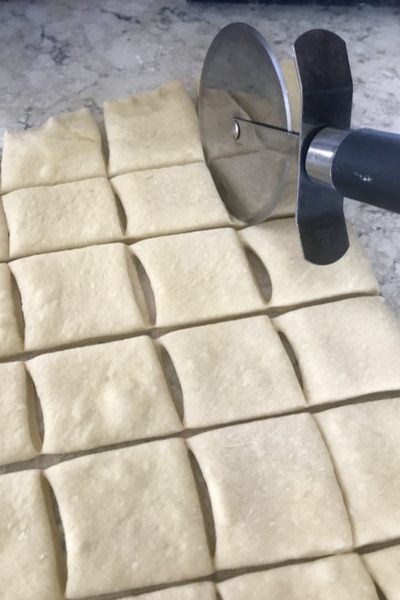 Using a pizza cutter, cut the dough into 24 even size pieces. Lightly grease two baking sheets and place each roll on the sheet, giving room in between to expand.
Cover and let rise again for 30-40 minutes. Bake in a preheated oven until light golden brown on top.
As soon as the Texas Roadhouse Rolls come out of the oven, brush the remaining melted butter on top using a pastry brush.
Serve immediately.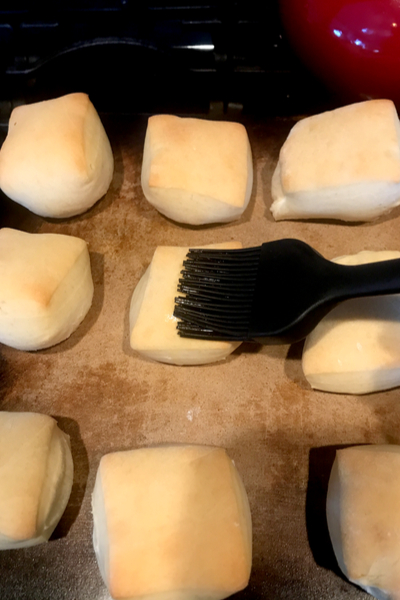 Freezing Instructions
Because this recipe makes 24 rolls, we often freeze half of the rolls. However, it is best to remove the rolls from the oven at the 12 minute mark and do not spread the butter on top. Once completely cooled, store the Texas Roadhouse Rolls in an air-tight container.
When you are ready to serve them, remove them from the freezer and allow them to thaw completely.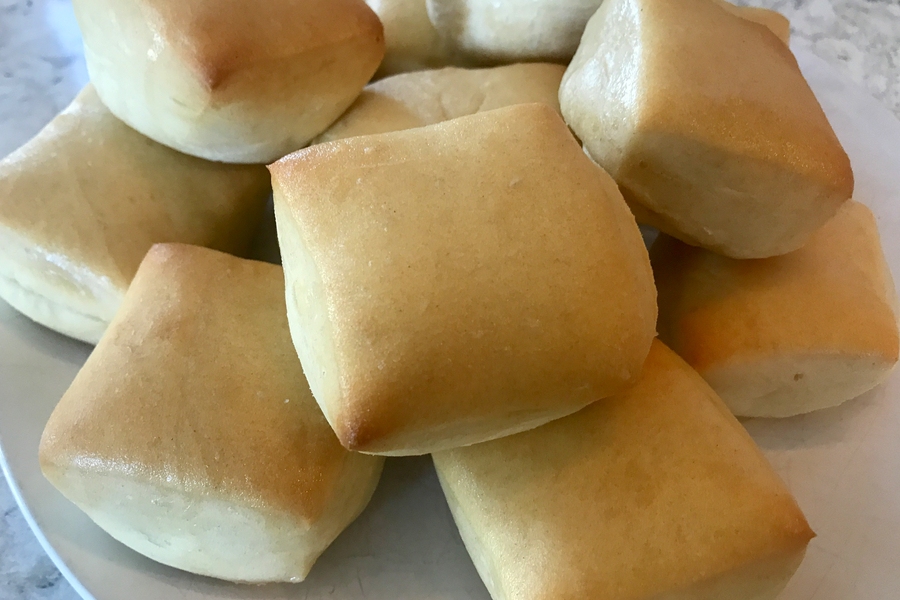 Then bake in a preheated oven at 350°F until the tops are light golden brown. Once they come out of the oven spread the tops with butter and serve immediately.
Yield: 24 rolls
Copycat Texas Roadhouse Rolls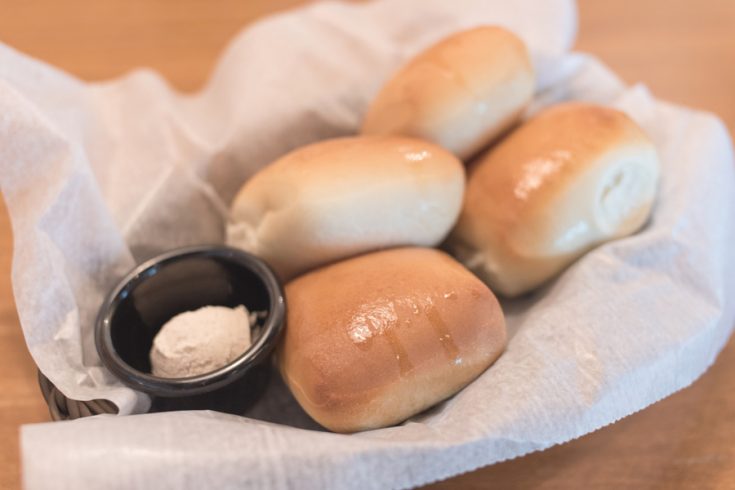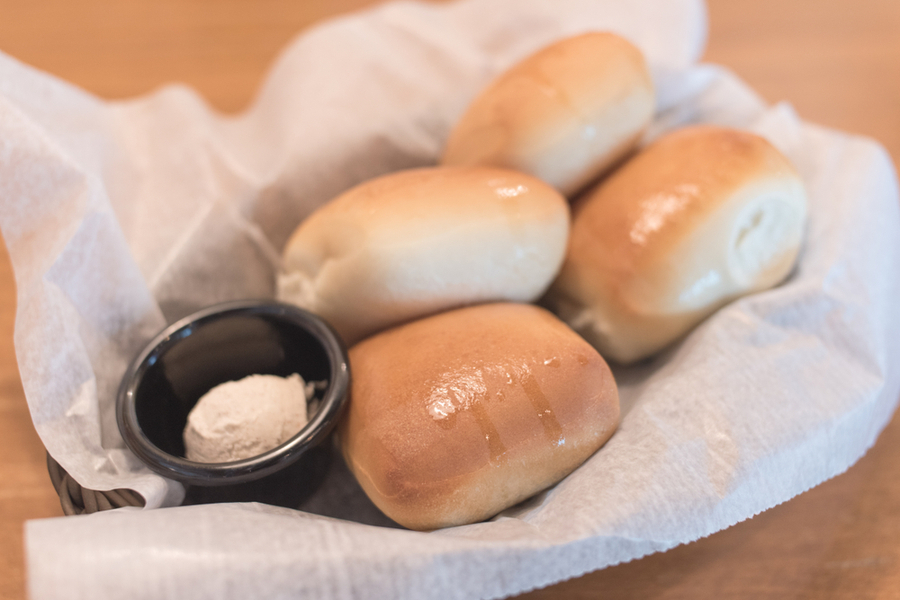 Soft and warm dinner rolls that will remind you of the served at Texas Roadhouse.
Ingredients
1 ¼ cup milk
1 teaspoon salt
4 TBSP melted butter, separated
1 large egg, at room temperature
¼ cup honey
4 cups all-purpose Flour, or Bread Flour
2 ¼ teaspoon Active Dry Yeast, 1 packet
Instructions
Bring the milk to a near boil. Remove it from heat when you see it begin to steam and small bubbles form on the side of the pan. Let it reduce to lukewarm, between 80-90 degrees.
Mix the milk, yeast, and honey in a small bowl until well combined. Let it sit for 5 minutes.
In a large bowl, mix 3 tablespoons of the butter, the milk mixture, the room temperature egg, and 2 cups of flour. Mix slowly until smooth, using a dough hook if you have one. Gradually mix in the remaining 2 cups of flour until a dough has formed.
Add salt, and mix/knead for an additional 8 minutes.
On a clean floured surface, knead the dough by hand for a few more minutes.
Spray a large bowl with cooking spray and place the dough inside. Cover the bowl with plastic wrap and let it rise in a warm place until doubled in size, approximately 1 hour.
Punch down the dough and roll it out on a flat, floured surface until it's about ½ inch thick. Fold the dough in half and gently seal the edges.
Cut into 24 even size squares and place on 2 lightly greased cookie sheets. Cover them and let them rise for and additional 30-40 minutes or until doubled in size.
Preheat oven to 350 degrees and bake for 12-15 minutes, or until the top is a light golden brown.
Melt the remaining tablespoon of butter and brush the top of the rolls.
Serve warm
Notes
If you want to freeze the baked rolls, bake for only 12 minutes and do not butter the tops. Allow to cool completely and freeze in an air tight container. To serve, thaw the rolls and place in a 350°F oven and bake until the tops are golden brown. Brush with butter and serve.

Recipe provided by Make Your Meals
Nutrition Information:
Yield:
24
Serving Size:
1 grams
Amount Per Serving:
Unsaturated Fat:

0g