With the holidays just around the corner we thought it would be a great time to share our No Knead Dinner Rolls recipe.
This recipe requires no special equipment such as a stand mixer or a dough hook attachment.
In fact, the only thing that you need are a few utensils, a bowl, measuring cups and spoons.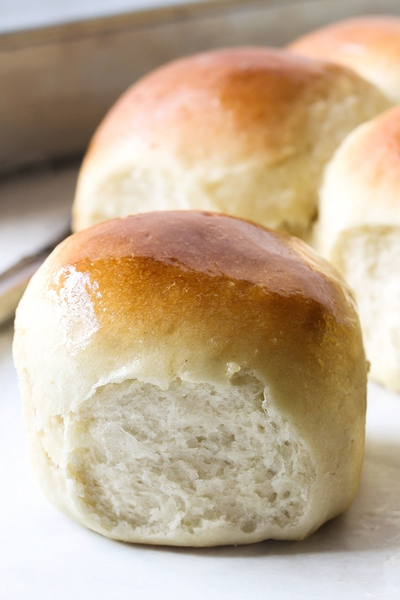 And best of all, you won't be spending your time or energy kneading the dough.
Just mix the ingredients together and wait for the dough to rise. Then form the rolls and let them rise one more time before baking.
But to help make the dinner roll making go even smoother, here are a few tips….
The Key To Making No Knead Dinner Rolls
Use Bread Flour
Although many roll recipes don't require you to use bread flour, it is best to use it in this recipe.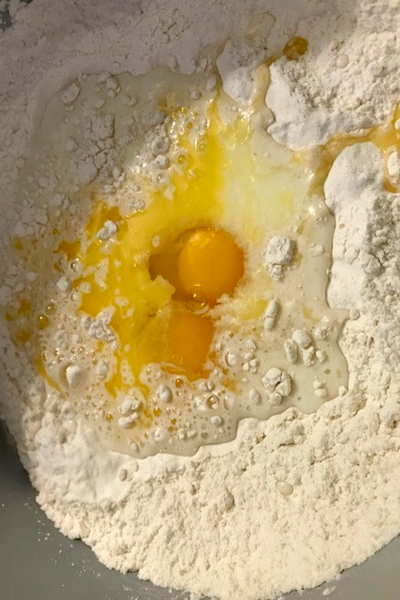 Bread flour has a higher protein content which helps with gluten development when compared to all-purpose flour. This is important because kneading dough also produces gluten.
And since you are making No Knead Dinner Rolls, the bread flour is a must.
Water Temperature
In order for the yeast to activate, your water temperature should be between 105-115 degrees F.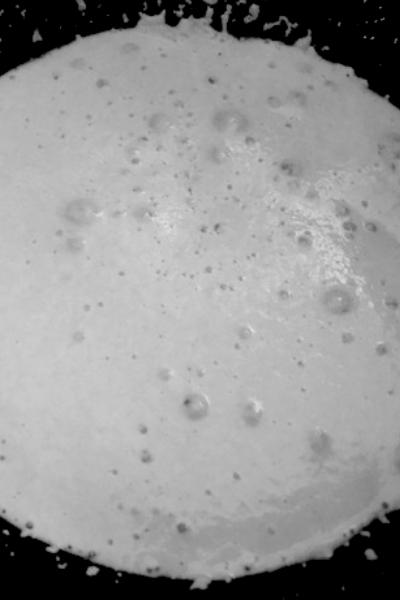 If you have too low of a temperature the yeast will actually leak and cause the dough to be too sticky. And if the water is too hot, the yeast itself will die.
Although some people use the back of their hand to determine if the water is at the correct temperature, I find it easier to use a digital kitchen thermometer.
Let the Dough Rise
Once all the ingredients are mixed, you will be left with a sticky dough ball. This is okay!
Once the dough has time to rise, the stickiness will go away. And speaking of allowing the dough to rise, it is best to place the bowl in a warm, dry place.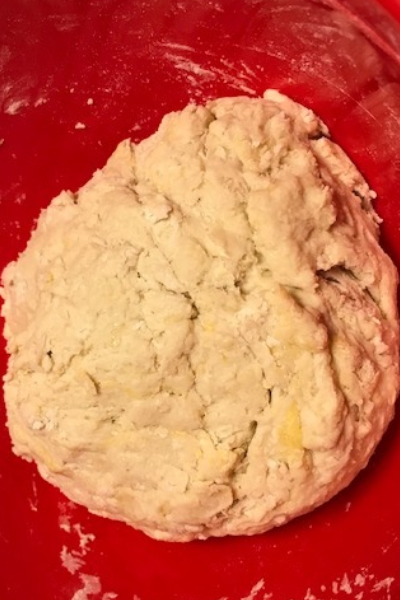 But if you are in an absolute rush, you can speed up the process a bit.
Turn your oven on 200 degrees F. Once it comes to temperature, turn off the oven and place your dough on the rack. The heat that remains in the oven will help your dough rise in about half of the normal time.
How To Make Your Rolls
Once your no knead dinner roll dough has almost tripled in size, punch down the center of the dough to release the accumulated gases.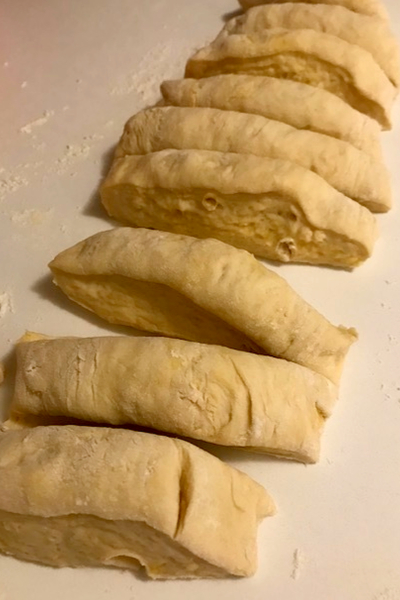 Then shape your dough in a log and cut it into 4 equal pieces. Then cut each piece into thirds so that you end up with a total of 12 dough pieces.
Next, working one at a time, flatten the center of the dough with the palm of your hand. Pull the sides upward and pinch the dough together in the center.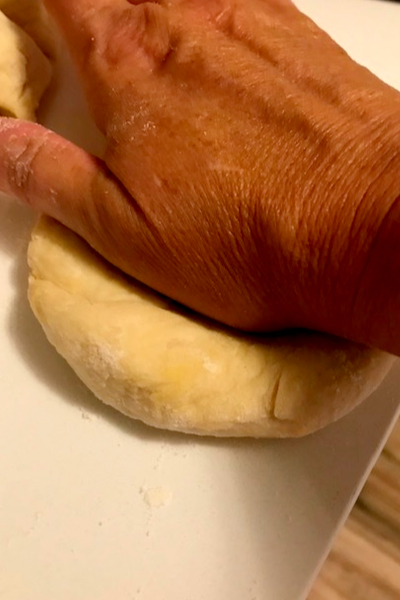 Finally, flip the dough over so that the seam sits on the surface of your baking dish.
Using this folding method will allow your dough to have a smooth top surface once baked.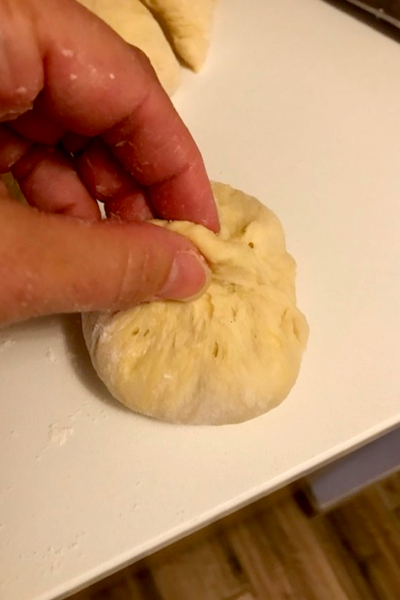 But you must allow your no knead dinner rolls to rise one last time before baking.
By following these simple suggestions, you will have delicious dinner rolls on the table with very little work!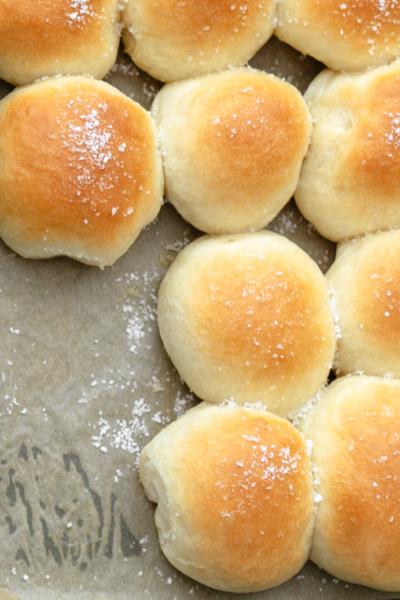 We like to serve these No Knead Dinner Rolls at all of our holiday meals. But also we love to make them to help us soak up the broth in our favorite soups, including our Slow Cooker Ham and Bean Soup.

To receive our 3 Recipe Articles in your inbox each week, sign up for our free email list located in the middle of each recipe or email me at contact@makeyourmeals.com. You can also follow us on Facebook and Pinterest. This article may contain affiliate links where a small commission is paid if you purchase a product at no additional cost to you.
No Knead Dinner Rolls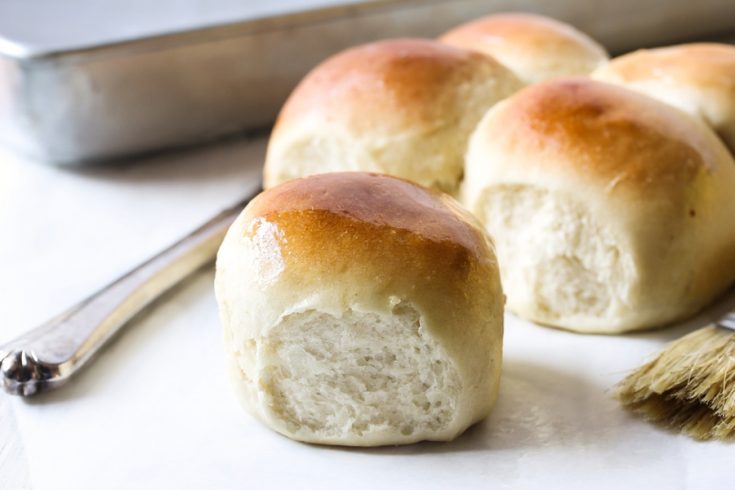 How to make dinner rolls without a dough hook and without kneading. Light and airy dinner rolls that are perfect for any occasion.
Ingredients
1 packet rapid dry yeast
1/4 cup granulated sugar, divided
1/2 cup warm water
4 ½ cups bread flour, plus more for dusting
1 1/2 tsp salt
1 cup milk
3.5 tbsp unsalted butter, melted and cooled
2 eggs, at room temperature, beaten with fork
For Brushing:
Instructions
Place the yeast and 2 teaspoons of the sugar in a medium bowl, then add the warm water. Let sit for 5 minutes until it begins to bubble.
Place flour, remaining sugar and salt in a bowl. Whisk to combine.
Make a well in the center of the flour mixture. Add milk, butter, eggs and pour in the yeast liquid, including all froth in the well.
Mix until combined with a wooden spoon, the mixture will be thick and sticky.
Leave dough in the bowl, cover with a towel and place in a warm place to rise for around 1 1/2 - 2 hours or until almost tripled in volume.
Line a 9 x 13" baking dish with parchment paper with the sides overhanging, set aside.
Remove tea towel and punch dough to deflate, then mix briefly in the bowl to get rid of the bubbles in the dough.
Dust a clean work surface with flour. Scrape the dough out of the bowl onto the work surface. Dust top of dough then form into a log shape. Cut the dough into 4 pieces and then cut each piece into 3 pieces so you have 12 rolls in total.
Take one piece and press down with palm, then use your fingers to gather into a ball, flip (so smooth side is up) then roll the dough briefly to form a ball.
Place the ball with the smooth side up on the tray. Repeat with remaining dough. Line them in rows of 3 x 4.
Spray surface of rolls with olive oil spray and then place plastic wrap over the tray.
Return tray to warm place and leave for 30 - 45 min, until the dough has risen just a little less than doubled in size.
Preheat oven to 390 degrees F.
Bake for 15 - 18 minutes, or until the surface is a golden brown.
Remove the rolls from oven. Brush the tops with melted butter.
Use the parchment paper to lift the rolls onto a cooling rack. Allow to cool slightly before serving.
Notes
Recipe provided by Make Your Meals
Nutrition Information:
Serving Size:
1 grams
Amount Per Serving:
Unsaturated Fat:

0g