This Slow Cooker Red Lentil Curry recipe has become one of our favorite weeknight recipes.
It is absolutely full of flavor and because we make it in our slow cooker it is ready to eat when we walk in the door.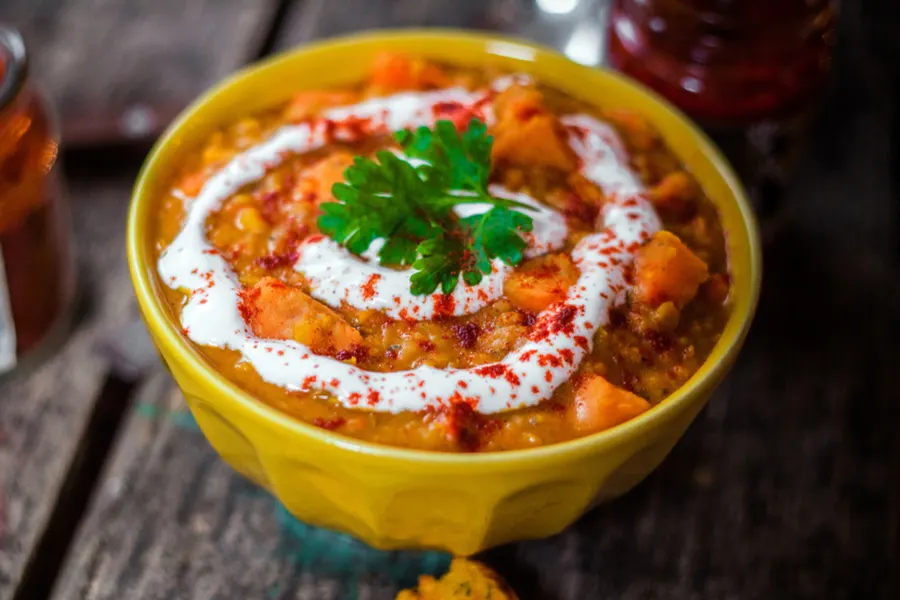 I first started making this recipe when a friend was coming over to visit. She ate a vegan diet and I was determined to make something delicious that she could enjoy.
So I searched through my recipes and came across a Red Lentil Curry recipe.
Perfect, I thought! So I decided to make it before she visited so I could test out the recipe.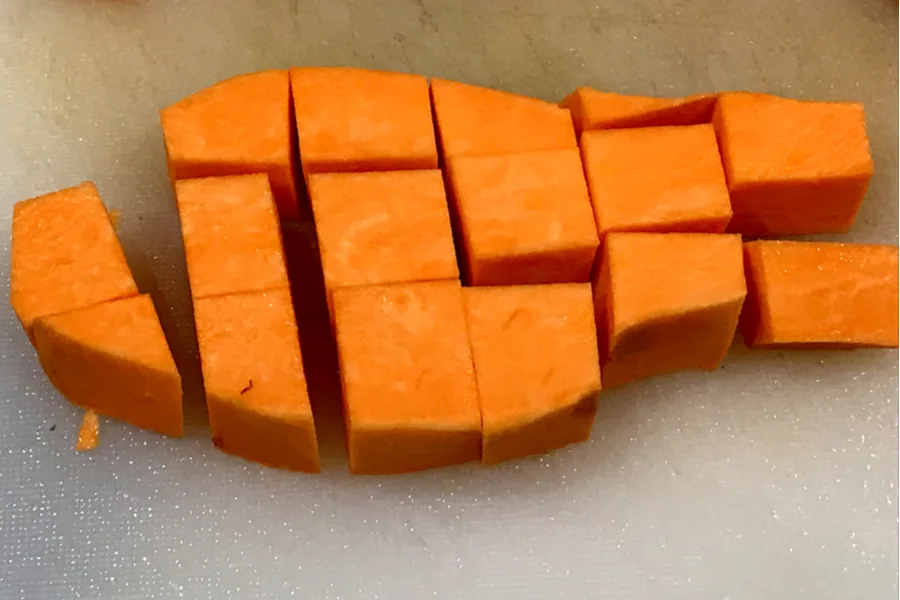 Although the recipe turned out delicious, I knew that I needed to make a few modifications.
For instance, I used store bought curry paste. Although the flavor was alright, I felt like I needed to add more flavor to the sauce.
And the texture wasn't quite what I was looking for. I wanted a creamier curry base to serve with brown rice.
Since that first attempt, I added a few more seasonings to add more flavor.
And to increase the creaminess of the red lentil curry, I added peeled and diced sweet potatoes to the mixture.
The results were amazing!!! Now this has become one of our favorite meals!
Slow Cooker Red Lentil Curry
This recipe is very easy to throw together. However, here are a few tips that you should know before you get started.
First, red lentils cook faster than other types of lentils. Therefore, if you use a different variety, you may need to adjust the cooking time.
However, no matter what type of lentils that you choose, you should always rinse and drain them in a fine mesh colander.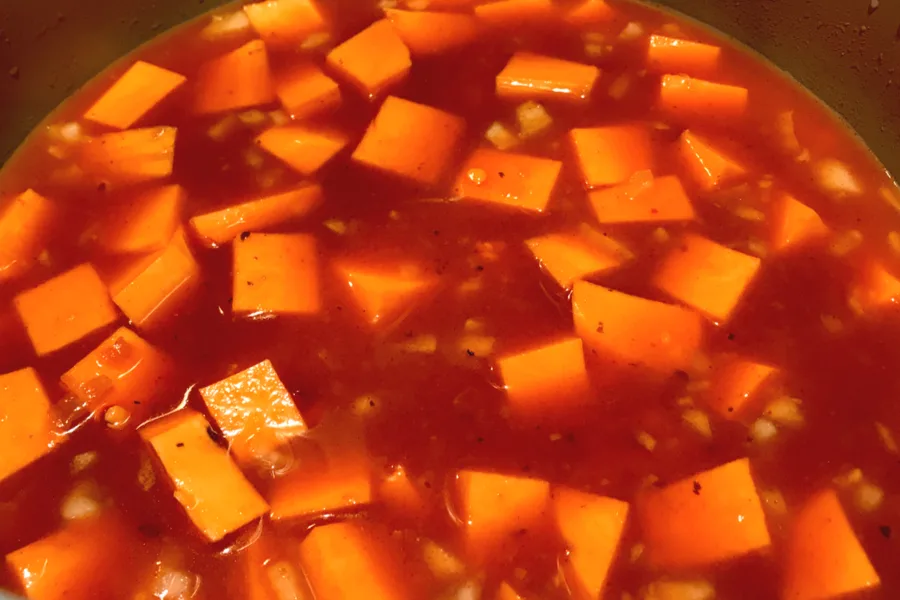 Next comes the challenge of finding garam masala. In most grocery stores, you can find this blend of spices in the spice aisle. However, it may also be in the International aisle as well.
Look for the Indian cooking section if your grocery store sorts their speciality items into regions.
And if all else fails, you can always order it through this Amazon affiliate link: Garam Masala.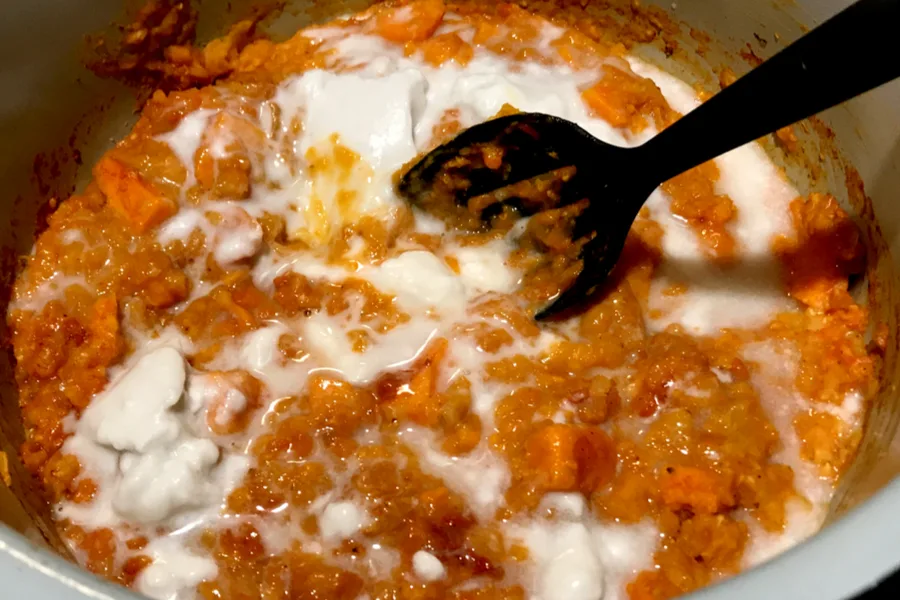 Then all that is left to do is to throw all your items in slow cooker and set your cook time!
When you are ready to eat, simply mix in the coconut milk and serve over cooked brown rice.
And don't forget to add a little greek yogurt, a splash of lemon juice and cilantro to really make this Red Lentil Curry out of this world delicious!
Click HERE for our other fantastic Slow Cooker Recipes.

To receive our 3 Recipe Articles in your inbox each week, sign up for our free email list located in the middle of each recipe or email me at contact@makeyourmeals.com. You can also follow us on Facebook and Pinterest. This article may contain affiliate links where a small commission is paid if you purchase a product at no additional cost to you.
Slow Cooker Red Lentil Curry Recipe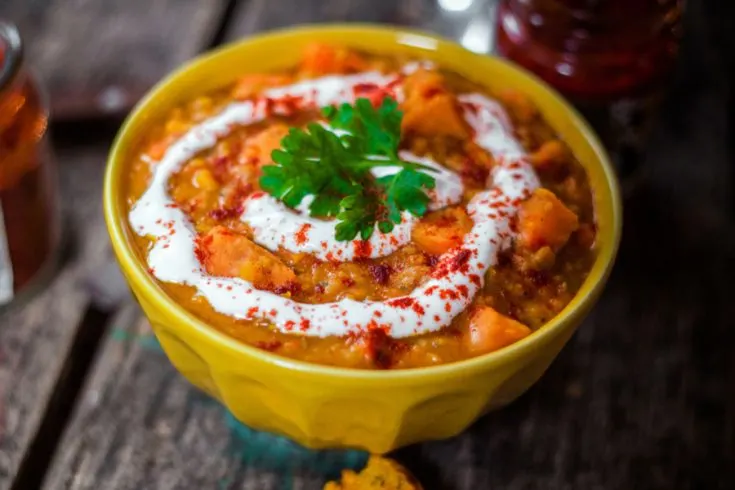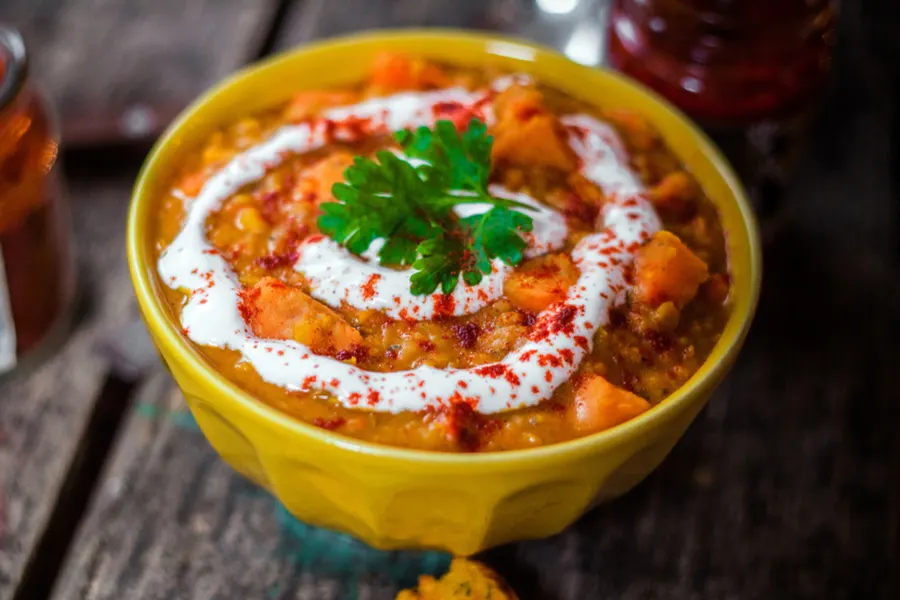 A thick and hearty red lentil & sweet potato curry cooked to perfection in a slow cooker.
Ingredients
2 cups dried red lentils
3 medium sweet potatoes, peeled and cubed
4 cups vegetable broth, low sodium
1 cup water
1 small shallot, finely chopped
3 tablespoons red curry paste
1 tablespoon garam masala
1 teaspoon turmeric
1/2 tablespoon light brown sugar
1 teaspoon ground ginger
3/4 teaspoon kosher salt
3 cloves garlic, minced
1 6-ounce can tomato paste
1 cup canned light coconut milk
Cooked brown rice for serving.
Garnish, optional
cilantro
lemon juice
Instructions
Spray the liner of the slow cooker with nonstick spray.
Rinse the lentils in a fine mesh colander. Drain and add them to the slow cooker.
Add the remaining ingredients EXCEPT the coconut milk and stir well to combine.
Cover and cook on HIGH for 3 to 4 hours or LOW for 6 to 7 hours, until the sweet potatoes are tender.
Turn off the heat and stir in the coconut milk.
Serve hot over cooked brown rice.
Garnish with chopped cilantro and lemon juice.
Notes
Recipe provided by Make Your Meals
Nutrition Information:
Serving Size:
1 grams
Amount Per Serving:
Unsaturated Fat:

0g