Every time that I make these Sausage and Cheese Stuffed Mushrooms, they are gone in minutes!
I serve them at every holiday party and special occasion get-together that we have, along with our Bacon Wrapped Water Chestnuts.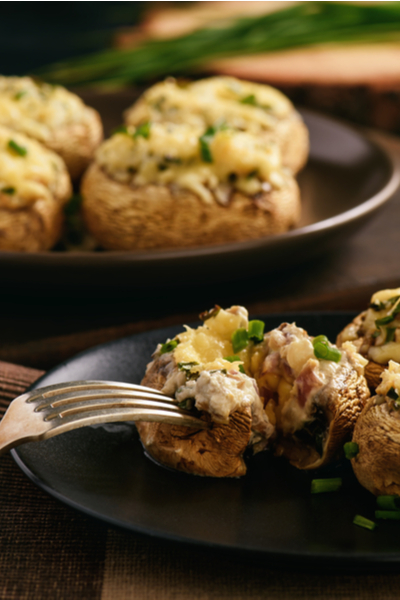 And it never fails, I rarely get to try one. That is because by the time that I get around to the buffet table, they are already gone!
In fact, I think most of them are devoured before they even make it to the table.
Because they are a finger food and so easy to eat, they end up being the snack of choice as everyone is gathered around the kitchen talking.
How to Make Sausage and Cheese Stuffed Mushrooms
So how do you make these delicious Sausage and Cheese Stuffed Mushrooms?
It is really easy to make this delicious appetizer. Even the novice chef can whip this up in no time!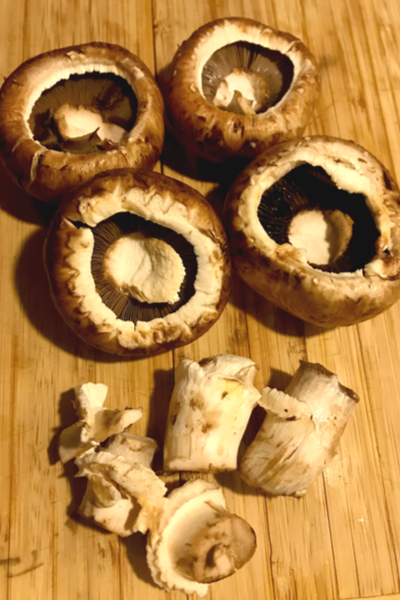 First clean and remove the stems of your mushrooms. You want to purchase medium to large mushrooms so that there is enough space in the cap of the mushroom to hold the filling.
Next, dice up the stems and set aside. You will be using half of them in your Sausage and Cheese Stuffed Mushroom filling.
In a large skillet, brown your sausage until no longer pink. Once cooked, turn off the heat and set aside. But do not drain! You will be using the grease as the liquid for your filling.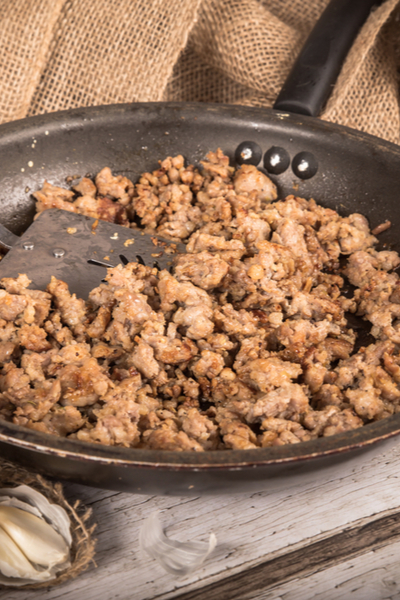 In a large bowl, mix together the softened cream cheese, Parmesan cheese, sage and parsley.
Add in the cooked sausage, grease and diced mushrooms and mix well.
Then spoon the mixture in well of each mushroom. It is okay for the filling to mound over top of the mushroom.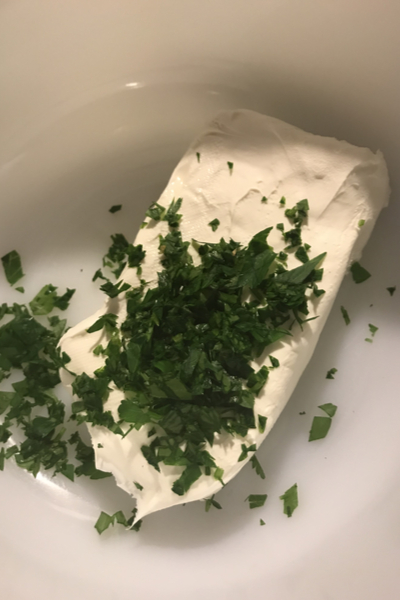 Place each filled mushroom cap in a large baking dish. Depending on how many mushrooms that you have, you may need two baking dishes or rimmed baking sheets.
Then bake in a preheated oven for approximately 30 minutes. Top the sausage and cheese stuffed mushrooms with Mozzarella cheese and bake until the cheese is melted and the the mushrooms are tender.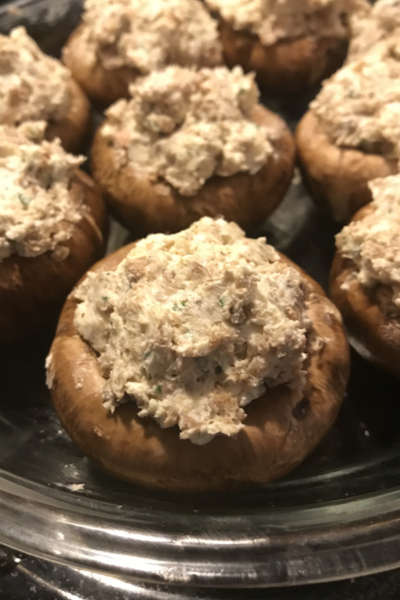 Take out of the oven, but allow the mushrooms to sit for at least 5 minutes before serving.
Then all that is left to do is to enjoy!
For all of our other tasty appetizer recipes, check out our Appetizer Page.

To receive our 3 Recipe Articles in your inbox each week, sign up for our free email list located in the middle of each recipe or email me at contact@makeyourmeals.com. You can also follow us on Facebook and Pinterest. This article may contain affiliate links where a small commission is paid if you purchase a product at no additional cost to you.
Sausage and Cheese Stuffed Mushrooms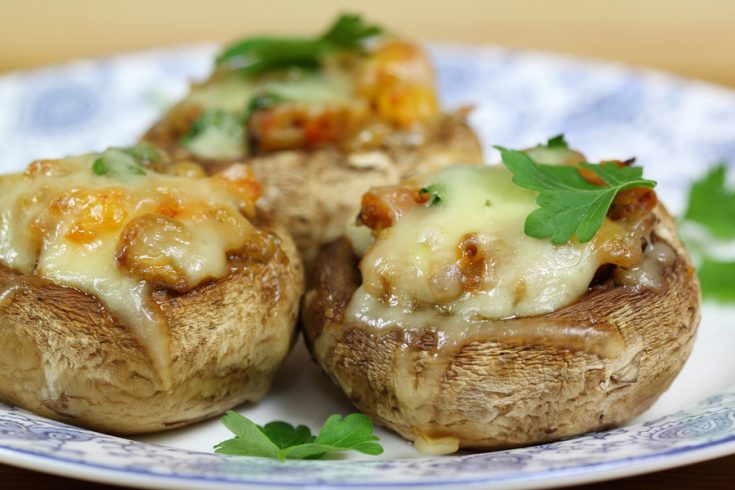 Fresh mushroom caps stuffed with sausage and cheese and cooked to perfection for a perfect appetizer any time of the year!
Ingredients
16 oz sausage
8 oz cream cheese, softened to room temperature
1/4 cup grated Parmesan cheese
1/4 teaspoon ground sage
1 tablespoon chopped fresh parsley
2 lbs mushrooms
3/4 cup shredded Mozzarella cheese
Instructions
Preheat the oven to 400ºF.
Clean the mushrooms. Remove the stems and dice the stems only and set aside.
In a medium skillet, cook the ground sausage until it is browned and cooked through, breaking it up into tiny crumbles as it cooks. Do not drain.
In a medium bowl combine the cream cheese, Parmesan, parsley and sage using a hand mixer. Add the cooked sausage, grease, and 1/2 of the diced mushroom stems and mix until combined.
Place the mushrooms, top side down, in a 9x13 baking dish or a large rimmed baking sheet lined with parchment paper.
Fill the center of each mushroom with a large scoop of the sausage mixture.
Bake in the preheated oven for 30-35 minutes and then add the shredded cheese to the tops of the stuffed mushrooms.
Continue to cook for an additional 10-15 minutes until the mushroom caps are softened and the filling is lightly browned on the edges.
Let the mushrooms sit in the baking dish for 5-10 minutes before serving.
Notes
Recipe provided by Make Your Meals
Nutrition Information:
Serving Size:
1 grams
Amount Per Serving:
Unsaturated Fat:

0g