If you are looking to make the best tasting pot roast that you have ever had, you have to try this Crock Pot Mississippi Pot Roast recipe. Melt in your mouth tender chuck roast that is bursting with flavor in every bite.
Best of all, it requires only 5 ingredients and it is quick and easy to prepare. In fact, it is what we consider a dump and go recipe.
This means that all you need to do is to place the ingredients inside a slow cooker. Then cover, set the cook time and walk away.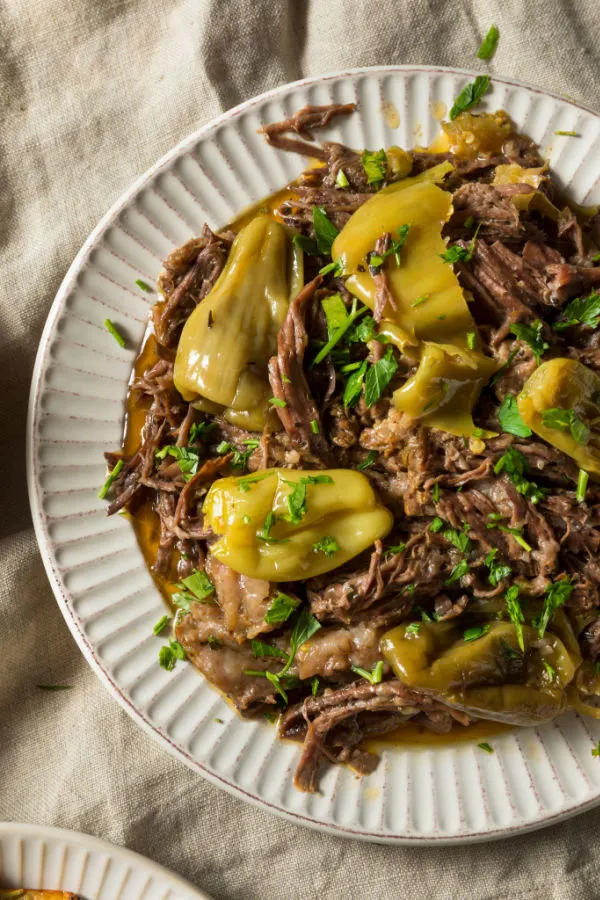 Then when you get home and are ready to eat, dinner is ready! Serve it with your favorite potato and vegetable side dish and you have a complete and delicious meal ready to share with the family.
However, if you are convinced that you already have the best traditional Pot Roast and Vegetables recipe and are hesitant to try a new way to make a chuck roast, don't worry.
The two flavors are actually very different. A traditional pot roast is made by placing water, potatoes, onions, carrots and a few seasonings in a crock pot.
The result from cooking a chuck roast in this classic method is tender meat that has a rich and warm flavor and vegetables that take on a similar taste. It is a classic comfort food recipe that many of us like to make in the Fall and Winter months.
However, this Mississippi Pot Roast recipe transforms a traditional chuck roast into a new and heightened level of flavor. Instead of adding umami flavor ingredients that result in a rich, savory and warm pot roast, a few other ingredients are added to provide a unique and tasty flavor that the entire family will love.
What Makes Mississippi Pot Roast So Delicious?
This recipe became a huge overnight hit in the 1990's. It was the time when slow cooker recipes had a resurgence in popularity due to crazy busy lifestyles.
And if you could find a recipe that required you to simply throw everything in a crock pot and dinner was ready when you got home, it was even better. But what really sent this recipe over the top was the flavor it provided by using only 5 ingredients.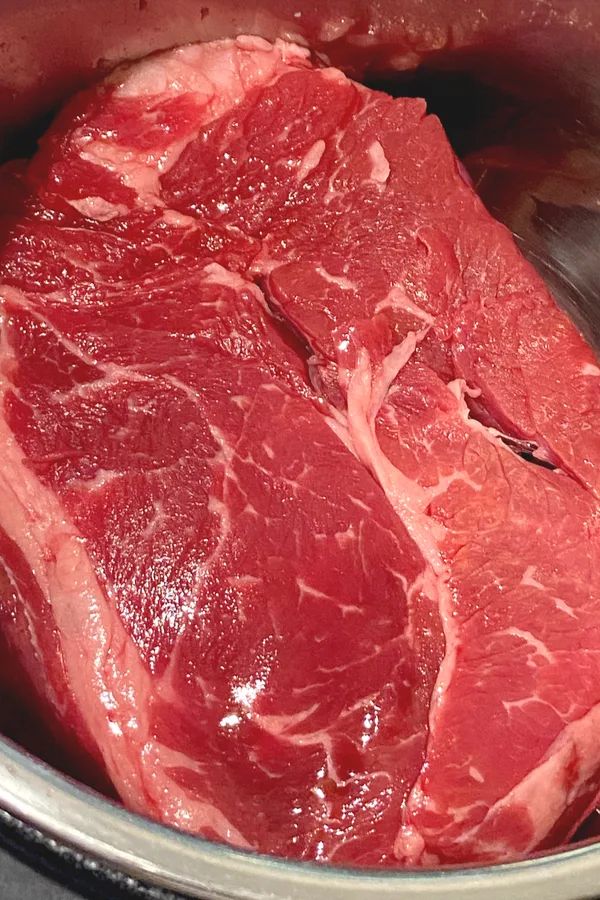 Ingredients Required
1. Chuck Roast
The best pot roast comes from a chuck roast. This is a cut of beef from the front leg of a cow.
Because this muscle is used quite often, it is considered a tough piece of meat. However, when cooked low and slow, the fibers break down making the meat tender and delicious.
2. Dry Ranch Dressing Mix
We are all familiar with those packets of dry Ranch dressing mix that you can find at the grocery store near the liquid salad dressings. The hint of Ranch dressing compliments the other flavors of this recipe perfectly.
This Mississippi Pot Roast recipes requires that you add an entire packet into the crock pot. However, if you purchase dry Ranch dressing mix in larger quantities like I do, you will need to add 2 tablespoons.
3. Au Jus Gravy Mix Packet
By using a packet of au jus gravy mix, you will get that classic gravy like flavoring that is found in traditional pot roast recipes. Although it gives a little thickness and warm flavor to the liquid in the crock pot, the rich flavor is balanced out by the other ingredients.
Therefore, don't expect the taste of true gravy. Instead, when you take a bite, there will be a hint of gravy flavor with a unique twist.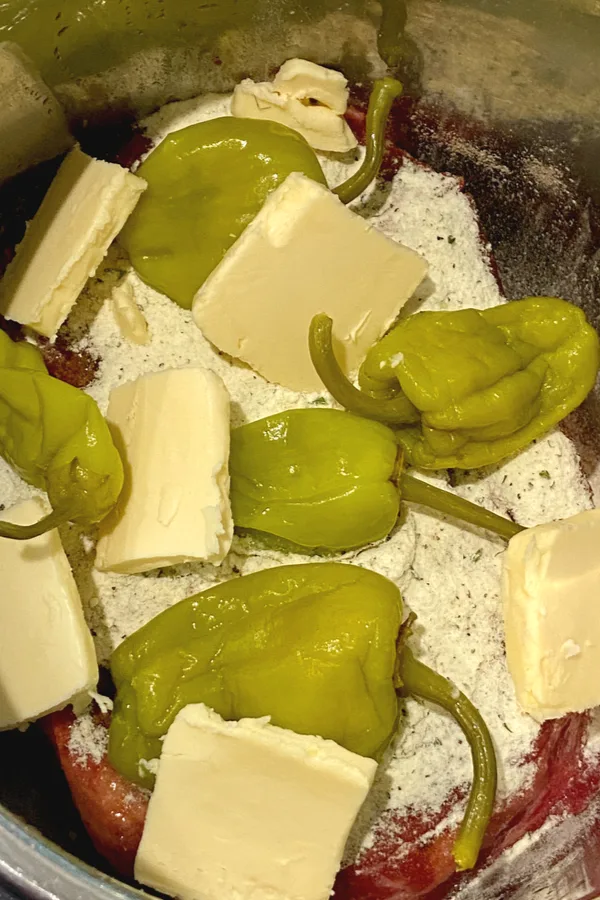 4. Pepperoncini Peppers
These little mild and tangy peppers are what makes this Crock Pot Mississippi Pot Roast so delicious. The pickled peppers add a tangy and sweet flavor not found in traditional pot roast.
However, they serve another purpose as well. The vinegar in the brine helps to break down the fibers in the meat, resulting in fall apart tender beef once cooked low and slow.
You can find a jar of pepperoncini peppers in the same grocery aisle that you would find other pickled vegetables. They are often found near the pickled jalapeños, sliced banana peppers and sweet cherry peppers.
Look for a clear glass jar filled with 1-3 inch yellow peppers. The pepperocinini peppers are considered a mild pepper, but if you don't like any heat at all, be sure to remove the seeds before adding them to the slow cooker.
5. Butter
I am sure you have heard the term, 'everything is better with butter'. And that definitely is the case in this recipe.
The butter is placed on top of the chuck roast which allows the fat to melt directly down into the meat itself. However there is also another purpose of the butter.
The residual butter melts down into the liquid, making it more rich in flavor. Although you could make this recipe without the butter, I highly recommend using it.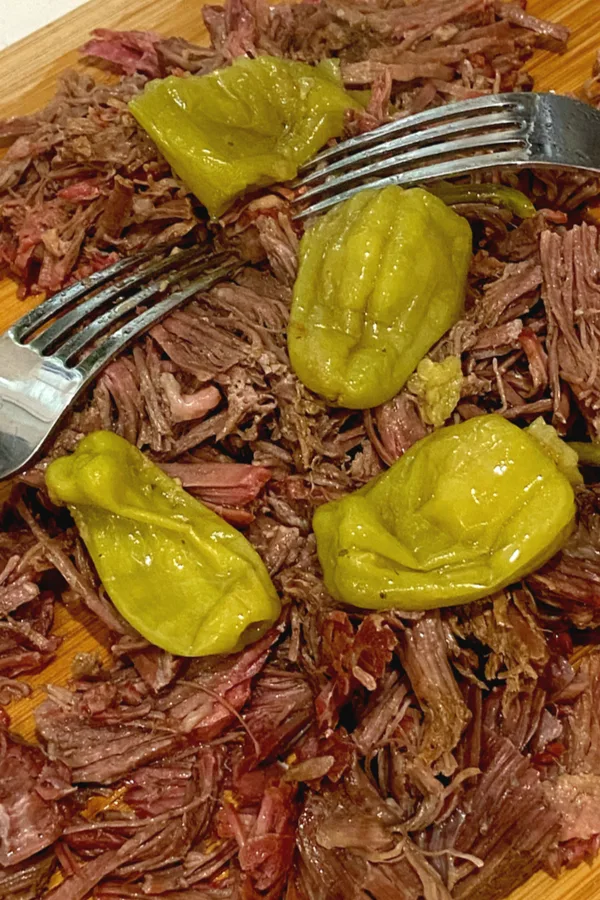 Crock Pot Mississippi Pot Roast Recipe
*Specific measurements and complete recipe instructions are located in a printable recipe card at the bottom of this article. However, be sure to continue to read the tips and tricks to making this recipe below.
INGREDIENTS
3-4 pound chuck roast
1 packet dry Ranch dressing mix
1 packet Au Jus Gravy Mix
5 Pepperoncini peppers
1/4 cup butter, sliced in tabs
INSTRUCTIONS
Place the chuck roast in the slow cooker and sprinkle the top with the dry Ranch dressing mix and the Au Jus mix.
Place pepperoncini peppers and sliced pads of butter on top of the roast. Then cover and cook on LOW heat for 8 hours or until the meat is fall apart tender.
When the meat is cooked through and tender, shred it with two forks. Return the shredded Mississippi pot roast back into the crock pot and toss with the residual liquid.
Serve with a side of mashed potatoes, roasted potatoes, over rice or noodles. For a low carb option, serve as a stand alone main dish with your favorite low carb vegetable.
Frequently Asked Questions
1. How do I store the leftovers?
Store any leftovers in a closed container in the refrigerator for up to 4 days. Be sure to add the liquid and peppers when storing the meat for the best flavor and texture.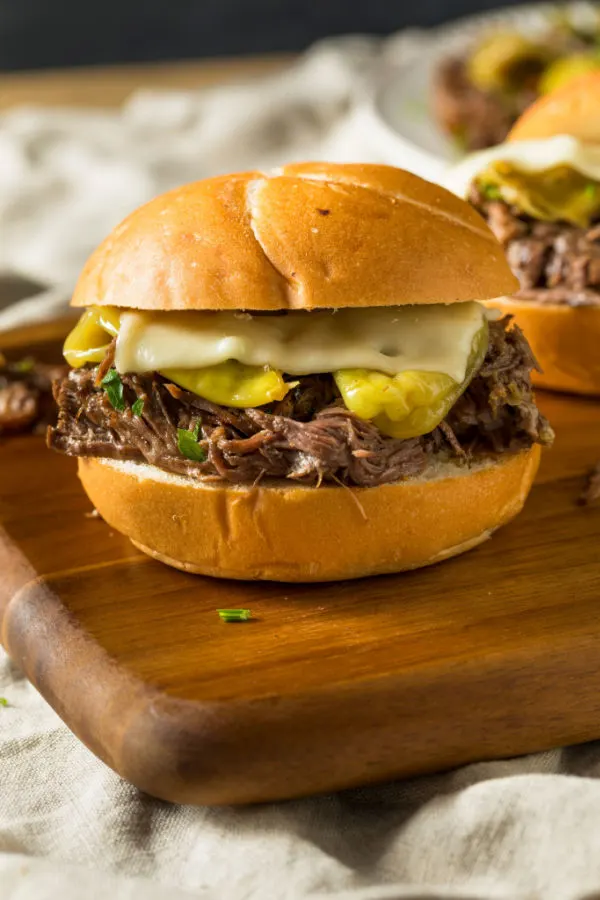 2. How do I reheat the leftovers?
Use your preferred method of reheating, including on the stove top, microwave, or use an Instant Pot set on the Steam function for 0 minutes.
Although no matter which method you choose, it is best to add a little liquid to the mixture so that the meat does not dry out during the reheating process. This is especially true if you are reheating the Mississippi Pot Roast in a sauce pan or skillet.
3. What can I make with the leftovers?
Although you could eat the pot roast in the traditional way of serving it with a starch and vegetable, there are other ways to enjoy this delicious dish as well. I have listed some of my favorite ways of enjoying leftovers below.
Use the meat as the protein of choice for Nachos.
Fill corn or flour tortillas with the leftover meat to make Tacos.
Use the shredded meat to make burritos or enchiladas and add your favorite sauce on top.
Keep it simple and place the reheated meat on sandwich buns for a quick and easy lunch or appetizer for your next tailgate party.
Enjoy! Mary

To receive our 3 Recipe Articles in your inbox each week, sign up for our free email list located in the middle of each recipe or email me at contact@makeyourmeals.com. You can also follow us on Facebook and Pinterest. This article may contain affiliate links where a small commission is paid if you purchase a product at no additional cost to you.
Mississippi Pot Roast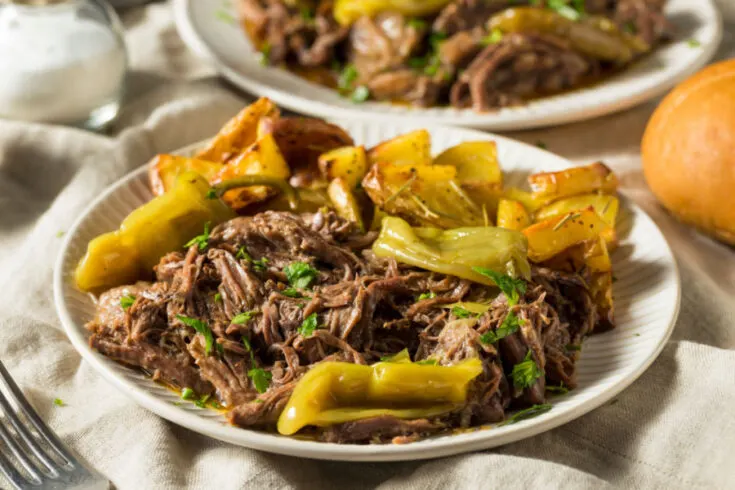 The absolute best pot roast recipe that is made with just 5 ingredients. Put all the ingredients in the slow cooker and you will have fall apart tender pot roast ready to eat with very little effort.
Total Time
8 hours
5 minutes
Ingredients
3-4 pound chuck roast
1 packet dry Ranch dressing mix
1 packet Au jus gravy mix
1/4 cup butter, unsalted
5 Pepperoncini peppers
Instructions
Place the chuck roast in the slow cooker and sprinkle the top with the dry Ranch dressing mix and the Au Jus mix.
Place pepperocinis and sliced pads of butter on top of the roast.
Cook on Low heat for 8 hours or until the meat is fall apart tender.
Serve with mashed potatoes, roasted potatoes, over rice or noodles.
Notes
Recipe provided by Make Your Meals
Nutrition Information:
Yield:
8
Amount Per Serving:
Calories:

627
Total Fat:

41g
Saturated Fat:

18g
Trans Fat:

2g
Unsaturated Fat:

20g
Cholesterol:

205mg
Sodium:

1170mg
Carbohydrates:

7g
Fiber:

1g
Sugar:

2g
Protein:

58g
Nutritional Information is to be used as a general guideline only . Nutritional calculations will vary from the types and brands of the products used.