I have been eating pork and sauerkraut every New Year's Day for as long as I can remember and now I have made it even easier by converting it to an Instant Pot Pork Loin & Apple Sauerkraut recipe.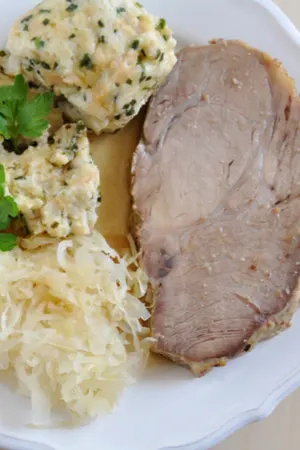 When I was growing up my parents would always prepare a good luck feast for us on New Year's Day.
Although a lot of people eat Hoppin Johns for their good luck me, where we lived pork roast and sauerkraut was the meal of choice.
We would have a pork roast slow cooking in the oven for hours. Then my mom would bring out a jar of sauerkraut.
To be honest, as much as I loved the smell of the pork roast cooking, the smell of the sauerkraut once opened made me squirm.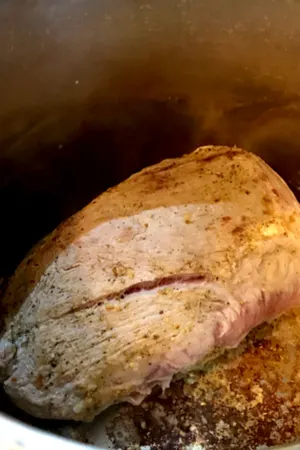 I absolutely dreaded sauerkraut. The fermented bitterness of the cabbage made my mouth pucker even with just the thought of taking a single bite.
So when it was my turn to make the good luck meal as an adult, I knew that I needed to find a way to tone down the taste of the sauerkraut.
Add Apples & Cinnamon To Sauerkraut
This may sound strange, but the absolute best sauerkraut recipe contains more than just fermented cabbage and caraway seeds.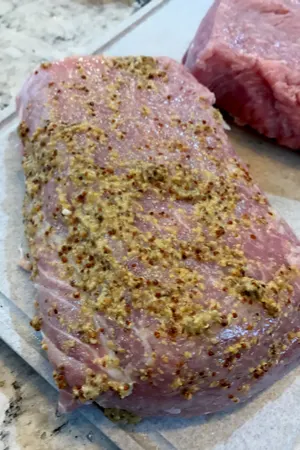 You actually might be shocked to find out what we put in our sauerkraut to make everyone love it.
Apples and cinnamon!
When you think about pairing it with pork it makes total sense. Applesauce is a common side dish when serving pork as a the main dish.
The apples tone down the bitterness of the sauerkraut. And the cinnamon adds an additional layer of flavor to the dish.
Instant Pot Pork Loin and Sauerkraut and Apples Recipe
Now that I have made the sauerkraut more palatable, it was time to make this good luck dish more efficient.
It was time to pull out my 6 quart Instant Pot to see how we could make this classic recipe in the fraction of the time that it takes in the oven or in the slow cooker.
For this recipe I used a 2.75 pound defrosted pork loin. And because pork has little flavor on it's own, I knew that I would have to take a couple steps to make it delicious.
First of all I seared the pork loin on all sides. This helps lock in the juices during the cooking process.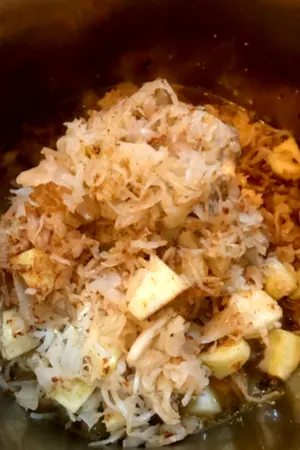 And then for extra seasoning, I added a layer of stone ground mustard to pork loin.
This extra seasoning made a huge difference in a typically bland recipe.
And instead of putting the sauerkraut and apples in at the beginning of the cooking process, they are added at the end.
This process allows them to cook properly and not disintegrate during the pressure cooking process
May this recipe bring you happiness and good luck for the year to come!

To receive our 3 Recipe Articles in your inbox each week, sign up for our free email list located in the middle of each recipe or email me at contact@makeyourmeals.com. You can also follow us on Facebook and Pinterest. This article may contain affiliate links where a small commission is paid if you purchase a product at no additional cost to you.
Instant Pot Pork Loin Sauerkraut Recipe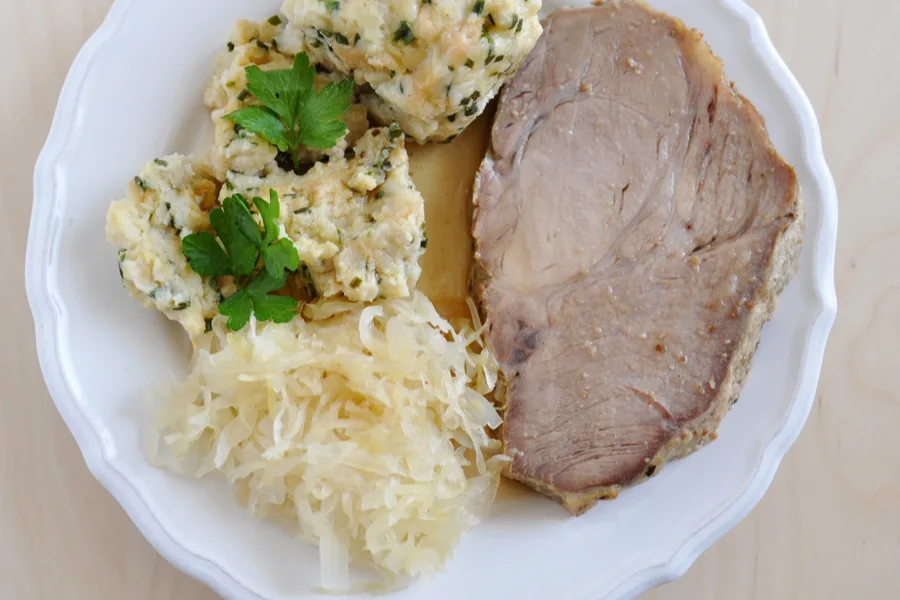 Tender pork loin cooked to perfection with sauerkraut and apples for a delicious one pot meal.
Ingredients
2-3 pound pork loin roast
1/2 teaspoon kosher salt
1/2 teaspoon ground pepper
2 tablespoons butter or olive oil
2 large onions, chopped
3 cloves garlic, chopped
1 cup chicken broth, low sodium
2 tablespoons stone ground mustard
4 cups sauerkraut, rinsed and drained
2 large apples peeled, cored and diced
1 teaspoon ground cinnamon
Instructions
Remove any thick portions of fat from the pork loin roast and then season roast with salt and pepper.
Press the Sauté button on your Instant Pot. When display reads "HOT", add the butter or oil, and brown the roast on all sides.
Remove the roast from the pot and set aside. Add onions, garlic, and broth. Stir and deglaze by scraping all of the brown bits from the bottom of the pot.
Add stone ground mustard to each side of the roast.
Return roast to the Instant Pot, placing it on top of the onions.
Pressure Cook/Manual on HIGH pressure for 55 minutes.
Place drained sauerkraut and apples in a bowl. Add cinnamon and toss to coat. Set aside.
When the cook time is up, quick release the pressure. Immediately add the sauerkraut and apples to the pot.
Replace lid and Pressure Cook/Manual on HIGH pressure for an additional 5 minutes.
Allow for a Natural Pressure Release for 10 minutes, then quick release any remaining pressure.
Remove roast. Slice and serve.
Notes
Recipe provided by Make Your Meals
Nutrition Information:
Serving Size:
1 grams
Amount Per Serving:
Unsaturated Fat:

0g