This classic peach cobbler recipe is so easy to make and tastes incredible! This recipe has been in my family for years and is served at every family event.
The best part of all, you can make it using either fresh or canned peaches.
I always prefer to use fresh peaches when they are in season. They taste so much better than store-bought peaches that are found in the grocery store.
The natural sweetness in a just picked, ripe peach is incomparable to a peach that has been shipped across the country in the middle of winter.
In fact, they are so sweet that I don't even need to add extra sugar to the peaches when making this peach cobbler recipe.
The only downside of using fresh peaches is that you must peel them. But don't let that stop you! It is actually fairly easy to peel peaches.
All you have to do is put water in a large stockpot over medium-high heat. Once it comes to a boil then place 3-4 peaches in the pot and boil for 30 seconds.
Remove the peaches and immediately place them in an ice water bath. The cold water will shock the peaches and stop the cooking process.
The skins will easily peel off! It's that simple!
Then all you have to do is remove the pit and slice the peaches into small wedges and place them on top of your batter.
Once the peach cobbler is baking, the batter will rise above the peaches and create a beautiful cake-like topping with a crunchy top.
Down right delicious!
However, if you are in a hurry, check out our Quick and Easy Peach Cobbler recipe.
Check out the printable recipe below and all of our recipes and let me know what you think!
To receive our 3 Recipe Articles in your inbox each week, sign up for our free email list. You can also follow us on Facebook, Twitter, Pinterest, and Instagram. This article may contain affiliate links.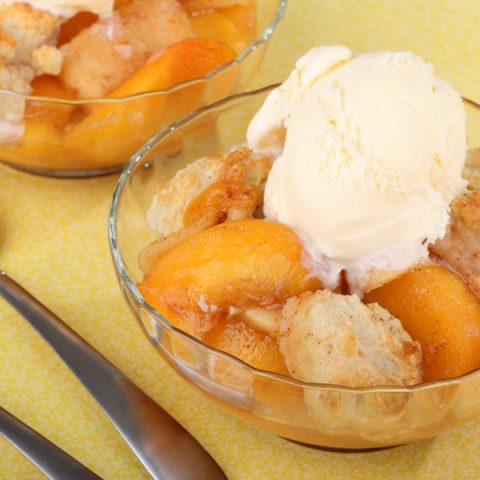 Classic Peach Cobbler Recipe - Just Like Grandma Used To Make
Classic peach cobbler with a nice crisp topping. Just like Grandma used to make!
Ingredients
4 1/2 cups peaches, peeled, cored and sliced (about 5-6 peaches) *see note if using canned peaches
1/2 cup granulated sugar, optional for added sweetness
1/4 tsp. salt
Batter Ingredients
6 TBSP. butter, cut in 1portions
1 cup granulated sugar
1 cup all-purpose flour
2 tsp. baking powder
1/4 tsp. salt
3/4 cup milk
ground cinnamon, to taste
Instructions
In a large saucepan add the sliced peaches, sugar and stir to combine – skip this step if you are using canned peaches.
Cook over medium heat until the sugar is dissolved and helps to bring out juices from the peaches. This should only take a few minutes. Remove from heat and set aside – skip this step if you are using canned peaches.
Preheat oven to 350 degrees F. Add butter pieces to a 9 x 13 inch baking dish. Place the pan in the oven during the preheating process until the butter melts. Remove the pan from the oven.
In a large mixing bowl mix together flour, sugar, baking powder, and salt. Stir in the milk, just until combined. Pour the mixture into the buttered pan and smooth the batter into an even layer.
Spoon the peaches and juice (or canned peaches, if using) over the batter. Sprinkle cinnamon over the top.
Bake at 350 degrees for about 35-40 minutes or until golden brown.
Remove from oven and let sit for 5 minutes prior to serving.
Notes
If using canned peaches, omit the first three ingredients and use 1 quart of undrained canned peaches. Recipe provided by Make Your Meals
Nutrition Information:
Yield:

8
Serving Size:

1 grams
Amount Per Serving:
Unsaturated Fat:

0g