One of my very favorite desserts, especially around the holidays, is classic pumpkin pie.
Nothing fancy, no crazy ingredients, just good old creamy pumpkin pie sitting in a light and flaky golden crust.
Mom's homemade pumpkin pie
As a child, I remember my Mom baking a pumpkin pie the night before Thanksgiving. She would roll out the crust on her Baker's mat with her wooden rolling pin.
The mat served a dual purpose. First of all it was considered a non-stick mat. This helped decrease the need for excessive flour to be placed on the rolling surface.
But the best part about the mat was that it had various circles and measurements printed on the surface. This guide helped you know exactly how far you had to roll out your dough for the perfect 9 inch pie crust.
Once the dough was rolled out to the perfect measurement, my mom would then roll the dough onto the rolling pin. Then carefully place it in our glass pie plate.
She would scallop the edges around an old wooden spoon handle. This same spoon was one used on occasion to shoo us out of the kitchen when we got too rowdy.
A few pricks in the bottom of the crust with a fork and it was ready for the pumpkin pie filling.
After about an hour in the oven, the pie was perfectly baked. The crust was golden brown and the filling had a tiny bit of jiggle in the very center of the pie.
Once it cooled, it firmed up perfectly and into the refrigerator it went! Right before we sat down to enjoy your Thanksgiving feast we would pull it out of the fridge and set it on the buffet table in the dining room.
Patiently waiting for the pumpkin pie…
My assigned seat looked directly at the buffet table filled with not only the pumpkin pie, but all the desserts that were brought or made.
I could hardly contain myself during dinner in anticipation of dessert.
I patiently waited through what seemed like the longest meal ever. And I would always drop hints to my parents as they talked with my older relatives to remind them that everyone had finished their meals.
They continued to talk as I became antsy. Finally, after what seemed like hours, they cut and served the pumpkin pie.
With a few dollops of cool whip, my dessert was complete!
Fast forward several decades later, and I am now the one in charge of making the pumpkin pie. I follow the same basic recipe that my mother did, with a few modifications.
I make my own pumpkin puree using fresh pie pumpkins rather than using the canned variety.
And I must admit I sometimes 'cheat' and use store-bought pie crust. I have a great recipe for pie crust, but sometimes I don't have time to make my own.
Other than that, the recipe is one that has been passed down for generations in my family.
Check out the printable recipe below and all of our recipes and let me know what you think!
To receive our 3 Recipe Articles in your inbox each week, sign up for our free email list. You can also follow us
on Facebook, Twitter, Pinterest, and Instagram. This article may contain affiliate links.
Classic Pumpkin Pie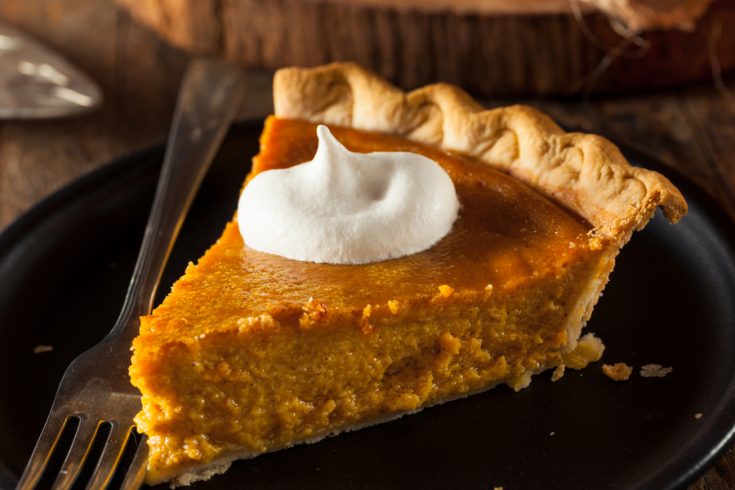 Creamy and delicious classic pumpkin pie recipe that tastes just like Grandma's pie.
Ingredients
2 cups canned pumpkin puree or fresh pumpkin puree, not pumpkin pie filling
14 oz can Sweetened Condensed Milk
2 large eggs
1 tablespoon vanilla extract
1 teaspoon pumpkin pie spice
1/2 cup packed brown sugar
Instructions
Preheat the oven to 425°F.
Roll out pie crust and place in a pie pan. Poke the bottom with a fork several times and scallop the edges or crimp with your fingers.
In a large bowl add the pumpkin puree and sweetened condensed milk and mix until combined.
Add the remaining ingredients and whisk until smooth.
Pour the filling into the prepared pie crust.
Bake for 15 minutes, then reduce the oven temperature to 350°F and bake for an additional 40 minutes Cover the pie crust edges with foil if it browns too quickly.
Remove the pie from the oven when it is no longer jiggles in the center.
Notes
Let cool completely. Recipe provided by Make Your Meals
Nutrition Information:
Serving Size:
1 grams
Amount Per Serving:
Unsaturated Fat:

0g