It is not easy to find a meatloaf recipe that is the perfect size for 2-4 servings. In fact, if you search for the best meatloaf recipe you will likely find that nearly all of them have a serving size of 6-8 people and require 2 pounds of ground beef.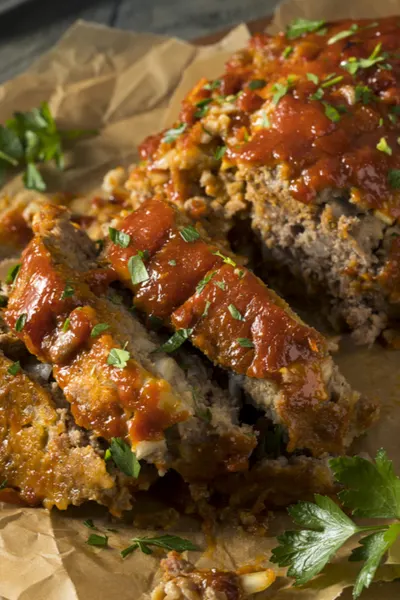 Of course, those recipes are perfect when you have a large family or serving guests. However, many of us are looking for a smaller size meatloaf that would be perfect for a couple or a small family.
We have shared our favorite Instant Pot Meatloaf and Mashed Potatoes Recipe that is designed to feed 4 people. However, not everyone owns an Instant Pot Pressure Cooker.
That is why we decided to share the our favorite meatloaf recipe that uses 1 pound of ground beef and cooked in the oven. In addition, we will share our secrets to making it turn out moist and delicious every time!
Meatloaf Recipe
The first step in making meatloaf is to soak the breadcrumbs in a mixture of milk and egg.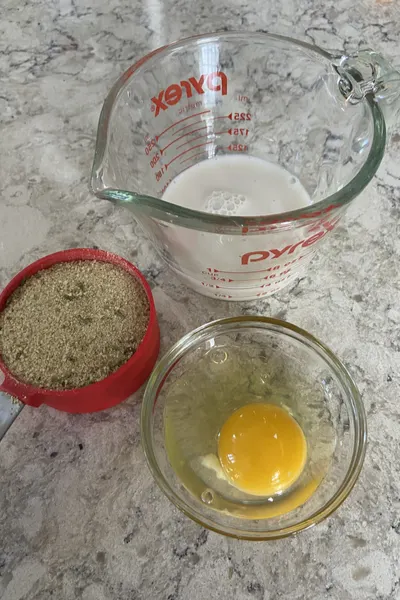 The reason that you do this is that breadcrumbs will soak up all the moisture in your meatloaf if left in their original form. And this will leave your meatloaf dry and crumbly.
Simply whip an egg with the milk until it is well incorporated. Then mix in the breadcrumbs and allow the mixture to sit for 5-10 minutes.
While you wait for the breadcrumbs to soak add the other ingredients to a large mixing bowl. However, do not start to combine the ingredients until the breadcrumbs are ready to be added.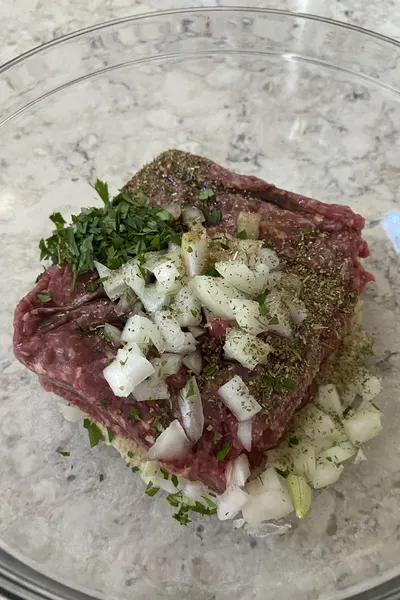 How To Mix, But Not Over Mix
If you over mix meatloaf ingredients, the meatloaf will come out very dense. Therefore, I prefer to use a fork instead of my hands when mixing.
When I use my hands, I have a tendency to squeeze the mixture between my fingers too much and the meat fibers begin to break down. So instead, I use a standard kitchen fork to combine the ingredients.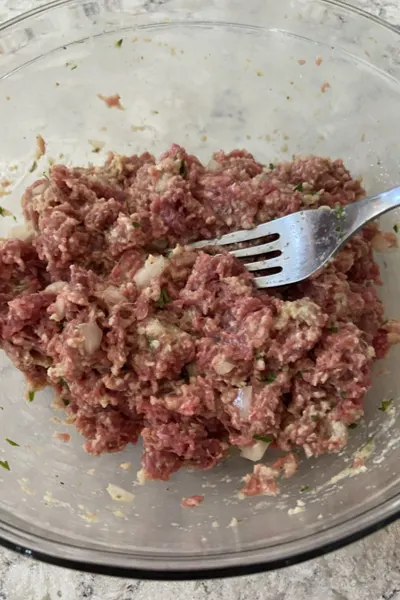 When the mixture is just combined, transfer the meatloaf to a foil lined, rimmed baking sheet. Then form it into a loaf and bake in a preheated oven.
After 35 minutes remove the meatloaf from the oven. Using a pastry brush, spread barbecue sauce on top and on the sides. Then return to the oven to allow the barbecue sauce to caramelize.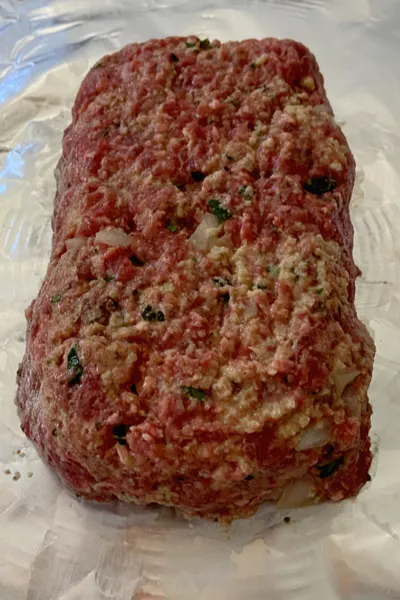 Remove from the oven when the internal temperature reaches 160°F when checked with a digital food thermometer.
Let the meatloaf rest for 10 minutes before slicing. Serve with Air Fryer Ranch Potatoes and enjoy!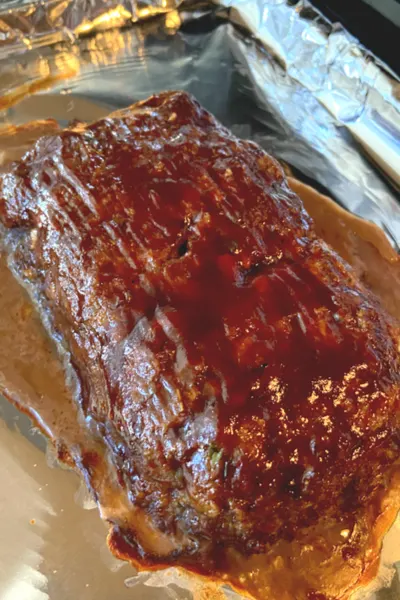 To receive our 3 Recipe Articles in your inbox each week, sign up for our free email list located in the middle of each recipe or email me at contact@makeyourmeals.com. You can also follow us on Facebook and Pinterest. This article may contain affiliate links where a small commission is paid if you purchase a product at no additional cost to you.
Yield: 4
The BEST Meatloaf Recipe - Using 1 Pound of Ground Beef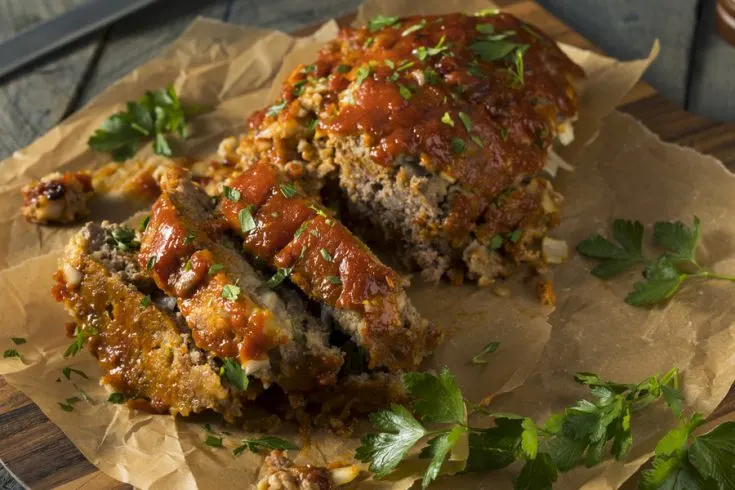 This one pound Meatloaf Recipe turns out moist and delicious every time and it is the perfect size for couples or a small family.
Ingredients
1 egg
1/2 cup milk
1/2 cup Italian breadcrumbs
1 pound ground beef, lean
1/4 cup onion, diced
1/2 tablespoon Worcestershire sauce
1/2 teaspoon Italian seasoning
1 tablespoon fresh parsley, chopped
1 teaspoon salt
1/2 teaspoon ground black pepper
Sauce For Topping
Instructions
Preheat oven to 350°F. Spray a foil lined baking tray with cooking spray and set aside.
In a medium bowl combine egg, milk, and breadcrumbs. Allow mixture to sit for 5-10 minutes.
Add the ground beef, onion, Worcestershire sauce, Italian seasoning, parsley, salt and pepper. Mix until just combined. Do NOT over mix.
Form the mixture into a loaf on the prepared baking sheet. Bake for 35 minutes.
Spread the barbecue sauce over the meatloaf and bake for an additional 5-10 minutes or until cooked through and the center of the meatloaf reaches 160°F.
Remove from oven and allow meatloaf to rest for 10 minutes before slicing.
Serve warm and refrigerate leftovers.
Notes
Recipe provided by Make Your Meals
Nutrition Information:
Yield:
4
Serving Size:
1 grams
Amount Per Serving:
Calories:

448
Total Fat:

26g
Saturated Fat:

10g
Unsaturated Fat:

0g
Cholesterol:

125mg
Sodium:

694mg
Carbohydrates:

28g
Fiber:

1g
Sugar:

15g
Protein:

24g