This is a not only a classic, but the BEST Egg Salad recipe out there.
Eggs mixed with just the right amount of mayonnaise and Dijon mustard, and mixed with crispy, diced red onions.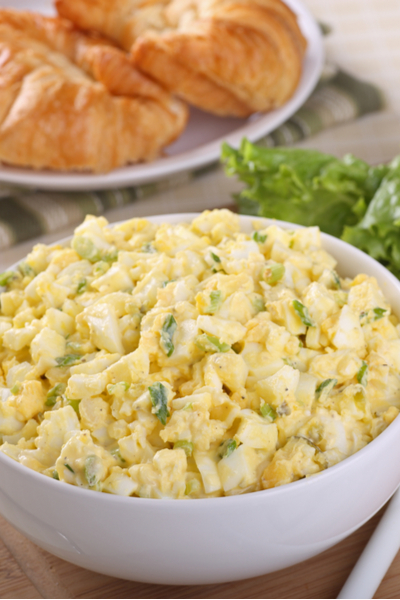 Add in a little paprika and chives as garnish and you have an egg salad recipe that everyone loves!
However, if you ask a hundred people for their egg salad recipe, you are likely to get about a hundred different answers.
That is because everybody makes it to their own liking.
In fact, most people make it like how it was made in their own home growing up.
For me, my mom always used both mayonnaise and mustard in her egg salad recipe.
I thought it provided the perfect balance between the sweet and creamy taste of the mayo and the vinegar tang that the mustard provided.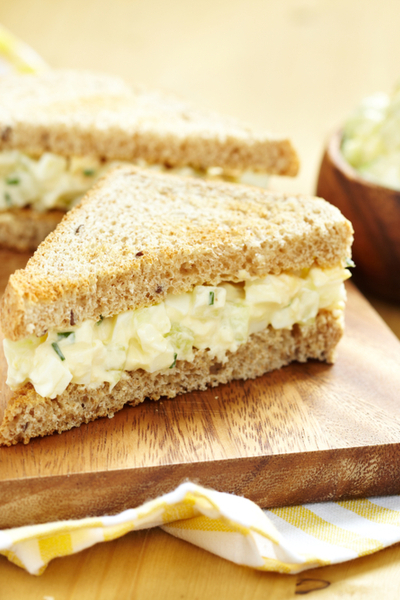 But I have friends that have never even considered putting mustard in their egg salad before.
There are so many different variations of egg salad recipe.
However, this is a classic version that most consider the BEST egg salad recipe.
How To Boil The Perfect Egg
But every egg salad recipe starts with boiled eggs. Although this should seem like an easy task, it isn't!
How many times have you ended up with eggs that were so difficult to peel that they looked like they had huge craters in the egg white.
Or what about those eggs that have a green circle around the yolk? Are they bad eggs? Are they safe to eat?
Well rest assured, they are definitely safe to eat. They just have been overcooked.
When an egg boils too long, the yolk begins to turn green. Thus, the green ring around the yellow yolk in your hard boiled eggs.
However, to make sure you have the perfect hard boiled eggs for egg salad, there are two simple methods that you can use.
Stove Top Method
The traditional stove top method is the fail-proof way to make the perfect hard boiled eggs, even with Farm-Fresh Eggs!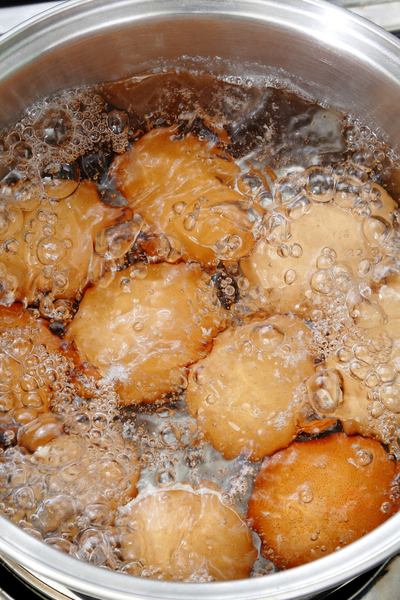 The key is to get the water to boil BEFORE your put your eggs in the pot. Then boil for 15-18 minutes (see How To Boil The Perfect Egg). Immediately remove the eggs and put them in an ice water bath.
The ice water bath will stop the cooking process. After about 10 minutes, your eggs will peel easily. In fact, so easy, the shell may come off in just 2-3 pieces.
Instant Pot/Ninja Foodi Method
However, the new rage in making the perfect hard boiled egg is in an electric pressure cooker.
If you have an Instant Pot or a Ninja Foodi, you know what I mean. And this method can be a life saver when you are making egg salad!
It is a virtually hands off method to making the perfect hard boiled egg. And it requires no standing over a hot stove to put your eggs in or out of the boiling water.
Simply put your eggs on a trivet in the liner of your pressure cooker. Cook on HIGH pressure for 5 minutes.
After the cooking time expires, allow it to sit for an additional 5 minutes before releasing any remaining pressure.
Then, just like the stove top method, the eggs need to go into an ice water bath.
And in 5 minutes, you will have an easy to peel, perfectly cooked hard boiled egg!
However, one word of caution. Depending on the size of your pressure cooker and where you live, the cooking times may need to be adjusted slightly. See: Instant Pot Hard Boiled Eggs
And make life easier on yourself and get an egg slicer. It makes chopping the eggs a breeze!
Simply chop it one way, then turn the egg the other way and you will have the perfectly diced egg in seconds!
Other Ingredients For Egg Salad
As stated above, this is the classic version of egg salad. However, you can adjust the ingredients to your liking.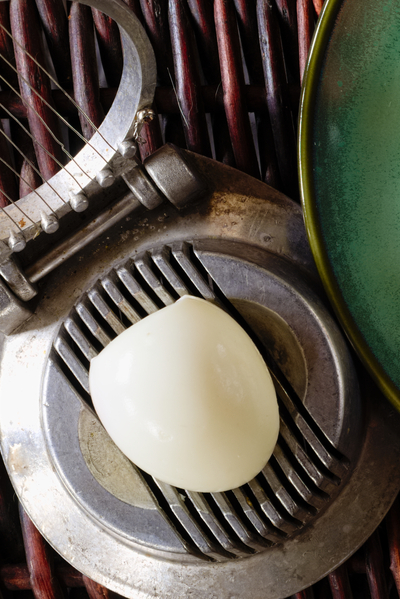 Here are some other items that you can add to your egg salad recipe:
Relish
Celery
Pickled Jalapeno
Red Pepper Flakes
Cumin
Whatever you like, you can add them to your egg salad to make it the best for your taste!
And if you like this recipe, try our No Mayo Chicken Salad recipe!

To receive our 3 Recipe Articles in your inbox each week, sign up for our free email list located in the middle of each recipe or email me at contact@makeyourmeals.com. You can also follow us on Facebook and Pinterest. This article may contain affiliate links where a small commission is paid if you purchase a product at no additional cost to you.
Yield: 4
The BEST Egg Salad Recipe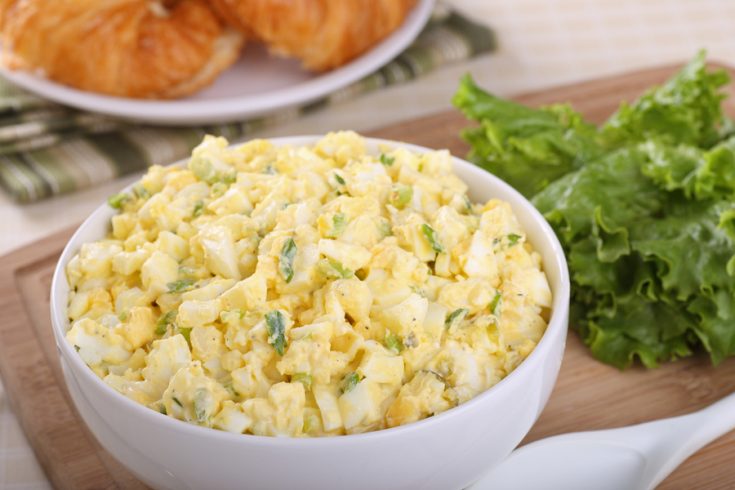 Creamy and delicious egg salad that provides the perfect balance of sweet and savory flavors that is perfect to serve on sandwiches, wraps or as a snack on top of crackers.
Ingredients
6 hard boiled eggs, peeled and chopped
3 tablespoons mayonnaise or Greek Yogurt
2 tablespoons Dijon Mustard
2 teaspoons finely chopped red onion
1/4 teaspoon kosher salt
1/4 teaspoon fresh black pepper, to taste
1/8 teaspoon paprika, for garnish
chopped chives, for garnish
Instructions
In a medium bowl add the chopped eggs.
Add the mayo, mustard, onion, salt and pepper and mix to combine.
If the mixture is too dry, add another teaspoon of mayo.
Refrigerate until ready to eat.
Notes
Use the salad for sandwiches, lettuce wraps, or as a dip for crackers.

Recipe provided by Make Your Meals
Nutrition Information:
Yield:
4
Serving Size:
1 grams
Amount Per Serving:
Unsaturated Fat:

0g