When I first heard the term pumpkin cheeseball I imagined a sweet round cheeseball that was made using pumpkin puree.
One that you would serve with graham crackers or apple slices.
However, that wasn't the case at all. The type of pumpkin cheeseball that is today's recipe, is a simple, 5 ingredient classic cheeseball that is formed into the shape of a pumpkin.
What an easy and cute idea!
I usually make my cheeseball out of cream cheese, shredded cheese and a half packet of dry ranch dressing mix.
But because I wanted this cheeseball to look more pumpkinish (that is a word, right?) I needed to find seasonings that would turn the cream cheese into more of an orange color.
Yes, I have seen those pumpkin cheeseball recipes that rolled in crushed Doritos or cheesepuffs. However, as good as they look, I knew it would be too much work and too messy.
I imagined orange crumbs scattered throughout the kitchen as I tried to make sure every piece of that pumpkin cheeseball was covered.
What Makes The Cheeseball Orange Tinted…
So instead, I opened up my spice cabinet to see what I could come up with. Cinnamon would not pair well with a chive and onion cream cheese.
And I immediately threw out the idea of using any of my beautiful Mediterranean spices.
So I decided to give paprika a try! It is such a dark colored spice that I knew would tint the cream cheese perfectly.
And because paprika is made from dried sweet peppers, I knew it would compliment the dish perfectly!
There are a few different types of paprika in my cabinet but for this pumpkin cheeseball recipe I decided on Hungarian paprika.
Hungarian paprika is a sweet paprika with more of an intense flavor of the basic store-bought paprika. But by all means, you can definitely use regular paprika.
However, I would steer away from smoked or Spanish paprika. Although I use smoked paprika in many of my dishes, the smokey flavor would overpower the classic cheeseball flavor.
And there is one other surprise spice that I added to the recipe. Cayenne pepper!
Now don't get intimidated or scared of adding this hot spice to your recipe. The heat is completely muted by the cream cheese. I promise!
The cayenne pepper just adds more color to the cheeseball, you can't taste it at all.
How To Form The Pumpkin Cheeseball
Forming the cheeseball to look like a pumpkin is really simple.
Once you have mixed all of your ingredients, scoop it out and put it on top of a large piece of plastic wrap.
I use the sides of the plastic wrap to form a ball. Then flatten the top center portion so that you can add a stem later.
Then using the handle of a wooden spoon, make indentions along the sides to resemble a pumpkin. Remember, pumpkins come in all sorts of odd shapes, so if it isn't perfectly symmetrical, it looks more authentic!
Let the pumpkin cheeseball sit in the refrigerator for at least 4 hours. I prefer to make this the night before so the flavors have plenty of time to meld.
And of course, you can't forget to put the stem on top! I like to use the stem of a bell pepper. Just cut the stem out and put it on top!
And yes, I literally went to the market and bought a green pepper purely on how the stem looked!
Check out the printable recipe below and all of our recipes and let me know what you think!
To receive our 3 Recipe Articles in your inbox each week, sign up for our free email list. You can also follow us
on Facebook, Twitter, Pinterest, and Instagram. This article may contain affiliate links.
Pumpkin Cheeseball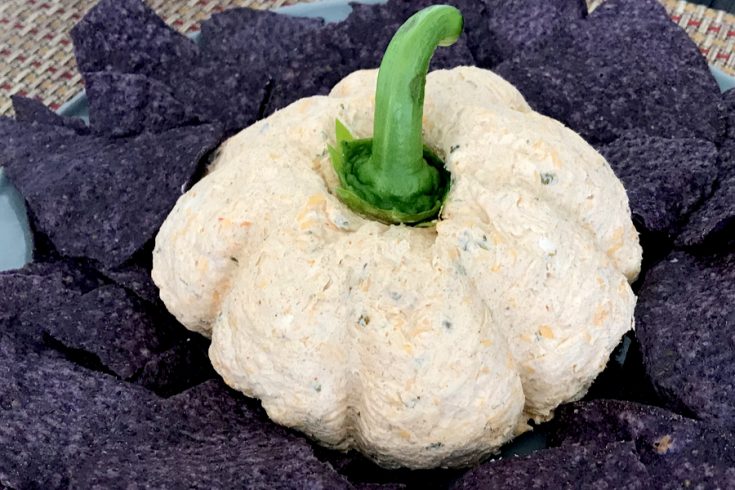 A delicious 5-ingredient cheeseball that is orange tinted and formed into a shape of a pumpkin.
Ingredients
1 8 ounce bar cream cheese, softened
1 8 ounce tub spreadable chive and onion cream cheese
2 teaspoons paprika
1/2 teaspoon cayenne pepper
2 cups shredded sharp cheddar cheese
1 stem of a bell pepper
Instructions
In a small mixing bowl add the softened bar of cream cheese and the spreadable cream cheese and beat until smooth.
Add paprika, cayenne pepper and cheese and mix until incorporated.
Scoop the mixture on a large piece of plastic wrap and shape it into a ball. Slightly flatten the top center portion.
Using the handle of a wooden spoon, make indentions around the sides of the cheeseball to resemble a pumpkin. Cover it completely with the plastic wrap and refrigerate for 4 hours or until firm.
Prior to serving, add the stem of a bell pepper on top.
Notes
Serve with crackers and/or veggie strips. Recipe provided by Make Your Meals
Nutrition Information:
Serving Size:
1 grams
Amount Per Serving:
Unsaturated Fat:

0g