Do you need a recipe for the BEST Veggie Burger? How about one that doesn't have to be baked or fried? Even better, one that can hold up and not fall apart when you throw it on the grill!
There is nothing better than attending a backyard barbecue party where everyone is enjoying hamburgers made on a hot gas or charcoal grill.
But those who choose to not eat meat, sometimes they can feel left out while everyone else is flipping patties.
Yes, there are store-bought veggie burgers that they can enjoy. But the problem is that when they are thrown on the grill, they tend to fall apart.
This is especially true when it is time to flip them over half way through the cooking process.
So I decided to make it my mission to find the Best Veggie Burger recipe that can hold completely together when grilled.
My first few attempts didn't end up so well. In fact, they fell apart so much that I lost half of the patty to the flames below.
Another batch held together okay, but the outside of the burger was completely charred while the inside of the burger was like mush.
Making the Best Veggie Burger was tricky! You have to have the perfect ratio of wet to dry ingredients. If you add too many wet ingredients, the burger is soft and gooey inside.
Too many dry ingredients and it will fall apart during the cooking process and resemble ground beef.
A Few Secrets To The Best Veggie Burger
Black Beans – Whenever possible it is best to make your own homemade black beans from dried beans. The texture holds up much better than if you used canned beans.
Because it takes so long to make homemade beans, the Instant Pot is a life saver! Dried beans turn into the perfect textured black beans in under 45 minutes. Best part of all, there is no soaking required!!!!
However, if you run out of time and need to use a can black beans, just rinse the beans well and pat them dry with a paper towel. And if you have extra time, let them sit out at room temperature for 30 minutes to air dry even more.
Another helpful hint when making the Best Veggie Burger; toast the walnuts to enhance their flavor. I promise, your burger will not taste like walnuts. On the contrary, the walnuts provide great flavor that reminds you of a beef hamburger.
Just be sure to let your toasted walnuts cool before putting them in your food processor. And pulse them slowly so you don't end up with walnut butter!
And finally, be sure to pack your burgers tightly when forming your patties. This will help them stay together when grilling.
If I have time I will even put them in the refrigerator for an hour before cooking them. This helps them adhere together and grilling becomes a breeze!
Check out the printable recipe below and all of our recipes and let me know what you think!
To receive our 3 Recipe Articles in your inbox each week, sign up for our free email list. You can also follow us on Facebook, Twitter, Pinterest, and Instagram. This article may contain affiliate links.
Yield: 5 burgers
The Best Grillable Veggie Burger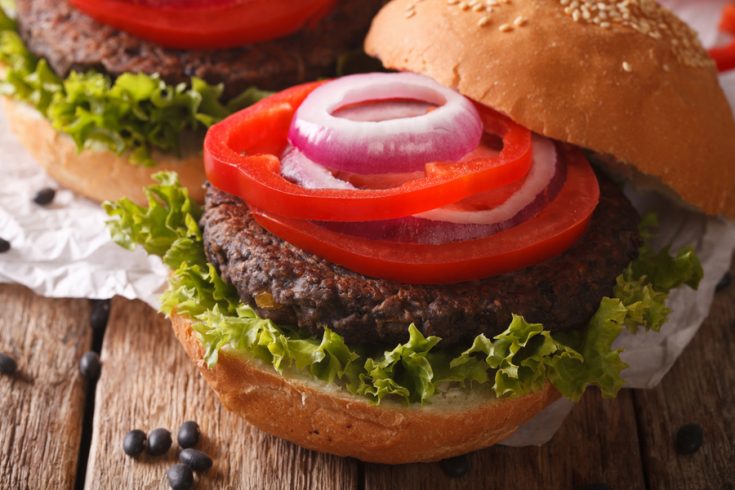 The perfect veggie burger that can hold up during the grilling process with a perfect texture inside and out!
Ingredients
1 cup walnut pieces
1 Tbsp olive oil
1/2 red onion, diced
1 clove garlic, minced
1 1/2 cups black beans, cooked and drained
1 cup brown rice, cooked
1/2 cup baby portabella mushrooms, diced
1 tsp. dried Italian seasoning
1 Tbsp. cumin
1 Tbsp. chili powder
1 Tbsp. smoked paprika
1/2 tsp. black pepper
1/2 tsp. sea salt
1/4 cup breadcrumbs
4 Tbsp barbecue sauce
Instructions
Heat a skillet over medium heat. Once hot, add walnuts and toast them for about 8 minutes, stirring them occasionally until they start to turn golden brown. Cool completely.
Grind the walnuts in the food processor just until they resemble breadcrumbs. Set aside.
In the same skillet, heat olive oil over medium heat. Once hot, add the onions, and sauté until for 3 minutes. Add the garlic and sauté for an additional 2 minutes.
Add mushrooms and salt to the skillet.
When the mushrooms start releasing liquid, add the cumin, chili powder, smoked paprika, Italian seasoning, and black pepper. Cook until all the liquid evaporates.
In a large bowl, mix together the black beans, brown rice, sautéed mushrooms mixture, ground walnuts, breadcrumbs, and barbecue sauce. Mix until everything is well incorporated. Adjust the seasoning as desired.
Divide the burger mixture into 5 firmly packed patties, approximately ¾ inches thick. .
To grill the burgers, preheat your grill over medium heat. Cook for about 5 minutes, then flip gently. Cook for an additional 4-5 minutes on the other side.
To bake the burgers, bake on a well-greased baking sheet at 375°F for 30-40 minutes, flipping halfway through.
To fry the burgers, heat a skillet over medium-high heat. Add olive oil to coat the pan. Cook burgers on one side for 5 minutes, then flip. Cook for an additional 4-5 minutes until golden brown.
Can freeze raw burgers by placing them on a baking sheet lined with parchment paper. Once semi-frozen, stack burgers with parchment paper in between each burger. Store in air-tight container for up to 6 months.
Notes
Recipe courtesy of Make Your Meals
Nutrition Information:
Yield:
5
Serving Size:
1 grams
Amount Per Serving:
Unsaturated Fat:

0g