Carne Asada made with moist and delicious flank steak marinated in a delicious citrus based marinade and grilled to perfection. Cut into small slices for a delicious main dish, or chop into small pieces for an Authentic Street Taco experience.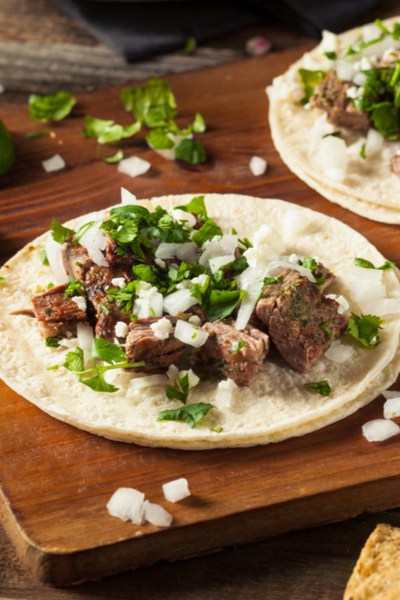 I would like to say that my first experience eating Carne Asada was while eating amazing and delicious street tacos in Austin, Texas.
However, technically, that is not true.
What is Carne Asada?
The literal definition of Carne Asada is quite simple.
Carne means the flesh off a bone, basically referring to animal meat.
And the definition of Asada translates to grilled. Therefore, Carne Asada is technically any meat that is grilled.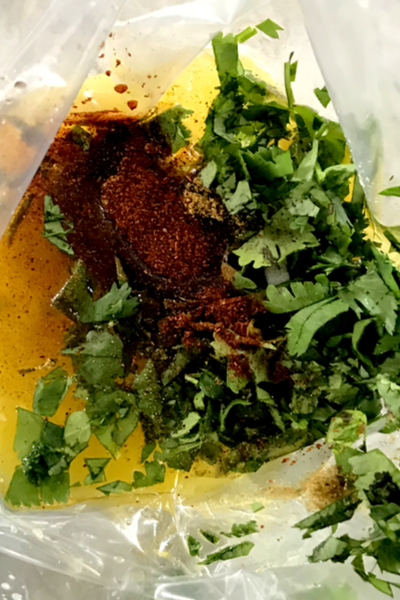 So literally, I have been eating Carne Asada for decades.
However, we all know that there is much more to this recipe than a typical grilled steak.
The Cut of Beef
The first difference is the cut of beef used to make Carne Asada.
Typically, this recipe is made with either flank steak or skirt steak.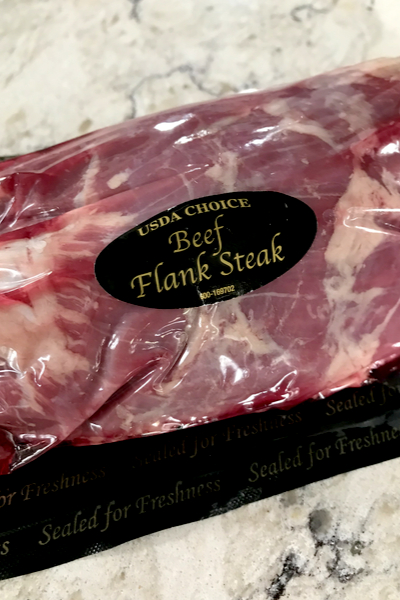 Flank steak is a lean cut of beef that is cooked and served medium-rare. It slices beautifully and holds the flavor of the marinade extremely well.
On the other hand, skirt steak is marbled with fat and is naturally more flavorful and tender on it's own.
Although you can use either cut of beef, we prefer to use flank steak for this recipe.
You never have to worry about getting a small piece of fat in the middle of a delicious bite. And the flank steak literally melts in your mouth!
The Marinade of Carne Asada
But a great steak recipe always begins with the perfect marinade. Even our steak fajitas recipe begins with a unique marinade.
We have a fantastic steak marinade that we use for sirloin or ribeye steaks. But that just doesn't work for Carne Asada.
The marinade here is filled with citrus flavors that are balanced with fresh herbs and spices.
It penetrates the meat perfectly and provides a fantastic balance of sweetness and heat.
However, don't let the meat sit in the marinade too long. This is not the time to let the meat marinate overnight.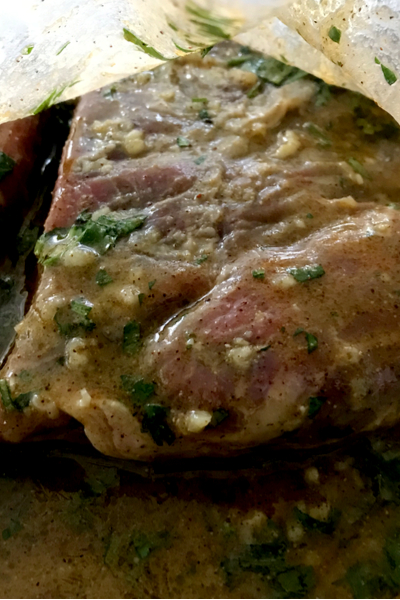 The meat will begin to break down if left to soak too long. Instead, marinate it for no more than 4 hours.
This will allow enough time for the meat to absorb the flavors of the marinade and still hold up to grill to perfection.
How To Grill Carne Asada
The preferred method of cooking is over a hot grill. You want the meat to sear and lock in the juices inside of the meat.
After 5-7 minutes flip and sear the flank steak on the other side. That is the only time that you need to flip your steak.
That is right, Just One Flip. One of the biggest grilling mistakes is turning of the meat too much.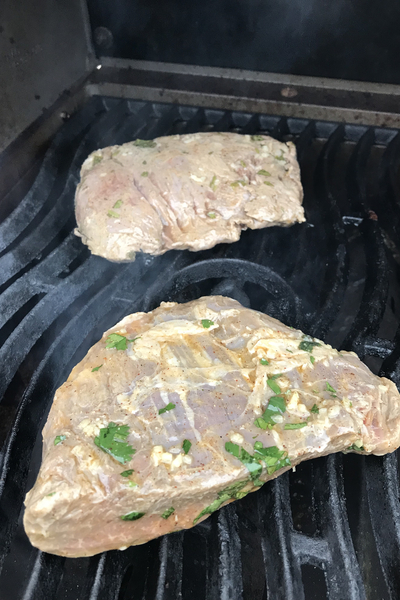 The steak needs time to sit on the hot grates of the grill in order to cook properly. Every time that it is flipped, it loses that direct heat source.
However, if you want beautiful criss-cross grill marks, you can flip it one last time for one minute per side.
If you don't have a grill, you can also cook the steak in a hot cast iron skillet. Just be sure to vent your hood oven as the high heat will cause the pan to smoke.
Slicing the Steak
After your steak has time to rest, it is time to slice and serve.
The most important tip is to slice the steak thin and across the grain.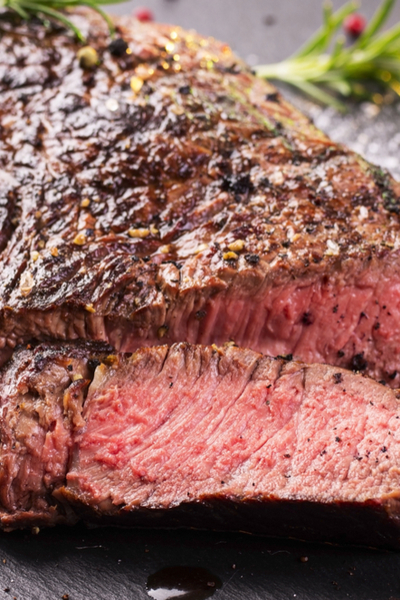 It is very easy to see the grain of the meat and your knife will slice it easily when cutting it across the grain.
This will allow the Carne Asada to literally melt in your mouth.
Slice it in large, thin pieces if serving as the main dish. And if you are using the meat for tacos, slice each thin piece into smaller sections.

To receive our 3 Recipe Articles in your inbox each week, sign up for our free email list located in the middle of each recipe or email me at contact@makeyourmeals.com. You can also follow us on Facebook and Pinterest. This article may contain affiliate links where a small commission is paid if you purchase a product at no additional cost to you.
Carne Asada Recipe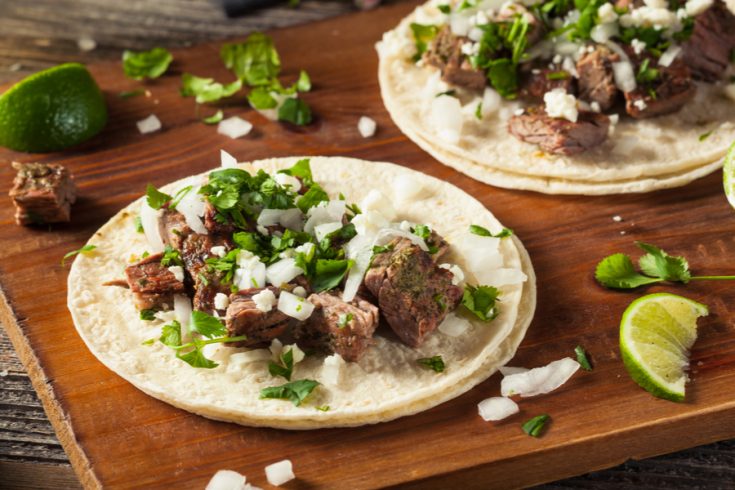 Moist and delicious flank steak marinated in a delicious citrus based marinade and grilled to perfection. Cut into small slices for a delicious main dish, or chop into small pieces for an Authentic Street Taco experience.
Ingredients
1 1/2 lbs flank or skirt steak
Marinade ingredients:
1/3 cup olive oil
1/3 cup orange juice
3 limes, juiced
2 lemons, juiced
1/2 cup fresh cilantro, chopped
4 garlic cloves, minced
1 tsp cumin powder
1/2 tsp chili powder
salt and pepper, to taste
Instructions
In a large ziplock bag, add the marinade ingredients and combine by grabbing the end of the bag and squeezing it several times.
Add the steak to the bag and coat both sides and be sure that the steak is submerged in the marinade. Refrigerate for 1-4 hours.
Heat a grill to medium-high heat. Place the carne asada on the grill and cook for approximately 5-7 minutes on each side, or until the center reaches 140°F. Remove the steak, cover and let it rest for 5 minutes.
Slice the carne asada using a sharp knife at an angle against the grain. If using for tacos, chop the slices in smaller pieces.
Notes
Recipe provided by Make Your Meals
Nutrition Information:
Serving Size:
1 grams
Amount Per Serving:
Unsaturated Fat:

0g