When I had my first taste of Hot Cocoa Cookies, I was simply amazed at the flavor!
Soft chocolate cookies made with hot cocoa mix, chocolate chips, and dehydrated marshmallows that took you back to your childhood days of drinking hot cocoa on a cold winter day.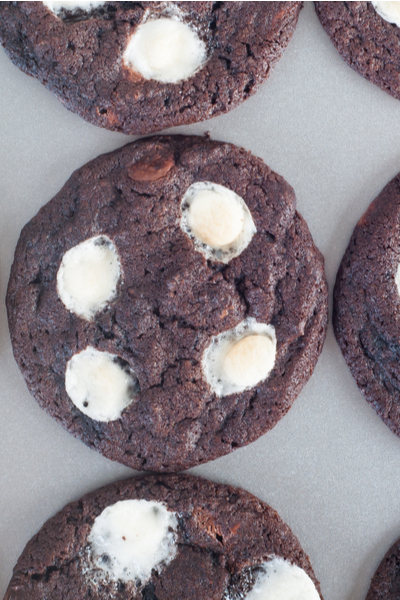 But even better because all the flavors were put together inside of a yummy cookie.
I was first introduced to these at a cookie exchange that we had years ago. And after I got home I noticed that those cookies were the first to vanish from the cookie tray. I knew then that I would have to find the recipe.
Unfortunately, I wasn't able to recall or reconnect with the individual that made them. So instead, I went searching through books, magazines and the internet to see what I could come up with.
And I was shocked at how many Hot Cocoa Cookie recipes that I could find! So I decided to mix and mingle several recipes. Eventually, over the last decade, I have found the perfect ingredient combination to make these cookies a family favorite!
Hot Cocoa Cookies
Just like with our Chocolate Peppermint cookie recipe, this one starts off with creaming butter and sugar together. As always, be sure to start with softened, room temperature butter.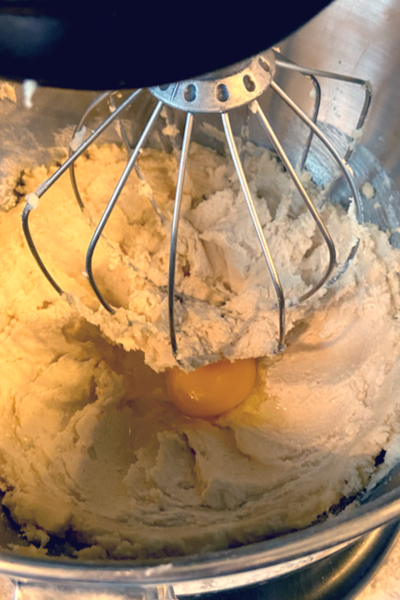 Then add the white and brown sugar to the butter and mix until light and fluffy. Do not make the mistake of shutting off the mixer too soon. It will take a good 2 – 3 minutes for the mixture to cream together perfectly.
Next, add in the eggs, one at a time and the vanilla and mix until incorporated. I have a Kitchen Aid stand mixer and I have to scrape down the sides of the mixing bowl 2-3 times during this process.
The Dry Ingredients
Now, in a separate large bowl whisk together the dry ingredients. However, be sure to use standard Hot Cocoa Mix for these cookies.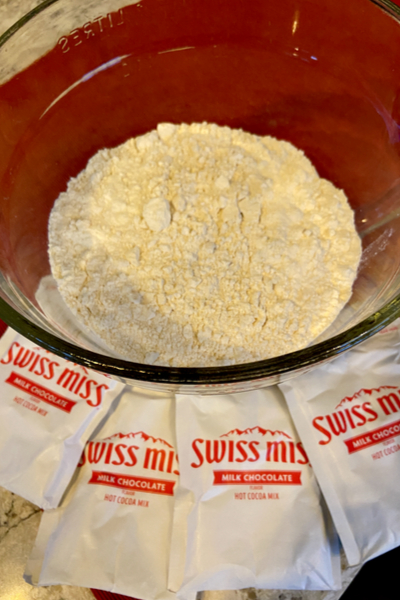 We used 4 packets of Swiss Miss Milk Chocolate mix. However, you can use any brand. But be sure that your cocoa is NOT sugar-free!
Then slowly add the dry ingredients to the butter and sugar mixture just until incorporated.
The Dough Consistency
Once you have everything mixed together, you may be shocked at how dry the dough will be. In fact, it most likely won't hold together at all!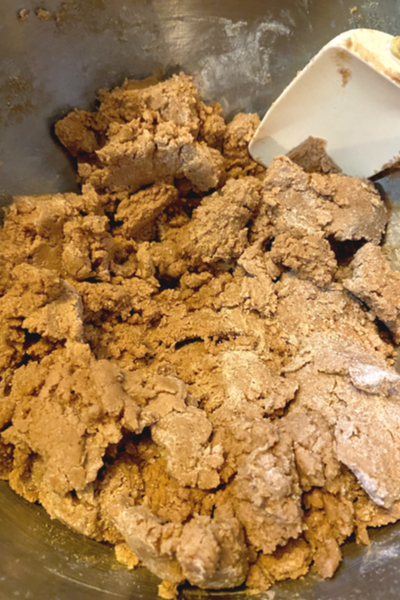 But don't make the mistake of adding more liquid to the mixture. I did that the first time I made the cookies, and I ruined the entire batch!
Just stir in the chocolate chips the best you can and cover and refrigerate the dough for at least 30 minutes.
Once you take the dough out of the refrigerator it is time to form your hot cocoa cookies. Start by using a small or medium cookie scoop to portion out 1-2 tablespoons of dough into you hands.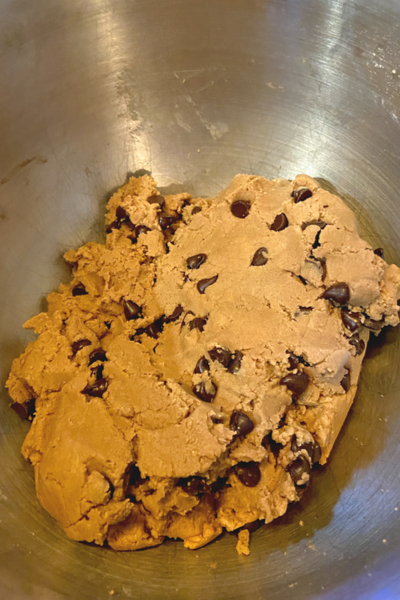 Roll the dough between the palms of your hands, adding additional chocolate chips from the bottom of the bowl, if needed. Then slightly flatten the dough and push into the top, 6 – 8 dehydrated mini marshmallows.
Repeat and place the cookies on a parchment paper lined baking sheet.
Dehydrated Mini Marshmallows
You may be wondering where to buy dehydrated mini marshmallows for your hot cocoa cookies. Although sometimes you can find them seasonally at the grocery store, this has become a more difficult task in recent years.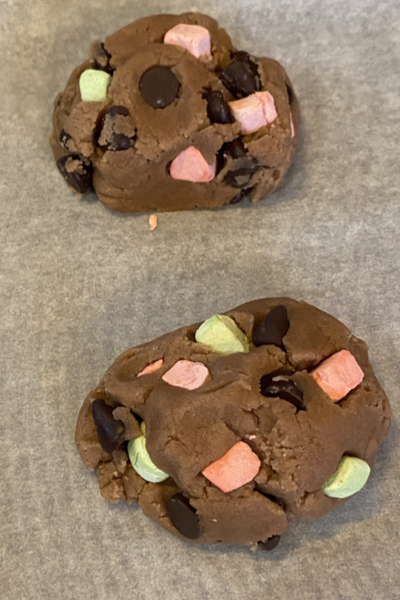 Amazon does have access to dehydrated white mini marshmallows like you would find in hot chocolate packs. However, I didn't want to purchase a large quantity when making just one batch of cookies.
But lucky for us, we have a local bulk food store near us where we can purchase colored dehydrated mini marshmallows at a fraction of the cost.
But if you can't find either, I would suggest buying hot chocolate packets with the marshmallows and using those for your cookies. Just don't use fresh mini marshmallows! They will leave a huge mess.
Once your cookies are ready, bake for 9-11 minutes. Please note that these cookies do not turn dark brown. Do not over bake them.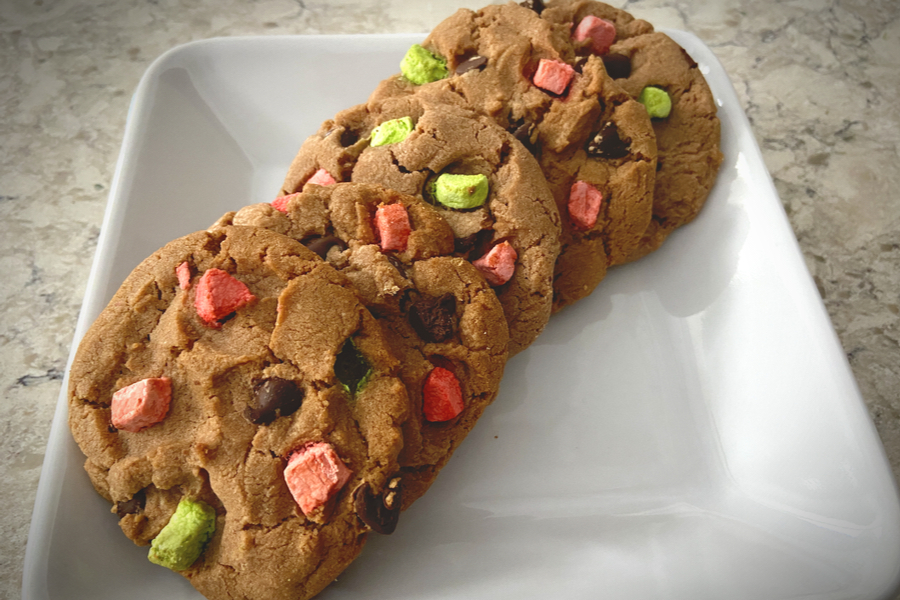 Even though they may still look soft after the baking time is up, remove them from the oven and let them sit for 5 minutes. Then transfer them to a cooling rack.
They will firm up perfectly as they sit and cool.
Store in an air-tight container. These hot cocoa cookies can be frozen as well.
To receive our 3 Recipe Articles in your inbox each week, sign up for our free email list located on the side and bottom of each recipe. You can also follow us on Facebook and Pinterest. This article may contain affiliate links where a small commission is paid if you purchase a product at no additional cost to you.
Yield: 48 cookies
Hot Cocoa Cookies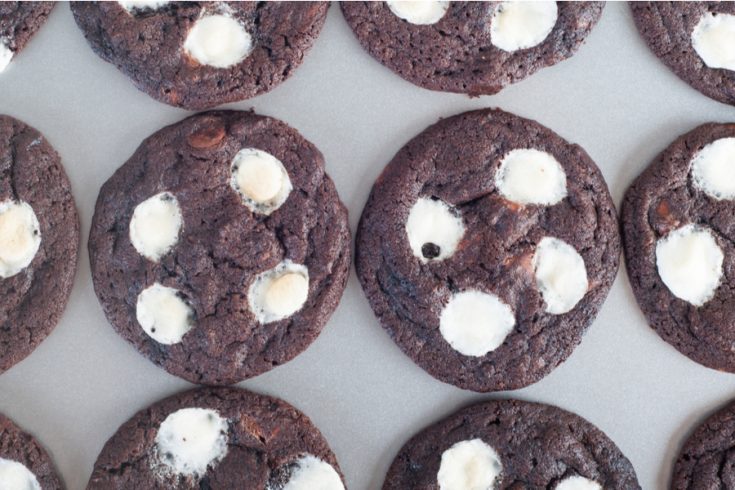 Soft chocolate cookies made with hot cocoa mix, chocolate chips, and dehydrated marshmallows for the ultimate cookie experience that is perfect for winter and a great addition to any Christmas cookie tray!
Ingredients
1 cup unsalted butter, softened
1 cup sugar
2/3 cup brown sugar, packed
2 eggs
1 teaspoon vanilla
3 1/4 cups flour
3/4 cups hot cocoa mix, approximately 4 packages
2 teaspoon baking powder
1 teaspoon salt
1 teaspoon baking soda
1 cup semi-sweet chocolate chips
1 cup dehydrated mini marshmallows
Instructions
In a large mixing bowl add the softened butter and sugars and beat until fluffy. Add eggs, one at a time and mix well. Add in the vanilla and mix until well incorporated.
In a separate bowl whisk together the flour, hot cocoa mix, baking powder, baking soda and salt.
Gradually mix dry ingredients into butter and sugar mixture until well blended.
Stir in chocolate chips, cover and chill for at least 30 minutes.
Preheat oven to 350°F. Drop 1-2 tablespoons dough onto baking sheets lined with silicone baking mats or parchment paper. Press 6-8 dehydrated mini marshmallows into the top and sides of each cookie dough ball.
Bake 9 to 11 minutes or until edges are lightly browned. Let the cookies cool on baking sheets for 5 minutes before removing them to wire racks to cool completely.
Notes
Store in an air-tight container. Recipe provided by Make Your Meals
Nutrition Information:
Yield:
48
Serving Size:
1 grams
Amount Per Serving:
Calories:

125
Total Fat:

6g
Saturated Fat:

4g
Unsaturated Fat:

0g
Cholesterol:

17mg
Sodium:

109mg
Carbohydrates:

17g
Fiber:

1g
Sugar:

10g
Protein:

1g