Every time that I go to a conference or event that begins in the morning, I always look forward to the cream cheese danish that is sure to be on breakfast buffet table.
You know the ones that I am talking about. The light and flaky pastry that is topped in the center with a cream cheese filling.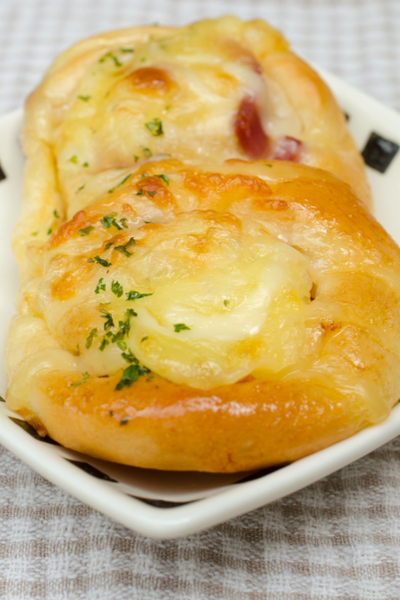 And don't forget the drizzle of icing that is scattered all over the delicious sweet treat.
They typically sit on a tray with several other delicious breakfast items including cinnamon rolls, banana muffins and other varieties of danish pastries.
But I always hope that by the time that I get to the tray of the goodies, that there is at least one cream cheese danish left for me to enjoy.
They are one of my favorite breakfast treats, but for some reason I never made them at home.
That was until I found an easy way to make them!
How To Make 'Homemade' Cream Cheese Danish
So what is the secret to making this delicious breakfast treat? Crescent Roll dough!
The crescent roll dough is the base of the danish and provides a light and flaky crust that is able to hold the cream cheese center filling.
By all means you can make your own crescent roll dough if you wish. However, most often, I use pre-made dough that you find in the refrigerated section of the grocery store.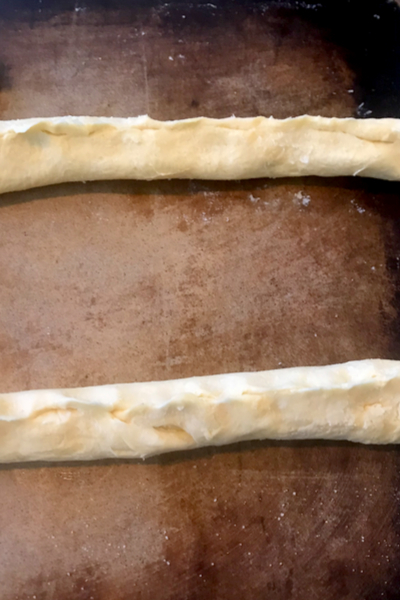 They dough is already perforated and makes it easy to determine the correct size needed to make the danish.
Although the dough is sectioned in triangles, you will actually use two of the triangles for each danish that you make.
Two triangles will form a rectangle. Then the rectangle is then rolled into a long log shape.
Coil the dough into a spiral on a baking sheet and you have the base of your cream cheese danish.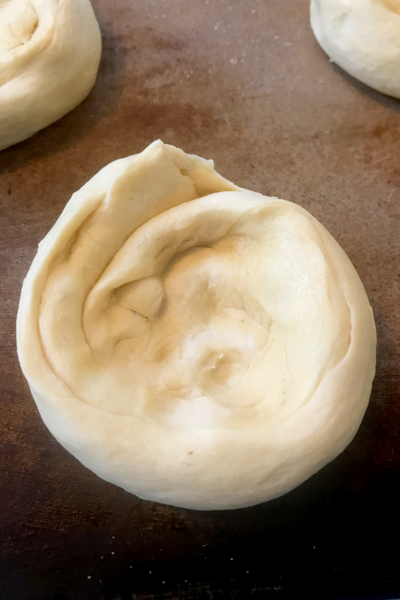 All that is left to do is to make the filling!
Cream Cheese Filling
By using softened cream cheese, the filling comes together quickly.
Mix in a little sugar and vanilla and your cream cheese filling is made! It is that easy!
All that is left to do is to fill the tops of each crescent roll spiral with the filling.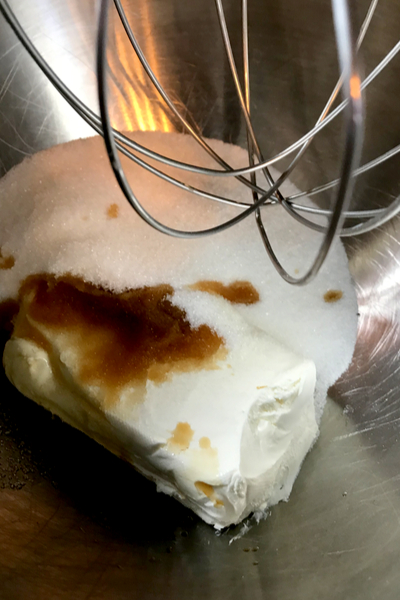 And in order to do that, you must first press down the center of each roll.
Then divide the filling among each danish and put them in the oven to bake.
Drizzle Icing On Top
Once the danish have time to cool, it is time to drizzle icing on top.
Technically icing is optional, but is it really?
I mean, that is what helps make this pastry extra delicious!
And the icing is super simple to make. In fact, we use this powdered sugar icing for just about every dessert that calls for icing.
It is a simple mixture of milk, vanilla and powdered sugar. If you like your icing to be thicker, simply add more powdered sugar.
On the contrary, if it is too thick, slowly drizzle in more milk.
But the important thing to remember is to wait until your cream cheese danish have cooled before icing.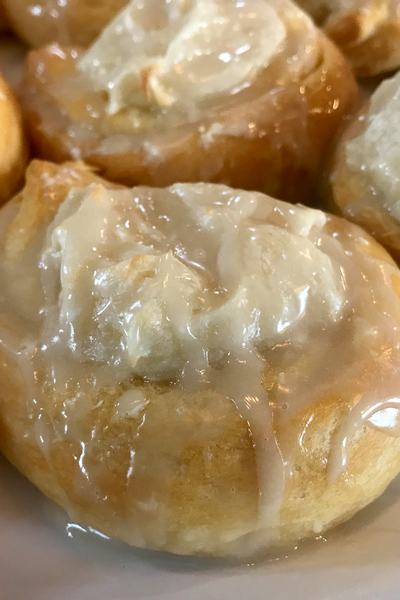 Otherwise the icing will melt right into the dough. And although it won't affect the taste, they just won't look as impressive.
However, if you are in a hurry or if you are hungry, by all means, drizzle the icing on and take a bite!
Check out the printable recipe below and let me know what you think!
To receive our 3 Recipe Articles in your inbox each week, sign up for our free email list located on the side and bottom of each recipe. You can also follow us on Facebook, and Pinterest. This article may contain affiliate links where a small commission is paid if you purchase a product at no additional cost to you.
Easy Cream Cheese Danish Recipe
Light and flaky pastry topped with a cream cheese filling that makes for the perfect sweet breakfast treat.
Ingredients
4

oz

cream cheese

room temperature

1/2

cup

sugar

divided

1 1/2

tsp

vanilla

divided

1

can crescent rolls

8 count

2

tbsp

butter

melted

1/2

cup

powdered sugar

2

tsp

milk
Instructions
Preheat oven to 350 degrees F.

Grease a baking sheet or line with parchment paper and set aside.

Unroll dough into 4 rectangles and seal perforations by pinching the dough together at the seam.

Brush each rectangle with melted butter and sprinkle with a tablespoon of sugar.

Starting on the long edge, roll each rectangle and pinch to seal the edge.

Roll into a spiral and slightly press down middle to make room for cream cheese filling.
Cream Cheese Filling
Beat together cream cheese, 1/4 cup sugar and 1/2 tsp vanilla in medium bowl until well blended

Place dough on prepared baking sheet.

Top each with 1/4 of cream cheese mixture.

Bake until golden brown, approximately 17-18 minutes. Let cool.
Icing
In a small bowl, combine powdered sugar, milk and 1 teaspoon vanilla and stir until smooth.

Drizzle over each roll.
Notes
Recipe provided by Make Your Meals
Easy Cream Cheese Danish Recipe