If you are looking for a quick, easy, and delicious side dish to serve off your grill, you are going to love this grilled potato packs recipe.
They are extremely easy to make and turn out perfect every time!
We love to use our gas grill. Not only in the summer, but all year long.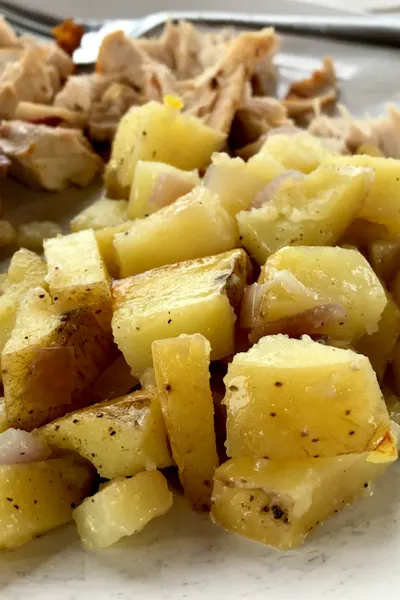 From steaks, marinated chicken breasts, hamburgers, veggies burgers to pizza, we cook it all on our grill!
Not only do we love the taste of grilled food, we love the fact that there is little to no clean up required when using our grill.
So in an effort to make our entire meal on the grill, we started making grilled potato packs and other side dishes on the grill as well.
Side Dishes On The Grill
We first started with corn on the cob. We soaked the entire cob (including the husks) in water for about an hour.
Threw it on the grill for about 20 minutes, and it was cooked to perfection!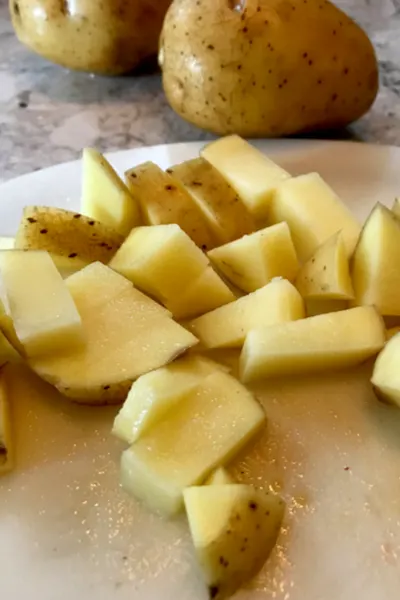 Then we started making grilled vegetables. We used a grill pan and threw a variety of veggies in the pan.
In minutes, we had a healthy and delicious side dish.
So the next time that we grilled out we decided to use potatoes. We first thought about trying to make 'baked' potatoes.
However, we thought that would just take too long. We were grilling out hamburgers and knew that they would only take about 20 minutes from start to finish.
Therefore, we needed the potatoes to be ready in about the same amount of time.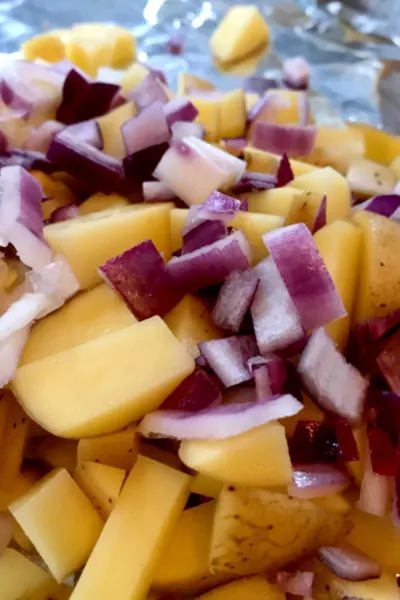 That is when we decided to make grilled potato packs.
Grilled Potato Packs In Foil
Because we wanted the potatoes to be soft and tender, rather than having a charred grilled texture, we knew that we would have to steam them on the grill.
So we pulled out the aluminum foil and made potato packs.
Now before we go any further, let's briefly discuss cooking with foil. There is a lot of controversy and several studies that indicate cooking with foil should not be done.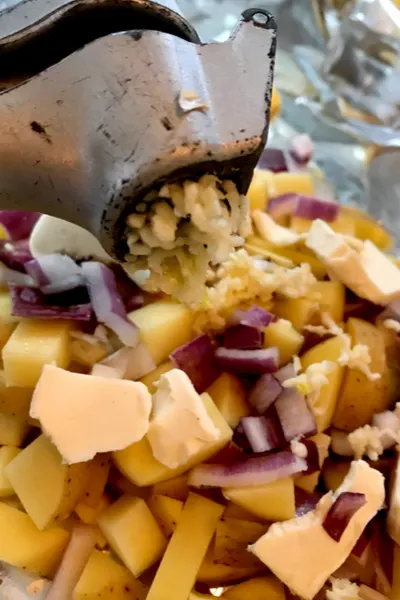 And there are other studies that prove otherwise.
If you don't like the thought of cooking potato packs in foil, there is another option. Use a cast iron skillet and grill safe lid instead.
But for today's recipe, we will concentrate on grilled potato packs made in aluminum foil.
What Type of Potatoes to Use
Although you could use a variety of potatoes for this recipe, we highly suggest that you stick with Yukon Gold potatoes.
The buttery flavor and thin skins of Yukon Gold potatoes made them the preferred variety for this recipe.
In fact, we use Yukon Golds in almost all of our potato recipes, including Mashed Potatoes.
How To Flavor The Grilled Potato Packs
We love to add both onions and sweet peppers to the potato packs.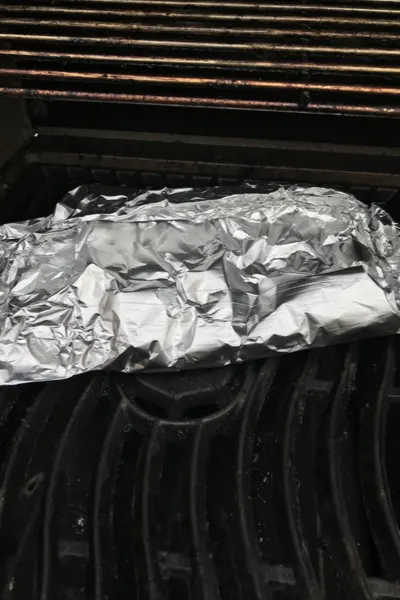 The flavors blend perfectly with the potatoes. However, if you don't like onions or don't have sweet peppers on hand, you can skip them.
Our first time making the potato packs we simply used potatoes that were tossed in a little olive oil.
They were delicious but we knew that they needed some extra flavor.
So we began to experiment.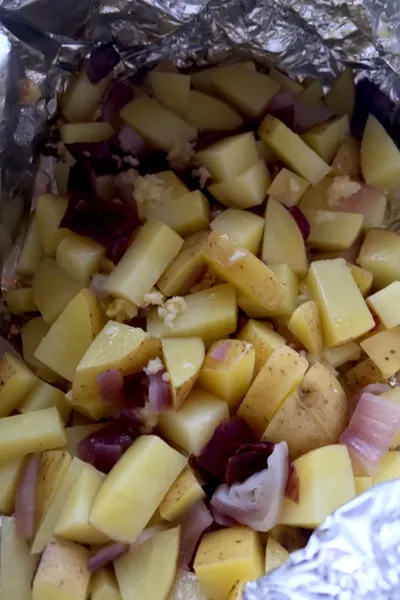 The next time we made them we added a little onion and diced sweet red peppers. A little garlic and butter and the potato packs were insanely delicious!
However, feel free to add whatever seasonings that you prefer. For instance, instead of fresh minced garlic, add in a little garlic salt.
And to kick it up a notch, add in a some diced jalapeno peppers.
Whatever you decide to season your potatoes with, I am sure that you will love both the taste and convenience of these easy to make grilled potato packs!

To receive our 3 Recipe Articles in your inbox each week, sign up for our free email list located in the middle of each recipe or email me at contact@makeyourmeals.com. You can also follow us on Facebook and Pinterest. This article may contain affiliate links where a small commission is paid if you purchase a product at no additional cost to you.
Yield: 4
Grilled Potato Packs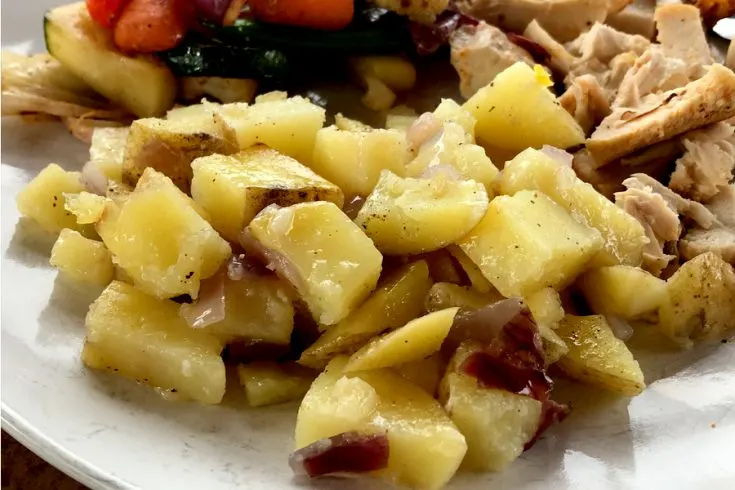 Diced potatoes, sweet peppers and onions cooked on the grill in foil packets for an easy to make, delicious side dish.
Ingredients
8 yukon gold potatoes, medium to large, diced
1/2 sweet pepper, diced
1/2 onion, diced
1 tablespoon olive oil
2 cloves of garlic, minced
3 tablespoons butter
salt, to taste
ground black pepper, to taste
cayenne pepper, to taste
Instructions
Tear off a large piece of aluminum foil.
Spread the olive oil in the center of the foil where the potatoes will be placed.
Add the potatoes, sweet pepper and onions to the center of the foil.
Cut the butter into small sections and place on top of the potatoes.
Place the garlic on top.
Add salt, pepper and cayenne pepper to taste.
Fold the sides of the foil together and roll the ends together to create a seal. Be sure to leave an inch of space between the potatoes and the foil to allow steam to circulate.
Fold the ends to seal the packet shut.
Place on a pre-heated grill at approximately 375°F.
Cook for approximately 20 minutes, shaking and rotating the packet every 5 minutes.
Remove from the grill and let sit for 5 minutes.
Carefully unroll the packet and season to taste.
Notes
Optional: add shredded cheese to the packet after you remove it from the grill. Close the packet to allow the cheese to melt then serve.
Recipe provided by Make Your Meals.
Nutrition Information:
Yield:
4
Serving Size:
1 grams
Amount Per Serving:
Unsaturated Fat:

0g