If you love the taste of a Reuben sandwich, you are going to love this Easy Reuben Casserole. Use your leftover corned beef to make dinner that contains all the flavors of the classic sandwich but made into an easy to make casserole.
Every year for St. Patrick's Day I make Corned Beef and Cabbage for dinner. And inevitably I always have leftover corned beef at the end of the night.
As much as I love to reheat the leftovers the next day, I always look for other, and more creative ways to use the meat. So my first instinct is to make a Reuben sandwich.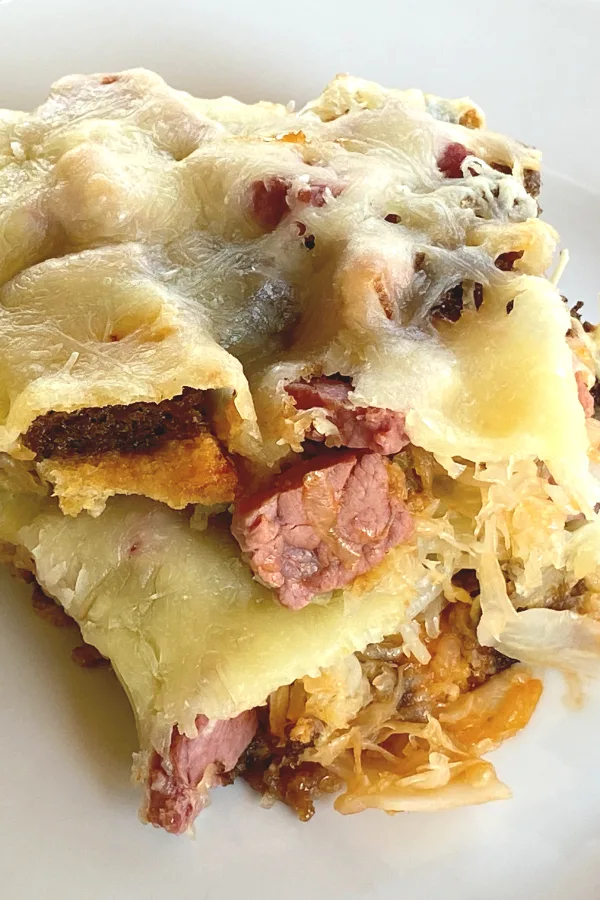 However, in order to feed several people, it takes a lot of time to stand over the stove making grilled sandwiches for everyone. So instead, I decided to throw all the ingredients in a casserole dish and make it into an easy to prepare meal.
It is a great recipe for leftover corned beef. However, if you don't have any leftovers, you can still make this delicious dish.
Instead, while you are at the grocery store picking up the other ingredients, make a quick stop at the deli counter. Then ask for thick sliced corned beef and you are set!
Whether you use leftover corned beef or deli meat, be sure to cut the beef it into small, bite size chunks. It will make it easier to eat when the casserole is ready.
Easy Reuben Casserole Recipe
*Specific measurements and complete recipe instructions are located in a printable recipe card at the bottom of this article. However, be sure to continue to read the tips and tricks to making this recipe below.
INGREDIENTS
Homemade Dressing
Mayonnaise
Ketchup
Smoked paprika
Salt and Pepper
*If you don't want to make your own homemade dressing, you can use store-bought Thousand Island or Russian dressing instead.
Other Sandwich Ingredients
Marbled rye or pumpernickel bread, cubed
Cooked corned beef, cut into bite size pieces
Sauerkraut, well drained
Shredded Swiss Cheese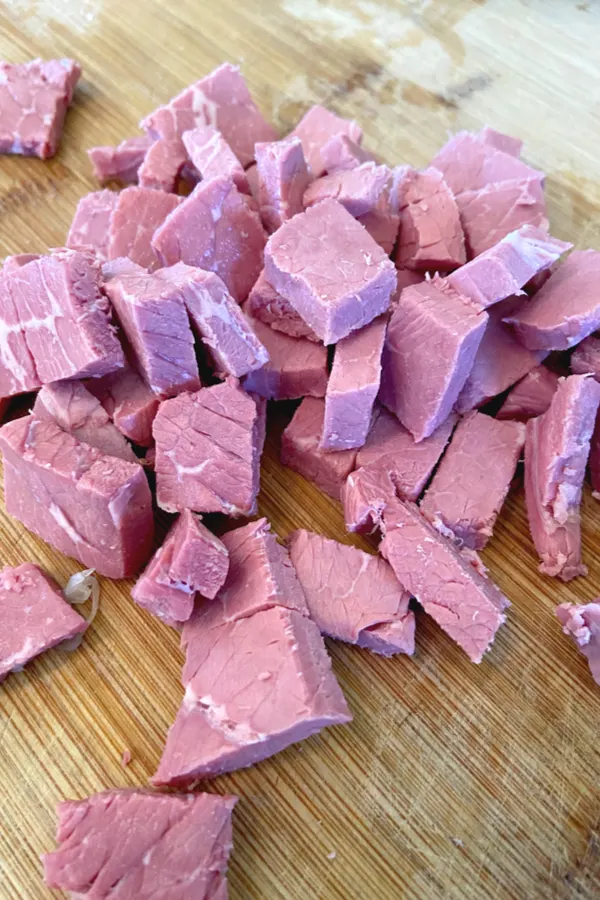 INSTRUCTIONS
The first step in making this Easy Reuben Casserole is to preheat the oven and spray a 9 x 13 inch casserole dish with nonstick cooking spray.
Next, measure and pour the sauerkraut in a colander to drain. Use the back of a silicone spatula to press the sauerkraut against the colander to release any remaining juices.
It is important to drain off as much liquid as you can so that the casserole does not become soggy when cooked. Let the sauerkraut remain in the colander while you prepare the other ingredients.
Homemade Dressing
The next step is to prepare the homemade dressing if you aren't using store-bought dressing. In a small bowl whisk together the mayonnaise, ketchup, smoked paprika, and salt and pepper.
You can also add a little relish if you prefer. This will make the homemade dressing taste a little more like Thousand Island dressing. Set the dressing aside while you prepare the rest of the casserole.
The Remaining Ingredients
Cut the marbled rye or pumpernickel bread into small, 1-2 inch cubes. There is no need to toast the bread or let it sit out to harden before adding it to the casserole dish.
Both rye and pumpernickel bread are naturally thick and dense. This means that they will hold up well as the Easy Reuben Casserole cooks, without any additional preparation.
Once the bread is cut into cubes place them in the bottom of the prepared casserole dish. Then pour the homemade or store-bought dressing on top of the bread.
Next, add the well-drained sauerkraut over top of the dressing. Then add the corned beef cubes and toss the mixture so that the ingredients are evenly scattered throughout the baking dish.
Now evenly sprinkle the shredded Swiss cheese on top. If you can't find pre-packaged shredded Swiss cheese, you can purchase a block of Swiss cheese and shred your own.
Fresh shredded Swiss cheese will melt better than the store-bought shredded cheese. This is because packaged shredded cheese has an anti-caking agent on the exterior surface.
Although it allows the cheese to have a longer shelf life, it prevents the cheese from melting smoothly. However, if you don't want to shred your own cheese you can also substitute slices of Swiss cheese and place them on top of the casserole instead.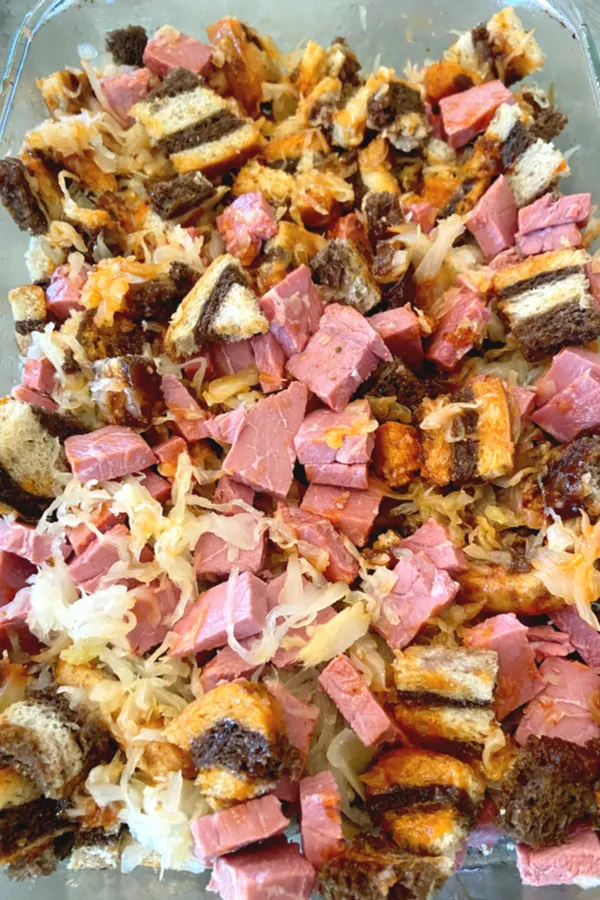 Baking Time
Once the cheese has been added on top of the Reuben casserole, place the dish in the preheated oven and bake uncovered for 25 minutes. Depending on the type of cheese used, you may need to adjust the cook time accordingly.
The casserole is done when the cheese is nice and melted and beginning to turn brown around the edges. Once this happens, remove the baking dish from the oven.
But don't eat it right away. Instead, allow the casserole to sit for 5 minutes before serving. This will allow the ingredients a little time to meld together as it begins to cool.
Then slice and serve. You will be shocked at how great this casserole tastes! Not to mention, it is super easy way to use your St. Patrick's Day, leftover corned beef!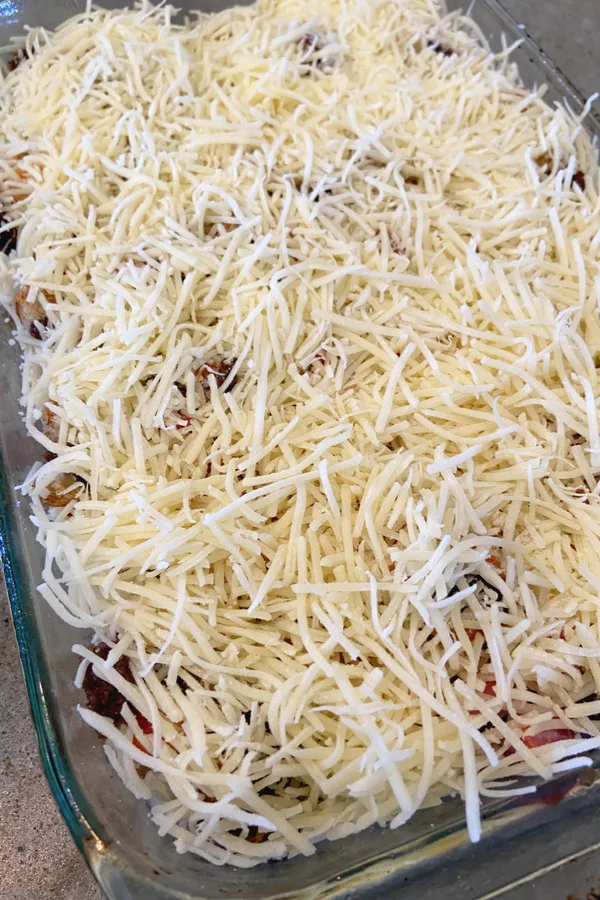 What To Serve With This Reuben Casserole
Although you can eat this casserole as a stand alone meal, here are some of our favorite side dishes and desserts to serve with this recipe.
Other Leftover Corned Beef Recipes
If you still have more leftover corned beef after making this Easy Reuben Casserole, here are some other creative ways to use it up.
Enjoy! Mary

To receive our 3 Recipe Articles in your inbox each week, sign up for our free email list located in the middle of each recipe or email me at contact@makeyourmeals.com. You can also follow us on Facebook and Pinterest. This article may contain affiliate links where a small commission is paid if you purchase a product at no additional cost to you.
Easy Reuben Casserole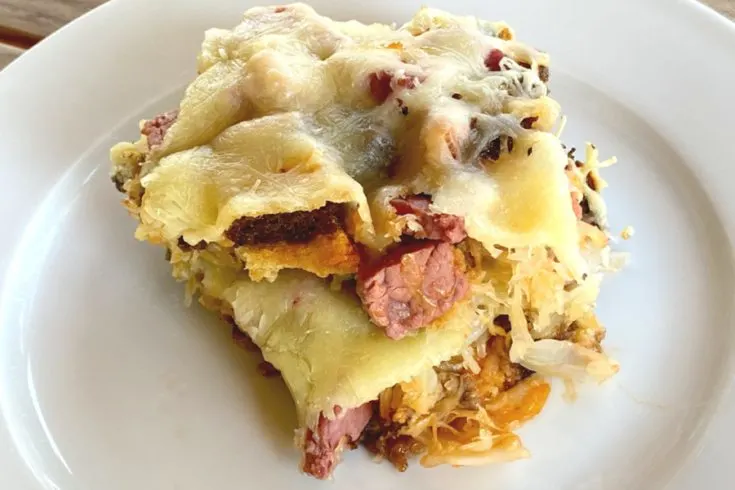 All the flavors of a classic Reuben sandwich in an easy to make casserole. A delicious left over corned beef recipe that is ready to eat in 30 minutes!
Ingredients
Homemade Dressing
½ cup mayonnaise
3 tablespoons ketchup
1/8 teaspoon smoked paprika
½ teaspoon salt
¼ teaspoon pepper
Sandwich Ingredients
6 slices rye or pumpernickel bread cubed
1 lb thin sliced corned beef cut into bite size pieces
16 ounces sauerkraut well drained
2 cups shredded Swiss Cheese
Instructions
Preheat oven to 350°F (175°C).
In small bowl whisk together mayonnaise, ketchup, smoked paprika, salt and pepper, set aside. Or use 1 cup store-bought Thousand Island or Russian dressing.
Spray a 9×13 inch casserole dish with nonstick cooking spray. Place the rye bread cubes in the bottom of the dish. Layer the remaining ingredients in this order: Russian dressing, sauerkraut and corned beef. Toss to coat and then spread the shredded Swiss cheese on top in an even layer.
Place the casserole dish in the preheated oven and bake uncovered for 25 minutes. Remove the dish from the oven and let sit for 5 minutes before serving.
Notes
Recipe provided by Make Your Meals
Nutrition Information:
Yield:
8
Amount Per Serving:
Calories:

412
Total Fat:

29g
Saturated Fat:

10g
Trans Fat:

0g
Unsaturated Fat:

17g
Cholesterol:

86mg
Sodium:

1370mg
Carbohydrates:

17g
Fiber:

3g
Sugar:

4g
Protein:

20g
Nutritional Information is to be used as a general guideline only . Nutritional calculations will vary from the types and brands of the products used.